Is your hair dry, rough, dull, and prone to breakage? If regular styling has taken a toll on your tresses, you need a special kind of hot tool that will help you create the hairstyle you want without inflicting more damage to your hair! That's why I highly suggest getting a flat iron styling tool with keratin if you have dry and dull tresses.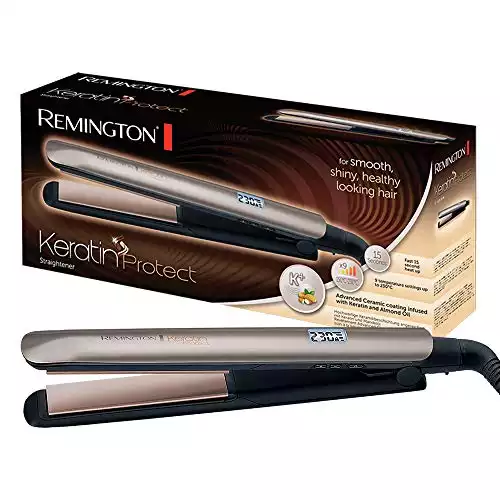 A flat iron with keratin may look like an ordinary hair straightener but it's not. The heating plates are infused with protein and keratin that strengthen the hair strands. The keratin-infused flat iron enhances the hair's brilliance, smoothness, and volume, giving your hair body, shine, and bounciness.
There are many keratin flat irons out there but my team and I have reviewed several highly rated straighteners to find the best keratin flat iron on the market.
Best Keratin Flat Iron – 5 Top-Rated Straighteners Reviewed
1. Keratin Complex Stealth V Digital Smoothing and Straightening Iron
We all know that everyday styling could lead to serious hair issues but you can minimize or avoid heat damage by using a gentle straightening iron like Keratin Complex's Stealth V Digital Smoothing and Straightening Iron. Keratin Complex is a brand known for its fabulous selection of keratin-infused hot tools and the Stealth V is its most popular flat iron to date. I'm not surprised at all because this little gem is not only gentle on the tresses, it's also built like a tank.
The Stealth V is fitted with a pair of smooth plates that instantly straighten the hair without frizz or flyaways. The plates are 10% longer so you can cover more ground, so to speak. It is infused with keratin so the heat won't dry the tresses. Designed to be the perfect partner to Keratin Complex®'s Smoothing Therapy treatments, the Stealth V adds vibrance and shine to every hair strand. The finish is always smooth, silky, and soft. My hair feels thicker too!
The heat settings, which have a temperature range of 350F to 450F, make the Stealth V ideal for all hair types. It's easy to use because the handle is always cool to the touch. My only gripe is the heft. Because the Stealth V is built like a tank, it's not as lightweight as some flat irons.
We liked
Ionic technology
Ergonomic design
High definition heat technology
Easy to use controls
Quick heat up
Compact and lightweight
We didn't like
Non-adjustable heat setting
Not ideal for fragile or thin hair
2. MHU Professional Keratin Ion Flat Iron Tourmaline Ceramic Hair Straightener
Designed for all hair types, the gently straightens the tresses without heat damage. It features a pair of ceramic-coated MCH plates that heat up in seconds and produce long-lasting, brilliant finish! The heating plates are smooth as butter, there's no snagging, no tangling, no breakage!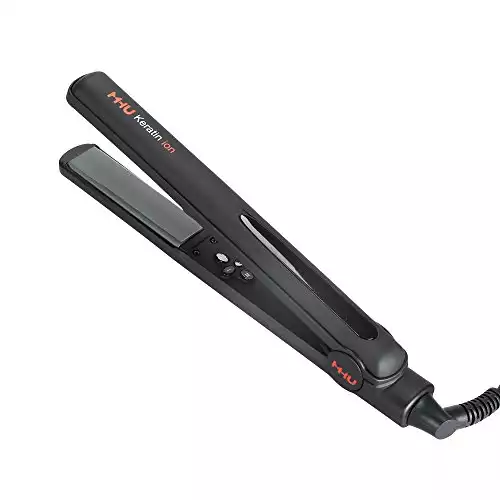 The design of the MHU Professional Keratin Ion Flat Iron is deceivingly simple but it gives you optimal control over the device so you get the style you want without straining. The adjustable heat setting makes the flat iron so versatile. You can choose between 285 °F and 450 °F and it reaches the ideal temperature with no downtime.
And since the MHU Professional Keratin Ion Flat Iron features a skinny clamp, it's narrow enough to curl your mane with it. You know me and my love for multipurpose hot tools. This styling tool is also perfect for anyone with short or long hair because of the length of the clamp itself, which is quite versatile. It heats up to 450 degrees F so it will make the most stubborn tresses behave. It's also designed with thin-haired users in mind because the lowest setting is ideal for delicate tresses.
The ceramic plates produce negative ions that boost hair shine and silkiness. If your hair is dry, frizzy, and rough, you will love the shiny, professional finish you'll get with the MHU Professional Keratin Ion Flat Iron. And since there is no gap between the heating plates and the flat iron itself, the heat is evenly distributed on the hair, giving you consistent results. 
We liked
Adjustable Heating Settings
Temperature Memory Function
60-minute auto shutoff feature
Quick heat up feature
Auto Power Off System
2-in-1 Multi-purpose Design
No-gap plate design
We didn't like
Limited temperature settings
Awkward controls placement
3. AmoVee Keratin Flat Iron Pro 1.5 Inch Wide Ceramic Tourmaline Hair Straightener
The AmoVee Keratin Flat Iron is a professional salon flat iron crafted from quality ceramic tourmaline material. This professional styling iron features a wider set of 3D floating plates that apply even, gentle heat on the tresses. It's a terrific flat iron for those with thick, long hair although it should work for those with medium length hair too. I don't think this is the best choice for users with short hair, however, just because of the iron's thick plates.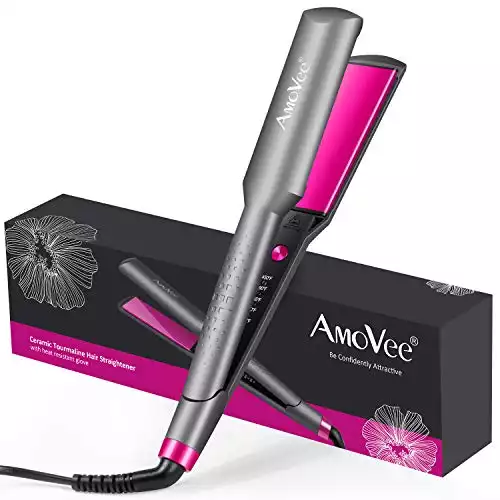 First things first, love the pink and steel grey design, the flat iron looks so nice sitting here on my vanity! But beyond its obvious good looks, the AmoVee Keratin Flat Iron provides effortless, tangle-free results. You could say I'm biased because I obviously favor ceramic-tourmaline flat irons but this product has a 5-star rating on performance! The quality is fantastic, the price is reasonable, and it's so easy to use.
I do recommend this styling tool for individuals who style their hair all the time. The ceramic-tourmaline plates are so gentle to the tresses; the material boosts the hair's shine without causing damage. What's more, the plates are infused with keratin micro-conditioners that add body and silkiness to your hair. The keratin micro-conditioners lock in moisture while the negative ions smooth the hair cuticles so the flat iron intensifies the hair's glossiness.
I also love how fast this flat iron heats up; it reaches the ideal temperature in 10 seconds or less. It's lightweight so you have full control over the device without straining. The ergonomic design and rubberized handle allow you to style your hair comfortably. Also, this is designed for travel so the size is quite space-efficient. The AmoVee Keratin Flat Iron made glamorous hair totally portable!
We liked
Ceramic Plates
60-Minute Auto Shutoff Feature
10-Second Quick Heat Up
Wider heating plates
Dual voltage
Ergonomic design
Adjustable temperature settings
We didn't like
Expensive
Brittle heating plate
4. Remington S8540 Keratin Protect Straightener
The Remington S8540 Keratin Protect Straightener is a sleek flat iron that boasts the brand's proprietary SmartPRO sensor technology. This technology prevents heat damage by adjusting the temperature and moisture that the flat iron disperses, giving you a customized styling experience every time. If your hair is hard to style, if it cannot stay put at all, you will love the S8540! The 1-inch ceramic plates feature a floating design, giving you consistent, long-lasting results. The clamp is quite skinny, skinnier than most of the flat irons on our list and that's what makes the S8540 so versatile.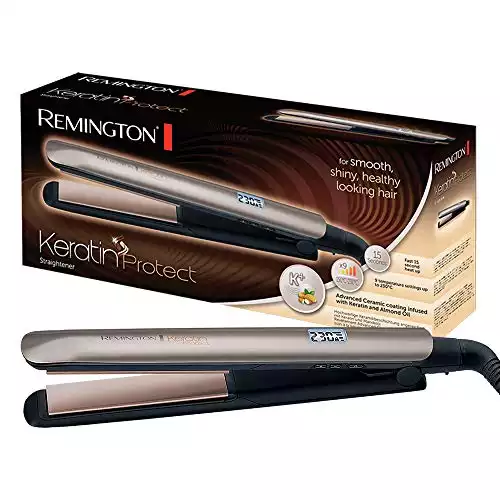 With the S8540, you can straighten and curl your tresses without missing a beat. The lightweight design and user-friendly controls give you optimum control over the styling so you get the results you want quickly. I don't get bad hair days with the S8540 even though my hair is prone to frizz. That's because the S8540 have keratin and almond oil infused ceramic plates that injects a healthy dose of moisture, shine, and silkiness to every hair strand. And no icky oily residue!
This versatile flat iron has 9 different digital heat settings, each setting is meant for certain hair types. There is no downtime with the S8540; it reaches the ideal temperature in seconds. As long as your hair is dry and prepped, you are ready to roll! It heats up to a salon-worthy 450 degrees F so S8540 is perfect for stubborn tresses that refuse to cooperate. The heat settings are adjustable so if your mane could not stand the heat, choose the lowest setting.
For optimum portability, this flat iron also comes with a silicone sleeve. It's the little things that really make a difference. The silicone sleeve protects any surface from heat damage. It also makes the S8598S so convenient to travel with.
We liked
9 Digital Heat Settings
15 Second Heat Up
Hinge Lock
LED Feedback
Silicone Sleeve
60 Minute Auto Shut Off
Infrared Technology
We didn't like
The body of the device heats up while in use
Not ideal for very thick hair
5. La-Brasiliana Professional Titanium Keratin Flat Iron
If you are not familiar with the La-Brasiliana brand then let me fill you in! La-Brasiliana is best known for its hair care products, particularly shampoos and keratin treatments. This brand is not as well known for its hot tools as mainstream brands but the La-Brasiliana Professional Titanium Keratin Flat Iron is one of the brand's most popular hair care products.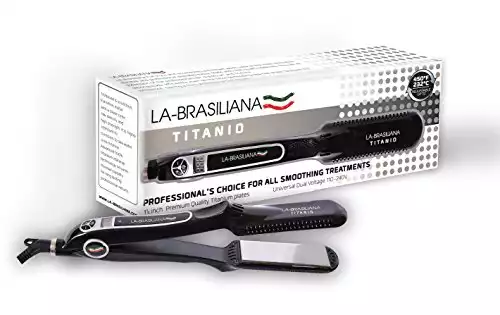 This flat iron features a pair of high-quality titanium plates that are infused with La-Brasiliana's signature keratin smoothing treatment. It leaves the hair smooth, silky soft, and glossy. It's a great flat iron to get if your hair is unyielding, the titanium plates will whip those wild tresses into place. Of course, those with thin or fragile hair have to tread carefully with this one. And use the right heat protectant so you don't end up aggravating your hair issues.
This flat iron features 15 different temperature settings so if you're all about options, the La-Brasiliana flat iron is a great hot tool to get. It also heats up in seconds so you won't waste time in the morning waiting for your flat iron to reach the ideal temperature. This flat iron also boasts of the brand's proprietary smart moisture adjustment system. This technology determines the exact moisture needs of your hair. Advanced technology locks in moisture and infuses the tresses with hydrating conditioners so they don't dry out during styling.
Overall, the La-Brasiliana flat iron is a highly capable keratin flat iron, one that's designed to take on tough styling jobs! My only gripe is the price, the La-Brasiliana flat iron is the most expensive keratin flat iron on our list. It's pricey for what it is, I think there are some flat irons out there that are similar in performance but are way more budget-friendly. However, the La-Brasiliana brand is known for its keratin treatments and if you really want to give your tresses the best, you can't go wrong with this flat iron. 
We liked
Digital Temperature Controls
15 Temperature Settings
Universal voltage
Floating plates design
Adjustable temperature settings
450 Maximum Temperatures
Swivel cord
We didn't like
Not ideal for fragile or thin hair
Runs too hot
A Guide To Buying a Flat Iron with Keratin
Keratin flat irons are not created equally. There are two types of flat iron with keratin, these are:
Keratin Flat Iron with Infused Plates
Most of the flat irons on our list feature keratin-infused plates. The plates are often treated to seal in the "micro-conditioners," which are hydrating keratin treatments and nourishing oils. Once heat-activated, the micro-conditioners are applied on the tresses so the finish is silky, soft, and shiny. Keratin flat irons with infused plates are perfect for anyone with dry, rough, and dull tresses. These hot tools are ideal for those with damaged hair, damage-prone hair as well as color-treated tresses.
Keratin Treatment Flat Irons
These flat irons are designed to be used during keratin treatments. These hot tools are quite similar to traditional flat irons and the only difference is that keratin treatment flat irons protect and preserve keratin-treated tresses. Using a regular flat iron is not ideal for keratin-treated hair because the temperature may ruin the hair. A keratin treatment flat iron helps extend the life of the treatment while preventing heat damage.
Standard Features of a Keratin Flat Iron:
There are many different types of keratin flat irons on the market but what standard features should you look for in a flat iron with keratin? To get the most bang out of your buck, always check for these standard features:
Quality Plates
The most common materials for a flat iron with keratin are ceramic and ceramic tourmaline. However, there are keratin flat irons made with titanium plates as well as tourmaline infused titanium plates. The titanium flat irons plates could reach high temps so these are ideal for those with hard to control and thick hair.
Adjustable Heat Setting
High heat is needed to activate and seal the hydrating benefits of keratin so choose a flat iron with a temperature range between 300 and 450 degrees Fahrenheit. It's important that the flat iron applies heat evenly to achieve a consistent result.
Rounded, Floating Plate Design
A good keratin flat iron should feature a rounded clamp so that it's much easier to control the hot tool as you style your hair. The rounded edges also provide more styling options so it's like getting different hot tools for the price of one. Keratin flat irons with a skinny, rounded clamp can be used to create curls, waves, and flips!Also, it helps if the plates feature a floating design and that there is no gap between the plate and the flat iron clamp. This way, the heat is applied evenly and the results are always consistent.
The Verdict
If you want to achieve glossy, silky straight mane then a keratin flat iron is the best tool for you! This flat iron will extend the life of your hairstyle without causing damage. What's more, your hair will always feel healthy and look shiny. We hope that with this list, you'll find the perfect flat iron with keratin for your styling needs.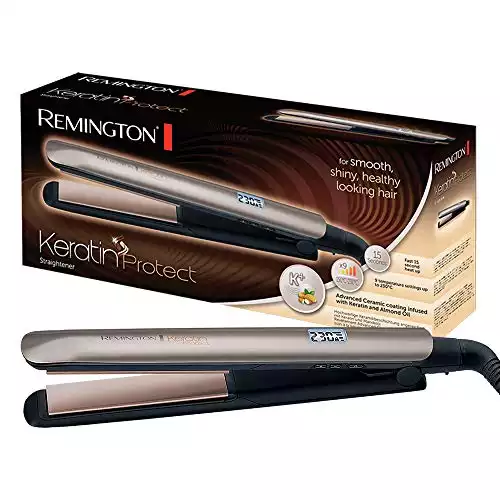 Leah Williams
Leah Williams is the founder of Lucky Curl and has been in the hair care and styling industry for the last 15 years. Since then, she has developed incredible expertise and a deep understanding of how to treat and style the most difficult hair types and is passionate about sharing her knowledge with the readers of Lucky Curl.