This is a review of the popular Solofish Steam Hair Straightener.
Steam hair straighteners, as the name suggests, make use of steam to style one's hair. This is quite different from the curling and flat irons and wands that I have typically used in salon. After getting my hands on the Solofish steam hair straightener, I wanted to share my honest thoughts and feelings about this device.
So, the Solofish steam hair straightener seems like a promising tool for straightening your hair in the sense that you need to fill up the water tank that it comes with to generate heat for your mane. The plates make use of anti-static technology plus a coating of titanium to boost temperatures while protecting your hair strands from further damage. I like that it is equipped with six heat settings to match different hair types too. It is also worth mentioning that this steam hair straightener has an auto shut-off feature which is an added perk for your safety.
In this review, my goal is to provide you with enough knowledge about a steam hair straightener so you can decide whether to stick with your usual flat iron or switch to a steam straightener to style your hair with. You will learn about the key features of this steam hair straightener from Solofish plus alternatives to consider.
I am always on the lookout for something that will speed up the styling process for me and my clients without compromising the quality of my work. And for me, testing out Solofish steam hair straightener is a must.
If you are curious about steam hair straightener reviews, you have come to the right place because you'll find what you need below.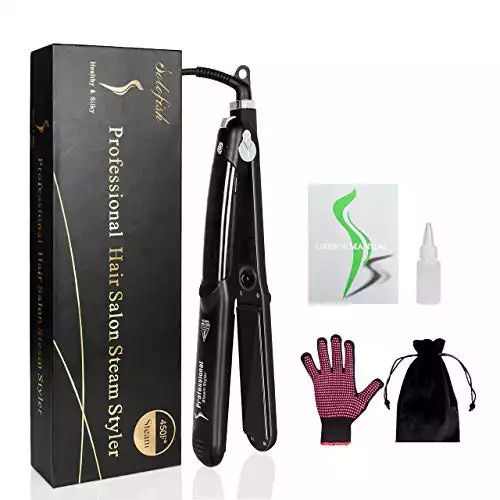 Solofish Steam Hair Straightener Review
What does the product do?
The Solofish steam hair straightener makes use of rich steam that is accompanied by plenty of negative ions to protect hair strands from intense heat while preventing frizz from forming. It comes equipped with ceramic plates with advanced heating technology so that it can hit the desired temperature in just 15 seconds.
It is easy to use since you only need to fill the water tank with water and plug it in to start ironing out your mane. There are three adjustable steam settings for this item with the temperature ranging from 300 degrees Fahrenheit to a maximum temperature of 450 degrees Fahrenheit which means that it can work on different hair types.
Surprisingly, this steam hair straightener is easy to use even if this is your first time using it. The instructions on how to use this steam straightener are clear and concise so you will have it up and running in no time. Unlike using a flat iron where there is a huge possibility of damaging your strands, this one makes use of steam not only to straighten your mane but also to protect your strands from getting damaged.
Features
Finding the best steam hair straightener begins with knowing what features these products have to be able to choose one for your needs. When I used this steam flat iron from Solofish, I made it a point that I will be jotting down the key elements to it which are:
Ceramic Plates
The first thing that you should be looking for in straightening irons is the materials used. Solofish steam hair straightener makes use of ceramic which is known to generate heat evenly. To make it stand out, this steam hair straightening tool makes use of an advanced ceramic heater to lessen the waiting time. With this technology, you only need to wait up to 15 seconds for the flat iron to heat to the temperature you chose thus cutting back the waiting time.
We all know that ceramic is a sturdy material plus it can withstand high heat. The smooth plates help them glide on your mane without snagging or damaging your strands in between. The steam iron combination can help prevent your strands from becoming too brittle by being exposed to high heat all the time so I find this one quite gentle on my hair.
Temperature Settings
Like I mentioned above, the time it takes to heat up the flat iron is only 15 seconds which is certainly an advantage if you are in a rush. But it is not just the speed at which you can start styling your hair that impressed me, but the fact that it has six temperature settings to choose from.
The temperature setting starts at 300 degrees Fahrenheit which works best for those who have thin or fine hair since too much can be a bad thing. If you have dyed or dark colored mane, you can choose between 340 to 370 degrees Fahrenheit. On the other hand, if your hair is normal or has some waves to it, switch to 410 to 430 degrees Fahrenheit. The maximum temperature that you can get on this steam iron is 450 degrees Fahrenheit which works best on thick and very curly strands.
This is one key feature that is essential to any flat iron because it means that you will be able to choose the right temperature for your hair type. This will definitely help minimize the damage to your strands in the long run.
Steam Settings
The steam technology used here is designed to produce rich steam to heat up your strands without damaging them. I like that there are three steam settings here which are no steam, medium steam, and high steam. Now the steam does more than just speed up the process of straightening your mane, but it also prevents your hair from becoming brittle and prone to breakage. If you want to use the flat iron completely, simply switch to no steam and that's it.
What I liked about the Solofish steam hair straightener is that the amount of steam being produced helps disperse the high temperature in order to protect the hair from too much damage. If you take a closer look at the flat iron, you will notice that there are five steam vents installed that allow more steam to escape which can help keep hair moist and not prone to breakage.
Ease of Use
I would like to point that this device is easy to use even if you are a first-timer. You should start by removing the water tank the fill it with clean water. Don't forget to wipe it down before putting the tank back. Turn on the flat iron hair straightener then choose your desired heat settings and wait for a few seconds. You will know when it is ready to use once the blinking lights stopped.
Although there is that extra step of filling the tank about 2/3 with water, the idea of letting the steam works its magic in straightening your mane is quite unique, not to mention effective. Choose whether you want no steam, medium steam, or high steam for your mane.
Auto Shut-Off
Another essential feature that I would like to mention here is that this straightening iron comes with an auto shut-off feature. This comes in handy for moments when you have to rush out of your home because you are already late for work but forgot to unplug the device. Let's face it, we had this happen to us one too many times and there is that feeling of dread that we might have forgotten to unplug our unit.
Fortunately, this steam hair straightener from Solofish has this feature that shuts down the device automatically after 60 minutes of non-activity. No need to worry about accidents waiting to happen with this flat iron, don't you think?
Nano and 3D Technic
The Solofish steam hair straightener flat iron makes use of nano ceramics heat technology where more anion is released compared to other hair straighteners out there. The 3D technic design gives the plates additional elasticity which means that your hair will go up and down without getting dislodged from the plates and without getting snagged too.
High Capacity Water Tank
This steam straightener also comes with a high-capacity water tank that can carry up to 10 ml of water so you won't have to keep on filling the tank after every use.
Alternatives
Aside from Solofish steam hair straightener, other hair straighteners that also use steam that caught my are the following:
FURIDEN Steam Hair Straightener
The FURIDEN steam hair straightener is one alternative to consider if you are looking for a flat iron hair straightener that can give you pin-straight locks with just a single pass. What caught my eye here is the fact that it has 38 temperature control settings to accommodate different hair types. Each turn of the knob increases the temperature up to 5 degrees Fahrenheit so you can test out the right amount of heat for your mane. FURIDEN steam hair straightener is designed to lock in the moisture in your hair strands with the aid of steam. As it releases steam, the moisture is trapped in your strands thus leaving your mane shiny, smooth, and straight. If you think that using steam hair straighteners will damage your hair, think again. As a matter of fact, you are doing your hair a good turn when you use a steam hair straightener since you are not frying your strands every time you use it. With the FURIDEN steam hair straightener, you will enjoy smooth, shiny, and straight mane without any frizz or flyaway to worry about.
Dorisilk Steam Straightener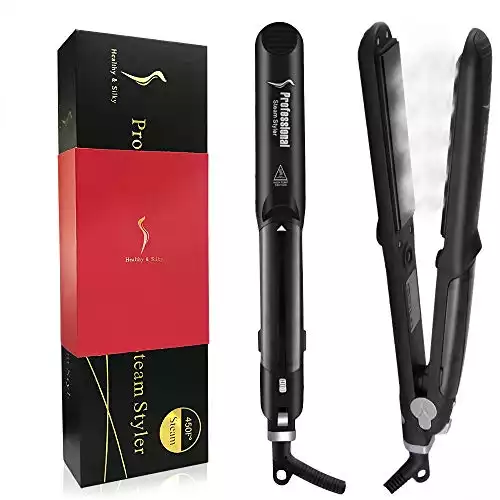 The Dorisilk steam straightener makes use of the latest steam technology not only to protect your hair from intense heat but also to help in straightening your mane without any frizz and flyaway. Its 1 1/4 inch ceramic tourmaline plates take up to a minute to reach the set temperature. The ceramic coating ensures that your hair remains soft, smooth, and shiny regardless of whether you want straight or curly hair. Just like Solofish' steam hair straightener, this one also comes with 6 temperature settings with the maximum temperature at 455 degrees Fahrenheit. This makes this straightening iron ideal for all hair types. It sports 5 conditioning steam vents to seal in the moisture on your mane as you straighten it. What else is there to like about this steam straightening iron? It comes with a dual voltage feature so you can bring it with you on your travels plus it has an auto shut-off feature as well.
Wrap Up
Now that you have an idea of the different steam hair straighteners, you might be wondering which is the best steam hair straightener out there? The Solofish steam hair straightener still stood out for me because it combines rich steam as well as negative ions not only to lock in the moisture but also to tame flyaway and frizz too. Some flat irons create static when they are used hence the frizzy finish but not with this steam straightener.
The ceramic plates glide effortlessly down each section of your hair while the steam vents do the job of sealing in your mane's much-needed moisture. What impressed me the most here is that you only have to wait 15 seconds for the flat iron to reach the temperature you chose which means that you will be able to straighten your hair faster.
The beauty of using a professional steam hair straightening flat iron is that you will not damage your hair with it, unlike regular flat irons where its intense heat can leave your strands dry and brittle to the touch. If you are looking for a straightening tool that can provide you with lasting results, the Solofish steam hair straightener is exactly what you need.
If you want to take advantage of the benefits of using Solofish steam hair straightener, grab yours from Amazon. It's never too late to start using a steam hair straightener flat iron to achieve a smooth, shiny, and sleek mane.
Leah Williams
Leah Williams is the founder of Lucky Curl and has been in the hair care and styling industry for the last 15 years. Since then, she has developed incredible expertise and a deep understanding of how to treat and style the most difficult hair types and is passionate about sharing her knowledge with the readers of Lucky Curl.