The perfect travel photo isn't complete without smooth, coiffed hair. That's why I always pack a flat iron with me so my hair looks glassy whatever the timezone. I've found that the most convenient straightener for me is one that has dual voltage. Read on to know more about my picks for the best dual voltage hair straightener.
Dual Voltage Hair Straightener – 5 Best Flat Irons for Travel
Now that we've gone through the technical bits, we're on to the main event. If you're looking for the best dual voltage flat for travel, here are some flat irons that can accompany you through frizz and shine.
Conair Instant Heat 2-inch Ceramic Flat Iron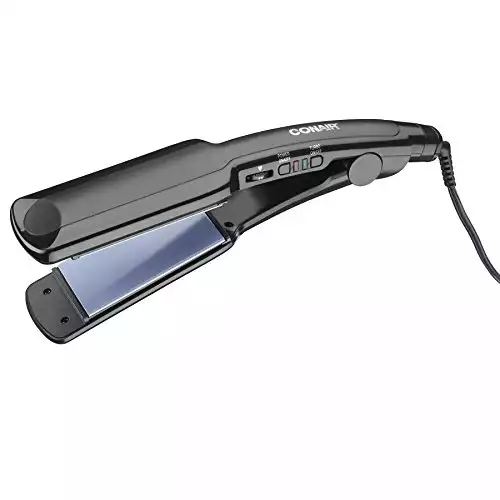 If you find the plates in most straighteners for hair too narrow for you, the Conair Instant Heat Ceramic Flat Iron is a good choice. At only 1 lb, it is designed with 2-inch floating ceramic plates. This feature lets you go through more hair in less time–perfect for busy bees, not to mention travel junkies.
There's more: this dual voltage flat iron has 25 heat settings, a 30-second heat-up time, and can go as hot as 400F. The ceramic plates are gentler on hair and distribute heat evenly. This flat iron also has an even heat recovery feature, which brings the straightener back up to its working temperature in seconds.
This is one of those flat irons that can get close to the scalp so you can get a glassy, travel-ready look with minimal effort. I also like the flat iron's ergonomic handle, which makes using it easy and even enjoyable. '
The Conair is a dual voltage flat iron that switches voltage without a button. When you want zero worries when you travel, this could be a good straightener for you. It has an auto-shutoff feature, too, so there are fewer chances of starting a small fire in the hotel if you forget to turn your flat iron off.
Pros
Quick heat-up time

Ceramic plates guarantee no hot spots

Lots of heat settings to choose from
Cons
No lock to close the iron when not in use or while traveling

Some users have noted it takes longer for it to cool down
BaBylissPRO Nano Titanium Mini Straightening Iron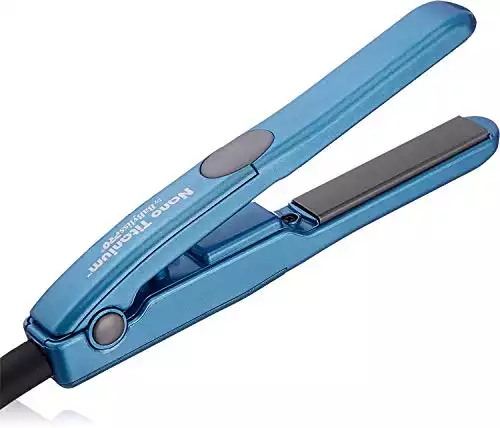 It's undeniable: the BaBylissPRO Nano Titanium Straightener looks cute. But don't let its diminutive size fool you. It's a tiny but mighty flat iron. The straightener is made of a nano titanium and ceramic plate combo. It's only 6 inches long and its plates are 1 inch in width. Because it has a ceramic material, you can be assured of even heat distribution (goodbye, hot spots! ).
This dual voltage flat iron also emits negative ions for smooth and shiny tresses. The titanium and ceramic plates are very efficient at straightening hair and can give you glassy locks for a longer time. This dual voltage straightener has an adjustable temperature, up to 440F. Because it's compact and lightweight (just 4.8 ounces!), you can slip it in your bag easily. It's handy for getting close to your roots too, for a seamless finish.
Now, for the cons: if you have fine or thin hair, this flat iron may not be for you. Because of the gap in the titanium plates, the straightener doesn't fully close, making for uneven straightening for less thick hair types. The handle of the straightener also has a tendency to heat up, according to some users. It may not be what you're looking for if you're using a flat iron for longer periods.
Pros
Small and light flat iron perfect for traveling

Gives you very smooth, glossy hairL

Long-lasting results because of the nano titanium and ceramic plates
Cons
Not for thin or fine hair

The handle can get hot
K
IPOZI Professional Flat Iron 
When looking for a dual voltage travel flat iron, check if your straightener comes with a travel pouch and safety lock. The KIPOZI Professional Flat Iron comes with both, making international travel a breeze. This dual voltage straightener is quite heavy though, at 14.4 oz, but if you have the extra baggage allowance, this may be a good travel flat iron for you.
Its 1-inch titanium plates are perfect for almost any hair type and can even style bangs. The dual voltage flat iron has a heat-up time of 15 seconds and an auto shut-off feature after 90 minutes. It also has adjustable heat settings, up to 450F, so whether your hair is fine or coarse, curly, or straight, you have something to choose from.
Advertised as "a home salon in your hands", the floating plates of the straightener emit negative ions to fight frizz. I recommend this for those wanting to control frizzy hair or unwanted static. The floating plates prevent snags and pulls. Styling your own hair without pain really should be standard but you'd be surprised how often flat irons can catch on locks of hair randomly.
A quality that I also like about this straightener is that it works as a dual voltage flat iron and curling iron in one. Definitely a versatile tool for travel.
Pros
Adjustable temperature settings

Negative ions in the titanium plates fight frizz

Comes with a travel pouch

Has a safety lock
Cons
One of the bulkier options on this list
CROC Baby Flat Iron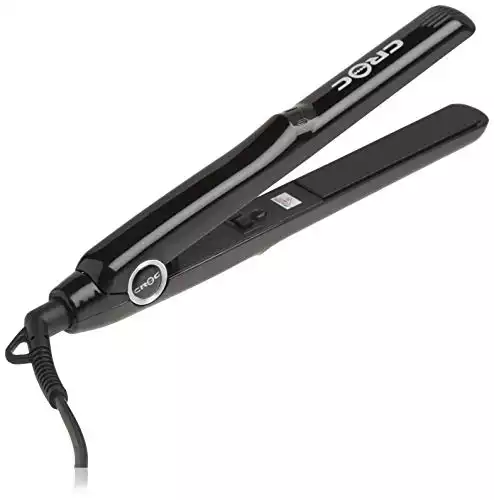 This dual voltage flat iron might be the sleekest of them all. The CROC Baby Flat Iron lives up to its name with its 3/4 inch plates and a total weight of merely 8 ounces. The flat iron's compact size is perfect for travel. It offers salon-quality results and it claims to be suitable for all hair types. The ceramic plates give off negative ions for a sleek and healthy look. The dual voltage flat iron has a 110-120V and 220-240V capability.
The Croc Baby Flat comes in six colors: black, white, pink, fuchsia, lime, and red. What makes it even more suited for travel is its heat-proof case. Sadly, it has no adjustable heat settings. The temperature is static at 410F, up to 430F. This makes the dual voltage flat not the best candidate for curly or thick-haired girls out there. This is the best dual voltage flat iron for you if you love to travel and have straight or fine hair.
Pros
Sleek and lightweight dual voltage flat iron which is perfect for international travel

Ceramic plates ensure even heat

There are several color options

Comes with a heat-proof case
Cons
The heat settings are not adjustable and therefore not suitable for curly or thicker hair
xtava Professional Infrared Hair Straightener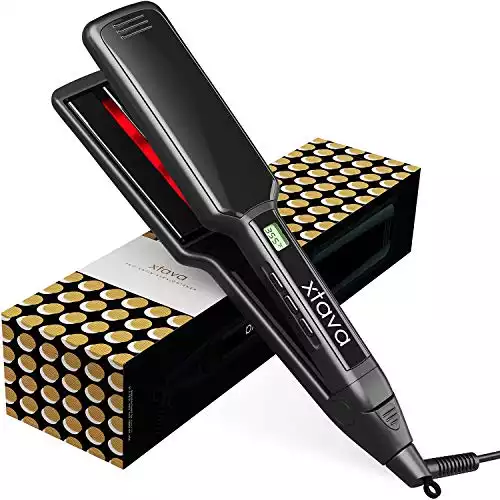 A dual voltage flat iron that packs a punch, the xtava Professional Infrared Hair Straightener has ceramic tourmaline floating plates measuring 2 inches. The flat iron itself weighs 2.05 lbs. The product claims to tame frizzy hair without damaging it.
This dual voltage flat iron has 10 temperature settings and a heat-up time of 90 seconds. The xtava is a good pick for the best travel flat because of its unique lock feature (activated by a button) and auto-shutoff. The flat iron also has a 360-degree swivel cord, notably long at 8 feet.
The flat iron uses an infrared and tourmaline heating tech that gives off negative ions. It is gentle on the hair because it penetrates the inside of the hair first, which minimizes damage. If you have thick, natural hair and were wondering which is the best straightener for you, look no further than the xtava Professional Infrared Hair Straightener.
A dual voltage flat iron as technologically-advanced as this comes with some flaws, though. It's quite bulky at 2 lbs, which is quite heavy in your luggage during international travel. Because of the width of the ceramic tourmaline plates, it will be challenging to get close to your roots for a uniform look from top to bottom. If you are fond of curling your hair with a flat iron, that will be difficult to do with this one because of the plate size. The buttons of this straightener are located in an awkward place and it's all too easy to click on them accidentally while using the flat iron. But if those cons aren't dealbreakers for you, the xtava can be a really good travel flat iron.
Pros
Ceramic tourmaline plates minimize damage and remove frizz

Adjustable temperature settings

Very long cord with 360-degree swivel

Comes with a lock function
Cons
Heavy

Can't go close to the scalp

Buttons are awkwardly placed
A Guide to Buying a Dual Voltage Hair Straightener
Right before a trip, I plan everything to the last detail: all my outfits, my itinerary, budget, transportation, and so on. A good travel flat not only keeps my hair groomed amidst the rigors of globe-trotting, but it also saves space in my luggage and gives me quality results for a reasonable price. More importantly, a big must for me in a flat iron is the capacity for dual voltage.
Now, if you've mostly traveled in countries with similar voltages to your home country, you may not have encountered this concept. Basically, there are two voltage ranges in the world: 100-127V or 220-240V. Appliances usually come in only one of the two ranges.
When you take a 220 voltage flat iron to a country that has 100 voltage, you will need a converter. How is a converter different from an adapter? An adapter allows you to insert your appliance into a different type of socket while a converter lets you use an appliance of a different voltage range safely. To illustrate, without a converter, a 100-120V hairdryer that is plugged into a 240V outlet might go in flames. Such is the risk of not using the proper voltage range.
Do I Need a Converter for my Flat Iron in Europe?
To check if you need to pack a converter for a trip to Europe, or any location, you have to first know what voltage range you have in your home country. If they don't match up (such as when you're from the US and going to France), you'll need a converter. Europe has a 220-240V voltage range and 50Hz.
Can You Use Hair Straightener in Europe?
Yes, you can use a flat iron in Europe. You just need to ensure that your straightener's voltage is compatible with their voltage. Look at the fine print to check if your flat iron has dual voltage. If not, look for a good converter.
Is My CHI Hair Straightener Dual Voltage?
You can find out if your CHI flat iron is dual voltage by checking the label and looking for a number with a "V" for volts, usually next to the word input. If it's labeled 110-240V, it's dual voltage. Do note that older CHI straightener models are not dual voltage.
Are Most Flat Irons Dual Voltage?
Unfortunately, not all flat irons are dual voltage. Unlike laptops, phones, and digital cameras that are compatible with any voltage type, flat irons do not have dual voltage as a standard.
You can check if your flat iron is dual voltage by checking the back of the device. If it says 100-240V, 50/60 Hz, it's dual voltage. If it only indicates 110V or 220V, for instance, that's a single voltage flat iron. When in doubt, you can always look up your device online for the specs.
What are the Advantages and Disadvantages of a Dual Voltage Flat Iron?
A dual voltage flat iron is my personal travel essential because it saves time. Not having to think about what voltages are in my destination and whether to pack a converter or not frees up a ton of brain space that could be put into, well, the billion other things that you need to take care of before jetting off.
The only con is you have to be careful about what flat iron you buy because some flat irons are falsely advertised as dual voltage. Others don't work as they were intended and that's a few bucks down the drain. I recommend going through trusted reviews so you find something that's suited for you. Choose smartly and buy from a reputable brand, if you can.
What is the Best Way to Use a Dual Voltage Flat Iron?
You can use a dual voltage flat iron the same way as any other hair straightener. Plug in a suitable adapter for the socket and turn on your device. If your flat iron has voltage and temperature settings, adjust them accordingly, and begin styling your tresses.
How do I Choose the Best Dual Voltage Flat Iron?
The best dual voltage hair straightener is one that's perfect for both home and travel use. For me, I want one that has a safety shut-off feature, a quick heat-up time, and a plate that has a good width. Your needs may vary if you have fine, coarse, straight, curly, or wavy hair. I personally want an adjustable temperature for my flat iron because having options for whatever occasion is appealing to me. Lastly, I want a lightweight flat iron if I intend to travel with it.
The Verdict
Out of all the above, you might be wondering which is the best hair straightener. These are 5 of the best dual voltage flat irons but if I were to pick just one, I would go with the Conair Instant Heat 2-inch Ceramic Flat Iron. It simply ticks all the boxes for me and has everything I need in a travel flat iron. It's lightweight and has good-sized plates to cover large areas of hair quickly. It also has a quick heat-up time and an auto-shutoff feature. I personally prefer ceramic plates as they're gentle on my hair and I love that this flat iron changes voltage automatically.
But my choice is entirely subjective and you might prefer something else entirely for your hair. Whatever your preferences, if you're trying to satisfy your wanderlust but aren't keen on compromising your style, give these 5 travel flat irons a whirl.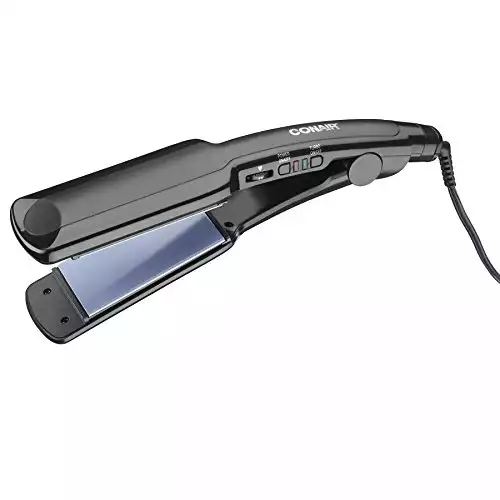 Leah Williams
Leah Williams is the founder of Lucky Curl and has been in the hair care and styling industry for the last 15 years. Since then, she has developed incredible expertise and a deep understanding of how to treat and style the most difficult hair types and is passionate about sharing her knowledge with the readers of Lucky Curl.