This is a review of the L'ange Hair Aplatir Flat Iron.
I love a high-quality hair tool and have been a fan of just about every product from L'ange Hair. Their styling tools, and particularly curling irons are top-rated by professional hair stylists for good reason. That's why I was excited to test their range of flat irons, starting with the beautiful blush pink Aplatir Flat Iron.
From what I have experienced with the L'ange Hair Aplatir, this is a solid hair straightener and curling tool in one. What makes it such a versatile piece is its design with its round edges as well as floating plates that let you do a variety of hairstyles. Additionally, it can be used on different hair types which for me is always a plus for flat irons.
In this review, I will share my experience using this flat iron and explore the features and benefits of the hair straightener.
If you are considering trying the L'ange hair straightener and would want to know more about it, read my first-hand experience below.
Product Overview
The Lange straightener is a tourmaline-infused ceramic flat iron that can straighten hair to create that sleek and sophisticated look that you have always wanted. And it is not just making your mane look like it has been professionally done, but you can also use it on your hair to create waves too. You can create pin straight hair with this equipment, but if you want to create waves twist your iron away from you rather than moving it downwards to produce loose waves.
The tourmaline-infused ceramic plates heat up evenly which means that the plates can straighten or curl your strands quickly without exposing your mane to too much heat. This is useful especially when your concern is burning your strands. It comes with heat control which is handy since you will be able to choose the right temperature for your mane.
Is the L'ange tourmaline ceramic flat iron really worth it? From what I have experienced, the L'ange Hair Aplatir is a promising product because I was impressed with the fact that I was able to adjust the temperature for a more versatile styling experience. The swivel power cord has helped as well because I was able to avoid getting all tangled up in this styling tool.
Features of L'Ange Hair Aplatir
Before you add to bag the L'Ange Hair Aplatir straightening tool, you should check out its main features first to determine if it is the right one for you:
Ceramic Flat Iron
The first thing that I usually check when it comes to a flat iron is what the plates are made from. This particular brand makes use of ceramic flat iron plates that are infused with tourmaline in order to support high heat.
The combination of tourmaline and ceramic ensures that there will be no hotspots on the plates thus lessening the damage to your hair strands. The benefit here is that you will not expose your strands to high heat longer than needed.
Floating Plates
The floating plates are the ones responsible for straightening or creating waves or curls because they adjust depending on the angle of the iron. Why bother with this information? Well, one of the things that this type of plate does is to adjust accordingly. There will be minimal pulling and snagging with this ceramic flat iron which is a great experience, to be honest.
Ergonomic Design
Like I mentioned before, the L Ange Hair Aplatir is a versatile tool all thanks to its design. Right from the start, you will see that this is not your ordinary flat iron given that it has rounded edges to it. Why is this important? Unlike traditional irons that have flat edges, this one offers versatility in the sense that it is easier to twist the iron to create curls and waves.
The floating plates ensure that your mane will be locked between the hot plates and adjust the position accordingly depending on what hairstyle you are trying to achieve. It is lightweight and comfortable to hold so you won't suffer from arm and hand fatigue when using it.
Temperature Control
Temperature control should be one of the factors that you should look for when shopping for a straightening tool to use on your hair. Although traditional irons will only have two settings which are on and off, having a hair straightener that can adjust the amount of heat generated gives you more control over the health of your mane.
In the L'ange hair aplatir, you have a rotating knob which you can use to choose any temperature starting from 140 degrees Fahrenheit with the maximum set at 450 degrees Fahrenheit. You can tell from the range of temperatures available that you can use this flat iron for any hair type. The lowest setting is best for those who have fine hair while for those who have thick strands just like me, cranking up the heat to 450 degrees Fahrenheit will do more justice to your mane.
Negative Ion and Far Infrared Technology
Other features that you will find in this product is the negative ion and far infrared technology. What makes these two keys to L'ange worth anything? Well, these two work together to keep your hair sleek and straight just like when you step out of the salon. When using this flat iron, the negative ions produced by the plates can prevent the appearance of frizz or even wild strands. I read that this product produces 400 more negative ions compared to others which ensure that your mane will look smooth, shiny, and bouncy at the same time. Using this hair styling tool will be able to provide you with quality results.
Swivel Cord
The L'ange Hair Aplatir iron also boasts of a 360 degrees swivel 9 feet long cord. This is actually a relief since you will be able to walk around while styling your mane or at least be able to reach the back of your head without positioning your arm at an awkward angle. No need to worry about getting tangled either because the swivel cord can rotate fully.
Alternatives
Aside from L'Ange, I thought it would be best to look for other related products in case you want something else to add to your list. I have identified three more hair straightening tools that you should consider for your hair care too.
HSI Professional Glider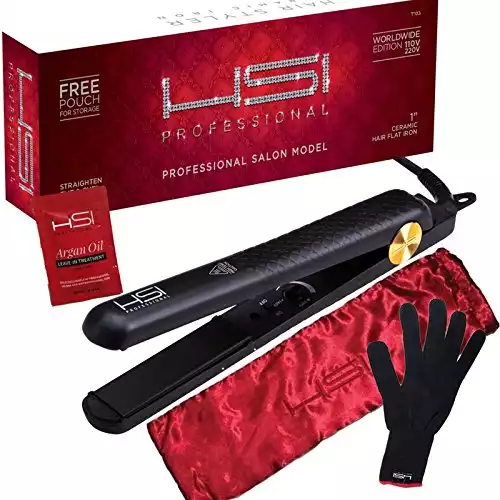 If you want to achieve a salon-like straight mane, the HSI professional glider is a good place to start. You can flip, straighten, or even curl your strands with just a single tool. It doesn't matter if you have coarse or even frizzy mane, or that you have bangs that you want to straighten or curl as well, the HSI Professional glider will impress you with the results. The tourmaline ceramic plates are equipped with 8 HeatBalance microsensors to ensure even heating from start to finish. This means that you don't have to worry about burning your strands accidentally because the plates produce heat in an even fashion. Additionally, you can adjust the temperature from 140 degrees F to 450 degrees F making this product ideal for all hair types. Getting that salon-like hairdo will no longer be impossible because this straightening tool will get the job done well. This is a great alternative to L Ange because of the extra accessories included such as heat resistant gloves, Argan oil, and a nice pouch to store it in for travel purposes. It comes with dual voltage so you can plug it in safely when you are abroad. The lightweight design is a plus since you won't be dealing with arm or hand fatigue when using it. If you are looking for an alternative, I would say that this brand really stood out.
KIPOZI Professional Hair Straightener
The KIPOZI professional hair straightening tool boasts of titanium plates with advanced PTC ceramic heater for optimum styling temperature which helps minimize hair breakage by up to 80%. When you turn on your tool, you can easily set the temperature that you want it to heat up to. The temperature setting in this product ranges from 170 degrees F to 450 degrees F for versatile styling. This way, you don't have to worry about your hair type since this tool can handle fine to thick and coarse strands. Aside from being corrosion and stain resistant, the titanium ceramic plates apply pressure to straighten your strands until they are pin-straight. If your concern is that the heat will damage your mane, you don't have to worry since it comes with a temperature control feature. When you shop for this product, you will feel safe too since it has an auto shut off feature after 90 minutes, plus it sports dual voltage too so you can bring it with you outside the country. What makes it better than L'Ange is that it has an advanced ceramic heater that speeds up the heating process plus it prevents hotspots from ruining your hair strands. Additionally, this one is equipped with an LCD display wherein you can see the current temperature that it is in so you can style your hair immediately.
NITION Professional Salon Hair Straightener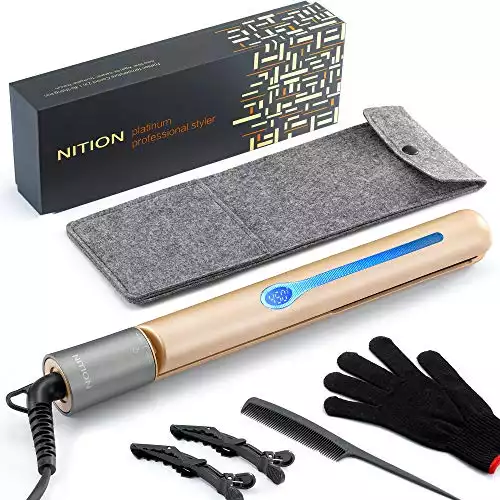 Another option that you can consider as an alternative to L Ange hair styling tool is from NITION. This flat iron looks promising because the plates are coated with materials such as nano silver, Argan oil, titanium, tourmaline, and ceramic. What this means is that this combination of materials not only helps in straightening and styling your mane but it also ensures that your tresses will not get damaged so quickly. The plates prevent static from forming, helps keep moisture in your strands where they belong, plus they will not snag or pull at your hair when you iron them out. What makes this a good choice in place of L Ange is the fact that it has a smooth body since there are no buttons that you will accidentally hit as you straighten your mane. As a matter of fact, if you want to turn it on and off, you only need to rotate the bottom portion of the barrel. This is also where you can adjust the temperature of the flat iron too and thanks to the digital LCD installed, you will be able to see how hot the plates are. This is also a 2-in-1 type of styling tool because aside from getting your hair straight, you can also use it to curl your strands.
Based on my experience with the L Ange hair aplatir straightener, I would say that I was impressed with the way that it straightened my thick mane quickly. The tourmaline-infused ceramic plates did a great job in ironing my hair strands without damaging them. I tried the different heat settings to see how well they work. Although they do seem to straighten my hair, it is at the highest temperature where I found that it worked well for my mane.
The negative ion output is impressive since this is the one responsible for taming frizz. With 400 more negative ions produced compared to others that seal in your hair cuticle, this is a good indication that this item will not cause your mane to look wild since it tames and smooths frizz as it should. It doesn't matter whether you want to get that sleek straight tresses or you want to add some waves and loose curls, the rounded body makes it possible to do different hairstyles with it.
Turning it on and off is easy plus there is a rotating dial that allows you to choose the right temperature for your hair type. Mine is set at 450 degrees F which helps me iron out my strands in a jiffy. I also have to mention that this product is lightweight too which means that there is less fatigue happening in my arms and hands. If you are looking for a flat iron that will yield professional results, my money is on this brand.
Ready to achieve professional results when you straighten your hair at home. You can purchase the L'Ange Hair Aplatir here.
Leah Williams
Leah Williams is the founder of Lucky Curl and has been in the hair care and styling industry for the last 15 years. Since then, she has developed incredible expertise and a deep understanding of how to treat and style the most difficult hair types and is passionate about sharing her knowledge with the readers of Lucky Curl.