Are you a fan of the PYT brand?
If you are on the hunt for a quality yet affordable hot tool, look no further! PYT is popular among the young, hip crowd for its fun packaging and youthful designs. I know it's hard to choose just a single flat iron from PYT's ever-expanding range of products and that's what these PYT hair straightener reviews are all about!
In this guide, we are outlining the best flat irons from PYT, those that are truly worth investing your money in. Read our PYT hair straightener reviews below:
About the PYT Brand
Pretty Young Thing or PYT is a Brooklyn-based brand known for its hair care products and salon-quality hot tools – flat irons, curling wands, hairdryers, hair accessories, and other hair care products. The brand aims to empower women by unleashing their "inner PYT." Each of PYT's hot tools took inspiration from the fashion capitals of the world and is designed to give you fresh, runway-worthy looks.
PYT Hair Straightener – 5 Top-Rated Straighteners Reviewed
PYT Peacock Pro Hair Straightener
The PYT brand is all about adding a bit of fun back into hair styling. If straightening your tresses has become quite the chore then something like the PYT Peacock Pro Hair Straightener should bring the fun back into your everyday morning routine.
Product Features
2-in-1 Flat Iron and Curler
400°F Maximum Temperature
Ceramic Plates
Ionic Technology
Infra-Red Heat Technology
Adjustable Temperature Settings 
This flat iron is a part of the brand's PRO line and it features a snazzy graphic – and colorful – skin. It's a great flat iron for a silk press but the barrel is skinny enough for hair curling too! The PYT Peacock features a pair of ceramic plates that straighten, curl and flip the tresses quickly. The smooth plates allow for snag-free, breakage-free styling.
The heat settings range between 380 and 400 degrees Fahrenheit so it is ideal for thin and thick hair alike. The PYT Peacock produces infrared heat that penetrates the hair strands deeply, ensuring efficient styling in half the time. It also heats up quickly, about 10 seconds or less, so there's no waiting around once you're ready to straighten your hair.
PYT Professional Flat Iron Ceramic Hair Straightener
For a basic flat iron with a performance that goes beyond the ordinary, I highly suggest the PYT Hair Straightener – Ceramic Flat Iron in black! This is the brand's most popular flat iron and I can see why. The plates are made from 100% ceramic and though it's definitely fragile, the performance is fantastic. If your hair is prone to breakage, if it's brittle, dry, or it needs lots of TLC, this is the best flat iron for you. The PYT Professional Flat Iron Ceramic Hair Straightener straightens the tresses without causing damage.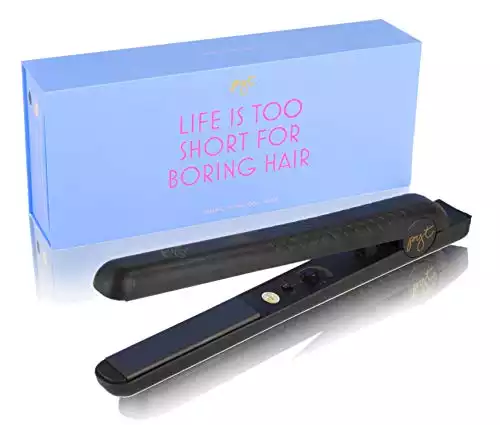 I like multipurpose hot tools and the PYT Professional Flat Iron Ceramic Hair Straightener offers more to the table than your average flat iron. With it, you can create curls, waves, and even defined ringlets. It's literally like paying for two hot tools.
Product Features
2-in-1 Flat Iron and Curler
100% Ceramic Plates
Ionic Technology
450°F Maximum Temperature
Infrared Technology
Adjustable Temperature Settings  
The ceramic material produces negative ions that transform dull, dry, and rough tresses into lustrous, brilliant, and soft mane. The flat iron features a floating plate design so the ceramic material is set seamlessly with zero gaps. The floating design ensures precise contact between the ceramic plates and the hair, eliminating creases and lopsided results.
The heat settings can be adjusted between 140 degrees to 450 degrees. It's a fantastic, all-around flat iron for anyone with thin or fragile hair but it's also perfect for those with unruly, thick manes like yours truly. The skinny barrel and lightweight design gives me optimal control over the flat iron. There's no accidental burning to worry about, trust me. The 100% ceramic plates made the PYT Professional Flat Iron Ceramic Hair Straightener pricier than some flat irons but it's a great investment if you need a premium hot tool that does the job splendidly.
PYT Bubblegum Pink Hair Straightener
If you're looking for a flat iron that matches your bubbly, feisty personality then how about this bubblegum pink gem? The PYT Bubblegum Pink Hair Straightener is part of the brand's PRO line and it comes with all the useful features of PYT professional flat irons but in a cool, baby pink colorway.
This hair styler boasts a pair of smooth ceramic plates that heat up almost instantly. You can create a variety of looks because the clamp is skinny enough to work as a hair curler too. And the clip-free design means you're always in control and the results are always precise. No annoying lines, no unsightly creases.
Product Features
2-in-1 Flat Iron and Curler
Ceramic-Tourmaline Plates
Ionic Technology
Infrared Heat
No-Gap Design
450°F Maximum Temperature 
Adjustable Heat Setting
The ceramic heating plates are also infused with tourmaline that doubles the negative ion that the former produce. You can style your hair regularly and your hair will never feel rough, dry, or brittle. Infrared heat effectively tames the tresses, giving you silky, long-lasting results. I also like the simple controls, this is a fuss-free flat iron that doesn't require a lot of tinkering to use.
PYT Professional Infrared Flat Iron Ceramic Hair Straightener
For those with coarse, thick, unruly hair that refuses to cooperate, you need a flat iron that could whip those stubborn tresses to place. For tough styling jobs, you can depend on the PYT Professional Infrared Flat Iron Ceramic Hair Straightener: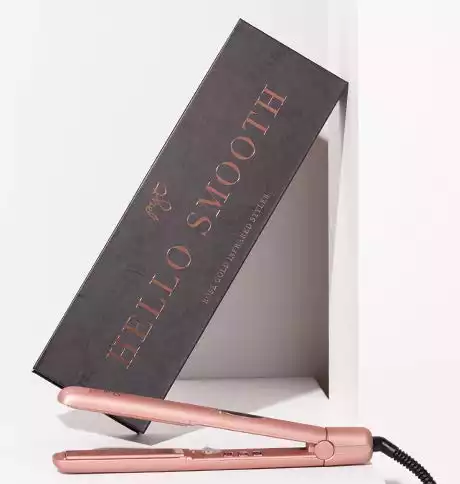 Product Features
MCH heating elements
Far Infrared Technology
Ionic Technology
Adjustable Heat Setting
170F – 450 ̊F Temperature Range
Auto Shutoff Feature
This flat iron is specifically designed for stubborn hair as well as frizz and static prone tresses. It"s fitted with MCH heating elements that produce consistent, even heat so you get long-lasting silky straight hair from morning to night. The heating materials also produce negative ions that lock in moisture, giving your hair shine, body, and bounce! With the PYT Professional Infrared Flat Iron Ceramic Hair Straightener, you're not just getting straight hair, you're getting tresses that are full of life.
The PYT Professional Infrared Flat Iron Ceramic Hair Straightener also comes with digital controls so you can adjust the heat between 170F to 450 ̊F. The clamp is also longer so you can work with larger hair sections. The plates are also rounded, and the ends are tapered so you can create waves and curls, apart from straightening the tresses. The rubberized body ensures a firm grip so you have more control over the results.
Overall, the Professional Infrared Flat Iron Ceramic Hair Straightener is one hardworking, versatile flat iron. It's quite pricey for what it is but the quality speaks for itself. This flat iron is built for long-term use.
PYT Lola Styling Tools Set
If you are the kind who wants a bit of everything then this set is definitely perfect for your changing style. The PYT Lola Styling Tools Set is comprised of 3 hot tools, a standard 1.25 inches ceramic flat iron, a PYT hair straightener mini, and a curling wand. It also comes with a heat-protective glove and vibrant galaxy skin to match your eclectic taste. The heating materials of the styling tools are made from 100% tourmaline-infused ceramic so this set is perfect for anyone with thin or fragile hair.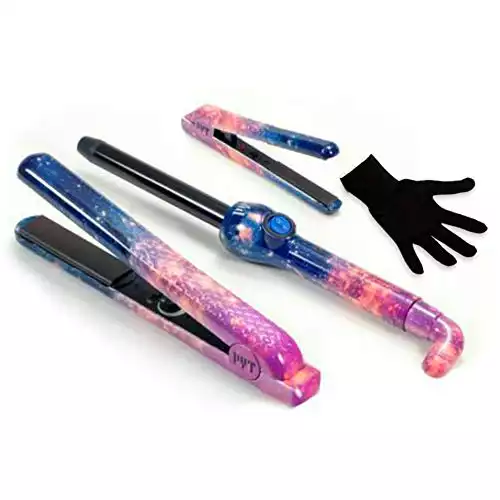 Product Features
100% Tourmaline-Ceramic Plates
450°F Maximum Temperature
Floating Plates Design
Adjustable Heat Setting
The standard sized flat iron heats up to 450 Degrees F while the mini flat iron reaches 400 Degrees F so the set could also work for anyone with unruly, thick mane. The sizes of the hot tools are quite compact so they're perfectly travel-friendly too. The floating plates design combined with negative ions and far infrared heat that the materials produce creates a frizz-free, long lasting finish.
For a set of tourmaline-ceramic hot tools, this set is quite affordable especially when compared with PYT's standalone flat irons. And each of these hot tools pulls double duty. The flat iron and PYT hair straightener mini could be used to create loose curls and tousled waves while the curling wand makes defined curls and ringlets. You get optimum control over the hot tools because of the versatile, lightweight design. 
A Guide to Buying a PYT Hair Straightener
How to use a PYT Hair Straightener
PYT is known for its range of user-friendly flat irons. Some have extra features while the most basic ones only come with standard features, including adjustable heat setting and an auto-shut off feature. 
If you are wondering how to use a PYT hair straightener, I'd say their flat irons work the same way as other hair straighteners. Start by drying your hair completely, apply your favorite heat protective product, and work your hair into sections. 
Turn the flat iron on, set your preferred temperature and wait until the flat iron is nice and hot. This won't take a long wait at all because PYT hot tools only take a few seconds to reach the ideal temperature. Once the hot tool is ready, start working on every hair section. Be sure to get as close to the base of the hair strands as possible to get a silky, bodacious finish. 
After you're done with the hair straightening, apply your favorite finishing product and you're done! Simple, right?
Whatever PYT flat iron model you're using, be sure that the heating element is suitable for your hair type. If you have thin hair, opt for a tourmaline-ceramic or ceramic PYT flat iron. 
PYT Flat Iron: Standard Features We Love
Multipurpose Design
Notice that most, if not all, of the flat irons featured in our PYT hair straightener reviews could straighten and curl the tresses? PYT is known for its multipurpose hot tools and the flat irons are not an exemption. It's like getting two hot tools for the price of one, which is always a win for anyone who loves to experiment with different hair styles. With every PYT flat iron, you can create luscious curls, romantic waves, tousled tresses, romantic ringlets, and more!
Floating Plate Design
The floating plate design eliminates the gap between the heating element and the clamp of the flat iron so heat is applied evenly on every hair section. The no-gap design also eliminates tugging, tangling, or snagging that could damage the hair while styling. 
Adjustable Temperature
PYT flat irons are quite versatile, they'll work for people with thin and thick hair alike. One of my pet peeves are flat irons that has a non-adjustable heat setting. This makes the flat iron less versatile. PYT flat irons have adjustable heat settings so you can set the ideal temperature according to your hair type and never worry about accidentally frying your hair!
Travel-Friendly
If you're all about looking good while traveling, you will love PYT flat irons' compact, space-efficient design, lightweight body, dual voltage feature, and convenient swivel cord. These flat irons are so easy to tote around!
Conclusion
Life's too short for boring hair, that's the brand's slogan and I couldn't agree more. PYT may be new in the game but the brand's wide range of styling tools are a hit among the younger crowd. I, for one, enjoy the fun designs and the colorful packaging! And don't think the PYT is just about fun packaging, the quality of the flat irons are just as fantastic. 
Leah Williams
Leah Williams is the founder of Lucky Curl and has been in the hair care and styling industry for the last 15 years. Since then, she has developed incredible expertise and a deep understanding of how to treat and style the most difficult hair types and is passionate about sharing her knowledge with the readers of Lucky Curl.