If you're someone with fine hair, a  blow dryer is one of the most important tools in your hair styling kit. Not only does it dry your hair, but it can also provide much-needed volume. However, the biggest pain point in styling fine hair is heat damage.
A good blow dryer can give you the best of both worlds by drying your hair without frying it with the volume you've always wanted. Here are some options for the best dryer for fine hair.
Best Hair Dryer for Fine Hair – 5 Top-Rated Products Reviewed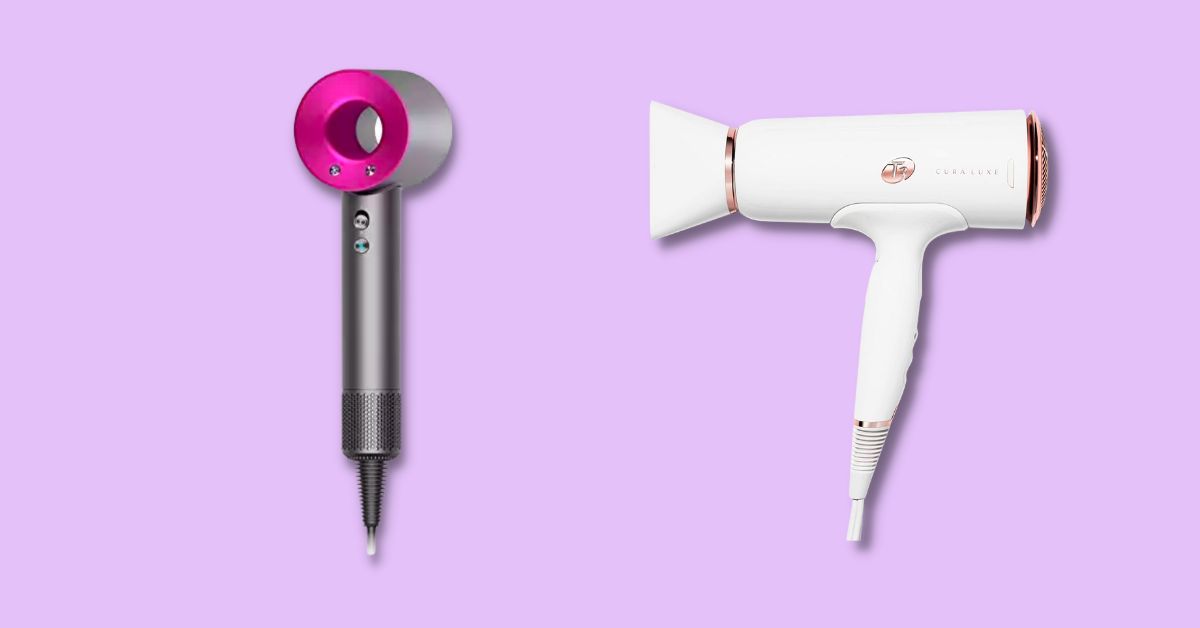 1. Dyson Supersonic Hair Dryer
2. RUSK Engineering W8less Professional 2000 Watt Dryer
3. BaBylissPRO Nano Titanium Hair Dryer
4. Panasonic Nanoe Hair Dryer with Oscillating Nozzle
5. Remington Pro Hair Dryer with Pearl Ceramic Technology

1. Dyson Supersonic Hair Dryer
Dyson Supersonic Hair Dryer 1200W
Built with powerful Dyson V9 motor and patented Air Multiplier Technology for less heat damage
Comes with magnetic styling attachments
Designed with negative ions to reduce static and frizz
Suited to all hair types
We earn a commission if you click this link and make a purchase at no additional cost to you.
The Dyson is, without a doubt, the Rolls Royce of hair dryers. And it's easy to see why. It looks different from other dryers but in a good way. The design feels sleek and uber-modern. The motor is housed in the handle. It has 4 heat settings, including a cool shot, and 3 speed options.
Because of its compact design, it's lighter than your average hair dryer. There are three attachments to choose from and they all connect to the dryer's body magnetically. That satisfying click is a small detail but it makes the user experience so much more luxurious. You can choose from a smoothing nozzle, styling concentrator, and diffuser.
The Dyson is a great choice for fine hair because despite its efficiency, it actually doesn't get super hot when you dry your hair. Its highest temperature is a mere 212F. A thermal sensor is embedded in the Supersonic which regulates airflow temperature 40 times per second. The device also emits negative ions to reduce frizz.
Because the motor is in the handle and the head of the dryer is lighter than the handle, the Dyson is easy to hold and lightweight.
This is one of the best hairdryers for achieving sleek looks because the dryer smoothens and straightens hair. Those with curly hair will love the diffuser on this one. The 2-year warranty doesn't hurt either.
However, the Dyson has a slight flaw. It makes a high-pitched sound that is supposed to be on an inaudible frequency but can definitely be heard. You'll also find some of the buttons are awkwardly placed on top of the handle but this isn't a dealbreaker.
The Dyson is undisputedly amazing for fine hair and other hair types in general, but its price could be the dealbreaker. Being on the highest end of the price range for hair dryers, the Dyson may not be a good choice for everyone, price-wise. At under $250 USD, The Shark can be a good candidate for a high-quality hair dryer that won't bust your budget.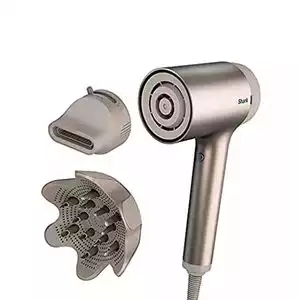 Power: 1600 w Weight: 6.14 pounds Features: 3 precise speed settings, 4 precise heat settings, 82 degree F cold shot Warranty: 2 years
2. RUSK Engineering W8less Professional 2000 Watt Dryer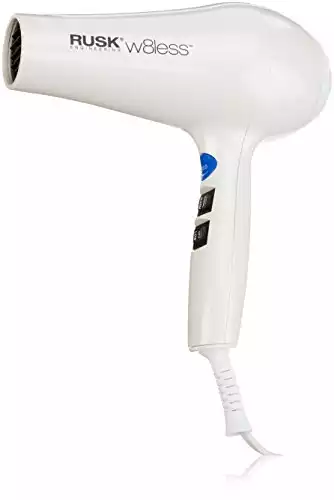 We earn a commission if you click this link and make a purchase at no additional cost to you.
Fine hair can be difficult to manage, as it is easily damaged and prone to frizz. The RUSK Engineering W8less Professional 2000 Watt Hair Dryer is a great option for those with fine hair, as it uses ceramic and tourmaline to dry hair more efficiently.
It also features seven-speed heat settings, so you can opt for lower temperatures and power settings if needed. We found the warm setting was effective enough to dry fine hair types. However, the hotter settings work well to tame curls or kinks.
In terms of functionality, the hair dryer has a lightweight design that prevents your arm from getting tired as you dry your hair and well-placed buttons that don't stick out (so you don't accidentally switch the dryer off when using it!).
Overall, the resounding feedback on this dryer is that it can really improve the healthiness and condition of your hair — a major plus for those with fine hair. You will notice fewer flyaways and frizz and less breakage. Best of all, it's under $100 USD, so it's fantastic value for money.
Power: 2000 w Weight: 1.00 pounds Features: 7 Heat/Speed Settings Warranty: 2 years
3. BaBylissPRO Nano Titanium Hair Dryer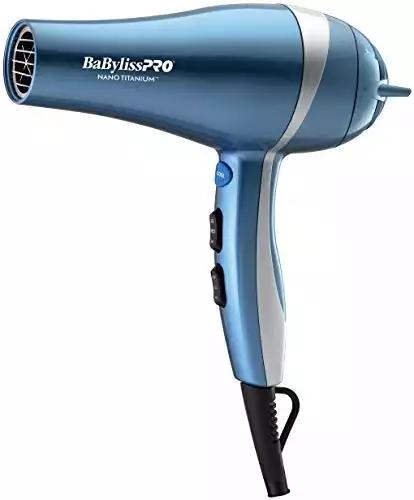 We earn a commission if you click this link and make a purchase at no additional cost to you.
The BabylissPro Nano Titanium Hair Dryer is another one of the best hair dryers for fine hair out there. It's a great all-around ionic hair dryer that smoothens frizzy hair for all hair types and is still gentle enough to dry fine hair.
Its nano titanium technology (essentially negative ion technology) results in precise drying in no time.  With two drying speeds and three heat settings, it's good enough for blow drying your fine hair with less heat damage. You can adjust the heat and speed settings to dry hair according to your needs.
My only complaint is that it does not come with a diffuser as other ionic hair dryers have. Hot spots are lessened thanks to its adjustable temperature settings. Also, its drying speed may not be comparable to the Dyson Supersonic Hair Dryer but does a pretty good job compared to other ionic hair dryers for fine hair.
I also recommend this for those who have damaged hair and are looking for a lightweight blow dryer that dries hair quickly. The sleek blue and silver color of this blow dryer gives a hint of how powerful this is to dry fine hair without losing the volume.
Power: 2000 w Weight: 1.92 pounds Features: 6 Heat/Speed Settings Warranty: 4 years
4. Panasonic Nanoe Hair Dryer with Oscillating Nozzle
Fine, thin hair is often in danger of being overheated.  While a powerful professional hair dryer may dry it fast, with the wrong heat and speed settings, you may end up with frizzy hair instead.  I love that Panasonic takes this into consideration with the Panasonic Nanoe Hair Dryer with Oscillating Nozzle.
You'll rest knowing there is always an even heat distribution when you blow-dry. The oscillating nozzle, rarely seen in average blow dryers, keeps heat damage at bay by lessening hot spots and making sure damp hair dries well.  The Nanoe particles help to keep hair flat by smoothing out the hair shaft. You'll have soft, shiny hair that you won't get from a standard blow dryer!
It's a gentle option for healthier hair, with three temperature settings and two-speed settings. You can use it for everyone's hair, from thick hair to and of course, finer hair. For me, it's one of the best blow dryers out there that can cater to long hair and coarse hair but is still gentle enough for fragile hair.
I also love the attachments that come with this award-winning blow dryer. The diffuser attachment helps to give hair volume, something I want to add to thin or fine hair. For people with smaller hands, this blow dryer may present a bit of a challenge due to its weight.  It looks futuristic, though!
Power: 1875 w Weight: 1 pound Features: 3 Heat, 2 Speed Settings, Oscillating nozzle Warranty: Not indicated
5. Remington Pro Hair Dryer with Pearl Ceramic Technology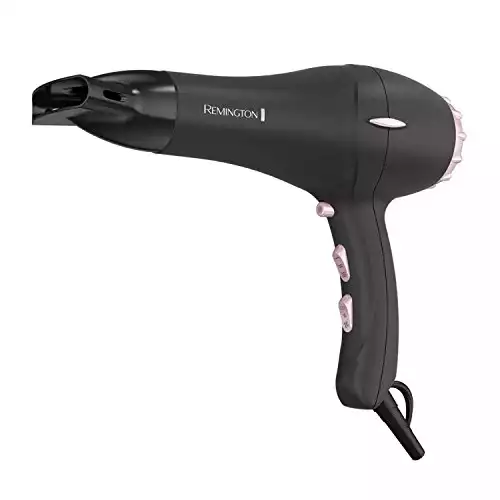 We earn a commission if you click this link and make a purchase at no additional cost to you.
Fragile, fine hair needs all the TLC it can get and the Remington Pro has it in mind. Its ceramic barrel is infused with crushed pearls that have ionic conditioners. Ceramic is a great material because it maintains a steady temperature. The pearl ceramic is even better with its conditioners that, when activated by the heat, imbue your hair with a lustrous, silky shine.
If you like drying your hair quickly, you'll love the 40% faster airflow from the Remington. It has a strong AC motor that's on par with those of dryers at the salon so you can be assured of its longevity.
The dryer has 3 heat settings and 2 speed settings with a cool shot button added for good measure. I find this enough to mix and match according to what I need on a given day. The 2 nozzles that come with the dryer are also great. There's a concentrator for extra sleekness and a diffuser to blow dry hair gently and protect curls.
This is one of the best hair dryers for fine hair because if you choose a lower heat setting, the extra airflow will get your hair dry faster without the added heat damage. The pearl ceramic is a nice touch, too. And with the dryer's 4-year warranty, you can be assured you're covered in case you get a product with defects.
A caveat with this product is that the cord runs a bit short. This leaves you with less space to maneuver the dryer. Also, if you don't like rocker switches and prefer sliding ones or buttons, you may not like this one.
Power: 1875 w Weight: 1 pound Features: 3 Heat, 2 Speed Settings, Cool Shot Warranty: 4 years
A Guide To Buying A Hair Dryer for Fine Hair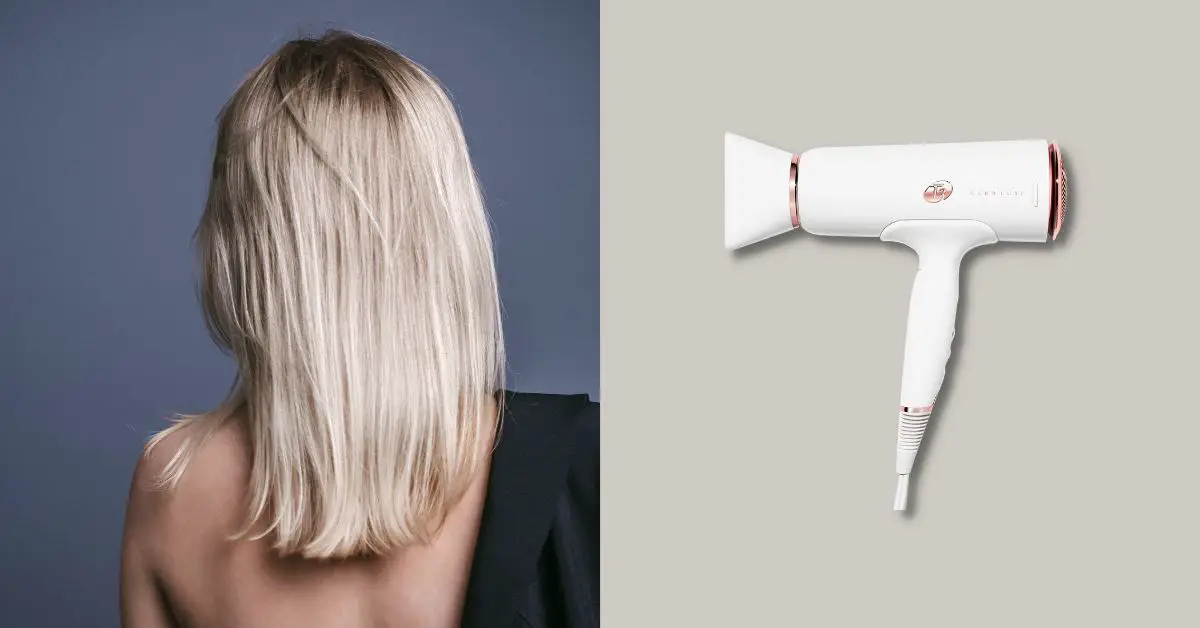 Shopping around for a good hair dryer for fine hair is just like shopping around for a good hair dryer in general, but with a few things to take note of for your hair type. You should look at the technical specifications of a product down to the accessories that come with it. For some, an affordable price tag is important while others want state-of-the-art build quality. Whatever you prefer, it's good to keep in mind that fine hair has a tendency to be flat and can be vulnerable to damage. Below we have listed the key factors to look for when buying a hair dryer for fine hair.
Wattage
More watts means more wind power for your hair dryer. While you certainly want something effective, a higher wattage dryer can be harmful to fine hair. It's recommended to keep this number low for less resilient locks. A good number is 1875 watts maximum.
Material and Technology
If ionic, tourmaline, ceramic, and titanium do not ring any bells for you, let me break it down so you know what to look for when buying.
Ionic and Tourmaline
When hair is wet, it's filled with positively-charged ions. To counter this, some dryers emit negative ions that close your hair cuticle and speed up your drying time.
Tourmaline dryers are just like ionic dryers except they give you an extra boost of negative ions. Tourmaline is a semiprecious stone that's quite pricey so you'll find this material in more upscale hair dryers. Tourmaline is great for fine hair because it's really gentle and non-damaging on hair.
Ionic technology, while a beast at drying hair and achieving a silky straight look, is not really beneficial when you want to add volume to hair. However, unlike ionic tech that emits ions electronically, tourmaline emits these ions naturally, which lessens the flattening effect.
A good compromise is a dryer that allows you to switch between ionic and non-ionic settings.
Ceramic and Porcelain
These blow dryers are internally coated in ceramic and porcelain (they're not just for dinnerware!). These materials are great for gentle and even heating and are ideal for fine hair types.
Titanium
Titanium dryers offer less drying time and optimum and consistent heat. Titanium is a lightweight and durable material so they're good for beginners. However, due to its efficiency, titanium hair dryers can give hot blasts of heat–not good if you have thin, fragile hair. If you don't have thin hair, choose a titanium hair dryer.
Ease of Use
The things that determine a hair dryer's ease of use is an ergonomic handle. Something that's comfortable to hold and easy to maneuver around your head is a plus. Check the button placements on the dryer. Sometimes, switches can be accidentally turned off mid-styling, which is always annoying. Cord lengths should be long enough, especially if you travel or don't do your hair in the bathroom. A retractable cord is a bonus.
Weight
The heaviness of a dryer is something to take into consideration, especially if you have long hair. While a workout is always welcome, you don't want your arms to be too sore when styling. To be on the safe side, look for something that's 1 pound or lighter.
Nozzles
A hair dryer can have a diffuser and/or a concentrator nozzle attached to it. For curly-haired girls, a diffuser keeps curls intact and reduces frizz. It can be great for fine hair too because it regulates the airflow of your dryer. If you want smooth, glossy hair, a concentrator nozzle is the right accessory for you. Contrary to what a diffuser does, a concentrator nozzle really focuses the heat on the areas where you need it.
Warranty
Check the fine print before buying and look for a longer warranty period to cover any unexpected damages or shipping mishaps. At least one or two years is a good warranty period.
Cost
While I don't recommend splurging all your savings for a blow dryer, I do recognize that quality comes at a higher price when it comes to blow dryers. A $20 dryer will cover the basics and for most people, that's enough. More often than not, though, a more luxe dryer will last you a longer time than the budget option. Something with less powerful wattage will need to be replaced more regularly, too. But there are bargain buys out there, if you look closely. Weigh your options carefully and pick what suits your budget best.
Frequently Asked Questions
What is the best hair dryer for volume?
If you're looking to add body to your hair, stay away from dryers with ionic technology (except tourmaline) because while they can give shine and polish, that's probably not what you're looking for. Spring for ceramic, porcelain, or even infrared options instead.
Is ionic or ceramic hair dryer better?
When shopping around for a hair dryer, look for something that cares for your hair. You want the drying process to be as gentle as possible. A tourmaline hair dryer is a good choice because it has ionic technology that's very gentle on hair.
Are dryers for fine hair generally more expensive compared to other hair types?
No. It's only that hair dryers in a more expensive price range have multiple heat settings compared to standard ones. Some can even dry wet hair and damp hair; their adjustable heat settings make it easier for you to find the right temperature for fine hair.  They can also work well with whatever hair type, making them worth the purchase.
The Verdict
All the hair dryers we have listed and really highly rated for fine hair types.
If you are willing to splurge, the Dyson Supersonic is, of course, an amazing hair dryer that will minimize any damage to fine hair thanks to the unique Dyson technology.
With that said, the RUSK Engineering W8less Professional 2000 Watt Dryer is not only budget-friendly but is considered to be the best hair dryer for fine hair types.
Leah Williams
Leah Williams is the founder of Lucky Curl and has been in the hair care and styling industry for the last 15 years. Since then, she has developed incredible expertise and a deep understanding of how to treat and style the most difficult hair types and is passionate about sharing her knowledge with the readers of Lucky Curl.