Hair dryers are versatile tools that every beauty enthusiast needs on their vanity. They're great for drying hair quickly and shaping hair into different styles. But they're also an underrated tool for getting straight and sleek looks.
With that in mind, we have rounded up several top-rated hair dryers to find which one is best for straightening. Read on to see our top picks and a guide to finding the product right for you.
Please note, that while these are our favorite hair dryers for straightening hair, they are also amazing hair dryers in general. So, if you're looking for versatile styling, consider the below options.
Quick Guide
Best Hair Dryer for Straightening – 5 Products Reviewed
Drybar Buttercup Blow-Dryer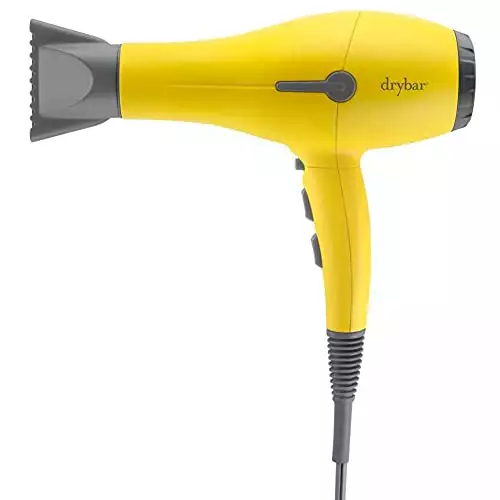 Bring sunshine to your locks with the Buttercup Blow Dryer by Drybar.
The brand specializes in giving you the most gorgeous blowouts and this is right in line with their trademark. They're all about happiness and confidence–looking and feeling fab.
The bright yellow body houses a competent 1875-watt motor that gives you consistent power as you straighten your hair.
The dryer has ionic technology that emits those good ol' negative ions straight into the hair shaft, ripping apart water molecules and delivering moisture to the hair. The results: sleek hair in less time. If you're frizzy or flyaway-prone (those with fine hair), the negative ions will calm down those rebellious hair strands.
The Buttercup Blow-Dryer is equipped with a wave heater that straightens and dries hair evenly and quickly. You can pick from 3 heat and 2 power settings, plus a cool shot button. Mix and match for the perfect blowout.
Along with the hair dryer, you'll also get 2 concentrator nozzles for precise drying. The narrow nozzle is the key to super straight hair. The 9-foot long power cord adds convenience, as does the Buttercup's lightness. It weighs only a pound so you can style without tiring those arms out.
However, some users have noted that the power cord is bulky and tangles easily, which isn't a major dealbreaker.
Pros
Comes in a cheerful yellow body with a 1875-watt motor
Has an ionic technology
Has a wave heater for even heat distribution
Has customizable power and heat settings and a cold shot button
Includes 2 concentrator nozzles
The power cord is 9 feet long
Is a lightweight blow dryer
Cons
The power cord is heavy and tangle-prone
Jinri Professional Salon Hair Dryer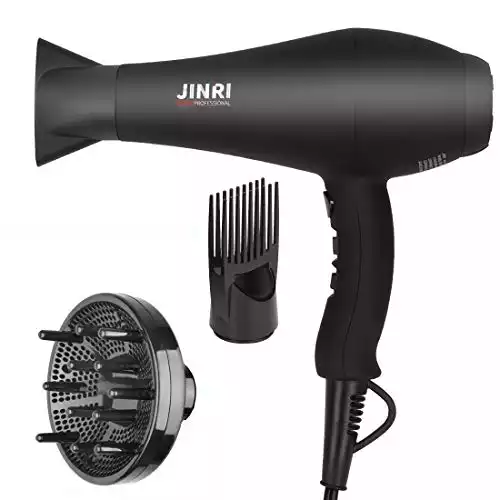 This is a feature-packed dryer for those who want to straighten hair effectively for under $100. Not only is it affordable but it works well on most hair types from oily, wavy, dry, normal, and fine hair.
The Jinri has a professional 1875-watt salon AC motor which will fuel your straightening sessions comfortably, even if you have dense, curly hair. This is better than DC motors. Because of increased airflow, you will dry your hair faster and reduce heat damage.
The Jinri Professional also emits negative ions which are the bane of frizz, flyaways and static. If your hair is showing signs of damage, you will benefit from ionic technology like this one because it also has hair repair abilities.
Far infrared heat is a relatively unsung hero of heat tools. They're great for preventing heat damage as well because they can sink deep into the cortex of the hair cuticle. This allows you to dry and straighten the hair from the inside out, halving the time and heat level you need.
Choose from 3 heat and 2 speed settings plus a cool shot to lock it all in.
The Jinri has a few freebies included. You get a concentrator nozzle which is indispensable for getting that smooth, straight look. It also includes a diffuser for drying waves and curls. The styling pik is a go-to tool by hairdressers for parting and straightening hair.
Other add-ons include an 8.7 feet cord, a hang loop, a removable air filter, and cable tie. This will drastically improve the convenience of using and storing the dryer, even after you straighten your hair.
A small downside of this product is its weight and noise. It's on the heavy side at 1.65 lb and can get quite loud.
Pros
Affordable
Has a powerful AC motor
Generates negative ions for frizz-free and conditioned locks
Emits far-infrared heat so you dry locks in less time
Has multiple heat and speed settings
Comes with 3 attachments
Has a long cord and multiple extra features
Cons
ghd Helios Hair Dryer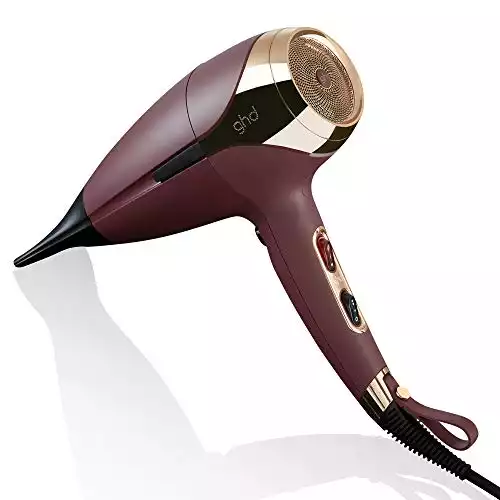 If you're looking to upgrade your old hair dryer to a more luxurious option, this is my pick. It comes with a hefty price tag but it's easily considered one of the best hair dryers on the market.
Inside is a 1600-watt strong motor that rivals professional hair dryers. This is enough power to straighten medium-coarse and wavy hair. Think type 1 and 2 hair types.
On the outside, you get a modern, upscale design that you'll want to display on your vanity. But the design isn't just for show. You get an ergonomic handle that both left and right-handed users will love. There's also an advanced ionic technology which emits negative ions that care for your hair even as you straighten it. The results are smoother, too, because it gets rid of frizzies and flyaways.
Choose from 3 heat and 2 speed settings. Customize the levels to your hair preferences. Then seal in your style with the cool shot button.
The hair tool comes with 2 concentrator nozzles (65 mm and 85 mm wide), one is for precision blow drying. This is ideal for straightening your hair.
At the back is a removable air filter which helps maintain the motor so you always get high pressure airflow.
The ghd Air is not lightweight at 3.39 lbs, which can be tedious if you're straightening long or thick hair. But for its numerous benefits, it might just be the best hair dryer for most people.
Pros
Has a 1600-watt motor
Looks modern and sleek
Has an ergonomic handle
Equipped with advanced ionic technology
Has 3 heat and 2 speed settings with a cold shot button
Comes with 2 concentrator attachments
Cons
T3 – Cura Hair Dryer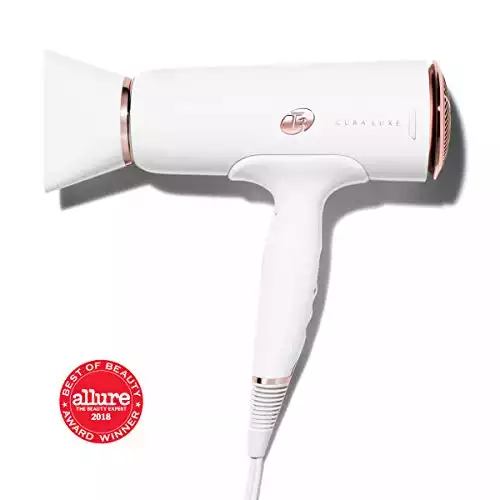 This is the ivory to the ghd Hair Dryer's ebony. Both blow dryers are impressive tools for straightening the hair, equipped with all the bells and whistles you'd expect from this price range.
The main difference is this one packs a 1875-watt motor inside, which is great for curly and coarse hair.
The heat settings of the T3 Cura is fully digitally controlled, which makes the higher price reasonable. It shoots out more hot air because of the wider nozzle–excellent for drying and straightening more hair sections at a time.
With its 2 speed and 3 heat settings, you can pick how powerful you want the heat to be. All hair textures can make use of the cold shot button, an indispensable feature at this price point.
Under the hood is a powerful ion generator that smoothes down your hair as you straighten it. It eliminates frizz and gives you glassy and soft hair.
This comes with 2 nozzles: the drying concentrator and styling concentrator. Both will give you precise airflow for a sleek look.
The handle is ergonomic and the switches are placed behind it which according to the brand is so you don't accidentally click them. Your use may vary, however, especially if you're used to buttons placed in front of the handle.
The hair dryer's main disadvantage is its long drying time because the airflow isn't super powerful, according to some users.
Pros
Has a powerful 1875-watt motor
Has digital controls
Has a wide nozzle that spurts out more air
Has 2 speed and 3 heat settings with a cool shot button
Comes with an ion generator
Two nozzles are provided
Has an ergonomic handle
Cons
Switch placement is odd
Longer than average drying time
Revlon Shine Booster Hair Dryer
The Revlon Shine Booster Hair Dryer is the perfect tool for achieving salon-quality blowouts and perfectly sleek and shiny hair. With two heat and two-speed settings, as well as a smoothing concentrator attachment and a volumizing diffuser, this hair dryer provides the ultimate in styling control.
The built-in ceramic disk helps to dry hair quickly and preserve its healthy natural shine. This dryer has 3 x ceramic coating which helps to reduce heat damage and distributes the heat evenly.
For even more volume and shine, turn on the Ion switch to release negative ions.
This hair dryer comes complete with everything you need for a perfect straight style with brilliant shine.
Pros
Advanced Ion Generator technology
Ceramic coating
Smoothing concentrator nozzle
Very affordable!
Lightweight and easy to use
Cons
The design and fitting of the attachments could be improved
BaBylissPRO Nano Titanium Hair Dryer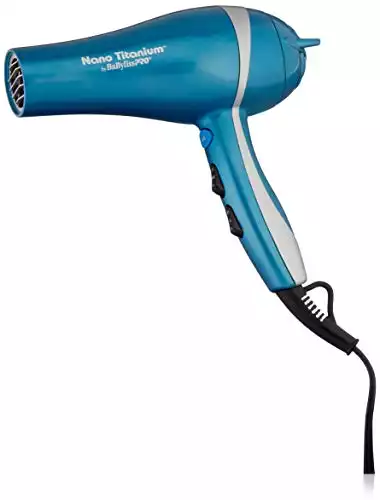 If you're looking for a powerful hair dryer that can help you achieve salon-quality results at home, look no further than the BaBylissPRO Nano Titanium Hair Dryer.
This professional-grade hair dryer features 2000 watts of power and advanced Nano Titanium ionic technology to help reduce frizz and speed up the drying process. Plus, the ergonomic design and lightweight construction make it easy to style your hair with less hand fatigue.
The BaBylissPRO Nano Titanium Hair Dryer comes with six heat and speed settings to give you maximum control over your styling. There's also a cool shot button for setting your style in place, and a concentrator nozzle for targeted airflow making it ideal for straightening hair. Plus, the removable filter makes cleaning a breeze.
Pros
Unique Nano Titanium Ionic technology
Ergonomic and lightweight design
Concentrator nozzle for achieving a straight, frizz-free style
Emits far-infrared heat so you dry locks in less time
Has multiple heat settings
Cons
Expensive
The concentrator nozzle can become loose
Remington D5951 Ultimate Frizz Control Hair Dryer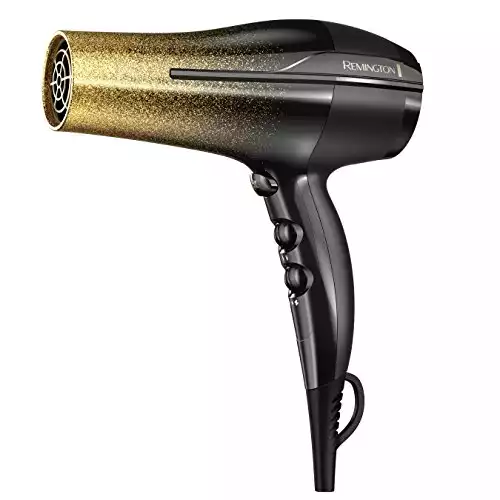 If most of these dryers are above your budget, the Remington D5951 Hair Dryer is swooping in to save the day. It's amazingly affordable but gives you the essentials.
Its features include a 1875-watt motor, perfect for even the curliest of tresses. It'll straighten your mane fast without any hiccups. There's a removable air filter too, so you can prolong the life of the motor.
The titanium-infused hair dryer will uncurl stubborn hair because it transfers heat efficiently. Combined with the ionic ceramic technology, the hair dryer gives 7 times more frizz control compared to dryers without an ion generator. The built-in ion generator will tamp down frizzies and nourish your hair. It's helpful to be gentle to the hair even as you straighten it so it won't suffer irreparable damage.
As for customization, you have an array of settings to choose from. There are 3 heat settings, 2 speed settings and a cool shot. For attachments, the Remington Hair Dryer includes a concentrator and a diffuser. This is ideal for curly-haired girls who want the option to go au naturale or straight.
The product is quite heavy at 2 lbs, so keep that in mind if you have long, thick hair. Another con for this blow dryer is the power cord. It's shorter than the average dryer cord.
Pros
Affordable blow dryer
Has a powerful motor
Infused with titanium for effective heat transfer
Has an ionic ceramic technology and ion generator for frizz-free, healthy hair
Has two speed settings and three heat settings with a cool shot
Has two nozzles included
Cons
Heavy
Has a short power cord
A Guide to Buying a Straightening Hair Dryer
Can you straighten your hair with a hair dryer?
It's definitely possible to straighten hair properly with hair dryers. Just don't expect absolutely pin straight locks. But if you can live with that, you'll find it's a more convenient option.
What are the advantages/benefits of using a hair dryer opposed to a flat iron?
Straightening hair with a hair dryer is an excellent alternative to straightening with a flat iron. This will be music to the ears of busy bees and laidback girls everywhere. If you need more time in the morning but still want to look put-together, you can put down the flat iron.
The heat from hair dryers is less damaging than the direct contact you get from a straightener. If you have damaged or fine hair or find it prone to breakage, hair dryers may be more appealing as they emit gentler heat. That, in conjunction with blasts of air, makes hair dryers almost as effective.
Which hair dryer is best for straightening?
The best hair dryer for you will depend on your hair type and needs. How curly your hair is will determine how much heat and power you'll need. If you have damaged hair, you need a gentle but powerful hair dryer with an ionic technology. If you already have straight hair to start with, you don't need as much heat but you can go for a volume-enhancing hair tool.
Here's a rough guide to determining your hair type.
Hair is divided into three categories: 1, 2, 3 and 4. Under these divisions are subcategories: a, b and c. These are determined by how wide your wave, coil or curl pattern is. A is the widest while C types will have the tightest waves of the bunch.
Type 1 hair is hair that's mostly straight with little to no bend.
Type 2 is wavy hair that has an S-pattern that lays close to the roots.
Type 3 is truly curly hair. These range from loops to corkscrews. This type of hair can be frizzy.
Type 4 belongs to coily hair, the tightest curls of all. This is also known as Afro-textured hair. These can have zig-zag patterns and tend to be very dense.
How to Choose the Best Hair Dryer for Straightening Hair
It can be difficult to find a hair dryer that works effectively at flattening your hair but is delicate on the strands. There are so many inferior options with a high price tag that'll eventually end up in the bin. Here are some tell-tale signs that a hair dryer will do the job.
Wattage
Wattage refers to how much power the hair dryer is capable of. How much wattage you need depends on your hair type, length and texture. Professional salons use high-wattage versions. The higher the wattage, the more power the hair dryer has and the more heat it can give off. For long, thick, or curly hair, get one with at least 1800 watts. Straight, wavy and averagely textured hair will be happy with anything from 1300 to 1800 watts.
Nozzles
You won't really need a diffuser for straightening your hair. Look for a hair dryer with a concentrator nozzle which helps in getting a super sleek finish.
Ionic Technology
This is high on the checklist because to get healthy, straight hair, you want to get rid of frizz, static and flyaways. Negative ions can do that for you. On top of that, they break down water molecules and cut blow-drying time. They also seal the cuticle and protect your locks from heat damage.
Material
To straighten the curliest of hairs, you'll need titanium, tourmaline, or a hybrid of the two. Nano titanium and tourmaline ceramic can also straighten hair well. These types of hair dryers are best for straightening types 3 and 4 hair because they absorb heat quickly and transfer it to the hair well. If you belong to types 1 and 2, you'll be good with ceramic hair dryers. Damaged hair types have to be careful with titanium because it might worsen their hair condition.
Heat Settings and a Cool Shot
A good selection of heat settings gives you the most bang for the buck. They also protect your hair from overdrying. Too much time under the heat or too much heat in a short time are both bad news for straightening hair. To strike a balance, the right heat and speed settings are essential.
Price
You don't need to break the bank to get a good hair dryer for straightening hair. Look for the features you don't want to compromise on and let go of the ones that don't serve your needs.
What's the best way to use a hair dryer to straighten hair?
The two tools you need for a good straightening sesh is a trusted hair dryer and a round brush. You can then start straightening your hair section by section. Don't forget to use a heat protectant before you begin.
To see this in action on straight, thick hair, click here.
If you want to learn how to turn your waves into straight locks, watch this.
The Verdict
Those are my top 7 picks for best hair dryers for straightening. As promised, I'll reveal my choice for best dryer, which goes to the Drybar Buttercup Blow-Dryer. It topples the other best hair dryers because it gives you everything you need to get sleek looks and it has no major dealbreakers. I think it's a crowd-pleaser, a blow dryer that will suit most people. It has a powerful motor and ionic technology. You get options for heat and speed, plus a cold shot button. And it's easy to use with its light weight and long power cord.
If you're still making do with a mediocre blow dryer for straightening, check out this dryer or any of the other equally excellent selections above.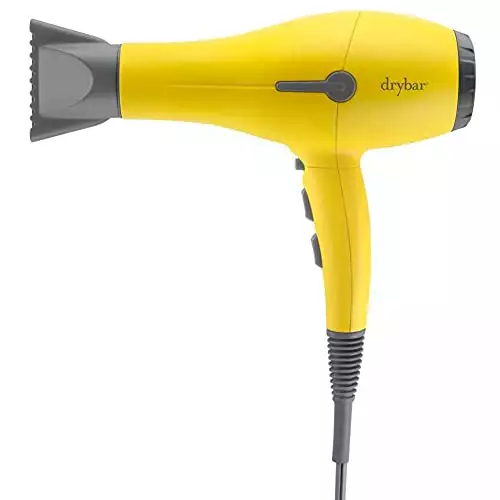 Leah Williams
Leah Williams is the founder of Lucky Curl and has been in the hair care and styling industry for the last 15 years. Since then, she has developed incredible expertise and a deep understanding of how to treat and style the most difficult hair types and is passionate about sharing her knowledge with the readers of Lucky Curl.