Too much exposure to hair dyes and hot styling tools can lead to brittle hair. But does this mean that you should forget about styling your hair? I think that, with the best hair dryer for damaged hair, you will be able to blow dry and style your brittle hair without worsening its condition.
Best Hair Dryer for Damaged Hair – 5 Top-Rated Options
I did some research on the best hair dryers that I could find to help with my damaged hair. I was impressed with the number of options available, but since we are trying to narrow it down, I have come up with these products instead.
Remington D3190 Damage Protection Hair Dryer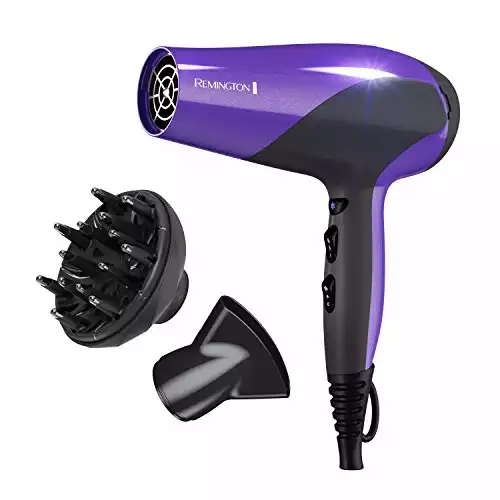 One of the best dryer hair product that I would recommend is from Remington. It comes with Advanced Coating Technology that helps protect your hair 3x more than other blow dryers. The combination of ceramic, tourmaline and ionic technology ensures that you dry your hair quickly while making frizz disappear. It is perfect for those with fine to damaged hair because of its high wattage which is in 1875W. Heat and speed settings are included as well which gives you more control over the amount of heat you are exposing your hair strands with. It comes with a cool shot button that blasts cold air to your mane to help lock in the style for hours.
Purchasing this model will include a diffuser and concentrator in the package which you can change as you see fit. The filters are removable too, so there is simply no excuse for the fan to get clogged with dirt and other debris. It is a great option if you are dealing with dry and damaged hair as its unique design provides protection to your strands all the time.
 Jinri 1875W Professional Salon Hair Dryer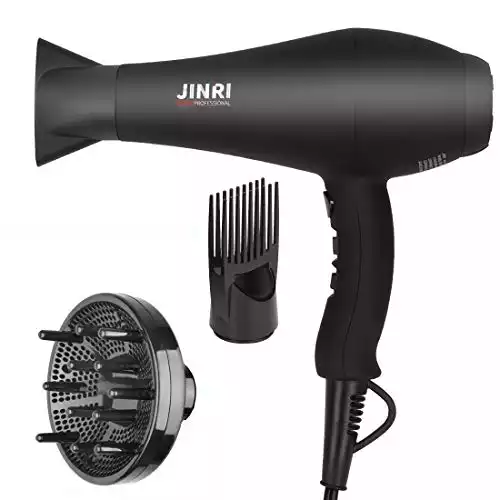 Another option for the best hair dryer is from JINRI which is one of the leading brands when it comes to professional styling tools today. What made this stood out for me is the fact that it can dry your hair fast while minimizing the appearance of frizz and flyaways. It is equipped with a durable AC motor that produces ionic drying as well as a strong flow of air that gets the job done fast, even when you have thick hair. Ionic technology is also available in this blow dry product which not only protects and hydrates strands, but it also helps in making your hair healthier and shinier too.
You will get three heat settings and two speed settings with JINRI for better flexibility so you will be able to style and dry your hair like a pro. It has a lightweight body that comes with an ergonomic design which helps make it easier to handle. The controls are installed on the handle plus you will have a dryer that has a removable filter for easy maintenance.
Conair 1875 Watt Full Size Pro Hair Dryer with Ionic Conditioning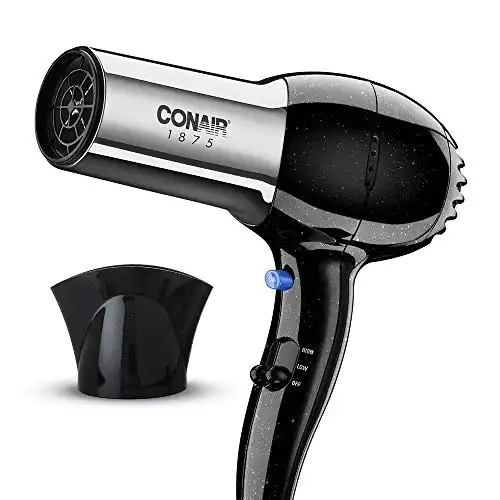 Conair must be included in this list of best hair dryer because of its amazing features. It makes use of ionic technology as well which we all know is important in fighting frizz and other hair woes. I do need to mention that the combination of black barrel and teal finish makes this an interesting styling tool to have around as it is quite charming to look at. What else is there is to like about this Conair dryer? It makes use of ceramic and tourmaline for producing infrared heat to reveal your strands' natural beauty. With the uniform heat coming from its ceramic tourmaline body, you don't have to worry about damaged strands making an appearance.
The heat settings are composed of three heat settings plus two speed settings which is great to have especially when you are worried about your brittle or damaged strands. Don't forget to blast your hair with a cool shot of cold air to lock your style in place. This is a useful feature if you want to maintain your mane's look throughout the day. You'll be happy to know that you can use a diffuser and concentrator interchangeably depending on the hair style that you are after.
 BaBylissPRO Ceramix Xtreme Dryer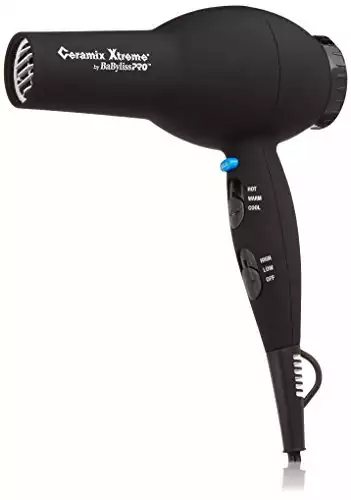 BaBylissPRO Ceramix Xtreme Dryer
Combines Ceramic and Ionic Technology
6 Heat / Speed Settings
Lightweight
2000 watts for ultra-fast styling
Uses far infrared technology
Buy from Amazon
We earn a commission if you click this link and make a purchase at no additional cost to you.
09/16/2023 08:00 am GMT
The combination of power and technology has been seamlessly put together by BaByliss PRO with their Ceramix Xtreme Dryer. The name itself should give you a clearer idea of what to expect from it. So, why did it make it to my list of best hair dryer? For starters, it comes with 2000watts which, I would say, is quite strong. Fortunately, this is softened somewhat with the ceramic coating to ensure that the blast of air is evenly distributed. It is also equipped with a powerful A/C motor which complements the wattage.
It comes with four temperature settings and two speed settings as well as 8mm concentrator attachment that you can use to add more fullness to your hair. Check out the cool shot button on the product to get that blast of cold air to help maintain your hairstyle for hours. No need to worry about this blow dry damaging your fine hair because it won't. The infrared heating focuses more on warming the strands from within to prevent breakage.
Dyson Supersonic Hair Dryer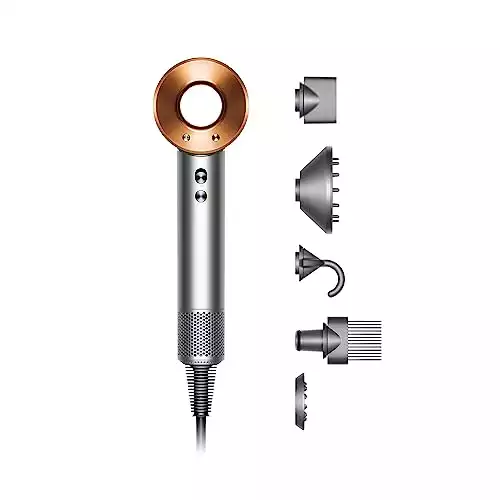 Dyson Supersonic™ Hair Dryer
Built with powerful Dyson V9 motor and patented Air Multiplier Technology for less heat damage
Comes with magnetic styling attachments
Designed with negative ions to reduce static and frizz
Suited to all hair types
Buy from Amazon
We earn a commission if you click this link and make a purchase at no additional cost to you.
09/16/2023 10:30 pm GMT
What else can I recommend for the best hair dryer for damaged or fine hair? Dyson supersonic hair dryer certainly fits the bill because of its overall design and features. What impressed me the most about this dryer for hair is its unique design that delivers concentrated hot air to strands which dries hair fast. How does it manage to do that? Well, it combines a digital motor V9 with Air multiplier technology to create a high-velocity air that can be directed to different parts of your hair with ease. It features intelligent heat control where the temperature is monitored regularly to prevent you from burning your strands.
This package will come with magnetic attachments which I find useful in drying and styling my hair at the same time. It comes with three speed options and four precise heat settings making it a worthwhile tool to invest in regardless of the type of hair that you have. Of course there is a cold shot button included as well which produces cold air to help establish your hair style to make it last throughout the day with minimal touchups.
A Guide to Buying a Hair Dryer for Less Damage
Can an Old Hair Dryer Damage Your Hair?
Most of us do not believe that you should throw away and old product as long as it is still working. I often try to minimize my purchases by sticking with what I have until they conk out on their own. I thought that this was a great way to save money, but I realized that it has downsides too.
Take for example my old blow dryer. It was more than 10 years old now and I never wanted to part with it until the time I realized that my hair was becoming dyer and more prone to breakage compared to before. You may not be aware of this, (because I sure wasn't!) that hair dryers have a life cycle of 600 to 800 hours of use. This is loosely translated to 300 to 400 blowdries.
Once they have exceeded their life cycle, they will no longer be at their peak performance. This puts you at risk of having your hair burned because of too much heat being produced. Aside from their age, the dust that the blowdryers pull in can also cause them to overheat. This is why it is best that you maintain your old blow dryer regularly to avoid such as incidences.
Which Hairdryer Does Not Damage Hair?
Speeding up the drying time of your goes faster when you use a blow dryer, but if you are dealing with damaged hair, you will need to find the right product that will get the job done without causing your strands to break any further. The question now is, which one should you get that will be safe to use on your damage mane?
Most people assume that ceramic blow dryers are the safest to use, but you might be better off investing in one that contains tourmaline. Tourmaline helps remove water droplets from the strands so that they will not weaken the hair cuticle to prevent breakage.
It is also a good idea to look for one that has an ionic technology where negative ions are produced to negate the positive ions present on your strands to protect them against breakage. A hair dryer that comes with a cool shot feature is worth having too since it prevents your strands from heating up too much.
How to Choose the Right Hair Dryer for Damaged Hair
If you have already apologized to your damaged strands, like I did, and are now in pursuit of a better hair dryer, I would suggest that you use these factors in your quest for the best blow dryer for your mane.
Wattage. The wattage of the blow dryer refers to the strength of the motor installed in it. High wattage means that you will be able to dry your hair faster with minimal exposure to heat while low wattage means that heat is used rather than the power from the air being produced. Since your hair is already damaged, look for one that has 1800 wattage or higher.
Material. I mentioned ceramic and tourmaline above already, but there are others to take note of such as titanium and porcelain. Ceramic and porcelain dryers are typically coated with these materials to help produce even heating. These two are perfect for hair strands that have been damaged. Titanium, on the other hand, raises the temperature for more efficient heating hence this type of dryer is best suited for those with thick hair.
Ergonomics. When shopping for hair dryers, look for one that has an ergonomic design. The hair dryer should be easy to wield and will not make you caught up in its cable too. Don't forget to take into account how the buttons are placed as well for easy toggling.
Weight. The weight of the hair dryer must be taken into account as well. If you have thick hair, it will take at least 20 minutes to complete the task. Just imagine using a heavy blow dryer for the job. For sure, you will be resting more because of hand and arm fatigue.
Heat and speed settings. If your hair is fragile or is already damaged, a hairdryer that comes with temperature and speed settings is a good choice. This way, if you need to rush on drying your hair, putting it in high settings can yield the results you want. On the other hand, the low setting will work fine if you have plenty of time on your hands. Having this feature gives you more control on the drying process of your mane and prevent more breakage
The Verdict
Now that you have my list of the best hair dryers, it begs the question of which one is the best hair dryer. For that, I would strongly recommend that you get BaByliss PRO. For starters, it comes with 2000 watts which I think is useful for both damaged and thick hair because you have the temperature controls to adjust the heat. It has a ceramic coating that produces even heating. I like that the A/C motor can handle the job of providing your hair with enough heat to dry it quickly.
It comes with six heat as well as speed settings that I think are enough to give you complete control over your hair when you dry and style it. Attach the concentrator nozzle for more detailed styling while drying to speed up the process. Of course, let us not forget that the cool air feature makes it easier to seal in the style just the way you like it.
Leah Williams
Leah Williams is the founder of Lucky Curl and has been in the hair care and styling industry for the last 15 years. Since then, she has developed incredible expertise and a deep understanding of how to treat and style the most difficult hair types and is passionate about sharing her knowledge with the readers of Lucky Curl.