After years of heat styling, I've learned my lesson: never, ever skip heat protectant. If you have fine hair, it's even more crucial that you apply a protectant to shield your strands from damage. Due to the fragile, flimsy nature of the fine hair type, it's almost too easy to singe them.
With that in mind, we reviewed 5 top-rated products to find the best heat protectant for fine hair.
09/14/2023 09:30 pm GMT
5 Best Heat Protectants for Fine Hair
HSI PROFESSIONAL Argan Oil Heat Protector

This is a bestselling, much-loved thermal styling spray that's lightweight yet packs a punch.
It can withstand high temperatures up to 450 degrees Fahrenheit and it's infused with nourishing ingredients. It moisturizes and protects hair, leaving it soft and smooth.
It contains argan oil and shine-enhancing vitamins A, B, C, and D. The thermal protection spray can also be used as a leave-in conditioner.
It comes in a mist form, making the application on fine hair super easy. It's safe to use before a flat irons, blow dryer, and a curling iron or wand.
You can apply it on real hair or extensions and it's even color-safe. It does not contain parabens, sulfates, and phosphates which means it's gentle on hair without harmful additives.
You'll get 8 ounces of product which should last you a long time.
This salon-grade thermal protectant is great for fine hair because of its concentrated yet weightless formula. It will form a strong barrier on the strands without weighing them down. It doesn't leave a residue or sticky film on the hair or flat iron.
If you want healthy-looking hair despite regular heat styling, this is one of the best heat protectants in the market. However, if you are sensitive to fragrance, make sure to smell this in person or avoid it altogether. Some users have noted that the scent is strong or offputting but this is highly subjective, depending on your preferences.
Pros
A bestseller heat protection spray from the hairstyling brand
Has a high heat resistance, up to 450F
Contains argan oil and vitamins
Contains a lot of product for the price
Doesn't leave a residue
Cons
Has a divisive fragrance, according to some users
A bit expensive
L'Oréal Paris Advanced Hairstyle SLEEK IT Iron Straight Heatspray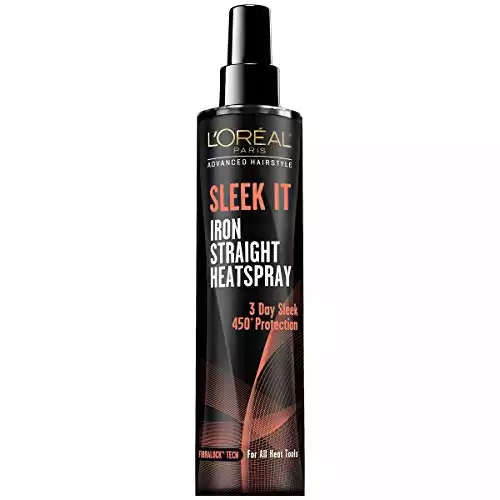 If you're looking for a high-performance heat protectant that will last you days, the L' Oréal paris Paris Heatspray is the one to get.
This heat protection mist keeps your hair sleek for three days, perfect if you skip shampoos. It's formulated to work with a blow dryer or other hot tools and has a temperature resistance of 450 degrees.
It comes in a mist form and though it contains silicones, it's actually lightweight. It adds a lot of slip so your flat iron can glide down your locks. It keeps your thin or fine hair straight or wavy without weighing it down.
This heat protectant absolutely delivers on its three-day sleek promises, as attested by countless users. It makes hair smooth, not greasy, and it's perfect for tamping down frizz and static.
This thermal protectant also seals the cuticle which adds visible, healthy shine to your hair. It even provides humidity protection, ensuring that your new 'do doesn't puff up or go limp.
This is one of the best heat protectants for fine or thin hair and it's priced reasonably that you'll want to get backups. However, this heat protectant makes any floor slippery so you have to be careful where you point the nozzle or wipe the floor down before you walk on it.
Pros
Gives you a 3-day sleek look
Withstands temperatures of up to 450 degrees
Comes in a light spray formula
Smooths down hair and removes frizz
Has humidity protection and makes it easier to style your hair
Cons
CHI 44 Iron Guard Thermal Protection Spray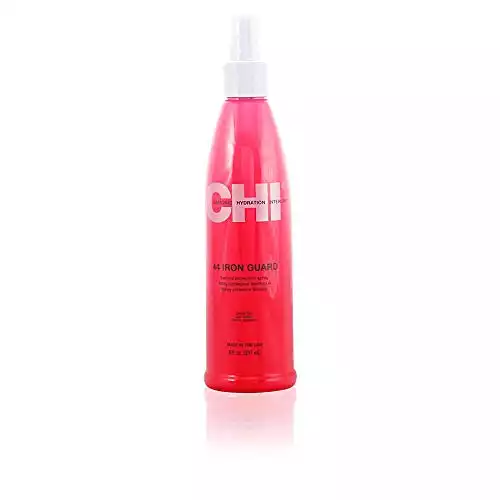 That's right, CHI also makes heat protectant sprays and this one is just as good as the brand's famous hair straighteners.
The CHI 44 Iron Guard Thermal Protection Spray is formulated for everyday use, meaning it's meant for casual looks that don't require as much hold. The vitamins and proteins moisturize the locks to reduce hair breakage and damage when heat styling. It's also sulfate, paraben, and gluten-free.
This has a lightweight formula that prevents buildup from accumulating on the strands or flat iron. It feels more like a liquid than oil, which makes it suitable for fine or thin hair. It does have a scent but it's not overpowering. When used with a light hand, it won't weigh your locks down. It will leave your hair looking healthy and sleek.
The heat protectant has a fast-drying formula. It helps reduce split ends and other signs of hair breakage which happen as a result of overdrying the hair. Because it comes in a liquid form, this heat protectant will not detangle your hair. In fact, it can even leave it knotty.
It's not the best option for dry hair as it's not a moisturizing heat protectant.
Pros
A heat protectant in an easy to use spray form
Doesn't leave a residue and has a light scent
Enriched with vitamins and proteins
Made without sulfates, parabens, and gluten
Dries fast and prevents split ends
Cons
You have to use a light hand when using this product
Not for detangling
Not for dry hair
ghd Heat Protect Spray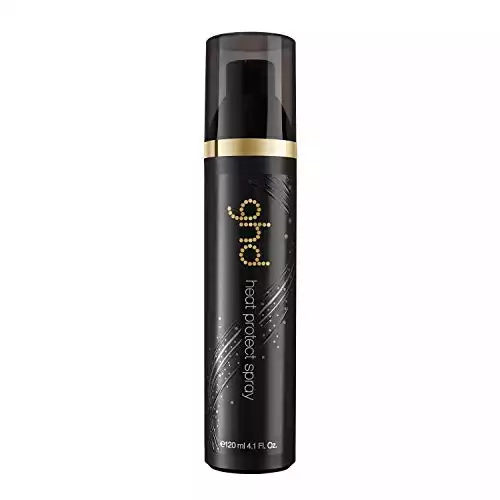 This ghd heat protectant mist contains 4 fluid ounces of product, which should last someone with fine hair almost a year of regular styling. It can be applied to dry or wet hair.
The formula is lightweight and non-greasy. It has a pleasant scent. Some users say it reminds them of baby powder, but if you're not into perfumed thermal protectants, this may not be for you.
Despite its light consistency, the heat protectant reduces frizz and flyaways and can tame the appearance of static and split ends. It softens the hair and wards off the unpleasant gumminess that comes with heavy sprays.
It will protect your hair from the damage inflicted by heat styling tools but the temperature resistance isn't indicated, which is a downside. However, it does give you that no-product feel on the hair and won't weigh down fine locks.
This comes at a higher price point but a lot of users say the extra cost is worth it for them. However, if you're on a budget, there are other heat protectants on this list that may be better for you.
Pros
Can be applied on dry or damp hair
Lightweight with a no-product feel
Smell is pleasant
Tamps down frizz, flyaways, split ends, and static
Contains 4 fl oz of product
Cons
Quite expensive for a heat protectant
Has a noticeable perfumey smell
OUAI Leave-In Conditioner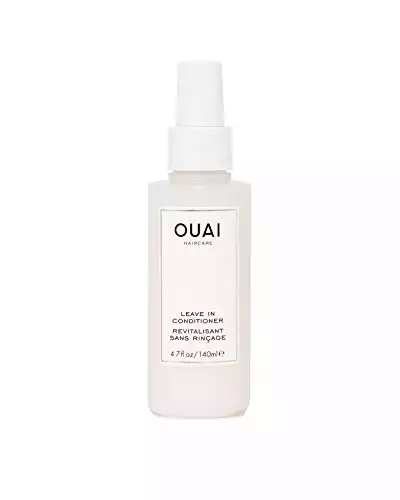 I've always loved the idea of leave-in conditioners but I'm often disappointed when using them. It seems like they're better in theory because they can make hair feel greasy and lifeless. But this thermal protectant slash leave-in conditioner spray has changed my mind.
This protects hair from heat and enhances shine. It eliminates frizz, split ends, and flyaways. It even offers UV protection as well as forming a barrier around the strands to minimize heat damage.
It contains conditioning ingredients and good-for-hair nutrients like amino acids, tamarind seed extract, hydrolyzed proteins, panthenol, and vitamin E. You can use this on wet or dry hair and it works on all hair types.
It has a pleasant musky floral scent, which might be a pro or con depending on the user. The thermal protectant is formulated to add shine to the locks and prime it for styling.
It has a liquidy, lightweight texture that won't feel heavy on fine hair. Aside from adding gloss and slip, it can detangle knotty locks that can dampen your style.
This heat protectant is a multitasking product that has a high price tag, although you do get nearly 5 fluid ounces in the bottle. It's not for people who are sensitive to fragrance in their hair products.
Pros
A multitasking heat protectant and leave-in conditioner
Lightweight feel that's best for fine hair
Gives hair shine and reduces frizz, frayed ends and flyaways
Nourishes hair and will protect your hair from heat and UV rays
Detangles knots
Cons
An expensive product
The smell can be overpowering if you're sensitive
No temperature resistance indicated
Heat Protectants: Why They're Essential and How to Choose the Best One for Fine Hair
If heat protectants seem like a foreign language to you, fret not. I've got everything you need to know about this styling product and why you need it in your life, pronto.
What is a heat protectant?
A heat protectant, also known as a thermal protectant, is a liquid infused with silicones or other materials that form a barrier on the hair to protect it from heat damage. It comes in a serum, mist, or cream form. It's commonly applied on damp strands before heat styling although wash-off versions do exist.
Aside from reducing damage, a heat protectant closes the cuticle, thus making hair look shiny and less frizzy. It adds luster to your locks and can even provide moisture.
There are heat protectants that contain nourishing ingredients like humectants, keratin, and natural extracts and oils such as argan oil, avocado oil, and grapeseed oil. Still, others heavily depend on silicones like dimethicone and cyclomethicone (usually these have a "cone" at the end) to protect the hair. However, these silicones can be too heavy on fine hair.
What are the benefits of a heat protectant for fine hair?
Curling irons, curling wands, flat irons, hot air brushes, and all types of styling tools wreak havoc on your hair strands. Frequent use of heat styling tools makes hair prone to breakage and loss of moisture. In other words, your hair will mimic the quality of straw, instead of feeling soft and healthy, like hair should feel.
When heat penetrates the hair, it dries up the water molecules in the inner cortex or the core of your strands. This is useful for styling because it allows the flat iron or curler to alter the shape of your hair but as a result, your hair becomes more frizzy and dry. Searing heat exacerbates these symptoms because it can cause fractures in the cuticle.
In healthy hair, the cuticle is flat and sealed, which gives the appearance of shine and smoothness. But in damaged hair, the cuticle forms fissures that allow even more heat into the inner cortex.
High heat also destroys the natural protein found in hair called keratin. The lack of keratin makes hair weak. To reduce the damage inflicted by hot tools, you should always use a thermal protectant before styling without fail. It has immediate effects on the hair, making it look shiny and moisturized.
In the long term, it prevents major heat damage. However, a heat protectant is not a cure-all. While it does reduce hair damage, it won't prevent it, especially if you apply heat to your hair regularly. If your hair is looking worse for wear, reduce the frequency of your heat styling or take a sabbatical until your hair recovers.
How do I choose the best heat protectant for fine hair?
Texture
The best type of heat protectant for fine locks is a lightweight liquid or mist. A serum or cream will weigh down fine hair too much. These types of heat protectants are suited for coarse and dry hair types. Heat protection sprays forms a barrier around the hair without feeling too greasy or heavy.
Ingredients
Check the ingredients list to see if the heat protector is made primarily of oils. While oil-based protectants are nourishing, they're often greasy, which again, will weigh down fine hair. Look for ingredients that strengthen hair such as keratin wheat proteins, glycerin, silicones, polymers, ceramides, and castor oil.
No-residue Formula
A good heat protectant will not leave residue on your flat iron or curling iron. It should also not stick to hair. Go for a non-sticky and lightweight formula as much as possible.
Temperature Resistance
Lastly, read up on the heat protection spray before buying by checking reviews or the label. Find out how much heat the thermal protectant can tolerate.
Remember that a typical curling iron can reach temperatures of 350 degrees Fahrenheit while a flat iron can go up to 400 degrees or more. Choose a heat protectant spray with high temperature resistance, even up to 450 degrees just to err on the side of caution.
What's the best way to use a heat protectant?
Follow the directions indicated on the label, whether it's a wash-off type or a post-shower heat protection spray. If it's the latter, it should be applied to damp strands, not sopping wet hair.
Before applying the thermal styling protectant, rough dry the hair with a towel and squeeze out excess moisture. Detangle your hair with a wide-tooth comb.
Shake the bottle of the thermal protectant. Spritz or distribute it with your hands on the lengths of the hair. Apply enough product but don't overdo it to prevent greasiness. Concentrate on the tips of your hair.
After you've covered your locks, blow dry, and style your hair as usual.
Conclusion
The best heat protectant spray in this roundup by a narrow margin is the HSI Professional Argan Oil Heat Protector.
It beats the L'Oreal Advanced thermal protection spray with its sulfate-free formula enriched with argan oil and vitamins. It's non-sticky and lightweight, just what fine hair needs. It has a high heat resistance of up to 450 degrees so it can protect your hair from evcen the harshes styling tools.
The product is color-safe and can be used on real or synthetic hair. It checks off all the requirements for a good heat protector for fine hair. It's undoubtedly the best buy in this category.
If you don't mind fragrance, I definitely recommed the HSI Professional Heat Protector.
Leah Williams
Leah Williams is the founder of Lucky Curl and has been in the hair care and styling industry for the last 15 years. Since then, she has developed incredible expertise and a deep understanding of how to treat and style the most difficult hair types and is passionate about sharing her knowledge with the readers of Lucky Curl.