Have you ever noticed your hair looking greasy and limp? Chances are that there is too much product left behind. If that is the case, you will need to cleanse your strands, and what better way to do that than using the best clarifying shampoo. This way, you will be able to give your hair the detox it deserves.
Best Clarifying Shampoo – 5 Products We Recommend
If you want to deep clean your hair then you need a clarifying shampoo for the job. But with all the products out there, it can be confusing as to which one you should get. If you are searching for the best clarifying shampoo then you can start off with these products.
Moroccanoil Clarifying Shampoo
It is high time that you restart your hair with a proper clarifying product. Moroccanoil clarifying shampoo is a highly concentrated cleanser that removes all the impurities that got trapped in your hair and scalp. From styling products to chlorinated water to environmental elements, all of these particles that are weighing down your hair will be eliminated completely. You will find that your mane is as good as new.
The beauty of having a deep clean routine for your hair is the fact that it alleviates the grease, oil, and even those tough build up since they weigh your hair down. You can use this product twice a month to help with clearing your mane from all the deposits to help revitalize your strands. Make sure that your hair is thoroughly wet before applying this cleanser then work your way until you create a lather. The fresh ingredients leave that clean and fresh experience for your scalp and hair.
Pros:
Helps restart your hair care by removing build up quickly.
It is a highly concentrated clarifying shampoo that leaves scalp clean and strands fresh.
Fresh natural ingredients ensure that there are no residues left behind.
Cons:
It is about pricey compared to others.
Chemical smell is not that great for users.
Neutrogena Anti-Residue Clarifying Shampoo
Neutrogena's anti-residue clarifying shampoo gets into cleansing right off the bat. Any product build up is instantly removed leaving your mane clean and healthy. This is a non-irritating cleanser that you can make part of your hair care routine if you want to flush the product build up on your mane. It is formulated to remove up to 90% of build up which is why it is best that you do this once a week to revitalize and revive your mane.
What else is there to like about this product? It can work on all hair types and even on color treated hair. This cleanser is perfect for your weekly routine since it is an effective cleanser of all impurities. Additionally, it doesn't contain harsh ingredients making it a safe option for those who prefer a lightweight hair product. If you are dealing with bad hair day often, having this option in your routine will help improve your overall hair health.
Pros:
Clears up to 90% build up on hair and scalp.
Works on all hair types and even colored hair.
It is free from harsh chemicals so it will not clog your scalp and strands.
Cons:
It doesn't clean that much.
The scent is too strong for some users.
It strips hair of everything which can be a bit harsh on the scalp and strands.
Kenra Clarifying Shampoo
Another option to consider for cleaning hair and scalp is Kenra clarifying shampoo. This product is designed to remove!over up to 99% of product build up and other impurities from your hair that you will see a huge difference after cleansing. It is specially formulated for swimmers, those who have color treated hair, and even those who are using hard water in their area. It contains mica as one of it's primary ingredients which is great for revealing clean and clear hair strands.
This is the perfect product prior to having your hair chemically treated since it is designed to remove any and all impurities. When used on color treated hair, you will find that it helps brighten your strands. Use it as with any shampoo product and you are good to go. You will have clean hair and scalp soon enough.
Pros:
It can help clear up to 99% of impurities and build up from your scalp and strands.
Specifically formulated for those who swim, are constantly using hard water, or have treated strands.
It can be used before you dye your hair to ensure that the product will adhere to your clean strands.
Cons:
The color and scent are quite different from previous iteration.
It has a strong chemical smell plus it strips hair of everything.
It doesn't work very well in cleaning and cleansing products off of your hair.
Redken Detox Hair Cleansing Cream Clarifying Shampoo
This cleanser clarifying shampoo gets the job done of removing even the most stubborn buildup on all hair types. This includes dry shampoo and other causes of buildup that you will feel like your mane is just like new. No matter what causes your limp hair to happen, perhaps because of too much use of styling products, the wrong kind of shampoo, or even because of hard water, you don't have to look far for the right product.
Regardless of whether you are a swimmers or are ready to dye your mane, you will find that this cleansing shampoo is the best product available. Use it once a week to liven up your strands so that the next round of shampooing and conditioning will yield the best results. It works on all hair types which is another plus with Redken.
Pros:
It is effective in removing all types of build up on strands and scalp for a refreshing feel.
It is designed for those who are exposed to hard water or chlorine filled water too. Even the tiniest particles are removed.
Revives hair and scalp without residue.
Cons:
The price is too high for it's size.
It doesn't have any safety seal which is why leaks form.
It is not as great as other cleansers which is disappointing.
Davines Solu Shampoo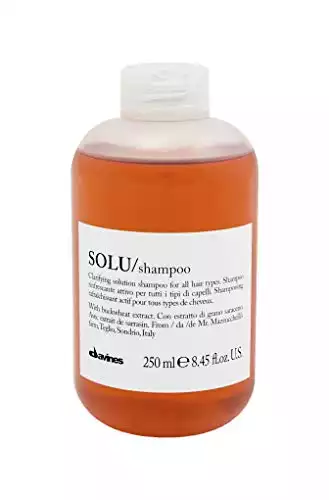 We earn a commission if you click this link and make a purchase at no additional cost to you.
Another example of clarifying shampoos that you can try for your mane is Davines Solu Shampoo. The first thing that you will notice about this product is that it is lightweight on your hair. It will not leave any residue on your mane which is important since styling products can weigh on your strands when they accumulate. Sudsy and airy, you will find that this clarifying shampoo gets the job done of removing impurities that are causing limp and flat strands.
It is effective in revitalizing flat and limp strands which is why, if you think you need to repair your hair and scalp then this product is what you will need. Massage it gently on your scalp until you create a lather and rinse strands thoroughly. You will be surprised to find that your mane will feel soft, smooth, and bouncy just like before.
Pros:
It is lightweight on your hair and scalp.
It cleanses the scalp from harsh products, oil, and environmental build up.
Sudsy and airy, you will have a fresh and clean mane after.
Cons:
It is quite expensive for it size.
The effects aren't as expected.
It is no different than other brands out there.
A Guide to Buying a Clarifying Shampoo
Benefits of Clarifying Shampoo
You're probably thinking of what the fuss is all about when it comes to a clarifying shampoo. Well, if you haven't tried one yet, you'll be surprised to find that it has multiple benefits linked to it. Among these are:
Bye-Bye Build Up:
Removes build-up from hair products and even hard water. Those tiny minerals and build up of products can be dislodged quickly with the aid of this hair cleansing product.
Volume Booster:
It works like a volume booster especially since the products u down your mane can make it limp. Once you remove it, you are better off styling your hair.
Achieve Squeaky Clean Locks:
Prevents bacterial growth on your mane and scalp so you don't end up various hair issues.
Brings Back the Balance:
Brings back the natural pH balance of your hair so it will be neutral. Think of it as undergoing home remedy where you are using Apple cider vinegar to cleanse impurities.
Moisture Lock:
Retains moisture on now clean hair.
Deep Cleanser:
Prevents bacterial growth on scalp. Too often our hair is exposed to outside elements such as wind, rain, and dust. When left behind they can cause build up which can affect the overall quality of your strands.
How to Choose a Clarifying Shampoo
Finding the best clarifying shampoo is going to be a bit tough especially when you have tons of options to consider. But since you need to find one that will fit your needs, you should keep these factors in mind.
Read the Label
Reading the label of a clarifying shampoo can help you determine if there are other buzzwords that comes with it. Think balancing, purifying, and normalizing as keywords that you should look for in search of a good clarifying shampoo.
Check for Sulfates
Most of us avoid Sulfates when it comes to our shampoo because they are simply too harsh on the hair. But in clarifying shampoos, you will need one that contains Sulfates to get rid of the build up real quick. On a good note, if you are a stickler for using products that are sulfate-free then you are in luck since there are still clarifying products that don't have it.
Gentle Product
If you feel that your clarifying shampoo is causing irritation on your scalp, it is possible that you are using too much. Go for a bare clarifying shampoo instead. Basically, you need a product that has the fewest ingredients as possible. Too much ingredients in a single shampoo can have a negative effect on your hair in the long run.
Why Add Clarifying Shampoo to Your Routine?
Why bother adding this to your routine? Clarifying shampoos are worth adding to your routine because:
Remove build up of products like conditioner and shampoo on your hair.
Volume booster for hair especially for those who have fine strands.
It can be used as a cleanser for hair prior to being color treated.
For cleaning strands that are way too oily. You can skip your regular shampoo in favor of a clarifying one to help clean and revive oily and greasy strands.
It helps prevent blonde hair from becoming too brassy.
Remove mineral deposits and other hard water elements that may remain on your strands.
If you are getting a hair mask, this will be a good cleanser to use as it removes impurities and other products that may be left on your strands and scalp.
To jumpstart your hair routine after exhausting various products to revive your mane.
These are just a few reasons why you should use a clarifying shampoo for your strands. The question now is which is the best clarifying shampoo to use?
Final Thoughts
Now that you have an idea on the best clarifying shampoos available today, you might be wondering which one to get. The Morroccanoil Clarifying Shampoo seems like a good deal because of it's concentrated form that is designed to remove all the impurities present. Start with a small amount thenwork your way up depending on the quality and condition of your strands. For sure, you will love how light your mane feels afterwards.
Leah Williams
Leah Williams is the founder of Lucky Curl and has been in the hair care and styling industry for the last 15 years. Since then, she has developed incredible expertise and a deep understanding of how to treat and style the most difficult hair types and is passionate about sharing her knowledge with the readers of Lucky Curl.