Dry and frizzy hair doesn't inspire confidence, but can be remedied using hair straightening oil. Serums that are rich in nourishment can help tame the frizz while providing much-needed moisture to the strands. But which hair oil should you use to straighten your hair? Let's find out how this hair care product works and which one to get.
In this article we review 5 products to find the best hair straightening oil to use before picking up your flat iron.
11/21/2023 05:30 pm GMT
Hair Straightening Oil – 5 Best Oils To Use Before Straightening
Do you have dry, frizzy hair with split ends to boot? Or do you have damaged hair that you wish to repair? If you want the best hair all the time, then you will need to learn how to care for it, especially with all the blow drying and straightening that you have been doing to it. You need to learn how to protect your hair from heat to minimize damage and breakage.
That said, if you want to end with sleek and straight hair minus the frizz and dryness, then your best bet is to use straightening oil for your hair. Here are a few options that you can start with.
Olaplex No.7 Bonding Oil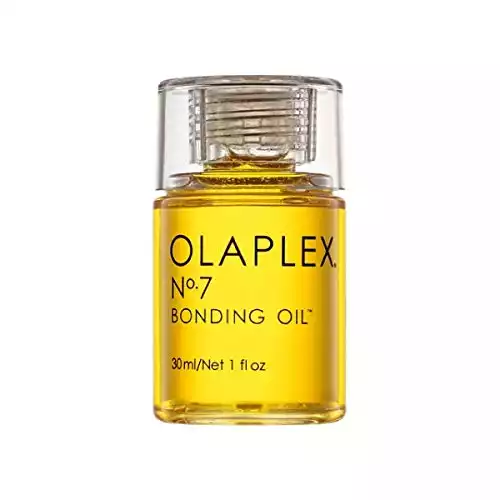 Kicking off our list is the highly rated No.7 Bonding Oil by Olaplex. What you will get from this product is that it restores dry and damaged hair while protecting the strands from breakage especially when exposed to high heat up to 450 degrees Fahrenheit from a flat iron. Applying this restorative oil on your mane will not only repair hair breakage but it is also formulated to bring back the natural shine and smoothness to your strands.
What else can you expect from this oil for hair straightening? It is formulated to work on all hair types plus it is cruelty-free too. If you are worried about exposing your strands to harsh chemicals, this bonding oil is free from parabens, phthalates, and sulfates. And since this is a highly concentrated hair straightening product, you should only use a small amount on your hair. Turn the bottle upside down then tap gently to get a small amount on your fingers.
Pros:
Restores dry and damaged strands with regular application.
It can protect your mane from intense heat such as when you blow dry your strands.
You only need a small amount of this highly concentrated oil to apply on straight to curly hair.
Cons:
It may not be appropriate for those who have thick curly hair.
Straight Silk Spray with Moroccan Argan Oil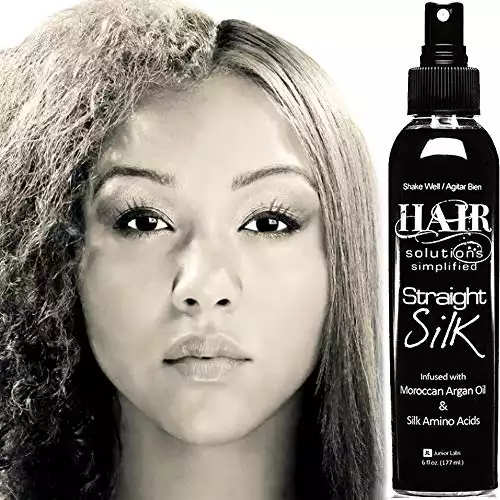 If you are looking for a hair straightening product, the Straight Silk Spray with Moroccan Argan Oil is worth considering. The first thing that you will like about this product is that it cuts back the time it takes for you to straighten your mane. If your strands are looking a little worse for wear, spraying this solution can revitalize your hair plus it reduces the appearance of frizz and kinks too. It is also great for protecting your colored strands too.
What else is this product good for? It is efficient in minimizing damage from heat styling especially when you are straightening your mane with flat ironing tools. Spray this on prior to styling and it can withstand up to 450 degrees Fahrenheit. Another plus to the Straight Silk Spray is that comes with Moroccan Argan Oil which nourishes and moisturizes the strands and scalp. It won't even weigh your mane down if that is what you are worried about.
Pros:
Cuts hair straightening time to half.
It comes with Moroccan Argan oil that is rich in nutrients that protect hair while revitalizing it.
It can withstand up to 450 degrees Fahrenheit of heat.
Cons:
It's not that different from heat protectant sprays.
It doesn't keep hair straight especially when humidity levels are high.
It will not work on all hair types.
L'ANZA Keratin Hair Treatment Healing Oil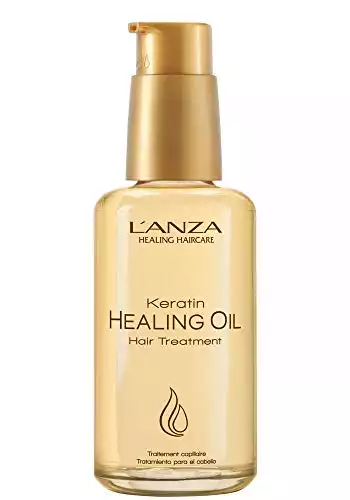 Another option that you should look into if you want to have hair soft and shiny is this hair treatment healing oil from L'ANZA. What makes this product stand out is the fact that it makes use of a proprietary blend of Phyto IV Complex plus Next Generation Keratin Protein to help repair damaged hair. This combination is the one responsible for revitalizing your dull and lifeless locks while bringing back their natural shine and strength too. The results of this product can be even better compared to regular shampoo and conditioner.
The secret ingredient here, which is the Phyto IV Complex, is a unique blend of botanicals that are carefully chosen to nourish and moisturize your dry and damaged strands without making your hair feel too oily or heavy even. Applying this keratin oil on your hair will combat frizz while adding more volume to your flat strands. You'll feel that your hair has been finally rejuvenated with this non greasy healing oil. Even if you will be using a dryer or straightening iron, they won't cause hair breakage because your strands are well protected.
Pros:
The unique combination of Next Generation Keratin Protein and Phyto IV Complex can treat natural hair safely.
Makes use of a unique blend of botanicals that nourish and moisturize dry and frizzy strands.
Non greasy heat protectant that can help you achieve straight hair fast.
Cons:
The smell isn't exactly great.
There isn't much improvement on hair after use.
This bottle is way overpriced for a hair straightening product.
SheaMoisture 100% Virgin Coconut Oil Treatment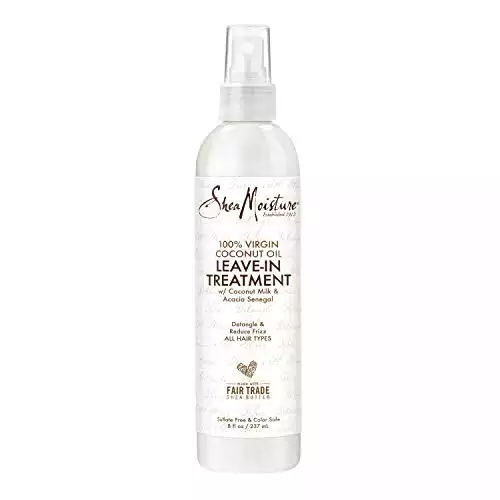 What other styling product should you use to get straight hair without damage even when using hot tools? This 100% virgin coconut oil treatment is worth checking out since it is specially formulated to soften hair strands to make them more manageable. You only need to leave this moisturizer in to help you detangle your strands, fight frizz, and provide protection while blow drying or even straightening your mane. Your natural hair will feel like it is lightly covered by the coastal breeze with a hint of coconuts in the air.
This is a cruelty-free product meaning that all ingredients used here are naturally sourced. Among the key ingredients that it contains are coconut oil, acacia Senegal, and coconut milk which keep your strands soft, smooth, and well protected from exposure to heating tools like a flat iron. It is quite simple to use too. Simply spray it on your towel dried hair, concentrating on the middle all the way to the ends. You can opt to let your hair air dry or use a blow dryer, whichever you prefer. The best part is that this product doesn't come with harsh chemicals like sulfates, parabens, and phthalates.
Pros:
100% virgin coconut oil treatment helps soften and smoothen your hair.
Leave in moisturizer that can help detangle knots on your hair, combat frizz, and prevent damage when styling.
All ingredients used are naturally sourced and that there are no harsh ingredients included.
Cons:
The moisturizing quality is not present.
The smell can be too strong for some users as customers have reported allergies.
It can make oily hair even worse.
Moroccanoil Treatment
This oil treatment has the pleasure of being recognized as an award-winning product that propelled the use of Argan oil for hair care. What you will love about this product is that it contains argan oil which is known for its fatty acids plus flaxseed oil that nourish hair while straightening it. This unique blend of ingredients helps with removing tangles to achieve silky smooth hair without leaving tell-tale signs of grease. Applying this treatment on your hair that is starved for the moisture is one way of revitalizing it with the results lasting longer than any hair product. You will be able to manage your hair better with this product plus you don't have to spend a lot of time drying it too.
This a versatile hair straightening product that can protect your mane from high heat from blow drying to straightening and everything in between. It is a multitasking straightening product that will not only tame frizz but also protects strands from damage from high temperatures. To use this heat styling product, you only need to apply it on dry or damp hair starting from the middle of your hair all the way to the ends.
Pros:
Award-winning product that makes use of Argan oil and flaxseed oils to nourish and moisturize hair.
It leaves frizzy hair soft and silky smooth without weighing down on your strands.
It tames frizz while providing protection from damage from exposure to heat.
Cons:
The liquid feels less oily unlike its original solution.
It may not work well on those who have thick hair strands.
The scent can be overwhelming for some users.
Benefits of Hair Straightening Oils
What's the point of using hair oils, anyway? Straightening products, such as oils and serums, do come with plenty of benefits. Here are a few worth noting.
Fights of frizz because it offers heat protection and nourishment too.
These oils are packed with vitamins and minerals that can contribute to strengthening your strands.
It minimizes the dryness of the scalp because of its nourishing and moisturizing properties. Incidentally, this also helps with eliminating dandruff since your scalp is properly moisturized.
Enhances blood flow to the scalp which, in turn, helps make your hair look healthy and shiny.
Fewer split ends to deal with so your hair will look better.
Heat protection when using styling tools. The oil coats the strands and prevents heat from affecting the cuticles.
Features to Consider for Oil Hair Products
There are many ways to keep your hair straight and frizz-free, and one of them is to apply a straightening oil for your mane. The good news is that there are literally dozens of straightening products available today that it will not too difficult to find one that will work for your mane. However, as with any purchase, you need to know what to look for in hair oil for straightening to narrow down your choices. What factors or features should you look for? Here are a few suggested features that you can start with.
The first thing that you should look for in a styling oil is whether it is made from organic ingredients. An organic or natural straightening oil is free from added ingredients or even unwanted substances such as chemicals like pesticides. Basically, natural oils are derived directly from the plant or the fruit itself where all the nutrients are found. Using this type of straightening product not only delivers the nutrients that your damaged hair needs, but it also provides protection while heat styling.
No Fragrances or Fillers.
Commercial hair oils typically come with a variety of ingredients which include fillers and fragrances to jack up their prices. However, you don't really need these add-ons since they do not have any value to your mane. That said, look for a styling product that will leave your strands shiny and healthy without relying on hidden ingredients to tame your frizzy mane. Read the ingredients list carefully to see whether there are unwanted items there. If you do spot an ingredient labelled fragrance, you might want to avoid it since a fragrance can contain several compounds that may dangerous to you in the long run.
If you are looking for a hair straightening product to address frizzy or dry hair strands, it would be better if you go for a cold-pressed oil instead. This is because using heat eliminates the vitamins and minerals that should be delivered to your strands and scalp. A hot-pressed oil won't work well since the nutrients are barely there, to begin with.
The price of the hair straightening serums and oils should be taken into account as well since not all hair products come with a cheap price. Make sure that you compare prices before deciding on which one to get for your mane. Keep in mind, however, that a high price doesn't automatically mean that you will get a good product already. You just need to weigh the pros and cons to see if they will match its value.
How to Apply Oil to Keep Your Hair Straight?
Most of us head to the salon to have our mane pampered with various treatments, but when you are stuck at home, you can still treat your hair and scalp with hair straightening products like natural oils. The question though is what is the right way of applying this type of product?
Combine a tablespoon each of coconut and castor oil in a microwaveable bowl.
Heat the oils for a few seconds or until warm.
Apply your oil mixture to your scalp and hair.
Give yourself a good head massage, say about 15 minutes, to help the oil sink deeper into your scalp.
Leave it on for half an hour. This way, the oils that you have mixed will be able to penetrate your strands and scalp where they should do plenty of good.
Rinse your hair using cool water as well as mild sulfate-free shampoo.
This hot oil treatment can be repeated at least twice a week to help tame frizzy and dry hair. You can even use oils prior to straightening your hair with a flat iron or a blow dryer.
The Verdict
Which of the hair straightening products mentioned above is the best hair care solution to try? The Olaplex No.7 Bonding Oil stood out for me. One reason behind this is that it is a highly concentrated oil that repairs damaged strands and revitalizes them at the same time. You can even use it as a means of protecting your strands from hair straightening tools too. A small amount can go a long way with this product so you might want to be careful on how much you apply on your strands.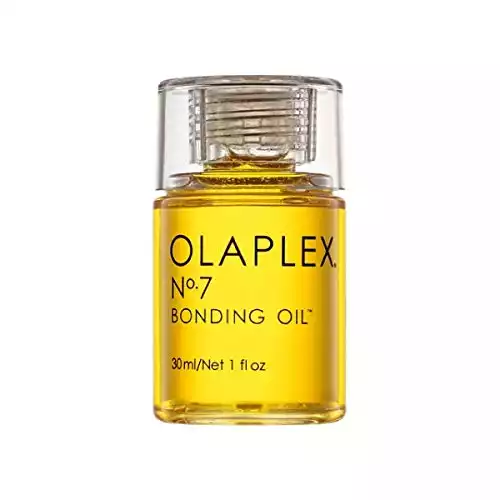 Leah Williams
Leah Williams is the founder of Lucky Curl and has been in the hair care and styling industry for the last 15 years. Since then, she has developed incredible expertise and a deep understanding of how to treat and style the most difficult hair types and is passionate about sharing her knowledge with the readers of Lucky Curl.