Thick, voluminous hair is, as the youth say, goals. But due to age, stress, or other factors beyond our control, our locks can grow noticeably thinner. There are many ways to add heft to dwindling strands but perhaps the quickest, easiest fix is to buy the best volume shampoo for thin hair. Here are 6 of the best volumizing shampoo hair care products in the biz, well-loved by both the average Jane and salon experts.
Best Volume Shampoos – 6 Top-Rated Products for Fuller Hair
NatureLab. Tokyo – Perfect Volume Shampoo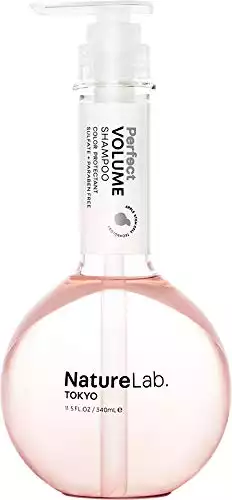 We earn a commission if you click this link and make a purchase at no additional cost to you.
This Japanese shampoo is a sulfate-free shampoo that's been called a Sachajuan shampoo dupe. The best thing is it comes at half the price of the Scandi brand. It has an interesting design that's a cross between a pristine science lab and a dash of Glossier.
The pink-hued shampoo contains apple stem cells, sakura flower extract, rice protein, and soy protein. This is not your regular drugstore shampoo at all, despite the appealing price point.
With this botanical technology unique to NatureLab Tokyo, the volume shampoo cleans the hair and builds volume with light moisture. It also prevents hair loss and helps hair look full and voluminous. It's so effective at getting rid of the gunk that weighs down thin and flat hair.
The shampoo is safe to use on colored hair, thanks to the sakura extract which preserves the brightness of chemically-treated hair. This is a vegan and cruelty-free shampoo made without gluten, parabens, or sulfates.
A slight downside to this shampoo is the lack of a frothy lather. It doesn't mean that it's any less effective than bubbly shampoos but I know a lot of people want that satisfying sudsy feeling when shampooing.
Pros
A relatively affordable shampoo for thin and fine hair
Contains apple stem cells, sakura flower extract, and proteins
Moisturizes and cleans the hair roots
Prevents hair loss
Safe to use on color-treated hair
Cons
Kérastase – Densifique Bodifying Shampoo
The Kerastase Densifique lives up to its name. The volumizing shampoo has an ingredient list packed with hydrators and thickeners that add body to flat hair.
It contains hyaluronic acid which draws water into the hair for a dramatically full look.
It also has gluco-peptide which can penetrate into the hair shaft to smoothen the cuticle from the inside. The shampoo is fortified with ceramides and intracylane which moisturize, thicken and strengthen the locks.
This is a gentle yet effective shampoo that's good for all hair types. The lightweight formula will not weigh down your hair.
However, I don't think this shampoo is for parched and color-treated hair. Some users have noted that made their hair feel drier than usual. It's also quite a pricey shampoo, so it's not for those on a strict budget.
Pros
Contains hyaluronic acid, a great hydrator
Contains gluco-peptide which smooths down hair
Has ceramides and intracyclane that moisturize and thicken
Gently cleanses hair
Has a lightweight feel
Cons
Too harsh for parched and color-treated hair
A bit expensive
R+Co Dallas Biotin Thickening Shampoo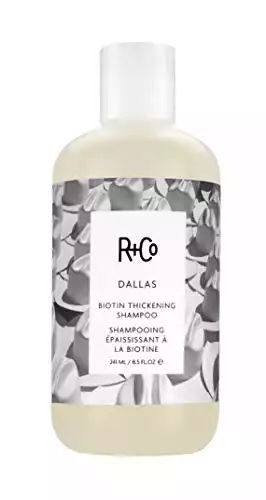 This shampoo is formulated for thin, fine hair that lacks body. It contains biotin, a vitamin that improves the health of your hair. Lack of biotin contributes to hair loss. Biotin works by stimulating the hair follicles and strengthening the hair.
The Dallas shampoo also has Pro Vitamin B5 for shiny, full-looking hair. It also has saw palmetto extract, an ingredient common in thickening and hair loss shampoos.
Coconut oil is the conditioning agent in the formula. It softens the hair, adds shine, and prevents breakage.
Rounding out the ingredients list is loquat fruit extract, brimming with vitamins and extracts. Loquat, or Chinese plum, is a tropical fruit that has anti-inflammatory properties.
Overall, this lightweight shampoo works by strengthening the hair and adding moisture to lifeless locks. It also builds volume on a cellular level by improving the foundation of hair, keratin.
This shampoo is made without parabens and sulfates, ingredients that can potentially irritate some people.
The price point is definitely midrange to high end and you get 8.5 fl oz with your purchase. It's a bit pricey for the amount that you're getting but the formula is concentrated so it's cost-effective.
Multiple users are divided on the scent of the shampoo. Some like it but others say it's too strong.
Pros
Helps to make thin, fine hair appear thicker
Contains biotin, a B vitamin that stimulates hair growth
Has Pro Vitamin B5, coconut oil, and loquat fruit extract
Feels lightweight
Paraben and sulfate-free
Cons
A bit expensive and contains a small amount of product
The scent is overpowering for some users
Davines Essential Haircare VOLU Shampoo
We earn a commission if you click this link and make a purchase at no additional cost to you.
This is a cleansing shampoo that boosts volume and shine. It's formulated for fine and limp hair.
Davines is a family-owned Italian brand with a focus on sustainable beauty. I think this is perfect for consumers who want to give their hair a boost while minimizing their carbon footprint.
The volumizing shampoo has a frothy, light feel. It's gentle enough for sensitive scalps. It cleanses without stripping. This will accentuate curls or straight hair. It adds bounce and movement to lifeless locks. It contains natural active ingredients such as turnip root extract which makes hair appear full, promotes hair growth and reduces hair fall.
This should not be used on color-treated hair as it can possibly fade your hair color. The shampoo is quite expensive for the amount of product so it may not be for you if you're looking for more value and lower cost per ounce.
Pros
Made by a sustainability-focused brand
Lightweight and won't weigh down hair
Good for sensitive scalps
Effectively cleanses without feeling harsh
Revives limp locks using natural ingredients
Cons
Not for color-treated hair
Quite expensive for the amount you get
amika – 3D Volume and Thickening Shampoo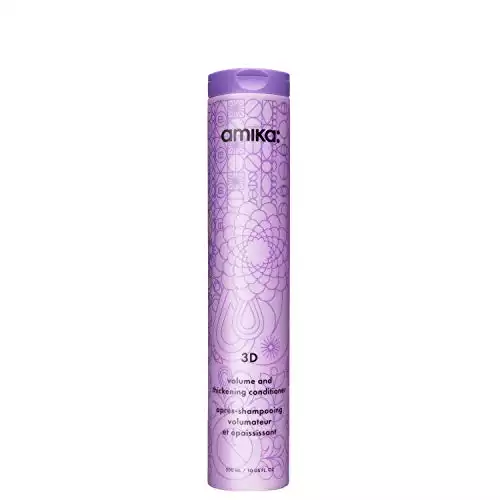 The amika 3D Thickening Shampoo has a lightweight formula containing polymers that plump up the hair. It uses a patented ingredient blend called Redensyl. This blend reduces hair loss and supports follicular health. The shampoo contains hydrolyzed rice protein which thickens hair and enhances shine. It imparts volume and makes hair more manageable. It volumizes the hair by binding moisture to the hair shaft.
The thickening shampoo is filled with hydrolyzed vegetable protein, an ingredient that boosts elasticity, thickness and volume. It lightly moisturizes, coats the cuticle and strengthens the locks.
The amika volumizing shampoo is best suited for fine hair and frizzy locks. This is also a suitable option for hair that's been dried out by regular heatstyling.
The shampoo is free from sulfates and parabens. It's cruelty-free and vegan.
However, this is not suitable for parched or very damaged hair because it won't offer a lot of hydration and moisture.
Pros
Feels lightweight, has a no-product feel
Polymers plump up the strands
Uses a patented blend of ingredients called Redensyl
Contains thickening and volumizing hydrolyzed rice protein and hydrolyzed vegetable protein
Best for fine and frizzy hair and heat damaged hair
Cons
Not for parched or very damaged hair
BIOLAGE Volumebloom Shampoo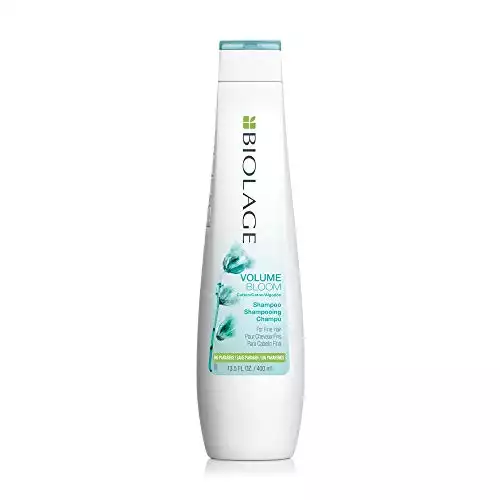 Biolage is a sustainable haircare brand using renewable energy, so it's a great choice for eco-conscious folks.
The Volumebloom Shampoo is best for fine hair. It's lightweight, so it doesn't have that heaviness that comes from emollient shampoos. It cleanses the hair and scalp gently. It has a gel consistency that lathers well but stays mild. You only need a little at a time so the shampoo is cost-effective.
This enhances volume and bounce by clearing out residue and buildup in the hair. In effect, it gives you a lifted appearance at the roots.
The shampoo contains cotton flower and has a pleasing floral scent. Since it has sulfates, it may dry out hair with daily usage. It's not a shampoo for dry hair. You need to use a light hand and apply it every other day or so to avoid overdrying your locks.
This shampoo is not a good moisturizing shampoo either. It works by lessening the weight and grime that accumulates on the scalp and hair, not by visibly thickening the strands.
Pros
Made by a sustainable brand
Suitable for fine hair
Has a mild and lightweight formulation
A little goes along way
Adds lift and bounce
Cons
Can be drying if used frequently so it's not for dry hair
Not good for moisturizing hair and doesn't thicken the locks
A Guide to Buying Volume Shampoo
FAQs
Is a volume shampoo bad for hair?
Not at all. Volume shampoos are formulated with fewer moisturizing ingredients that can weigh hair down. These moisture-rich ingredients like oils and shea butter are good for dry locks but they're too heavy for thin and fine hair types.
Volume shampoos clean the strands without leaving residue. This allows the hair to appear more lifted, particularly at the roots where oils accumulate. Sebum is a waxy material that can contribute to that limp look. Regular washing with a volume shampoo gets rid of the heaviness, thus making the hair look fuller with more body.
Who is a volume shampoo best for? Which hair types?
Anyone can benefit from a volumizing shampoo. They give the appearance of lushness to the hair, albeit temporarily. But the hair type that will get the most results from a volumizing shampoo is fine hair. Fine hair has a small diameter and wispy texture that can easily absorb oil. It tends to show grease readily, which gives it an even thinner appearance.
You may also benefit from a volumizing shampoo even if you have coarse hair but not a lot of it. This type of shampoo will remove product buildup while retaining natural texture. Curly hair can reap some benefits from volumizing shampoo because waves and curls look better and more defined when they have more body to them.
Benefits of a Volumizing Shampoo
Volume shampoos work by lifting the strands from the base and plumping up the individual hairs through certain ingredients. Here are the benefits of switching to a volumizing shampoo.
Gives the appearance of thickness
This point may be obvious but it has to be said: volume shampoos give the hair a fuller appearance. It adds body to the hair shaft by injecting proteins, vitamins, and other strengthening ingredients. These are often formulated to penetrate the hair easily and make them swell while being lightweight.
Removes buildup
The last thing you need when you have fine, thinning hair is product buildup. A good volumizing shampoo cleanses the scalp, getting rid of impurities and oils that weigh the hair down. By rinsing this out, your hair immediately feels lighter.
Protects your hair
Volume shampoos protect the locks from breakage and heat damage, factors that can lead to fewer hairs and a thin appearance. Volumizing shampoos keeps the hair elastic and resistant by coating the hair shaft with strengthening nutrients and other ingredients that form a protective layer against stressors.
Adds bounce
Though you want a weightless feel to the hair, you don't want completely flat hair. A good volumizing shampoo makes hair look bouncy and moisturized.
Moisture is a sign of healthy hair. The lack of hydration and moisture makes your locks look dry and lifeless. Volumizing ingredients in shampoos have humectants or moisture lockers that draw moisture and hydration into the hair shaft.
How to Choose the Best Volumizing Shampoo
Ingredients
Check if the ingredients live up to the volumizing claims. Are the ingredients actually effective?
Common shampoo ingredients include biotin, keratin, amino acids, lavender, and rosemary oil. It's also wise to check if you're sensitive to any of the ingredients.
If you have chemically treated or colored hair, go for a color-safe shampoo. These usually don't contain sulfates which can be harsh on your hair.
However, sulfates and other surfactants clean hair effectively and are included in volume shampoos for oil control. If you have oily hair, you can benefit from sebum-absorbing ingredients like talc, starch, polymers, and quaternized proteins.
It's important that a volume shampoo is well-formulated. This takes a bit of trial and error but you'll eventually know what ingredients suit your hair best.
Hair Type
Think of what kind of hair you have and what kind of benefits and effects you need in your shampoo. Not all volume shampoos are made equal. Some are formulated for curly hair while others are better for straight hair, fine hair, coarse hair, etc.
Try to get a shampoo with a reputable name in the industry. Check reviews to find out other consumers' experiences with the product.
Cost
Just because a shampoo is more expensive doesn't necessarily mean it's more volumizing. A lot of well-formulated products are budget-friendly. Plenty of drugstore shampoos can get the job done.
However, more expensive shampoos may have some benefits that you can't find in more affordable versions such as advanced formulations or technology and difficult-to-find ingredients.
What's the best way to use volume shampoo?
These are the simple steps to help you get lush, full locks.
Use lukewarm water when rinsing your hair in preparation for the shampoo. This opens the cuticle for better absorption.
Squeeze out an appropriate amount of shampoo for your hair type and length. Lather it on the scalp and concentrate it on the roots. Avoid the tips. Use your fingers to massage the shampoo into the hair.
Next, rinse out the shampoo thoroughly, ensuring all the residue and buildup goes down the drain.
Apply a small amount of conditioner to the ends of your hair (below the ears). Do not take it up to the crown and roots. Be careful not to apply too much because it can weigh down your locks. Rinse out the conditioner well.
Try skipping shampoos every other day or more to prevent overdrying your hair.
Final Thoughts
These volumizing shampoos will help revive limp hair and leave it looking thick and healthy. The best shampoo to buy if you want to give your mane a boost is R+Co Dallas Biotin Thickening Shampoo. Biotin is a must-have ingredient if you want natural fullness in your hair. It also contains additional thickening ingredients like saw palmetto extract and coconut oil. These help prevent that brittle, overcleansed quality that some volumizing shampooos give. It has a lightweight feel which gives the locks much-needed lift and fullness. It's perfect for nearly all hair types who crave thick hair.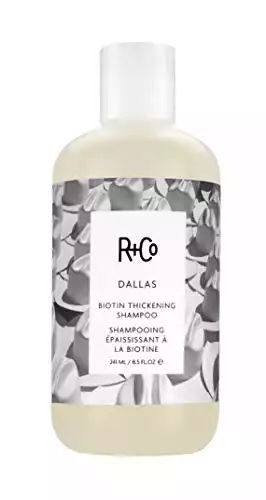 Leah Williams
Leah Williams is the founder of Lucky Curl and has been in the hair care and styling industry for the last 15 years. Since then, she has developed incredible expertise and a deep understanding of how to treat and style the most difficult hair types and is passionate about sharing her knowledge with the readers of Lucky Curl.