If you've overdone it on the the bleach or your highlights are looking a little on the brassy side, a blonde shampoo can be a great solution for toning down the yellow. Within a few washes you can achieve a more natural-looking blonde tone.
With that in mind, we rounded 5 of our favorite products to find the best purple shampoo.
Best Purple Shampoo – 5 Top-Rated Options for Brassy Hair
My color treated hair is in desperate need of the right purple shampoo, so I did a little digging and these products are what I came up with. Hopefully, these options may help you out as well.
Christophe Robin Shade Variation Mask – Baby Blonde
Your blonde hair may have the tendency to become yellowish or gray in the long run that you need to find a way to revert it back to its previous look. This purple shampoo does help in reviving your strands and revealing a more natural pigmentation too. What's great about this product is that it is specifically designed for blonde to give it the care and nourishment that it needs. It doesn't even have any chemical components to it such as silicon, ammonia, and oxidant even.
It is easy enough to use this product as the directions are already indicated in the bottle. You will have to wash your hair first to cleanse it from any impurities. Towel dry your hair starting from the roots all the way to the tips then apply the variation mask. You can leave it for five minutes or up to half an hour depending on the tone that you are trying to achieve. The tones will be removed after three to five washes.
Pros:
It revives and reveals a more natural blonde look.
Specifically designed for blonde mane for better results.
Doesn't contain any chemicals like ammonia, silicone, and oxidants.
Cons:
It is pricey.
It dries hair according to one user.
Restorative and healing properties are missing.
Function of Beauty – Custom Purple Shampoo
Another option that you can consider for your blonde or silver hair is the Function of Reduce Brassiness. If you are constantly bothered by brassy or yellow tones on your strands after you have bleached it blonde or platinum, then this product may help deal with the unwanted tones. What it does is that it neutralizes the underlying pigmentation on your strands to reveal a more natural color on your mane.
You'll be pleased to know that this product is sulfate free so you don't have to worry about irritating the roots of your mane. Additionally, you will find that its key ingredients are fairly simple and natural too and these are deep purple pigments and yuzu fruit extract. You will need to wash your mane with warm water first so that the cuticles will get lifted. Lather the shampoo while massaging it into your scalp. Rinse thoroughly afterward before applying conditioner. Leave it on for two minutes before washing.
Pros:
It neutralizes the yellowish tones on your strands because of its purple pigmentation.
It is free from harmful substances like sulfates, parabens, and other toxins.
Nourishes and moisturizes strands.
Cons:
It is a bit pricey for a shampoo.
Kérastase – Blond Absolu Anti-Brass Purple Shampoo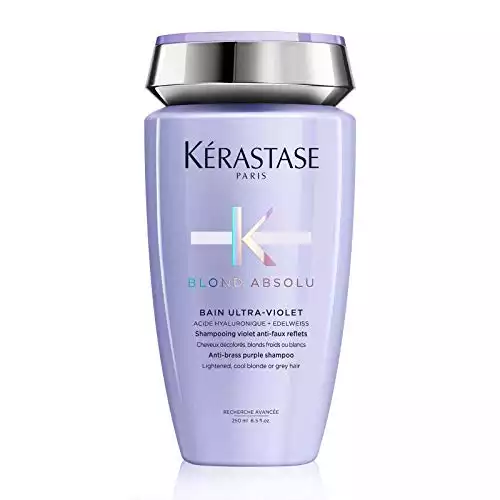 If you are looking for the best shampoos that will work on your faux blonde or even your gray hair then this one is worth trying out. Aside from having a pretty bottle, this shampoo deals with brassy and yellowing hues on your hair strands to ensure that the original color will be maintained. It is packed with neutralizing agents that can fight off those brassy shades that are so common in blonde dyed hair. This way, you will be able to prolong your faux blonde look before heading back to your stylist for a touch up.
This cool blonde shampoo combines Edelweiss flower extract and hyaluronic acid as its key ingredients to deliver the nourishing and rejuvenating effects of this product. You will see that your hair has this luminous effects to it after washing and that your strands will look more nourished compared to before. With regular use, you will be sparing your hair from pollutants and oxidation which means that your hair color will last longer. How cool is that? If you are wondering where to get it, try sephora com or amazon com.
Pros:
Addresses unwanted tones on your faux blonde or even gray colored hair.
Contains hyaluronic acid and Eidelweiss flowers .
Provides protection from pollutants and oxidizing effects.
Cons:
The smell is too strong.
Leaves hair extremely dry.
The results are not equal to its retail price.
Redken – Color Extend Blondage Color Depositing Purple Shampoo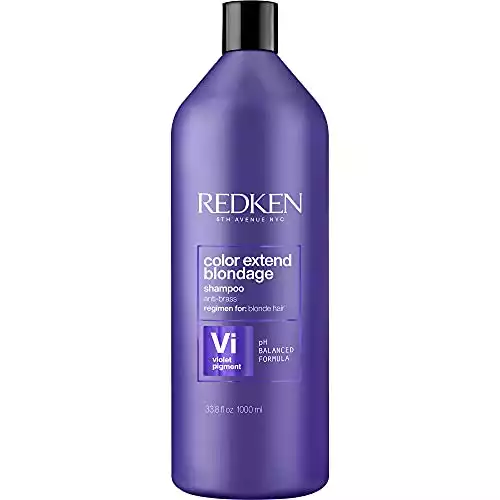 Your blonde hair will need all the help it can get to protect and preserve its colors. Fortunately, Ulta com has this brass cool blonde shampoo solution from Redken that is specially formulated to correct any issues with your platinum, blond, or even gray hair. It makes use of citric acid to help repair your strands while the purple pigments are present to neutralize any unwanted tones. You will find that your hair will look cool and bright as it should be as it is a color protecting shampoo that you should definitely invest in.
What else is there to like about this product? It has this gentle cleansing effect that removes impurities on your hair and scalp thus keeping your strands in good health. The violet pigments included really get the job done in neutralizing the wrong tones on your mane without leaving you with dry hair to deal with. Apply this product on wet hair first then create a lather. If you want to address the tones, leave it on for 3 to 5 minutes depending on your preferences. Ulta com is the best place to get it.
Pros:
Gently cleanses and repairs hair strands.
Corrects brass and yellowish tones on hair.
Brings back the natural gloss to your strands with each use.
Cons:
It has a strong scent to it just like men's shampoo.
It turns hair more silver than blonde.
amika – Bust Your Brass Blonde Purple Shampoo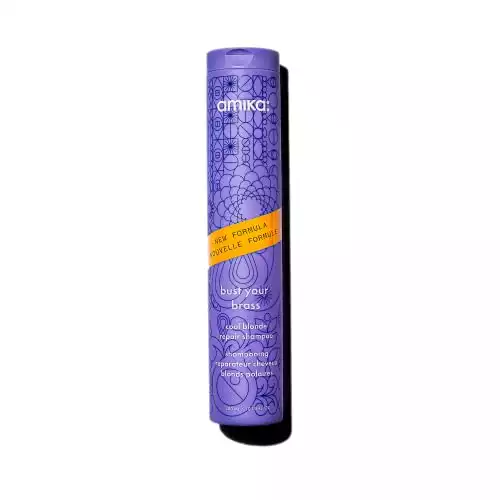 Amika's Bust Your Brass Blonde Purple Shampoo is another effective solution to extending your blonde hair color until your next session with your stylist. Don't let the brassiness ruin your blonde look, especially when this purple colored shampoo can help neutralize the wrong tones on your strands for you. You will find that its violet pigments can easily counteract the brass color so that you will be able to keep your blonde mane intact. It doesn't have to be hard to keep your newly dyed hair since you can try out Amika from sephora com.
You will need to wet your mane first before using this product. Massage a small amount of this shampoo on your scalp and hair then rinse after. Proceed with applying the conditioner after for that one-two punch of reviving and rejuvenating your blonde locks. For sure, you will love the end results since your hair will look better than ever.
Pros:
Extends the color of your hair until your next session.
Ultra violet pigments help combat brass tones on your strands.
Rejuvenates and revives hair with ease.
Cons:
One user noticed that her hair became oilier after a few hours.
It doesn't add moisture to strands.
It is not that effective in removing brassiness on hair.
Why is Your Hair Turning Yellow?
You might be wondering why your platinum or silver dyed hair is starting to become yellow. Well, there are four possible causes here and these are:
Natural underlying pigment.
For blondes, you've probably undergone a glaze or gloss treatment for your strands which is a two-step process. When you have lightened your hair, there will still be that yellow pigment on your hair which is controlled by gloss or even glaze. The longer you wait until your next treatment, the more likely it is that your strands will start to become yellow. The same goes true for those with white hair. Using a purple shampoo may help tone it down.
Styling tools and products.
Another reason why your blonde mane is becoming yellow is because your strands have been damaged by your choice of styling products or tools. The wrong shampoo and conditioner can leave behind these yellow pigments. When you expose your mane to high heat, such as when you are using styling tools, your strands can take that yellowish hue to them.
Environment.
The environment can also play a part in why your hair is getting that yellowish tinge to it. Pollutants like smoke and even chlorine in the pool can damage your color treated hair. You need to protect your mane from these environmental factors as much as possible to protect it from damage.
Diet and overall health.
The type of diet that you are following may also cause your strands to become yellow. If you have been taking medications or have some hair problems, it is possible that your platinum blonde will get that brassy tones already.
How to Choose the Right Purple Shampoo
Landing the best purple shampoos won't be easy, especially when there are dozens to choose from. I also thought that shopping for one would be a breeze until I saw that no two shampoos for blonde hair are alike. That said, there were a few factors that helped me find the right one and these are:
It must come with a conditioner.
Always look for a purple shampoo and conditioner rather than just shampoo only. There are some who believe that you no longer need a conditioner, but trust me, you will need it to. Just so you get that extra bounce to your mane. Also, the purple conditioner will help you maintain your hair color while ensuring that your strands are moisturized. It works just like any conditioner that you apply on your hair after washing it with your regular shampoo.
Should not have sulfates.
Sulfates are often used in shampoos and conditioners in the form of SLS or sodium lauryl sulfate. The recommended sulfate count should be 1 only, but if you take a look at regular shampoos, you will see that it is at 15%. This may be a cause for concern especially when you want to protect your scalp and your hair. That said when shopping for a purple shampoo check the list of ingredients to see the number of sulfates present.
Longevity.
If this is your first time to use such a product, make sure that you just use a nickel-size amount rather than using way too much. Also, you should use hot water first before you apply this product. How long the purple shampoo will work on your hair depends on how much you have used and how often you go outdoors. If the yellow tones remain the same after using a small amount of the hair product, you can tweak it until you see the desired results.
These are just a few factors that may help you find the right shampoo to use on your blonde hair to keep the yellow tones at bay. Although having your hair treated at least twice or thrice a week is a better option, if you can't keep to your schedule, using the right products, such as the purple shampoo, may help you achieve the results that you want.
Wrap Up
If you are looking for the best purple shampoo, I would suggest that you start with Kerastase Blond Absolu Anti-Brass Shampoo. What made this product stood out for me is that it effectively removes any brassy color on blonde hair which means that you will be able to go back to the natural look of your mane. It has hyaluronic acid as well as Eidelweiss flower for nourishment and rejuvenation. I think this is a good start if you need a color balance purple shampoo for your hair care.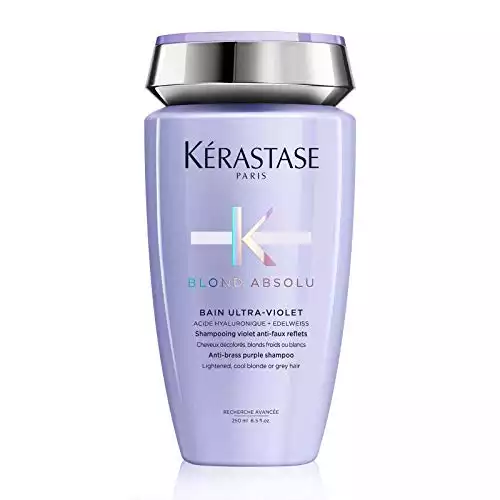 Leah Williams
Leah Williams is the founder of Lucky Curl and has been in the hair care and styling industry for the last 15 years. Since then, she has developed incredible expertise and a deep understanding of how to treat and style the most difficult hair types and is passionate about sharing her knowledge with the readers of Lucky Curl.