Dry hair is prone to breakage, split ends, and even frizz as the strands lack nourishment and proper moisture. Without the right treatment, you will end up with a mane that is hard to style. What it needs is the best treatment to help revitalize and rejuvenate your mane. But which one will work best on your hair and scalp?
We've rounded up 5 amazing hair care products to find the best treatment for dry hair.
Best Treatment for Dry Hair – 5 Top Hair Repair Products
Treating damaged hair with a deep conditioner is a must, but which one should you get for your mane? There are several options that you can choose to help repair your brittle strands, but if you want to narrow down your choices, these brands are among the top.
Olaplex Hair Perfector No 3 Repairing Treatment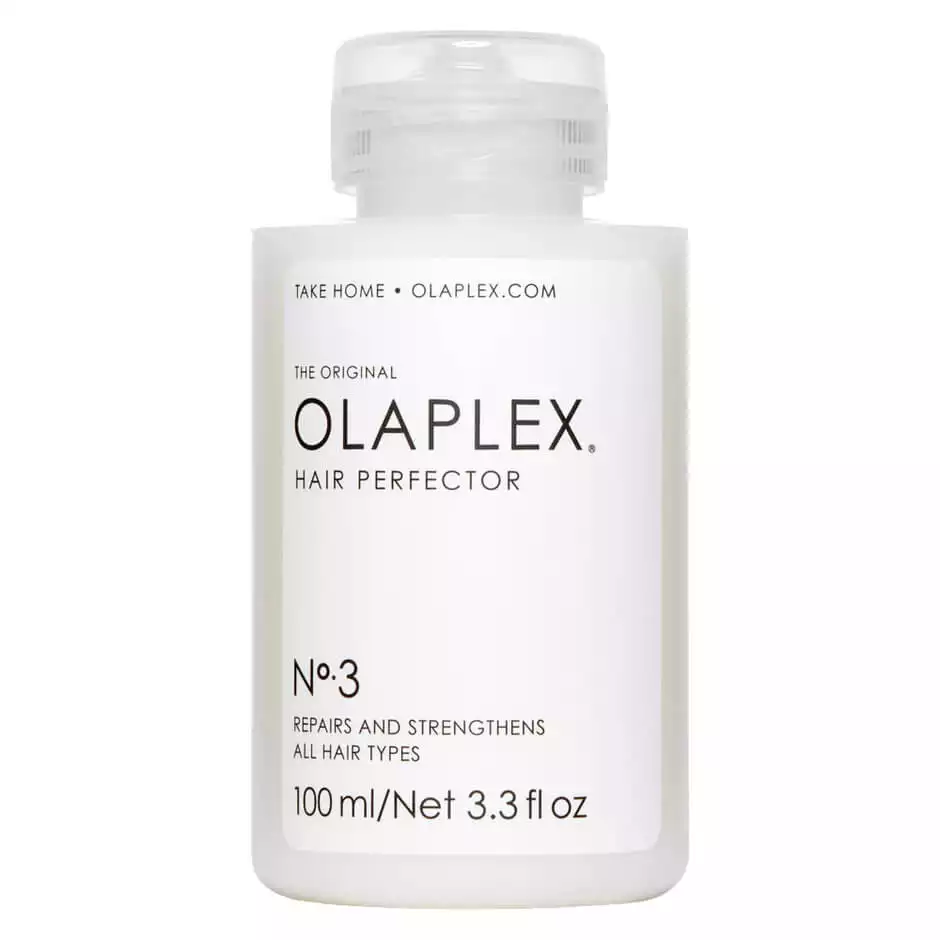 Olaplex Hair Perfector No.3 repairing treatment should not be mistaken with any ordinary conditioner. It is specially formulated to repair, protect, as well as strengthen dry and brittle strands to help minimize breakage. Using this product can help correct your hair woes easily. With regular use, you will notice an improvement in the quality of your mane.
Why use Olaplex on your dry mane? The damage to your strands will receive proper treatment thanks to the unique technology applied to it that allows it to penetrate the strands deeply where it can work its magic. It works on all hair types and doesn't contain any harmful chemicals too such as in the case of sulfates, phthalates, and parabens even. For sure, you will not have any trouble treating dry strands with this one since it is designed for home use too.
Pros:
Repairing treatment that corrects the damage to hair strands.
Improves overall texture of strands which is also good for taming frizz.
It doesn't contain any harsh ingredients that can lead to further damage.
Cons:
The small bottle doesn't usually last long.
Hydrating Argan Oil Hair Mask and Deep Conditioner
Condition your mane with the Hydrating Argan Oil Hair Mask and Deep Conditioner which is a professional-grade conditioning product that will be your new ally against dry mane. It is an intensive hair treatment that not only restores your hair but will also help strengthen and repair your mane from the roots to the tips. The damage caused by coloring your strands all the time, or styling them with hot tools can strip your hair from its natural oils, leaving them dry and brittle and prone to breakage. With this product, you will get to repair your strands safely to make them soft and smooth at the same time.
The deep conditioning effect of this hydrating mask can be felt right from the start as your mane feels more malleable. There won't be any tangles for you to worry about, plus that dull and lackluster quality of your hair will be transformed into a shiny mane that you will love. With this hair product, you will get high-quality Argan oil as well as other nutrients that are needed to revitalize your otherwise dry and dull strands. It can work on all hair types from curly hair, permed hair, or even natural hair just to name a few. This is a great hair mask to use if you want to treat your dry mane with professional results.
Pros:
Intensive hair treatment that corrects dry strands.
Protects against breakage since your hair is nourished with nutrients.
Easy to style hair after deep conditioning.
Cons:
The smooth texture doesn't last long.
It can have some side effects on those who have sensitive skin.
There is no major difference when compared to regular conditioning products.
Blondwood Keratin Hair Mask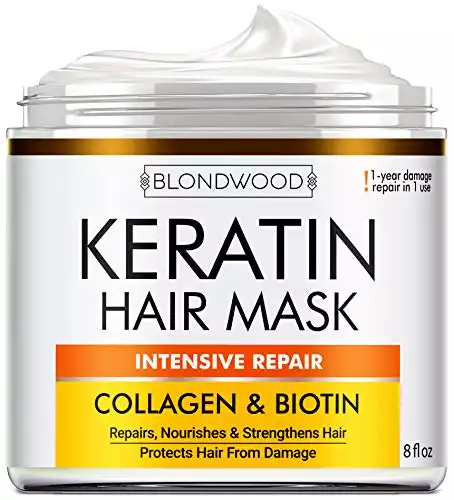 Are you looking for the best hair mask that will hydrate and nourish your strands in just 10 minutes? Blondwood Keratin hair mask transforms your mane from being dull and dry to smooth and shiny. What this product does is that it replenishes the damaged parts of your mane from within thus preserving the integrity of each strand of hair. This keratin treatment offers your hair the chance to be stronger, smoother, and more manageable too.
Among the key ingredients that make Blondwood another option to consider is that it makes use of biotin, keratin, and collagen, all of which target the damaged parts, and replenish them with nutrients. These components are the ones responsible for maintaining luxurious hair. You can even expect it to create a protective layer that will help bounce off the UV rays that have been penetrating it. It is effective in keeping other peoples.
Pros:
In 10 minutes after the application of the nourishment, you will see a huge difference.
The three ingredients used are biotin, keratin, as well as collagen.
Your hair will feel like royalty with the oat for dad.
Cons:
Extremely drying when used.
It may not work very well on color-treated phones.
The price may be a cause for concern.
Vitamins Hair Keratin Hair Treatment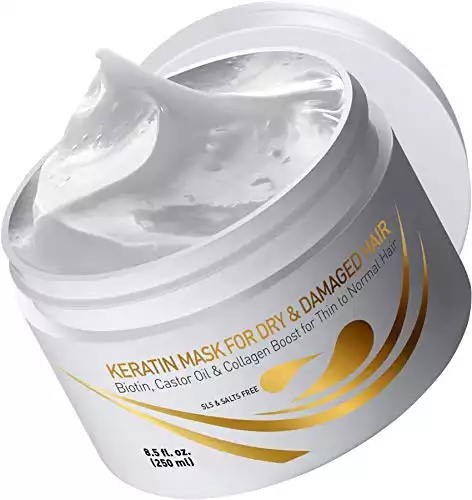 If you are eager to get salon-like results on your dry hair, then this keratin hair solution is worth checking out. You don't even have to wait for hours to see any signs of improvement to your mane. The Moroccan Argan Oil and other essential nutrients work together to create sleeker, shinier, and smoother hair to save damaged strands. This intense hair mask is designed to nourish, heal, and even rejuvenate so no tangles to worry about.
What else can you get from Vitamins Hair Keratin Hair Treatment? It comes with advanced frizz control as well as strengthening properties to help them heal. It works as hydration that treats your hair and scalp from within. You will love how your hair will feel soft and smooth just like when you go to the salon. It is lightweight and can be used even by those who have fine hair without the feeling weighed down.
Pros:
Fast working hair treatment for dry hair.
It makes use of Moroccan Argan oil that is known to contain hydrating properties.
It nourishes and heals tired and brittle hair.
Cons:
The scent of the product is way too strong.
It doesn't do much with correcting one's time here.
It's hard to rinse off completely.
Shea Moisture Manuka Honey & Yogurt Hydrate + Repair Protein-Strong
The Shea Moisture Manuka Honey & Yogurt Hydrate are well known for their restorative properties that they are commonly used in correcting dry and brittle hair. It contains proteins and butter which are needed for nourishing strands completely. No need to pay a visit to your local hairstylist just to have your dull and dry hair revived. If your hair has seen better days, then this conditioner can help it out. With repeated use, you will find that your mane will no longer be prone to breakage since it is receiving the minerals and nutrients that it needs.
What you will love about this product is that it does come with a scientific explanation wherein the much-needed nutrients are absorbed by damaged hair quickly. The Manuka Honey and Yogurt combination is chosen to handle weak strands in order to prevent them from becoming way too fragile or prone to breakage and hair loss. If your goal is to tame flyaways and split ends then try this one out.
Pros:
It comes with hydrating qualities.
It has proteins and butters that target your hair especially in areas where they are needed the most.
Manuka Honey and Yogurt enhances your hair's quality.
Cons:
It tends to dry hair out even further.
It may not work well on damaged hair.
The contents of the bottle are a bit thicky and hard to apply on hair and scalp.
Why Use Hair Masks?
Heat styling, color-treatment, sun exposure, and even poor hair care habits can contribute to you having dry hair. The lack of moisture is one of the reasons why your strands feel fragile when you rub them between your fingers. A treatment masque can help alleviate the problem, but why should you add this to your hair routine anyway?
Achieve Smooth and Shiny Mane
One of the advantages of using a hair mask for your dry and brittle hair is the fact that it helps with making it smooth and shiny. You only need to use this once every week to keep your strands happily nourished and you will see how your hair changes from dry and brittle to smooth and shiny.
Hydration
Dry and dull strands can leave you looking as if you always have a bad hair day. Using a conditioning treatment can help deliver hydration to parched strands. Choose one that contains coconut oil, yogurt, and other hydrating ingredients to give your dry strands the boost they need.
Correct Hair Damage
Heat styling and dying your hair are two of the common culprits that can cause your hair to become dry and brittle. Treatments like hydrating and deep conditioning hair masks can help reverse the damage by delivering proper hydration and nutrients.
Hair Pampering
Another reason why using products for conditioning one's hair is a must is because your mane deserves to be treated well. And since getting a deep conditioning mask from your local salon will not come cheap, doing your own hair care at home can save you money in the long run.
How to Choose the Best Hair Treatment for Dry Hair
Protecting your mane from becoming too unmanageable because it is dry and brittle can start with something simple such as wearing a hat whenever you work in your garden or apply a serum that has heat protection whenever you use a heating tool to style your strands. Of course, these precautionary steps can get some help with using the best hair treatment masque once or twice a week. But how will you know which one to get for your damaged and dry strands?
Hair Type
The first thing that you need to consider when shopping for treatment for damaged hair is the type of hair that you have. Do you have fine hair, coarse, curly, or even wavy strands? Determining your hair's current condition can help you figure out what to look for in a treatment masque. For example, those who have fine hair can avoid being weighed down by choosing one that has a volumizer property. On the other hand, if your mane is dry then a hydrating mask is what you will need.
Ingredients
Another factor that you should consider is the ingredients. For dry strands, experts recommend that you go for a mask that is made with plant-based oils which are needed to treat dryness. Those who have fine hair must be careful with the oils that are used in their treatment since too much oil can make strands greasy and flat. Shea butter and coconut oil, on the other hand, are great for those who have coarse hair.
Price
Hair treatment products can range from budget-friendly to pricey. Finding one that falls in between but can provide your dry hair with the nourishment it needs should be your priority. Take note that an expensive hair conditioner for dry strands doesn't always have to be expensive. You should weigh the benefits or features of the hair mask to see if the price is appropriate for it.
How to Use Hair Mask for Dry Hair
Treating your dry and damaged hair with a hair mask can curb the split ends, brittleness, and even flyaways. But how can you use it?
Apply the mask close to the roots of your strands then make your way to the tips of your hair.
Make sure that you spread the product evenly as indicated on the label.
Once done, you can apply a small amount of the hair mask on your scalp.
Run a comb through your strands to help evenly distribute the mask.
Cover your mane with a plastic shower cap to generate heat.
Leave it for half an hour at least before rinsing thoroughly.
Final Thoughts
Which of these products is best suited for your mane? The Blondwood Keratin Hair Mask is a good place to start. For starters, it will only take you 10 minutes to see and feel the difference after applying this product to your dull and dry mane. It contains collagen, biotin, and keratin which are known to enhance your hair's overall health. Deliver moisture and essential nutrients to your damaged mane with this product and see how much better your hair feels after.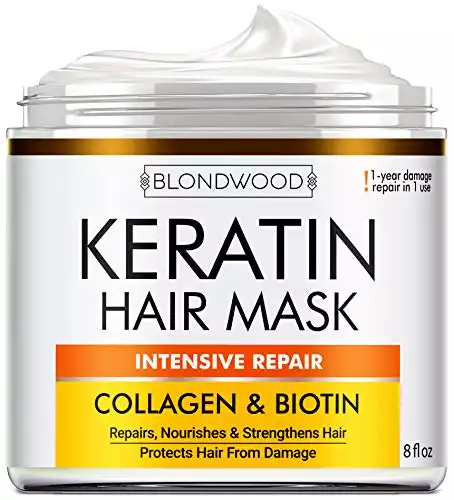 Leah Williams
Leah Williams is the founder of Lucky Curl and has been in the hair care and styling industry for the last 15 years. Since then, she has developed incredible expertise and a deep understanding of how to treat and style the most difficult hair types and is passionate about sharing her knowledge with the readers of Lucky Curl.