Thick, flowing hair is seen as a sign of health. For women, it's a mark of beauty. It's normal to panic when your ponytail isn't as full as it used to or when you see more strands clogging the shower drain. If this looks familiar, then you need the best shampoo for thinning hair. Up ahead are 6 highly-rated picks.
Best Shampoo for Thinning Hair – 6 Best-Selling Products Reviewed
PURA D'OR Original Gold Label Anti-Thinning Biotin Shampoo
This anti-thinning hair shampoo is such a well-loved product, amassing a legion of enthusiastic fans. This is the best hair product to try if you want to go all-natural.
It uses a blend of natural active ingredients–24 to be exact. Seventeen of those ingredients are DHT blockers. DHT is a male hormone that contributes to hair loss in both men and women.
This contains biotin, a B vitamin that takes care of hair growth. Niacin is another ingredient that complements biotin and stimulates blood circulation. The volume shampoo also contains tea tree oil, vitamin E, aloe vera, black cumin seed, argan oil, red Korean seaweed, saw palmetto, nettle extract, and He Shou Wu, which is used in traditional Chinese medicine to treat hair loss.
The shampoo works by protecting the hair from damage and strengthening existing hair. It also cleanses the scalp to promote a good environment for hair regrowth. Breakage is reduced and hair volume is boosted.
Men and women can use this shampoo. It is vegan and cruelty-free and you get a full refund in case you're not satisfied with the product.
Clearly, there is a lot to love with this biotin shampoo. However, it has to be said that this isn't hair growth shampoo, meaning it won't grow your hair back. It only gives the appearance of fuller hair.
If you're after more potent results, Pura D'Or has a Maximum Defense version of their anti-thinning shampoo which contains ketoconazole.
The consistency of the product is not fluid, which makes it hard to spread. If you have long hair, you'll have to a lot of product.
Pros
All-natural thickening shampoo free from parabens, sulfates and SLES
Contains vitamins biotin and niacin
Has 24 natural active ingredients and DHT blockers
Reduces breakage and prevents more hair loss
Strengthens hair and cleanses the scalp, thus volumizing the hair
Has a full refund policy if you don't like the product
Cons
Not for hair growth
Not easily spreadable and you have to use a lot of product
OGX Thick & Full + Biotin & Collagen Shampoo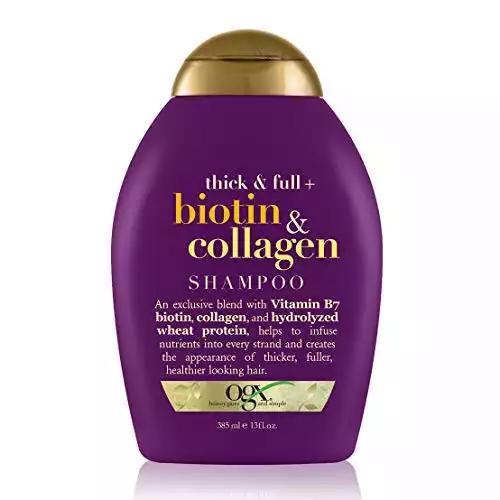 This product easily made it into our list of best shampoos for hairfall. With the powerful combo of biotin and collagen, this volume shampoo can help revitalize limp locks. It cleanses without overstripping the hair so hair looks thick and nourished.
Vitamin B7, also known as biotin, is an essential nutrient found in food that's responsible for regulating cell signals and gene expression. It has a big role in growing healthy skin, hair, and nails.
Collagen is important because it's broken down into amino acids to make new proteins and keratin, which is needed to grow new hair. It has also been found to possibly stimulate the hair follicle and prevent age-related hair loss.
The OGX Shampoo contains both biotin and collagen as well as hydrolyzed wheat protein, which strengthens the hair strands, reduces breakage, and smooths the hair shaft. Best of all, it gives the hair a plumper appearance.
The formula lathers up well and is free of SLS and parabens so it's gentle on the hair. It's safe to use even on color-treated hair.
Before buying this, be aware that it has a strong fragrance that can be a bit divisive. Some users love it while some find that it lingers way too long. It also will not grow your hair back as it's for volumizing only.
Pros
Contains biotin which promotes growth
Contains collagen for keratin formation in the hair
Has hair strengthening hydrolyzed wheat protein
Sulfate-free and paraben-free, safe for colored hair
Gently cleanses and volumizes
Cons
Has a strong scent
Not a growth shampoo
Bumble and Bumble Thickening Volume Shampoo
We earn a commission if you click this link and make a purchase at no additional cost to you.
This simple shampoo does what it says on the label and then some. It's one of the best volumizing shampoos for hair and scalp health. It has a lightweight feel so your hair won't feel weighed down by so much product. If you're looking for a naturally voluminous look, this product will get you there.
Its main ingredient is panthenol, also known as B5. Panthenol is anti-inflammatory. It can soothe the scalp and hydrate skin tissues.
Water molecules are attracted to panthenol so it has hydrating properties as well. When applied to the hair, it prevents moisture loss so hair appears fuller. It also coats the hair in a film for better texture and shine. It's really a wonder vitamin that slows down hair loss from the inside out.
This is cruelty-free and made without parabens, phthalates and formaldehyde. It's color-safe and can be used by men and women alike.
That being said, this product is quite pricey but it has earned a good reputation in the hair care realm. And as with the previous shampoos, this is a volumizing shampoo, not a hair regrowth product.
Pros
Lightweight and adds body to the hair
Contains panthenol which has anti-inflammatory effects
Panthenol also hydrates and plumps up hair
Cruelty-free, paraben-free
Unisex and color-safe
Cons
Quite expensive
Not meant for growing hair
BIOLAGE Advanced Full Density Thickening Shampoo

We earn a commission if you click this link and make a purchase at no additional cost to you.
This offering from Biolage is one of the best products to treat a wispy mane. It's a thickening, anti-frizz shampoo with a creamy formula that's made to plump up fine strands. It gently cleans tresses, freeing the follicles of residue and product buildup, and makes it look thicker.
The paraben-free strengthening shampoo contains biotin, zinc PCA, and Gluco-Omega blend. This is great for thin hair because biotin promotes healthy hair growth. Zinc PCA, which you can find in an anti-dandruff shampoo, takes care of the scalp, which is the foundation of healthy, thick hair. It reduces Dihydroxytestosterone (DHT) production, thereby encouraging more bloodflow to the roots. The gluco-omega blend adds a dose of extra nourishment.
After continued use, your hair may look more voluminous with lots of body. The product reduces hair breakage, preventing further hair loss.
A small downside when getting this is the above-average price for the amount you're getting in the bottle. Some users have also commented on its strong minty smell but if you're not sensitive to fragrance, it's a great choice for thin hair.
Pros
An anti-frizz shampoo that's well-formulated and lathers well
Gentle but effective cleansing
Paraben-free
Has biotin for healthy hair, zinc PCA for blood circulation, and gluco-omega blend
Reduces hair breakage
Cons
Not an affordable product
Has a strong fragrance
ISDIN Lambdapil Hair Loss Shampoo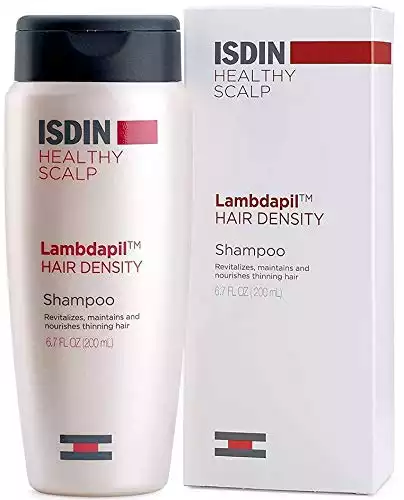 We earn a commission if you click this link and make a purchase at no additional cost to you.
This line from ISDIN is one of the best and most holistic ways to combat hair loss and promote hair growth. The Lambdapil Hair Loss Shampoo complements the brand's oral treatments and other products for hairfall.
It works to restore hair volume by preventing hair loss and breakage and stimulating the growth of new hair. This densifying shampoo contains serenoa serrulata fruit extract or saw palmetto. It's a type of berry that's used to treat balding and alopecia. It works by blocking the enzyme that transforms testosterone into DHT, which is responsible for hair loss.
It nourishes hair through zinc, biotin and other B vitamins. Biotin encourages growth, zinc (found in an anti-dandruff shampoo) regulates the scalp environment, and vitamin Bs help transport oxygen and nutrients to your hair.
This is formulated for both men and women. It gives the appearance of fuller hair and paves the way for healthy growth. It also controls oil production so hair isn't weighed down by grease, which can make flimsy hair look even thinner.
The product can be used daily. It does come at a steep price but many users have found great results with this and you don't need to use a lot. That being said, it's not a hair regrowth shampoo but a volumizing one.
Pros
A volumizing shampoo that's part of a comprehensive line for treating hair loss
Contains saw palmetto which inhibits DHT
Has zinc which maintains good scalp health
Contains biotin and vitamin Bs for nourishment and proper bloodflow
Reduces breakage and can be used daily
Cons
Quite expensive
Not a hair growth shampoo
Andalou Naturals Argan Stem Cell Age Defying Shampoo
This is one of the best shampoos for budget-conscious beauty fans with thin strands. It promises to deliver thicker-looking hair and enhance your locks' volume and shine. It does this through three key ingredients, namely, argan oil, aloe vera, and grape stem cells.
Argan oil is well-loved in hair care products for its moisturizing properties. It contains antioxidants, vitamins and minerals that boost elasticity and shine. The vitamin E in the oil shields the hair from free radicals and heat damage, which means it can prevent hair loss by mitigating breakage and split ends.
Next, the shampoo contains aloe vera which is hydrating when applied topically to the skin. When massaged into the hair, it may help with hair loss by reducing inflammation. It also conditions the scalp which leads to healthier hair.
Lastly, the shampoo also has grape stem cells that act like sunscreen for your hair. It protects the strands from UV rays that can really destroy the hair just as the sun can damage your skin. It's also full of antioxidants, which work to promote growth by regulating collagen and protecting scalp cells from damage.
The shampoo is cruelty-free and vegan. It's free from sulfates so it's safe to use on color-treated hair. While this shampoo does lend the appearance of thickness to the hair, it won't actually grow your hair back.
The formula also doesn't foam up well, according to some users, so if you're used to that frothy lather when shampooing, this won't feel as satisfying as your regular shampoo. But then again, this isn't a regular shampoo, so it might be better for sparse strands.
Pros
An affordable solution for fine hair
Contains argan oil which moisturizes
Has vitamin E which protects hair from damage and breakage
Contains aloe vera for hydration and anti-inflammatory benefits
Grape stem cells protect the hair from UV rays
Sulfate-free, cruelty-free, and vegan
Cons
A volumizing shampoo, not a growth shampoo
There are some reports of the shampoo not giving enough suds or foam
Shampoos for Thinning Hair: A Brief Guide to Restoring Hair Growth
Hairfall is natural. We can lose about 100 hairs daily. However, if you're losing more strands than that and your hair isn't growing back, it may indicate a more serious issue. Don't fret, though, because hair thinning is actually very common. A third of women will experience hair loss in their lifetime.
Reasons your Hair is Falling Out
Your genes.
Some people are predisposed to hair thinning because it's written in their genetic code. Hair volume thins out over time and the hair follicles grow finer hair
Your hormones are going cray.
Once again, hormones are the culprit, whether it's a breakout or irrational weight gain. A hormone imbalance can affect hair growth. Too many androgens or male hormones lead to hair loss.
You're under a lot of pressure.
Stress is another common issue that wreaks havoc on hair. It spikes androgen levels and may affect the scalp and digestive system, which are areas that influence hair growth.
You're not getting enough iron.
Not consuming enough iron or being anemic can be a factor in thinning hair. Hair needs iron to grow strong, so if your diet lacks it, your locks will look worse.
You have a thyroid imbalance.
Hypothyroidism and hyperthyroidism can affect your metabolism, which in turn affects your hair. The thyroid is responsible for protein production and the utilization of oxygen in the tissues.
You're vegan (or you're not getting enough B12).
B12 is most commonly found in meat products. Getting a shortage of this vital nutrient leads to hair loss due to a shortage of red blood cells.
You've lost a lot of weight in a short time.
Whether you lost weight due to stress or a lot of HIIT sessions, your hair will fall out as a result of the dramatic change.
Time.
Chalk it up to good old aging. When women are nearing or going through menopause, the changes their bodies are going through affects their hair. It's normal for hair to grow thinner as we grow older.
If none of the above reasons apply to you, read this to find out the cause of your thinning hair.
Does a shampoo for thinning hair work?
Hair growth shampoos actually do work but not all shampoos that claim to treat thinning hair do. You can buy hair growth shampoos over the counter or through a prescription.
According to experts, there are two active ingredients that have been clinically proven to stop hair thinning. Finasteride is an oral treatment that is taken in 1 mg doses. Minoxidil is the more popular treatment. It's applied topically to halt balding and regrow hair.
Other shampoos for thinning hair that work contain antioxidants such as B-vitamins, amino acids, ginseng, and vitamin E. Other effective hair growth shampoos have anti-inflammatory effects, have caffeine-based formulas, increase bloodflow, and block DHT (Dihydrotestosterone). Ingredients like cayenne and gingko help stimulate bloodflow to the scalp while anti-inflammatory ketoconazole shampoos show promise in initial studies.
Volumizing shampoos can help with fine tresses by making individual strands appear thicker. The shampoos that are most effective at thickening hair contain protein. These attract moisture to the hair and makes it swell so the locks look fuller.
What are the advantages/benefits of volumizing shampoos?
Volumizing shampoos make hair look fuller. As opposed to thickening shampoos that beef up the appearance of your hair, volumizing shampoos create texture which gives a bouncier, thicker look. These shampoos tend to be lightweight because rich ingredients weigh down the hair and make it look limp. They cleanse and moisturizing hair without leaving a heavy residue.
How to Choose the Best Shampoo for Thinning Hair
Look for a volumizing shampoo.
If you're looking for a quick fix for fine, meager locks, go for a volumizing product. This immediately makes your hair look fuller by stripping away buildup, residue, and oils that accumulate. It's more of a band-aid solution but it doesn't hurt to make your hair look fluffier in the short term.
Try caffeine.
Caffeine may help inhibit dihydrotestosterone, that male hormone responsible for hair loss. It boosts protein growth factor while reducing enzymes that cause your hair to fall out.
Vitamin B will give your hair a boost.
Biotin is a B vitamin that works on a cellular level. It's responsible for growing your hair, skin, and nails. Niacin is another important B vitamin which stimulates the scalp and encourages more blood flow for faster hair growth.
Amino acids and essential oils can help with growth.
Shampoos containg amino acids help promote keratin production. Keratin is found naturally in the hair and when added topically, it can strengthen the hair shaft and reduce brittleness and thinning.Essential oils may also stimulate hair growth. Look for shampoos that contain peppermint, green tea, ginseng root, sage, lavender and antioxidants.
Avoid these ingredients.
If your hair is growing thin, it's a good idea to avoid products with sulfates, labeled as sodium lauryl sulfate and laureth sulfate. You also shouldn't use products with sodium chloride and chemical fragrances.
Final Thoughts
These are the best shampoos for fine, thin hair that will suit people of all hair types. My pick for best shampoo goes to the Pura D'Or Original Gold Label Shampoo.
It has a natural formulation that's free of sulfates, parabens, and SLES. It contains vitamin B and E, tea tree oil, nettle extract and many other active ingredients that acts as a scalp treatment to promote a healthy scalp as well as a shampoo to fix damaged hair and restore natural hair density.
It also prevents more hairfall by fortifying the strands, so it's quite a comprehensive solution that can be used every day. That makes it the best overall product for thinning hair, in my book and it's definitely a cult product for a reason.
Leah Williams
Leah Williams is the founder of Lucky Curl and has been in the hair care and styling industry for the last 15 years. Since then, she has developed incredible expertise and a deep understanding of how to treat and style the most difficult hair types and is passionate about sharing her knowledge with the readers of Lucky Curl.