Coconut oil has many evidence-based benefits, like making your skin glow and killing bacteria. Surely it will do wonders for your permed hair, too?
Indeed, many people from different cultures across the globe swear by the benefits coconut oil has on their manes.
This article shows coconut oil's natural goodness and how you can use it to give your gorgeous permed locks shine and bounce.
Is coconut oil good for permed hair?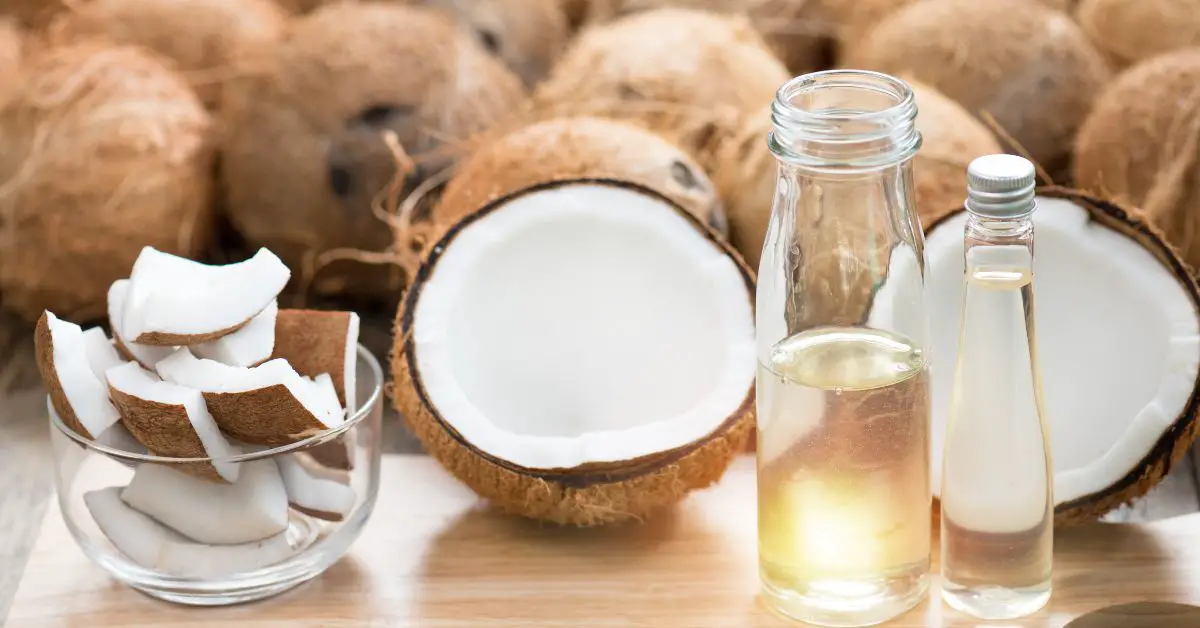 Yes, coconut oil is good for permed hair! It's excellent for permed hair.
The fatty acids absorb quickly into the hair, strengthening and protecting permed hair from more damage.
I love coconut oil on my hair. I had relaxed hair before and used it as a hair mask! Later, when I decided to get a perm, I used organic coconut oil, which helped my hair retain moisture well.
Types of Coconut Oils
It's good to know the types of coconut oil available in the market before you incorporate them into your hair care routine. Here they are:
Pure Coconut Oil
Also called virgin coconut oil, this type is made of fresh coconuts. It has a light and refreshing coconut scent with a clear appearance.
Organic Coconut Oil
Coconuts grown without synthetic fertilizers and pesticides are used to make this oil.
Extra Virgin Coconut Oil
This coconut oil is made from cold-pressed fresh coconuts. The scent is sweet and appears clear with a light color.
Refined Coconut Oil
This coconut oil is made from dried coconuts. It has a neutral scent and is white with a cloudy appearance.
For hair care, we suggest you stick to using virgin or extra-virgin coconut oil to reap its benefits.
Coconut Oil Benefits for Permed hair
It contains vitamin E to nourish your hair and scalp. After a perm procedure, the harsh chemicals penetrate your hair shaft. Vitamin E supports scalp and hair growth that perm chemicals might have compromised.
Treat scalp conditions. Sometimes, a perm leaves the scalp red and irritated. This condition leads to hair thinning. Coconut oil works by soothing the scalp and sealing in moisture.
Repairs split ends. The hair fibers are more vulnerable to damage and breakage after a perm. The small molecules of coconut oil can penetrate the hair shaft and reduce protein loss.
Using Coconut Oil on Permed Hair

As a pre-shampoo conditioner.
Boil some water and put it in a bowl. Next, place a small container (glass is the best) with coconut oil into the bowl of hot water. You may want to add a few drops of essential oil like lavender to the oil.
Wait for it to warm up (not hot!) and gently apply to hair strands and roots. Don't forget to apply coconut oil directly to your scalp. Cover with a plastic cap and let it sit on your hair for 15-30 minutes. Wash your hair and air dry.
As a hot oil treatment.
Use warmed coconut oil. You may add essential oils like peppermint or tea tree oil. Alternatively, you can mix coconut oil with castor oil for an ultra-moisturizing, deep conditioning hot oil treatment. Dry hair no more!
Use it after shampoo. Let it sit in your hair for half an hour or so, rinse with water, and follow with your regular conditioner.
As a shine booster.
Using coconut oil can add shine to any hair type- more so for permed hair. Just a few drops rubbed between your palms won't leave hair greasy; it restores shine and can even serve as a protective layer for your permed hair.
As hair fall treatment.
Sometimes hair fall happens after you get a perm. Use coconut oil to soothe hair follicles and encourage the hair growth cycle. Apply to the hair roots and strands as a deep conditioner, and banish hair loss.
Dos and Don'ts of Using Coconut Oil on Your Permed Hair
Do apply it from the mid-lengths to the ends of your hair.
Don't forget about your scalp! For deep root nourishment, gently massage a small amount of oil into your scalp.
If you have fine hair, don't leave coconut oil on it for more than 30 minutes if you have fine hair, as it can weigh down your strands.
Do use a small amount of coconut oil. Too much coconut oil in your hair will make you end up with greasy, heavy locks.
Give yourself a hot oil treatment once a week for an extra dose of moisture.
Mix coconut oil with a light oil such as almond and jojoba for a nourishing hair oil massage.
Wrap Up
Coconut oil is a safe moisturizer for your permed hair. When used correctly, it can give your hair shine and bounce. Follow the dos and don'ts to keep your permed hair in the best condition.
Meanwhile, check out our recommendations for the best products for permed hair.  Stay gorgeous, Curlies!
Leah Williams
Leah Williams is the founder of Lucky Curl and has been in the hair care and styling industry for the last 15 years. Since then, she has developed incredible expertise and a deep understanding of how to treat and style the most difficult hair types and is passionate about sharing her knowledge with the readers of Lucky Curl.