A pixie cut is considered one of the most daring haircuts for women. While it may seem, low-maintenance, it does require a little work.
With this in mind, Lucky Curl has listed the best hair products for Pixie Cut and our favorite styling tools for this edgy hair style.
Best Hair Products for Pixie Cut
Did you know that having short hair means more work compared to having long hair? Fortunately, there are many great styling products available to help perfect a pixie cut style. We spoke to several hair stylists to discover the best products to use:
Best Heat Protective Spray
This heat-protective spray is a must-have for protecting your hair against heat damage. It is a sulfate and paraben-free heat protector that can be used as a leave on conditioner. It won't feel heavy on your hair and helps fight frizz too. It comes with hydrating properties and helps with the drying time as well. The argan oil ingredient helps keep hair soft and tangle free .
Best Texturizer
If you have thin hair like I do, getting a pixie hairstyle may leave your mane looking more limp. To solve this, Living Proof Amp Texture Volumizer adds plenty of texture to the hair. A small amount is enough to add lift, plus it will not make your hair feel sticky or stiff too. It lasts for hours too, meaning that there is minimal touch up needed.
Best Molding Paste
Another styling product perfect for pixie cuts is the molding cream from Moroccanoil. This is the best choice so far if you want your hair style to have a more structured look. It is slightly thicker but it is completely pliable so you can work it into your mane with ease. It is best to work this product on slightly damp hair strands to get the best results.
Best Shampoo
I find that using a texturizing shampoo on short hair gives it the added oomph when styling. And so far R+Co Cactus texturizing shampoo does the job pretty well. Use this like any normal shampoo but skip using a conditioner. Among the key ingredients that you will find here are diatomaceus earth, glycerin, sunflower seed extract, and coconut acid just to name a few. There are no harmful ingredients to worry about like parabens and sulfates so it is pretty safe to use on your mane.
Best Hair Spray
After you have styled your pixie cut set it in place with this freeze and shine super hairspray. It helps keep your hairstyle for hours and even giving it that extra shine as well. You can use this if your hair is medium to coarse in terms of texture. If the nozzle seems to be clogged, simply run it under a warm water and it will be good to go.
Best Shine Spray
To top off a pixie cut style, reach for the Kenra Shine Spray to give an extra edge with its instant shine features. It is weightless which means that your hair won't be bogged down with too much hair products. I like that it tames any flyaways or frizz, meaning that you can achieve various short-styled looks. It's quite easy to use too. Just hold the can about 8 to 10 inches away from your hair then spray to cover your mane.
Best Scalp Oil
To round off a list of top products, we couldn't forget a scalp oil. OGX scalp treatment is refreshing to use on your hair after a good bath. It is easy to use too. Simply press the tip of the bottle on your scalp. Just use a small amount as you work on each section of your hair then massage the oil into your scalp completely. Tea tree oil has healing and moisturizing properties which help with making your hair look amazing. This is a bit strong so you might want to keep it away from your kids and pets too.
The Best Hair Styling Tools for a Pixie Cut
Top-Rated Flat Iron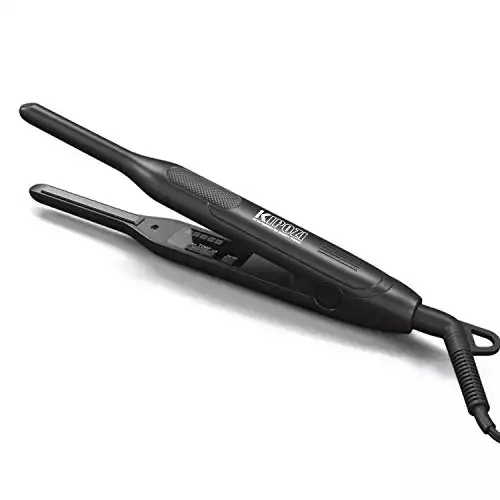 KIPOZI Pencil Flat Iron
Thinnest pencil flat iron in the market with 0.3 inches titanium plates to help get to the roots and edges for better styling, small hair straightener for short hair and beard.
This small flat iron even heat distribution that eliminates frizz and preserves hair moisture and the smaller plates width are recommended for creating more versatile styles.
Reaches up to 450⁰F with fast heat up time, 5 optional heat settings for all hair types and beards to set to your ideal straightening temperature.
Accurate, easy to use digital temperature controls, comfortable grip and ability to make hair shiny and sleek, so the result is always frizz-free, smooth hair.
8ft extra long tangle free 360°swivel cord that allows for comfortable styling. dual voltage for international use, digital read out, lightweight and non-slip body frame.
Buy from Amazon
We earn a commission if you click this link and make a purchase at no additional cost to you.
09/07/2023 08:30 am GMT
KIPOZI pencil flat iron makes it possible for you to style your pixie cut any way you like. It has the thinnest flat iron plates making it easier for you to straighten the hair behind your ears and at the nape. It can reach up to 450 degrees Fahrenheit quickly so you don't waste time waiting for the plates to heat up. The titanium plates guarantee even heating so there won't be any hotspots for you to worry about. This is perfect for achieving that sleek hairstyle even when sporting pixie cuts.
Top-Rated Curling Iron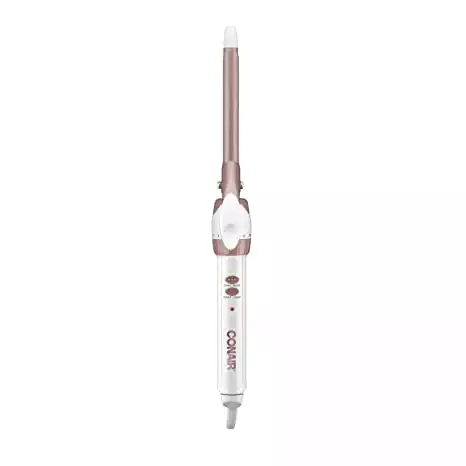 You can also try Conair curling iron to make your short hair stand out by giving it gorgeous curls. It comes with 30 heat settings to match different hair types which means that you can use this even with your pixie cut hair. The highest heat setting for this is at 375 degrees Fahrenheit and comes with anti-frizz features too. You'll be surprised how quickly it is to give your pixie style these cute curls with this curling iron.
Top-Rated Blow Dryer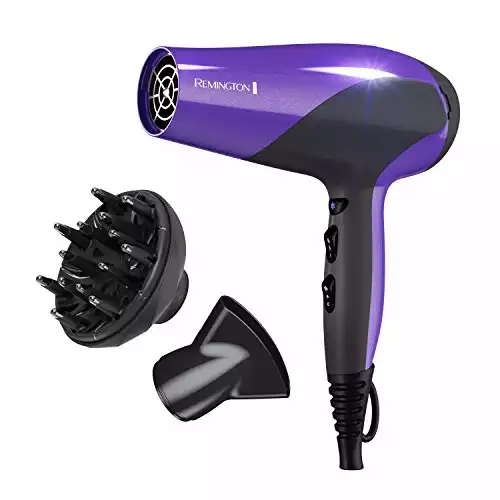 No hair styling tool will be complete without a blow dryer and so far, the Remington D3190 seems to work well with my short hairstyle. What made this stand out for me is the fact that it uses tourmaline, ion, and ceramic technology in one which means that it's fast-drying, but will protect your hair from damage too.
Best Hair Accessories for a Pixie Cut
Can you actually style your pixie cut even more? This is one of the questions I found myself when I started researching the best pixie cut styles. Surprisingly, my research yielded these versatile accessories:
Hairband
It is possible to use hairbands to change your look even when you have a short mane. A thin headband can be quite useful in keeping stray hairs from getting in your eyes while you work. It's nice that this accessory can be used even on casual days or even while you are in the gym. If you want to give your mane that extra edge, you can position it on the crown of your head while lifting the back to create that beehive effect. A fabric headband works even on pixie cuts too. Wear it as is or sweep your bangs to the side before wearing it. You can set it in place with a bit of hairspray too to give it that edgy look.
Hair Clips
You don't have to spend a lot on accessories when styling your pixie haircut since hair clips and hair pins can do the job fairly well. These are no fuss accessories that can keep those strays out of your face. You can clip your bangs back or to the side even. Go for a sleek look, or tidy up your waves and curls with these clips even. The bobby pins are a favorite of mine because I can get to hide them for that unique look.
Hair Slides
Slides are making a comeback and they are doing so in a big way. You've probably seen celebrities and models in catwalks flaunting them whenever they are seen on the red carpet which means that you too can sport these new blings even when you have a short crop. I love that the designs these days are both glamorous and edgy too so you can easily mix and match it with your OOTD.
Ways to Style a Pixie Cut
I often find myself wondering how to make my short mane work for me the most. This has proven to be most challenging on my part. That is until I came across an article on short hair styler ideas.
Textured
Adding texture is an easy way to make pixie haircuts look fresh especially on short sleek mane. You will need a styling mousse, salt spray, or even putty especially when you finish it off with hairspray. I am fond of salt sprays because they do add plenty of texture without giving that waxy feel to your strands. This is a good start if you want to achieve that bed-head look.
Finger Waves
Finger waves were a hit back in the 1920s as it was the style that flapper girls wore back then. But it did make a comeback recently much to the delight of those who have short mane. To get this look, you will need a mirror, a comb, and some upper body strength, or just have a friend help you out. You will need to use plenty of gel on your mane to keep it in place starting on the top and the front sections, particularly in the area where you want the waves to appear. Use your comb for that deep side parting. Do a C shape stroke on your mane backwards then place a finger over it. Repeat as you move forward. Once you have achieved the waves, use hairspray for that extra hold.
Sleek and Sexy
A slicked back look is all you will need for that sleek and sexy style especially when you haven't washed your mane just yet. You will need a can of mousse, a comb, and a brush. Of course, you will need to consider the natural texture of your mane when doing this style. A very curly mane will require a molding process plus a setting lotion to hold this look throughout the day. If you are looking for an inspiration then copy Charlize Theron's hairstyle.
Accessorise
If you choose cut pixie haircut but don't know how to style it, accesorize it instead. Pixie cuts may mean having shorter mane, but you can get creative with it by utilizing slides, clips, and even headbands too. Even ribbons can make your hairstyle appear retro and playful at the same time. I have been checking out different ways to use these accessories and I find that I get to play with my looks more often.
Summary
It's safe to say that pixie cuts are not for everyone. That said, those who can pull it off, often look amazing! While it is more low-maintenance than longer hair styles, it can still require a few products, tools and accessories to achieve certain looks. Hopefully, this Lucky Curl guide helps anyone looking to take the plunge with a pixie cut or those looking to style their short hair in different ways. For sure, you will have tons of fun dressing up your mane.
Leah Williams
Leah Williams is the founder of Lucky Curl and has been in the hair care and styling industry for the last 15 years. Since then, she has developed incredible expertise and a deep understanding of how to treat and style the most difficult hair types and is passionate about sharing her knowledge with the readers of Lucky Curl.