I have thin hair that really clings to my skull that is really bothering me. I really wanted to curl or at least have that beach-like waves, but I always struggle with choosing a tool to use. That is until I came across a Helen of Troy curling iron review and I wished that it existed when I was in my teens.

Helen of Troy Curling Iron Review
The Helen of Troy curling iron's 3/4 inch barrel can work on all lengths, but when it comes to hair types it is best for those who have thin or short hair because of its compact size. It is durable, portable, and designed to be ergonomic too for ease of use. You won't get tired of holding this curling iron as you style your hair from the front to the back. It only has two heat settings which are low and high so you want to consider your hair's thickness when styling it.
Pros:
3/4 inch barrel helps create those tight curls fast.
Portable size lets it be part of your travel bag so you can style anytime, anywhere.
The ergonomic design makes for comfortable handling.
Cons:
It only has two heat settings.
Strands of hair can sometimes get snagged in the plates.
Features and Benefits
What makes Helen of Troy spring curling iron a good option? Based on the reviews that I have read, the features that it has are worth taking note of. Let's get started!
Triple Plated Chrome Barrel
Helen of Troy spring curling iron comes with a triple plated chrome barrel for added protection to your strands. Chrome may be the cheapest material to use in a curling iron but this triple layer creates a more durable barrel that can heat up your hair nicely.
Cool Tip
Another feature of the Helen of Troy curling iron is its cool tip when helps you in achieving those tight ringlets. The cool tip prevents you from burning your fingers as you wrap your strands on the barrel. You can hold the tip to ensure that it is in the right position.
Spring Clamp
The spring clamp installed in the curling iron by Helen of Troy ensures that you can open and close the barrel head with ease. Press down on the handle to open the clamp, place your hair in it, then clamp down on the section first before rolling to get the curls that you want. The clamp ensures that your hair will be held in place while being heated for a more even look.
Heat Settings
Like it was mentioned before, the Helen of Troy curling iron has only two heat settings: low heat and high heat. The low setting is ideal for those who have thin or brittle strands as the temperature will not damage it much. On the other hand, the high heat setting is perfect for those who have longer or thicker mane as they are more capable of withstanding the heat.
Safety Stand
It's great that this 3/4 inch barrel curling iron from Helen of Troy comes with a safety stand that helps prop the barrel up while being used. This protects the surface of your dresser from scorch marks that may be caused by the hot barrel.
Pilot Light
How will you know when the barrel has reached the right temperature? Check the pilot light. When it goes red or orange, it means that it is already hot and that you can start curling your strands. This may be a bit old school especially now when curling irons tend to have a digital reader, but it does work well in telling you when it is the best time to start curling your mane.
Ergonomic Handle
Achieving those tight curls can mean repeating the process of clamping your hair in the barrel, twisting, and waiting for a few seconds for your strands to to become hot several times. Although this may mean a lot of work, with the ergonomic handle from this spring curling iron by Helen of Troy easier on the hands, you won't have a hard time styling your strands. You don't have to worry about hand fatigue with this one which is a plus. After all, you don't want to end up with just half of your hair curled because you were tired of using the hot tool.
Swivel Cord
And last but not the least, the Helen of Troy curling iron comes with a long and tangle-free swivel cord that lets you reach the back of your head without having to twist yourself too much. It makes it easier for you to move around too as it will give you a few feet to utilize.
Social Proof
The Helen of Troy spring curling iron with 3/4 inch barrel is a handy styling tool that gives you those fantastic ringlets regardless of whether you have short or mid-length hair. This product has received rave reviews from those who have tested this brand and if you are still unsure about whether this triple plated chrome barrel curling iron is the right one for you, then these customer feedbacks should convince you.



Alternatives to the Helen of Troy Curling Iron
Aside from using the Helen of Troy spring curling iron, I have also searched for other possible options that will give you the cute curls to go with your short or even mid-length hair. Here are my suggested options:
Hot‌ ‌Tools‌ ‌Professional‌ ‌24K‌ ‌Gold‌ ‌Regular‌ ‌Barrel‌ ‌Curling‌ ‌Iron‌ ‌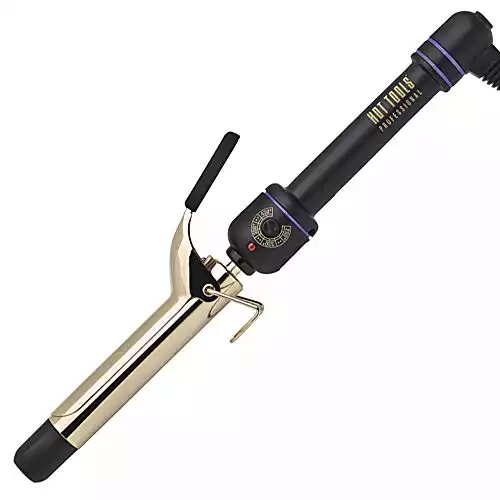 Add a bit of flair into your hair styling with the Hot Tools Professional 24K Gold regular barrel curling iron. This is quite a versatile product as it lets you create different types of curls from romantic curls, glamorous loops, and even beachy waves, you name it, this curling iron is guaranteed to make it happen. The gold plated barrel ensures that your strands are heated up evenly so you don't have to worry about seeing burned sections here and there. Thanks to its Pulse Technology, you can be assured that the barrel will not cause hotspots that will damage your mane.
Unlike Helen of Troy wherein you only get two heat settings, here you will have multiple temperature settings to choose from. This means that, regardless of hair types, this will work well in providing you with the curls or waves you want. The highest temperature that you can get from here is at 430 degrees Fahrenheit which is perfect for those who have thick strands. An indicator light will tell you when the desired temperature has been reached. And thanks to its 8 feet swivel cord, you won't have to worry about running out of cord to reach the back of your head.
Pros:
24k Gold plated barrel is a great conductor that lets your hair strands curl evenly.
It comes with multiple temperature settings.
Long swivel cord makes for more room to move around.
Cons:
The on and off switch is poorly placed as it gets toggled off frequently.
The clamps are too tight that it is not easy to glide it.
It doesn't work well on thin hair.
BaBylissPRO‌ ‌Nano‌ ‌Titanium‌ ‌Spring‌ ‌Curling‌ ‌Iron‌ ‌
Loose waves? Or how about beachy waves? This nano titanium spring curling iron from BaByliss PRO is another brand that you should consider if you want to have a professional styling tool to use on your strands. What sets it apart from the others is that it makes use of far-infrared technology where it warms up the strands of your hair from within to prevent damaging the outer layer. This way, even when you curl your mane, it will not feel dry when you style it. What's more, BaByliss PRO makes use of the Sol-Gel technology where there are more titanium and ceramic used in the barrel compared to others thus there is the assurance that each curl or wave will hold for hours.
What other features does this spring curling iron have that are worth noting? Well, there are 50 temperature settings that give you more control over the heat. This means that this product can work on all hair types which is great especially when you have multiple users at home. This nano titanium spring curling iron has high customer ratings which is a good indication that this is another option to consider when you are searching for curling irons.
Pros:
The nano titanium spring curling iron works on all hair types.
It comes with 50 temperature settings so you can choose the right one based on your hair type.
It makes use of far-infrared to ensure that the strands do not get damaged while being curled.
Cons:
It is a bit expensive for a curling iron.
It doesn't have an auto shut-off feature.
The location of the on-off button is poorly placed.
Conair‌ ‌Double‌ ‌Ceramic‌ ‌1.25-Inch‌ ‌Curling‌ ‌Iron‌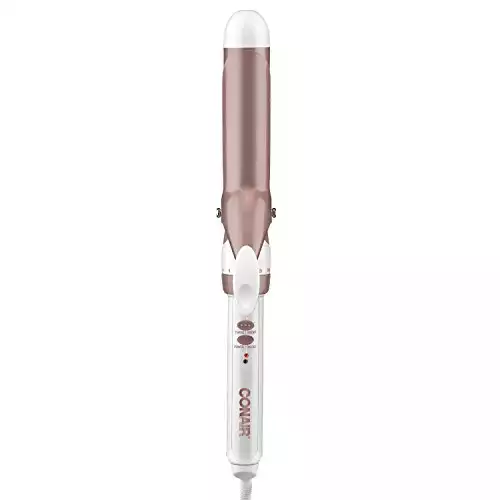 Conair Double Ceramic 1.25-Inch Curling Iron
Key Features
Double Ceramic Barrel
30 Heat Settings
400 degrees Maximum Temperature
Cool Tip
Auto Shutoff Feature
Turbo Heat – Up to 27°F burst of heat
Instant Heat Up
Anti-Frizz Control
Recessed Control Buttons
Buy from Amazon
We earn a commission if you click this link and make a purchase at no additional cost to you.
09/02/2023 05:39 am GMT
This 1.25 inch curling iron from Conair is another product that I liked upon reading a review. Aside from having a longer barrel compared to Helen of Troy curling iron, it is made with high-quality ceramic materials for its barrel to ensure that your strands are evenly heated while creating loose and wavy curls. Although its heat setting is not as many as BaByliss, it still has enough options to work on all hair types. You can go for the instead heat if you are running a bit late which means that it can reach up to 375 degrees Fahrenheit in a jiffy. What's more, it comes with an auto shut-off feature!
Conair's double ceramic curling iron is easy enough to operate as the barrel can quickly curl your mane without causing frizz to form. The buttons are all embedded into the handle so you won't accidentally hit them or press while curling your mane. This is an innovative styling tool that can help you style your mane any way you want.
Pros:
It has a longer barrel which can hold on more hair.
It can work on all hair types.
Anti-frizz technology keeps your hair smooth, soft, and shiny.
Cons:
It heats up real quick that you may accidentally burn a few strands if you are not careful.
The placement of the temperature dial should be placed somewhere else.
The clamp doesn't hold that much.
Things to Consider Before Buying a Curling Iron
If you want to make your boring straight hair look great, a curling iron will be your new best friend. You can choose how curly your strands will be depending on the type of curling iron or rod you are going to use. But what should you look for when shopping for curling irons?
Material
The first thing that you should consider when it comes to curling irons is the material used. There are several options available such as ceramic, titanium, and tourmaline just to name a few. Each one has its own specific function and benefits that are worth knowing.
Barrel Size
Another factor that you should consider is the size of the barrel. There are mini curling irons while others can be quite long. How will this affect your hair styling? Well, the barrel that you should choose should match your hair type and length. This will also give you an idea of how big the curls you can get out of them as well. So, with the Helen of Troy curling iron, with its 3/4 inch barrel, you will get these tight ringlets on your hair. However, because of the small barrel size, this will only be suitable for those with short to thin hair.
Heat Setting
Heat settings are a must when shopping for a curling iron so that you will be able to choose the right temperature appropriate for the kind of hair that you have. The highest temperature that a curling iron can go to is 450 degrees Fahrenheit. Just make sure that you apply a heat protectant serum before using any heating tool for added protection.
These are just a few features that you should consider when you go shopping for products that can give you your desired curls. It won't be long before you find one that will give you a professional result for your mane.
Final Thoughts
The Helen of Troy curling iron is no doubt a great option if you are looking for a budget-friendly curling product that you can style your hair with. It is a no-fuss type of curling tool with its two temperature settings and spring coil type of clamp that holds your hair in place. It gives you those gorgeous tight curls and thanks to its long swivel cord, you will be able to work on the back of your head easily.

Leah Williams
Leah Williams is the founder of Lucky Curl and has been in the hair care and styling industry for the last 15 years. Since then, she has developed incredible expertise and a deep understanding of how to treat and style the most difficult hair types and is passionate about sharing her knowledge with the readers of Lucky Curl.