In this article, I will explain how to make rice water for hair, its benefits, and why it's a trend in the DIY beauty community.
I'm a working stylist and a lover of all things hair and beauty. I like helping people figure out what will work best for them and how to prevent hair damage.
After seeing how many celebrities and bloggers were preaching the results they were getting from rice water treatments, I became curious. I looked into studies and anecdotes on rice water and its benefits. After extensive research, I've compiled all key points down in this guide.
Rice Water Treatment by Mielle
Don't have time to make your own rice water? Try this ready made solution by Mielle.
This lightweight oil is designed to penetrate to each and every hair strand preventing split ends and repairing damaged hair.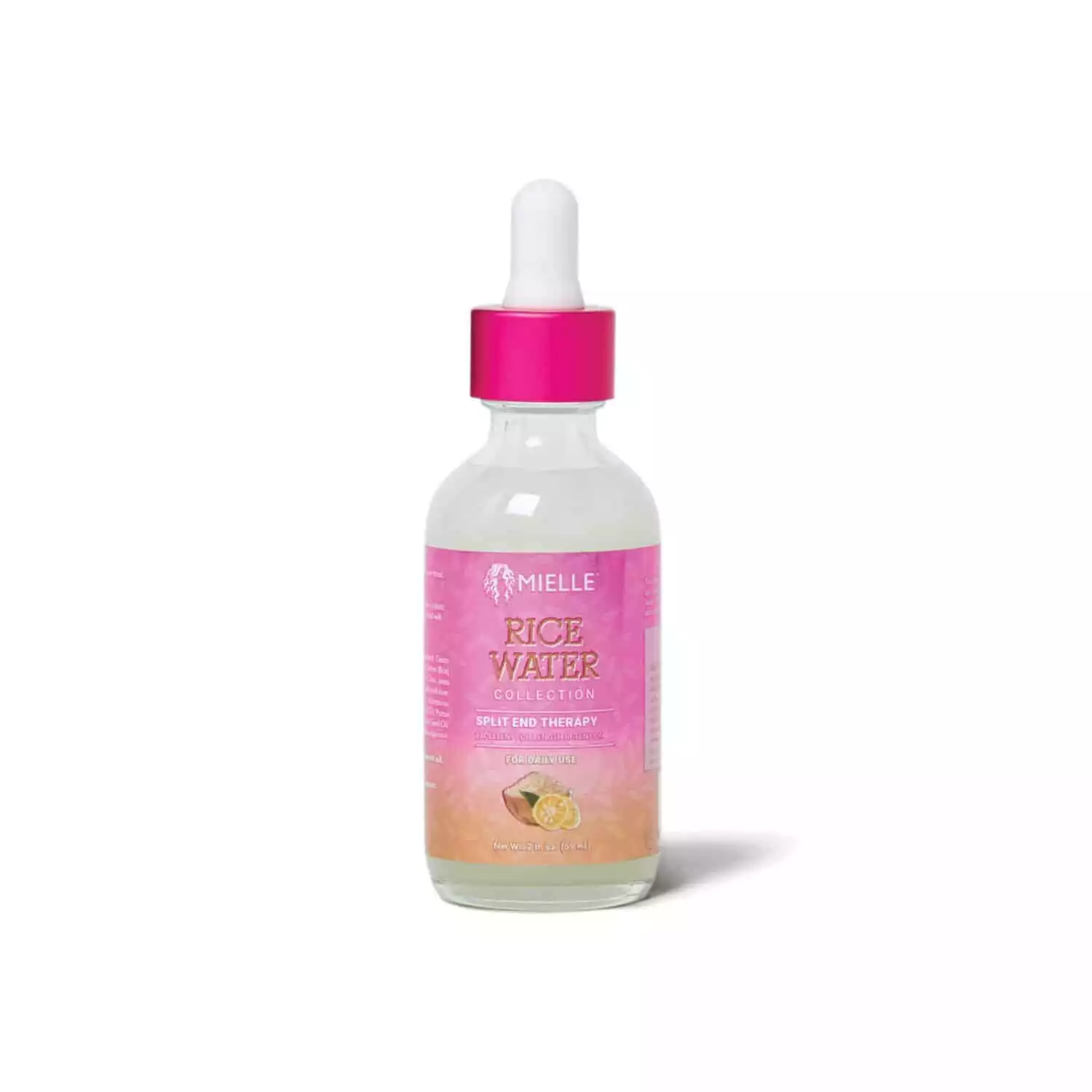 We earn a commission if you click this link and make a purchase at no additional cost to you.
Rice water has been popular in several cultural practices in China, Japan and Southeast Asia. It has attracted an abundance of practitioners who were wowed by its effects on the condition of their hair.
However, as promising as these results are, there have been no truly independent studies so far proving that rice water has effects on hair growth or strength.
That being said, it's safe to use and many claim to see results from it. Just take these stories with a grain of salt as it may not work the same on everyone.
In this article, I'll give you some background on how using rice water for hair started and what its purported benefits are. I'll give a step-by-step guide for making and using rice water on your hair.
Keep on reading for more details.
How does rice water work on hair?
Rice water, also called yu-su-ru in Japan, has been used for centuries as a hair rinse. It's usage in Japan, China, and Southeast Asia has been recorded. Presently, the Red Yao women of Huangluo village (also known as the Land of Rapunzels) in China have attributed their long locks to regular rice water use. Their hair allegedly does not fade or grow gray until their 80s.
Rice water comes from rice that has fermented for a few hours, which brings out its nutrients and minerals. Fermented products is nothing new in beauty practices. It's been used in luxury skincare lines, as well.
There's been a resurgence of interest in rice water, particularly in the Tiktok Crowd. There are many benefits to using rice water for hair, according to fans.
But first, we have to analyze the composition of the rice grain. Rice is a cereal grain rich in starch and said to have originated in China. The nutrients found in rice vary depending on the kind of rice such as red, brown and white, among other factors like soil quality and processing.
What is certain is that rice is composed of carbohydrates and protein. Fermented rice water contains iron, zinc, protein, B-vitamins, vitamin E, antioxidants, pitera, amino acids, and notably, inositol. Inositol is a carbohydrate that repairs damage in hair. It remains on hair after rice water is washed off.
What Are The Benefits of Rice Water for Hair and Scalp?
To sum it up, the nutrients of rice water may help with hair growth, shine, thickness, and smoothness.
Sadly, there are no studies that have substantiated claims that rice water helps grow hair, only word of mouth stories and anecdotes. But here are some benefits experienced of people who rinse their hair with rice water.
A rice water hair rinse coats the hair strands, making it appear fuller. It also helps with growing hair because it is distributed on the hair through a scalp massage. The stimulation increases blood flow which can help regrow hair.
The vitamins and minerals in rice water strengthen hair and makes it more elastic, or in other words, it makes hair less vulnerable to breakage and split ends. Rice water can help seal the hair cuticle, making it soft and smooth. As a side effect of this, the smoothness banishes friction which leads to less frizz.
Some users say rice water detangles hair and enhances their curl pattern and that the effects of a rice water rinse last a few days after.
Fermented rice water is acidic so it neutralizes and balances hair pH.
In addition to these hair benefits, a study has shown that rice-infused water has repaired damaged barrier functions in patients with dermatitis (check it out here).
Are There Any Downsides?
Rice water's benefits for hair are numerous but you still have to use rice water in moderation. Too much of a good thing is bad, in this case.
The effects of rice water overuse are changes in hair texture due to excess protein, flakes and buildup on the scalp, and brittle strands prone to breakage. The latter affects people with low porosity hair. Experts attribute these effects on rice's starch content (75 to 80 percent).
How to Make Rice Water for Hair – Step-By-Step
Rice water is made through soaking, fermenting, or boiling. Here I will outline the steps for fermented rice water.
What you will need:
Uncooked rice grains, 1/2 cup
Water, 2 cups
Bowl or any large container
Small container for application
Step 1
Fill the bowl with rice grains and pour in 2 cups of water. If your hair is thick, you can use more rice and water but adjust the ratios accordingly. You may strain the rice before soaking but some people prefer to skip it.
Step 2
Let the water and rice mixture soak for about 30 minutes. Then strain the rice and put the rice water into a large container or bowl.
Step 3
Cover the rice water and leave it at room temperature for at least an hour. It's recommended to allow 12 to 24 hours so the water can fully ferment. This is a crucial step which helps bring out the vitamins and minerals.
Step 4
Once the rice water has fermented, it's ready to use! Store the rice water you don't need right away in the refrigerator. This mixture is good for a week.
Step 5
Fill a small container or squeeze bottle with rice water.
How to Use Rice Water for Hair
Remember, when used in moderation, using rice water as a hair rinse is safe. Here is how you can use rice water as a a hair treatment (which you can use twice a week or as often as needed). You may follow these steps whenever you wash your hair, whether it's daily or weekly. It all depends on your washing habits.
Step 1
Shampoo your hair and rinse well.
Step 2
Apply the rice water, concentrating on the roots, and rub it into the scalp. Massage the scalp well to stimulate the follicles.
Step 3
After concentrating on the scalp, distribute the rice water to the roots, mid-length and ends of the hair.
Step 4
Let the rice water sit for around 20 minutes to an hour before rinsing with warm water.
Other tips for using rice water
If you have fine or thin hair, you only need a cup of rice water. For thick hair, you may use more, around a cup to 1 and a half cups.
You can use the leftover rice water on your face for added benefits.
Rinse out the mixture thoroughly and don't overdo it because you don't want starch to build up on the hair.
Increase frequency slowly. Start with weekly or twice weekly rinses before ramping it up.
You have to stop if the condition of your hair gets worse, like dryness or breakage. Wait until the texture goes back to normal. You can also trying conditioning before applying rice water.
For the DIY-averse, there are many products that contain rice water that are safe to use on hair, too.
Wrap Up
Rice Water Treatment by Mielle
Don't have time to make your own rice water? Try this ready made solution by Mielle.
This lightweight oil is designed to penetrate to each and every hair strand preventing split ends and repairing damaged hair.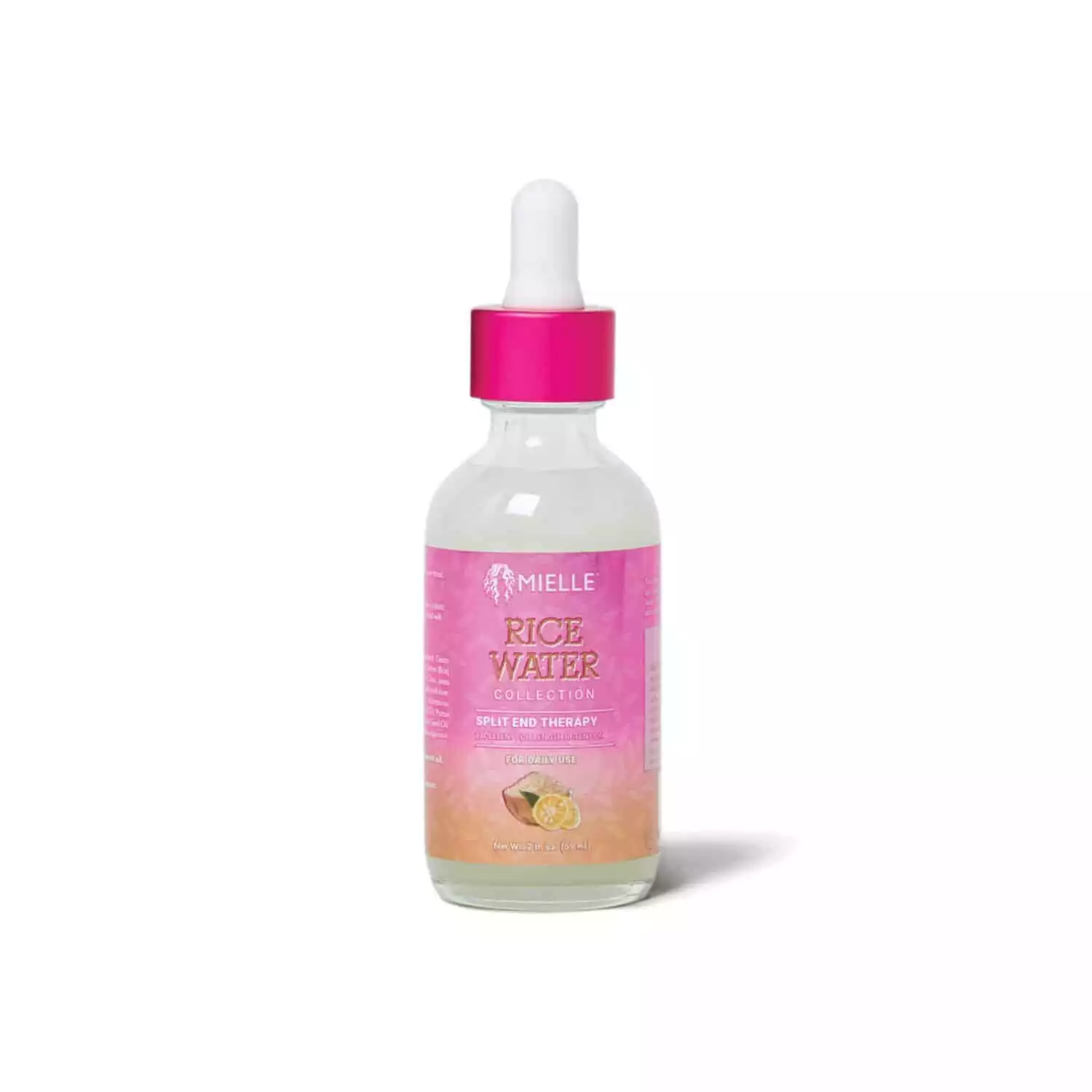 We earn a commission if you click this link and make a purchase at no additional cost to you.
Though the benefits need further research, rice water has proven to be effective to many people. If you have issues with hair growth, brittleness, or frizz, try out this simple home recipe and see how it works out.
Be sure to check out our other articles for helpful information about haircare and styling.
Leah Williams
Leah Williams is the founder of Lucky Curl and has been in the hair care and styling industry for the last 15 years. Since then, she has developed incredible expertise and a deep understanding of how to treat and style the most difficult hair types and is passionate about sharing her knowledge with the readers of Lucky Curl.