Living the life of a jet-setter? If you're the kind who loves to travel all the time and you want your hair to look picture-perfect for the 'gram, you need travel-friendly curling iron tools that have helpful features, like dual voltage – among other functionalities.
A dual voltage curling iron is perfect for travelers because it is highly adaptable to different voltage systems. There's absolutely no need to carry a bulky adapter when you're traveling, worry about ruining your hot tool by accident or worse, cause a small fire when you have a dual voltage curling iron.
Thankfully, there are many travel-friendly curling wands out there! To help you find the perfect hot tool for your needs, we've roadtested some of the best dual voltage curling iron that money could buy! Without further ado, let's check out the best dual voltage curling iron for travelers.
Best Dual Voltage Curling Iron – 5 Top-Rated Tools Reviewed
TS301 Travel Smart by Conair Curling Iron
Compact, lightweight, and teeming with smart features, that's what you can expect with the Conair TS301 Travel Smart curling iron. This travel-friendly hot tool is designed specifically for wander lusting users in mind and it's one of the best curling tools out there.
First, the design. This curling iron comes with a 1 inch ceramic barrel. The material heats up quickly and applies gentle heat evenly to give you a professional finish anywhere in the world! This nifty little hot tool has 30 heat settings so you can create endless looks while on the go.

It heats up within 30 seconds so there's absolutely no downtime between drying and styling your tresses. What's more, it comes with a host of smart features to make life on the road easier for you – including a heat shield and heat recovery feature! And yes, this curling iron comes with dual voltage function. It will work anywhere in the world.
At less than 25 bucks, the Travel Smart by Conair is not only travel-friendly, it's also reasonably priced. It will definitely get a lot of use if you travel a lot. The only caveat is the lack of an auto shut-off feature, which would've made this curling iron the hot tool to beat in this category.
BaBylissPRO Ceramic Tools Spring Curling Iron
The Babyliss PRO line has always been a mainstay in our reviews because the range is just fantastic. There is a perfect hot tool for everybody, even jetsetters like yourself!
The Babyliss PRO with the 1 inch barrel is universally loved by users because of its versatility and efficiency. The ceramic barrel applies gentle heat that straightens every hair strand. It does so without aggravating your current hair issues! The ceramic material also generates negative ions that boost hair shine, ensuring a professional-looking finish anytime and anywhere.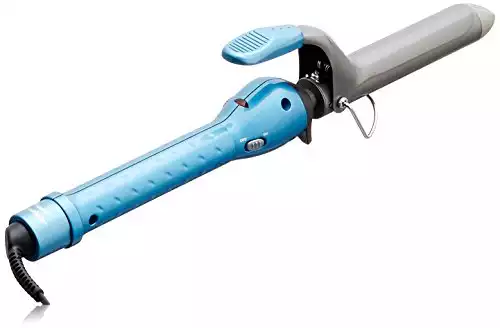 This ceramic curling iron offers 25 heat settings, which is one of the most comprehensive on the market. Whether you have fine or delicate hair, thick coarse, wooly and everything in between, this is one ceramic curling iron that will tame your tresses effectively. Thanks to far-infrared heat, the hairstyle also lasts for hours! We're talking about day to night fabulousness!
There are many styling tools out there but the Babyliss PRO wins for its intuitive design, customizable styling experience, and of course, smart features like dual voltage and an auto shut-off feature. The built-in clamp can be cumbersome to use if you are not accustomed to this design but if you make sure to get your technique right, you'll get the perfect hairstyle in no time at all.
Revlon Long Lasting Medium Curls Curling Iron
If you need a lightweight, tourmaline ceramic curling iron that will style your hair without weighing down your carry-ons, you will love this 2 in 1, dual voltage curling iron. With its slim design and 2 in 1 multipurpose tourmaline ceramic plates, the Revlon Long Lasting Medium Curls Curling Iron is meant to optimize your styling experience.
There are loads of ceramic tools out there but the Revlon Long Lasting Medium Curls Curling Iron stands out for its robust quality and efficient performance. The tourmaline ceramic material is gentle on the tresses. Even if the curling iron heats up in seconds, it won't burn the hair at all. Also, since this hot tool works as a hair curler and a straightener, it's like you are getting two styling devices for the price of one!
The Revlon Straightening and Curling Ceramic Flat Iron has 10 heat settings that go all the way up to 400 degrees F. It also comes with light alerts so you can keep tabs on the ideal temperature as you style your hair. The controls are also color-coded for convenient and easy styling.
I like that this flat iron is designed for travel. It's ergonomically designed but it never feels bulky or hefty. There's no strain on the wrist as you style your hair so the experience is always fast and almost effortless! The versatile design means that you can use the Revlon Straightening and Curling hot tool to change your hairstyle in a snap. Also, this hair curler will save you a lot of room in your luggage.
The material is so smooth that the hair just glides over the tourmaline ceramic plates. Whether you have thin or thick hair, fine or coarse hair strand, you can use this nifty multipurpose flat iron and get amazing results. Just make sure to set the right temperature first. The device heats up so quickly and you might end up using the wrong setting if you are not careful.
Bed Head Curlipops Curling Wand
Yet another versatile hot tool that you can take on the go, the Bed Head Curlipops Curling Wand is a dual voltage hair curler that's designed for travel. This curling wand has a tourmaline ceramic barrel that applies gentle, even heat all over the tresses, giving you a shiny, bouncy professional finish that lasts. First off, the cheerful design. The range is color-coded and the one we're featuring has an orange handle. This curling iron is designed specifically for creating big curls.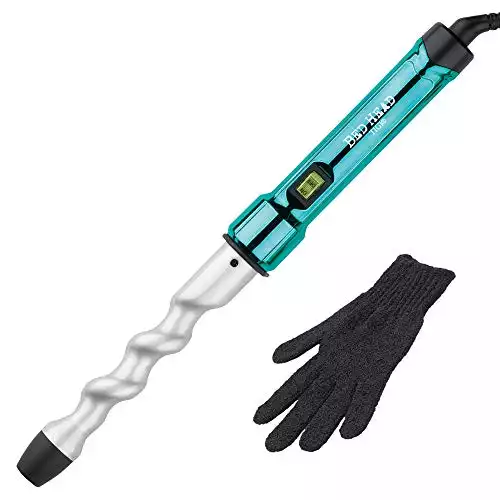 The material produces negative ions that reduce frizz, repair dull, dry tresses, and boost hair shine. If your hair is fine or thin, if it's delicate or prone to damage, use this styling tool. It's gentle enough not to aggravate your existing styling issues but effective enough to give you the gorgeous curls you crave.
There are loads of dual voltage curling irons but the Bed Head Curlipops Curling Wand sets itself apart for its ability to enhance volume, texture, and shine. Styling your hair has never been this worry-free. It's also worth noting that the line has several styles to choose from. There is something for everyone! And for those who love loose, cascading curls, use the curler with a 1-inch barrel. This will give your gorgeous, salon-worthy curls that could last from day to night.
FURIDEN Travel Curling Iron
The last dual voltage curling iron on our list is a mini! As much as I usually prefer full-sized dual voltage curling irons when I travel, I do stash a mini hot tool whenever I'm traveling light. Mini dual voltage curling irons like the FURIDEN Travel Curling Iron are so worry-free yet they do pack a punch!
This mini curling iron may be small but the size is just right for styling medium-length to long hair. It's small so it will save you room in your carry-on but it's so effective in terms of pumping up the hair shine and volume!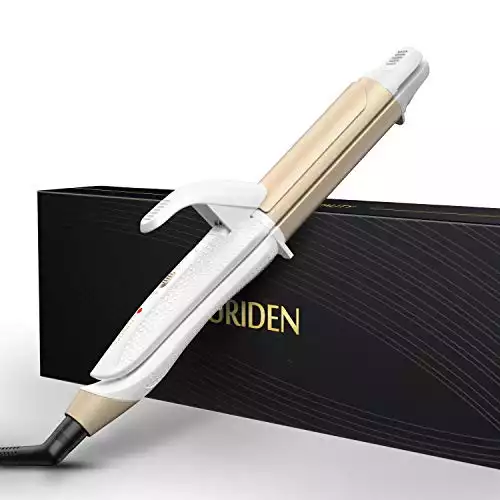 The beauty of mini hot tools is that these are so easy to use. Your wrist and arms won't tire from all that curling. The FURIDEN Travel Curling Iron heats up in 15 seconds or less so you can style your hair quickly and then head to your next travel destination in a snap. No downtimes at all.
The ceramic tourmaline plates mean that even, ionic heat is applied on the tresses sans damage. The heating surface of the FURIDEN Travel Curling Iron is so smooth, it won't cause hair tangling and breakage.
Overall, the FURIDEN Travel Curling Iron is one of the best dual voltage curling tools on the market. It's light, easy to use, and surprisingly versatile. My only gripe is that turning the device on and off may be cumbersome for some users. You have to rotate clockwise to adjust the temperature or turn the device on and off. Yes, there are light indicators but a physical button would've made the FURIDEN Travel Curling Iron even easier to use.
Dual Voltage Curling Iron FAQs
Is a Curling Iron Dual Voltage?
Not all curling irons are dual voltage, unfortunately! There are curling irons that only work for specific voltage systems and though these devices are great in terms of styling the tresses, users like myself prefer a curling iron that could work overseas. Some of the best dual voltage curling irons on the market have been outlined above, I recommend those if you are searching for a similar hot tool!
Will Dual Voltage Curling Iron Work in Europe?
Yes, if your curling iron is dual voltage, it should work in Europe without using a separate adapter. To know if your curling iron is dual voltage, check if it says 110 – 220 volts or 110/220v on the plug or handle. If the device only says 110 or 220 volts, you'll need an adapter because your curling iron is not dual voltage.
Is Conair Instant Heat Curling Iron Dual Voltage?
Yes, the Conair Instant Heat curling iron is a dual voltage curling iron. This device boasts a patented "Euro design," a cool tip, and a turbo heat feature. It's not the most compact curling iron out there but if you want a full-sized curler that gives you loose, relaxed curls and waves, this is one of the best curling irons for the job.
Conclusion
On the hunt for the best dual voltage hot tools? If you are always traveling and you want to look your best in any destination, I highly suggest getting any of the curling tools we've listed above. These curling irons earned the highest raves and reviews because they have the best features for the price and they will work anywhere in the world!
Leah Williams
Leah Williams is the founder of Lucky Curl and has been in the hair care and styling industry for the last 15 years. Since then, she has developed incredible expertise and a deep understanding of how to treat and style the most difficult hair types and is passionate about sharing her knowledge with the readers of Lucky Curl.