My medium length hair needs some help as I am running out of ideas on how to style it. Most of the time, I simply tie it in a bun or in a ponytail. I wanted to change my hairstyle from time to time but which styling tool should I get? This was answered when I came across a review of the Chi Spin n Curl and I knew I found the solution I've been looking for.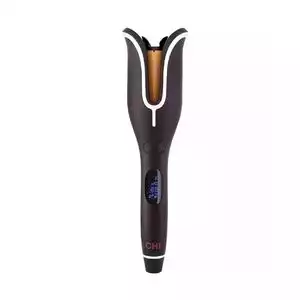 Things to Consider Before Buying an Automatic Curler
Getting an automatic curling iron such as Chi Spin n Curl is actually a great idea if you want to add curls to your otherwise dull hair. This takes the trouble of manually twisting the curling iron on your hair out since the barrel automatically does it for you. It works on all hair lengths plus, you can use it to create different kinds of curls too. If you prefer to have more control over your curls, you should get a traditional curling iron instead.
That said, having a list of factors to consider when shopping for a curling tool can save you time and effort in your search. Here's my own list which you can use.
Heat-up time.
The first thing that I looked into in a curling iron is how fast it heats up. Based on my research, if the barrel can heat up fast then it is a good start.
Barrel size.
It is also important that you consider the size of the barrel that you will be using as it will determine how loose or tight the curls you can get.
Materials.
The materials used on curling irons should be taken into consideration as well. You can choose from ceramic, tourmaline, titanium, or a combination of any of the three.
Hair length.
Not all curling irons will work on all hair types and length so you need to factor this in when shopping for one.
Heat settings.
Another factor that you need to consider when shopping for a rotating iron is the heat setting. This makes it easier for you to choose the heat setting that is appropriate for your hair type without having to guess the temperature by touching the barrel.
Swivel cord.
Not everyone really pays attention to the length of the swivel cord, but I think that this is important. A long cord can make it easier for you to curl your hair at the back of your head without having to contort your body just so the barrel of the curling rod can reach it.
Presenting Chi Spin n Curl
The Chi Spin n Curl is perfect for those who want to get detailed curls on their mane with ease. It is an automatic rotating iron that gives you different types of curls depending on your usage. It is great for all hair types and lengths too which is a plus. No need to second guess how long you have to wait to achieve the perfect curls because the device will automatically tell you when the time is up.
Pros:
Hair strand is pulled into the barrel automatically.
Timed heating prevents hair from being burned.
Can curl hair in different directions.
Cons:
Hair can get tangled when there is too much on the barrel.
Not ideal for those with bob cut or shorter hair.
Requires more practice since it is a new concept for many.
Features and Benefits
I have heard, and read, several reviews about the Chi Spin n Curl and most of them were all praises. I guess that this isn't surprising given that CHI promises a styling tool that takes all the guesswork away from you. That said, I was determined to find out what makes people want to buy this model, so here are its features that you should know of.
Rotating Barrel
Unlike a traditional curling iron where you will have to twist your hair strands around the barrel, this device has a rotating barrel that does the work for you. You only need to feed it 1 inch of your hair and press on the button to start the rotation and that's it. This actually takes away the burden off your arms since the device itself automatically twirls your hair around the barrel.
Digital LED Display
When I was still using my old curling iron, I had to touch my hair that was wrapped around the barrel to see if it was hot enough or not. I got burned a few times which I think is fairly common in this type of styling tool. Well, CHI removed the guesswork for you by installing a digital LED display on the handle. You can immediately see how hot the barrel is already.
Rotational Buttons
I did not expect to find that the this curling tool had rotational buttons included. You might think that knowing which direction you want the curls to go is not necessary, but it does add to the overall look. If you want a more detailed curl, then the direction of the curl should be inward. On the other hand, if you want a more natural look, spinning the barrel outwards can yield the best results.
Home Button
I like the fact that this product has a home button to it that allows you to unclamp your hair easily. This is actually useful if you accidentally spinned your hair too much into the barrel. This feature is perfect for those who will be using this styling tool for the first time since it allows them to free their hair in a jiffy.
Different Curls
Another feature that CHI has installed in this product is that it lets you decide on how loose or detailed your curls will be. This is a useful feature since you won't have to buy a different sized curling tool to get the type of curls that you like. There are different tutorials online that you can follow to achieve your preferred curl.
Temperature Settings
There are three temperature settings installed here which gives you control over the amount of heat you are using on your strands. Choose from low, medium, to high heat. Low heat setting is ideal for those with fine hair while the high setting is intended for those who have coarse hair. You just need to consider the quality of your hair so you can decide the amount of heat you will be using on them.
Automatic Signal
Another feature that you will like about the Chi Spin n Curl is that it automatically beeps when the time is up. This means that there will be less burnt strands to deal with since you can release the barrel's hold on your strands as soon as you hear the signal.
Easy Maintenance
Maintaining your styling tool is always important and it appears that CHI has made it easier for you to maintain yours. There is a barrel cleaner that can get rid of the residue lingering on the surface of the barrel while the body can be cleaned with a damp cloth. This way, it will be easier for you to make this product last you longer.
Social Proof
I liked to read other people's feedback when it comes to products and from what I have read during my research on Chi's Spin n Curl, most of them are high praises. Here are a few that certainly grabbed my attention.
Alternatives
I wanted to weigh my options when it comes to achieving wavy to curly hair. Aside from CHI's offering, I also selected three more models that can compete against it.
INFINITIPRO BY CONAIR Curl Secret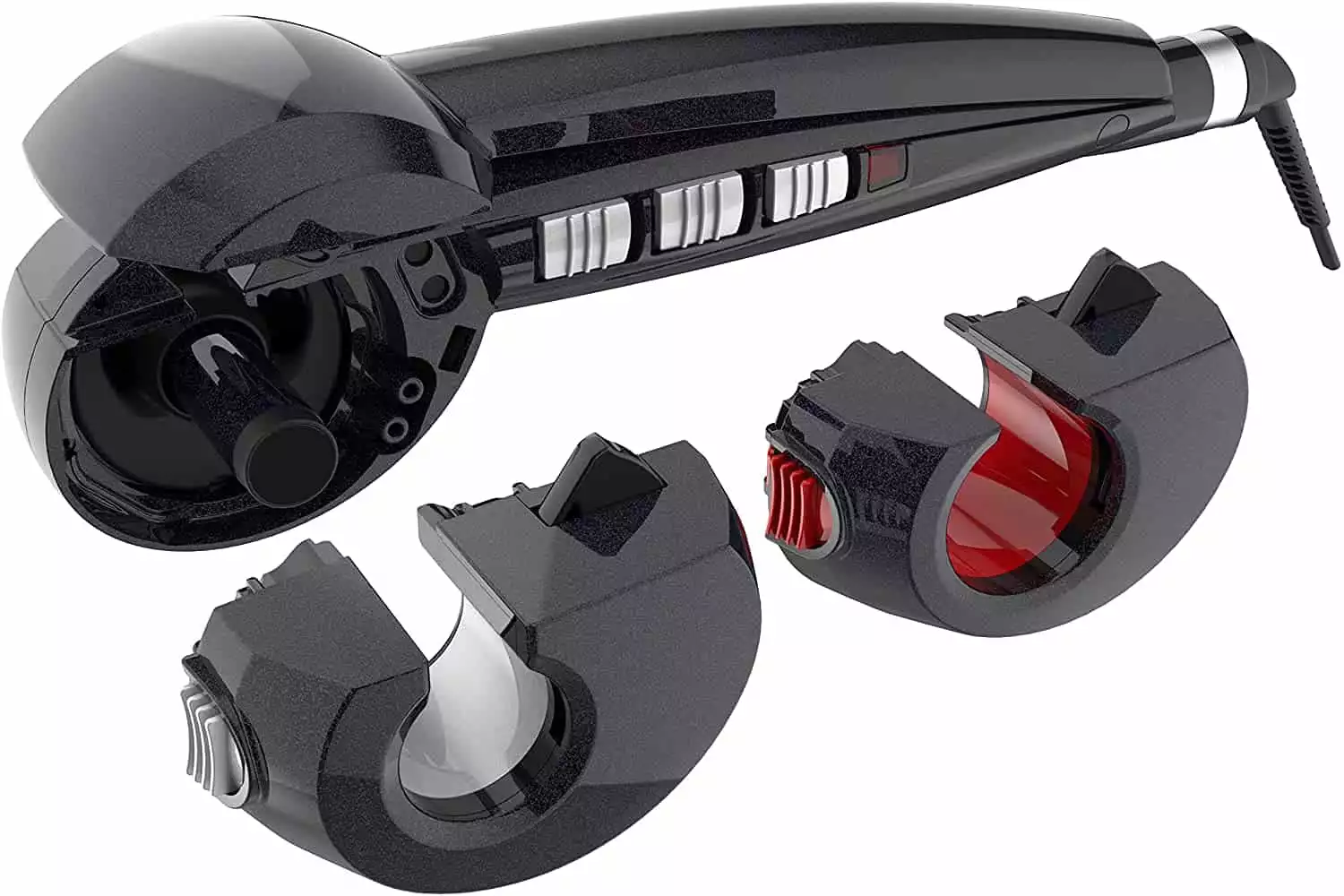 When it comes to automatic curlers, the Curl Secret is a great option to consider. Its design is a bit high-tech with its rounded tip but it is effective nonetheless. It makes use of tangle-free technology so you don't have to worry about your hair strands getting knotted around the barrel. The chamber is made from ceramic rotating barrel with tourmaline which means that it can heat your strands evenly while reaching high temperatures too.
It comes with an auto beep indicator to tell you that it is time to release the clamp on your hair. I think that this is a useful feature for automatic curlers since you don't have to manually test the barrel if it is hot already. There are two heat levels to choose from here with three timer settings. You can decide the length in which the barrel will hold your hair until the beeper signals you to release. An ergonomic body makes it easier for you to hold it effortlessly in your hand so less arm fatigue on your part.
Tangle-free technology ensures that hair strands remain smooth.
Ceramic tourmaline barrel protects hair from frizz while providing even heating.
Ergonomic design makes it easier for you to handle the product.
Two heat levels and three timer settings give you full control over your hair and your curls.
Hard to wield on your own especially when curling the back portion of your hair.
The curls did not hold very well.
If you want a styling tool that makes it easier for you to curl your hair without making your arms tired, the INFINITIPRO is worth checking out.
Hair Rollers Cordless Auto Curler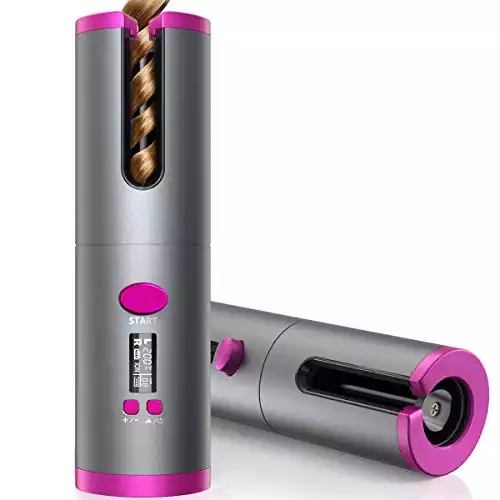 Who would have thought that cordless curlers are a thing now? This cordless auto curler has more heat and timer settings than others which made me add it in this list. Aside from this unique feature, this brand is equipped with a smart sensor which stops your hair from getting all tangled up in the barrel. If you are worried that you will burn your fingers when using this tool, you will be happy to know that it has an anti-scalding feature since it combines ceramic and tourmaline in one. The barrel also has a vegetable protein coating to prevent strands from burning while being curled.
What else is there to like about this product? It is USB rechargeable which is a plus since you don't have to deal with getting tangled in its cord. It is equipped with a 5,000mAh battery that lets you curl continuously up to an hour which is enough to style your hair no matter how thin or thick it is. It automatically turns off after 10 minutes of being idle to help preserve the battery .
Multiple heat and timer setting make it good option for all hair types and length.
Ceramic tourmaline barrel preserves your hair's quality.
Smart sensor determines if your hair gets tangled so that it can unclamp automatically to release the strands.
It doesn't work very well on those who have thick coarse hair.
It can damage fine hair.
For those who want a cordless curling tool that isn't branded as Spin n Curl, then you should try this one out.
Unbound Cordless Auto Curler From Conair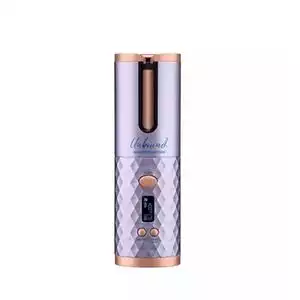 Conair has another curling tool that is aimed to compete with Chi Air and this looks promising too. Just like the previous model, this is a cordless styling tool that is designed to give you a variety of curls quickly. You don't even have to have any experience using a curling iron because this does the job. It offers multi-directional curling feature so you can mix and match your curls for different looks. It does come with an anti-tangle feature so no worries about getting your hair strands all knotted up on the barrel.
The highest heat setting that you will get from here is 400 degrees Fahrenheit which is best suited for those who have thick, coarse hair. It comes with three heat and four timer settings that let you control over the style that you are aiming for. An automatic shut-off feature is also present wherein it turns off after 15 minutes of not being used which is perfect for avoiding accidents.
Cordless curler that gives results in seconds.
Can reach up to 400 degrees Fahrenheit without burning your strands.
Multi-directional curling features for different styles.
It may not be effective in curling thick hair.
Unit cannot be used while charging with the USB cord.
If you are looking for another cordless curling tool that will give you different types of curls in one unit, you should get this one for a test run.
Conclusion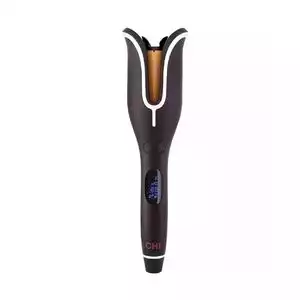 Curling your hair with Spin n Curl does speed up the time it takes to achieve those beautiful curls. With this tool, you can enjoy:
More detailed curls without doing most of the work.
Automatic rolling of hair strands removes the load on your arms and hands.
Heat and timer settings give you full control on how you want your curls to look.
When it comes to achieving those amazing curls, Chi's Air Spin n Curl is the right way to go.
Leah Williams
Leah Williams is the founder of Lucky Curl and has been in the hair care and styling industry for the last 15 years. Since then, she has developed incredible expertise and a deep understanding of how to treat and style the most difficult hair types and is passionate about sharing her knowledge with the readers of Lucky Curl.