Do you love the look of soft, bouncy curls but don't have a lot of time to spend curling your hair every day?
With that in mind, we have rounded up and reviewed 9 top-rated styling tools to find the best automatic hair curler. They'll give you the perfect curl in minutes! Plus, they're all incredibly easy to use. So whether you're short on time or just want a fuss-free way to curl your hair, these curlers are definitely worth checking out.
Keep reading for reviews of some of the best models out there, plus a helpful guide to buying an automatic hair curler. 
Our Picks for the Best Automatic Hair Curler
09/09/2023 04:00 am GMT
In this article, we are going to have a closer look at the following automatic hair curlers:
9 of the Best Automatic Hair Curlers
1. Dyson Airwrap™ Multi-Styler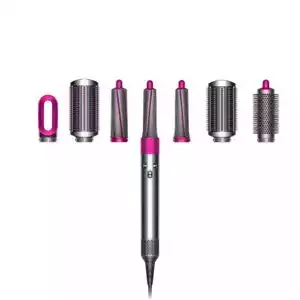 When it comes to automatic hair curlers, the Dyson Airwrap is the Rolls-Royce of styling tools. 
Designed with the unique Dyson technology, the Airwrap styles your hair with air instead of extreme heat, creating effortless curls while minimising heat damage. Powered by the Dyson digital motor V9, the Airwrap has 13-blade impeller that spins at up to 110,000rpm, generating 3.2kPa of air pressure. This powerful motor is what creates the "Coanda effect", which uses air to attract and wrap the hair to the barrel or surface of the brush.
The Airwrap also features intelligent heat control that measures airflow temperature over 40 times per second to prevent heat damage. With this amazing tool, you can curl, shape, smooth, and hide flyaways with no extreme heat.
Other features we love about the Airwrap are the three precise airflow speeds and three heat settings that allow you to tailor your styling to your hair type. The cold shot feature immediately deactivates the heating element for a cooler blast of air that will help set your style. And the negative ions help reduce static in the hair for a smoother, frizz-free finish.
2. BaBylissPRO MiraCurl Nano Titanium Professional
You cannot talk about hair curling machines without thinking about the BaBylissPRO MiraCurl Nano Titanium Professional. This device is, hands down, one of the best automatic curling wands out there, and for a good reason, as per our in-depth BaBylissPro MiraCurl Nano review.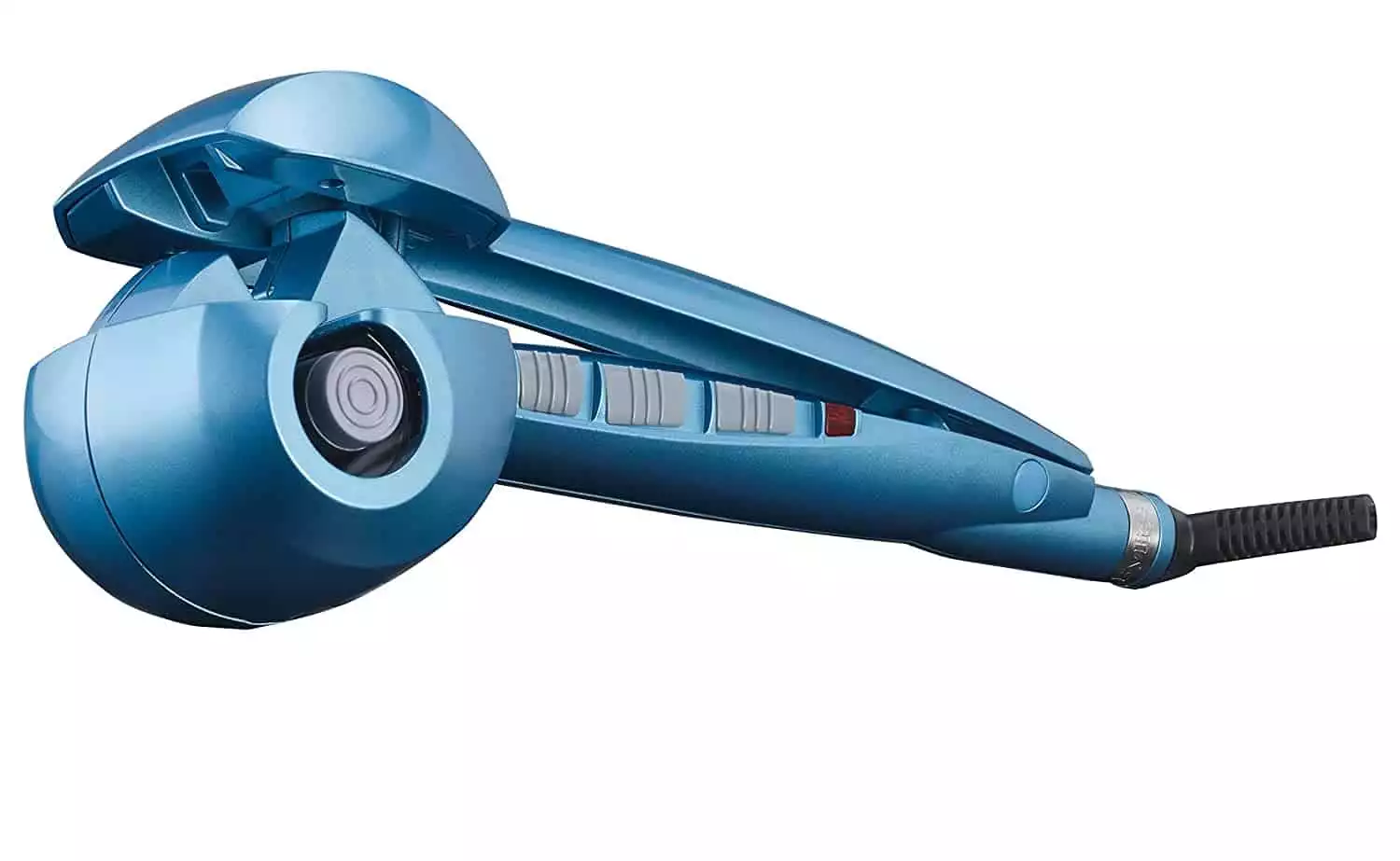 BaBylissPRO Nano Titanium MiraCurl Professional Curl Machine
4 timer settings: for different curl effects

3-direction curl control: right, left, alternate

3 heat settings: 450°F, 410°F, 375°F

Instant heat-up and recovery – consistent and efficient styling

MaxLife PRO brushless motor – precision curling control and long life

Smart Tech safeguard and energy saver
Buy from Amazon
Review on LuckyCurl
We earn a commission if you click this link and make a purchase at no additional cost to you.
The MiraCurl automatic curler does look intimidating, but it's surprisingly easy to use. According to its Amazon listing, this model features a brushless motor that creates frizz-free curls efficiently without snagging or breakage.
To use the MiraCurl, divide your hair into sections and feed a section into the nano titanium curl chamber thanks to the precision curling control. As your hair enters the chamber, the MiraCurl "catches" it and curls it automatically. The result is shiny, full-bodied, beautiful curls that last all day long.
The MiraCurl comes with three style options: loose waves, soft swirls, or defined curls. It offers variable heat settings and multi-rotation directions. Lastly, the maximum temperature is up to 450-degrees Fahrenheit.
This device also boasts a steam technology that imparts moisture to every strand. The steam tech is for people who style their hair daily. The steam tech is a nice touch, and my strands never feel dehydrated, brittle, or weak when I use the MiraCurl. The steam tech also adds 20% definition to the curls along with a long-lasting, 24-hour hold! The steam action works automatically, so you don't have to tinker with any buttons.
The only downsides are the size, which is quite bulky for travel. But considering the technology and innovative features that this device offers, I say the price is just right, and it's worth the purchase. 
3. Conair Hair Curler – Infiniti Pro Curl Secret
The Infiniti Pro by Conair automatic curler is similar in design and features to the MiraCurl but more affordable. Like the MiraCurl, this model also comes with a brushless motor that creates the perfect curls and beach waves quickly and efficiently.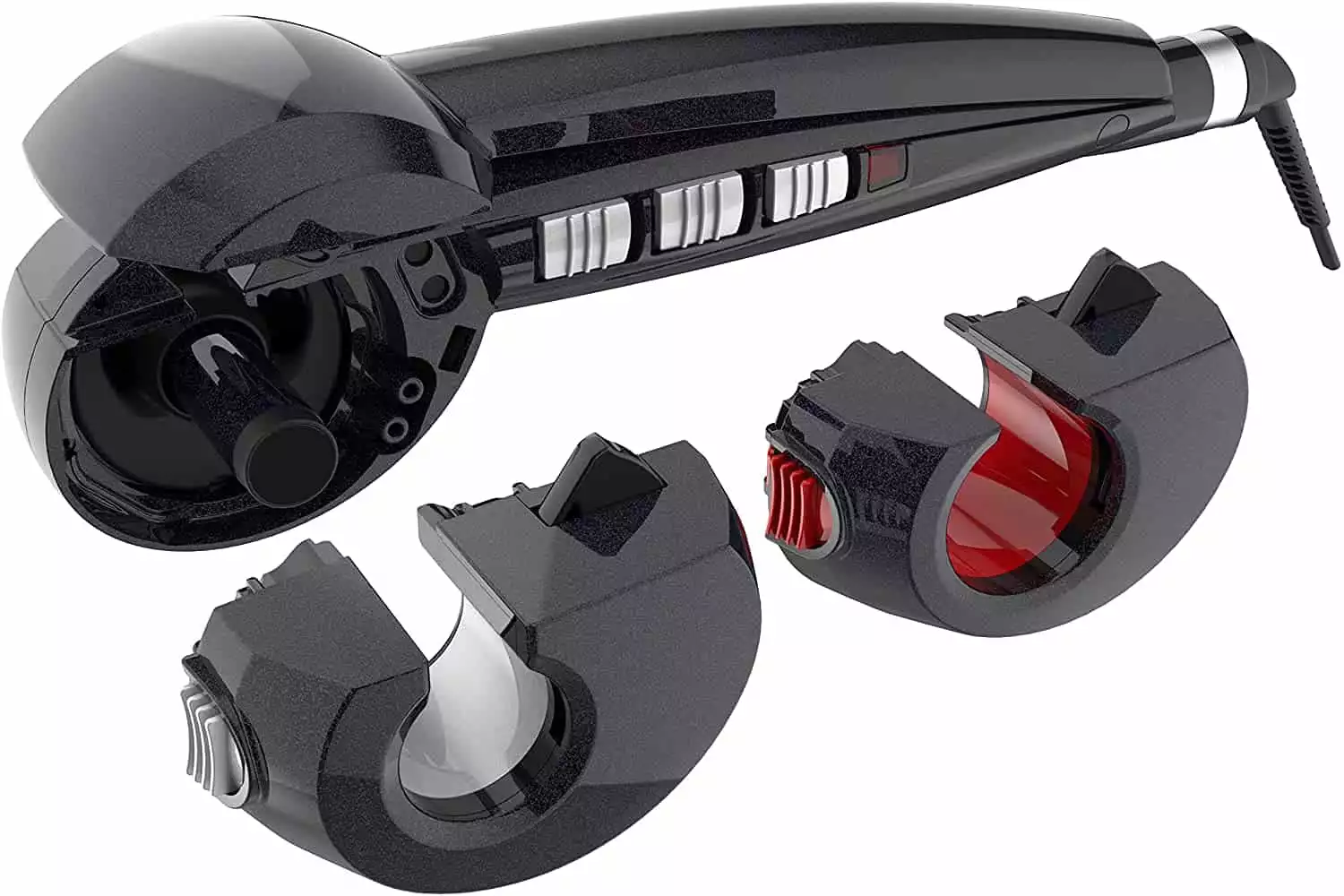 The Infiniti Pro by Conair boasts the brand's "auto-curl technology," which allows for effortless hair curling. The secret is the tourmaline ceramic curler that holds times. It heats every strand in every direction for a perfect curl every time.
With a bit of practice, you can style a head of natural hair within minutes. In my experience, curling was effortless with this automatic curler. It's pretty straightforward. The styling tool also rotates in different directions, so that's something to keep in mind when styling.
This device works the same way as the MiraCurl. Just "feed" a section into the curling chamber, and the Infiniti Pro will do the rest. The pair of ceramic-tourmaline heaters apply consistent and gentle heat in all directions, so every section comes out perfectly curled and super shiny.
Cleaning your automatic hair curler is a part of maintaining it. The Infiniti Pro makes maintenance as easy as curling. It comes with a cleaning tool for the chamber to keep your Infiniti Pro free of strands, dust, and traces of products, extending the life of your automatic curler!
4. CHI Hair Curler – Air Spin N Curl
Yes, the design of the CHI Air Spin N' Curl model is out of the ordinary but let me tell you, this product is so good when it comes to creating the perfect salon spiral curls! And the truth is that the device is surprisingly easy to use.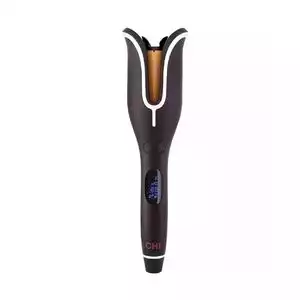 Just like the other hot tools in our list, the Chi Air Spin N' Curl "catches" a hair section in its curling chamber where the locks are gently heated and curled to perfection. The entire process of curling the hair is so precise and perfectly timed, so you get frizz-free, beautiful curls every single time. 
And if you're worried about tangles, don't. Thanks to its ceramic curling barrel, the automatic hair curler has a smooth and silky surface, so you'll get only the smoothest curling experience. According to reviews, the Chi Air Spin N' Curl will also beep to warn you if a hair section didn't slip out smoothly. This curler is gentle enough for daily use but don't skip the hair protecting serum just yet. 
The Chi Air Spin N' Curl has adjustable temperature settings and a range of pre-set temperature settings for every hair texture.
Overall, the Chi Air Spin N' Curl is a terrific contender in our top 7 list of hair curlers. My only gripe is that the design of the product itself is limiting. Because the curling chamber is vast, the Chi Air Spin N' Curl is best suited for people with long hair. If you have shoulder-length or short hair, you have to work your hair into smaller sections to get the best results.
5. Kiss Instawave
Unlike the other automatic curling irons, we have mentioned so far, the Kiss Instawave is designed as a curling iron with rotation capability. This product features a pointed base that helps set your locks in place as you curl. Called the patented curl dial, this feature detangles the hair strands, so the curls and waves stay smooth and uniform.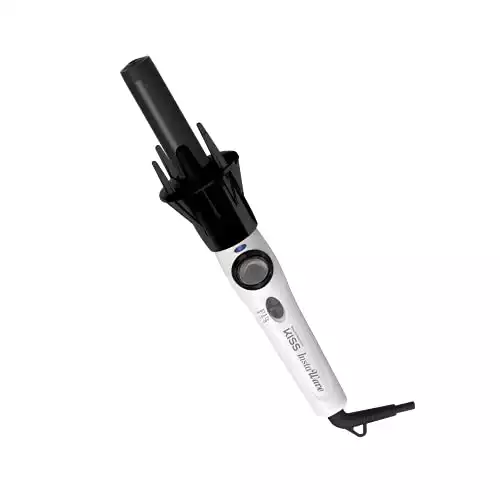 The Kiss Instawave works like many of the other products on this list. Wrap a hair section on the ceramic barrel and leave the curler to do the rest. Within a few minutes, the hair comes out perfectly curled. The device will beep when the hair is ready to be released, which is fantastic if you're using a hair curler for the first time and you've no idea how long it takes to curl each hair section.
The Kiss InstaWave has two heat options, low and high. This product is suitable for most hair types, but I'd say this is best for people with long, thick hair.
The InstaWave is a terrific choice for anyone on a hunt for a quality automatic hair curler that delivers tangle free curls seamlessly. Still, according to reviews, there are some drawbacks that you should keep in mind. First is the weight, this is a chunky curler, and it's heftier than a typical hair curling iron. The second is the kind of curls and waves you get from this product; the curls are pretty relaxed. This means you have to apply a setting spray immediately after curling your hair. Otherwise, the curls won't last long.
6. Ocaliss Auto Wavy Curling Iron
The Ocaliss Auto Wavy Curling Iron is quite similar in design to the Kiss InstaWave, but it's slimmer and more travel-friendly. This automatic curling iron features a de-tangling dial at the base to ensure smooth, tangle-free styling.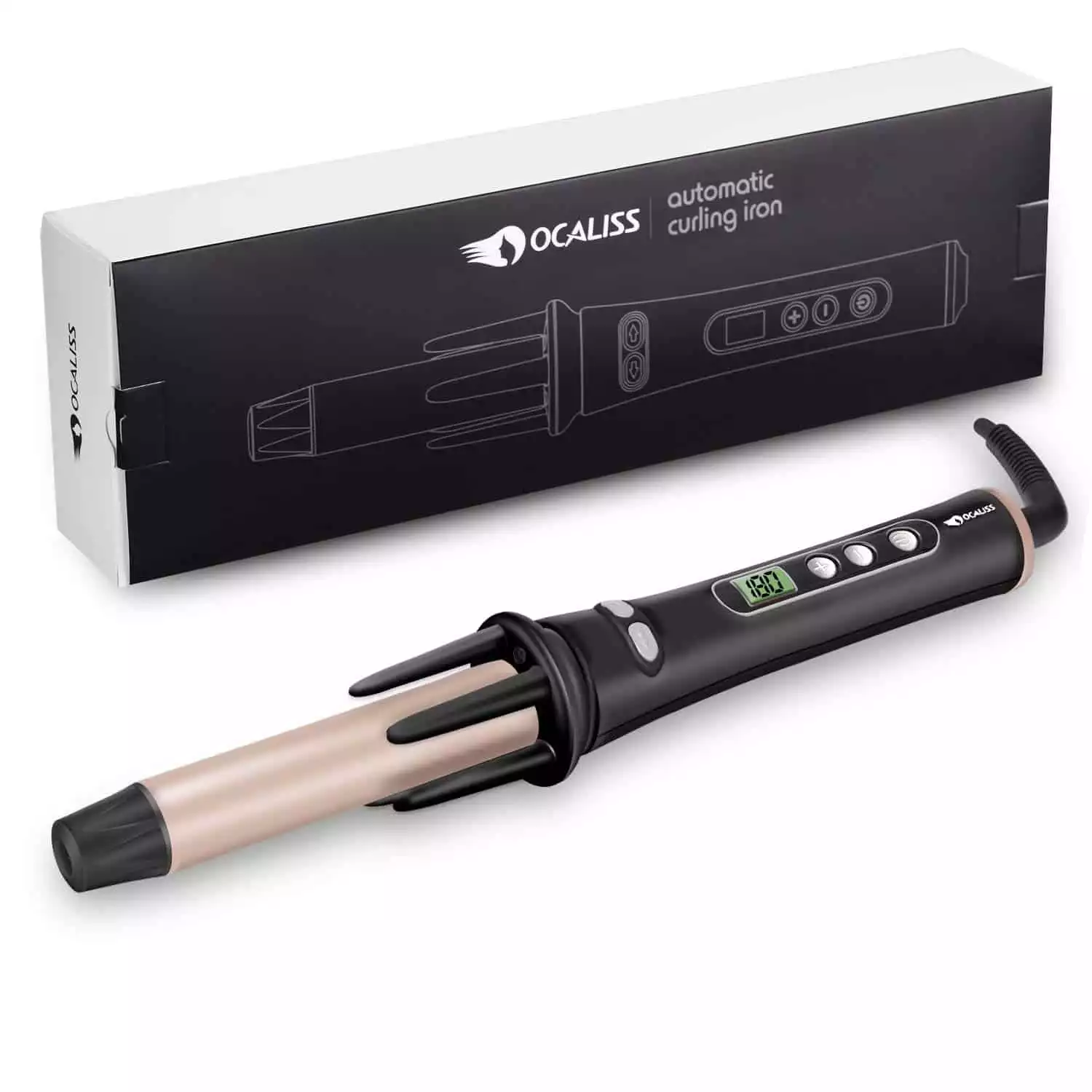 OCALISS Automatic Curling Iron
Fully automatic curling action
Customisable styling
Multi-directional automatic roller
Buy from Amazon
We earn a commission if you click this link and make a purchase at no additional cost to you.
This curling iron comes with dual direction rotation with just a press of a button. It has three temperature settings ranging from 260 degrees to 420 degrees Fahrenheit. And the large LCD lets you control and check the temperature to prevent burning. The curling iron could reach its maximum temperature in 30 seconds. Still, the heat-resistant PPS plastic ensures that the handle remains cool to the touch. An automatic shutoff feature and anti-scald technology make the Ocaliss Auto Wavy Curling iron safe to use during and after styling.
I might've mentioned this a million times. Still, I would always choose a curling iron with ceramic tourmaline barrel over other material just because it's so gentle on the hair. The tourmaline-glazed ceramic barrel of the Ocaliss Auto Wavy Curling iron gives you long-lasting curls sans heat damage, frizz, and dullness. You get lustrous salon curls and waves that last all day, and the hair always feels silky soft. I won't skip on the heat-protective serum, however.
Don't let the Ocaliss Auto Wavy Curling iron's funky design fool you. It's user-friendly! This makes it the kind of automatic curling iron that works best for people with long hair because of the barrel's design and size.
7. Unbound Curler – Cordless Auto Curler From Conair
A recent addition to the best automatic hair curler list is the Unbound Cordless Curler from Conair.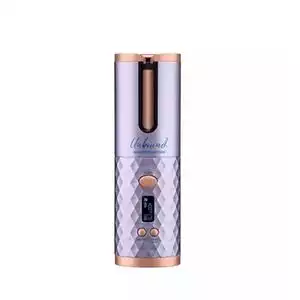 This revolutionary hair curler allows you to create beautiful tight curls without having to plug it in.
While it has quite a unique design, don't be intimidated — the Unbound Curler is easy to use. To explain how it works, you simply feed small sections of hair into the curl chamber. You then select the curl's direction (left or right), which automatically creates effortless, beautiful curls every time. For peace of mind, there is an anti-tangle protection feature to ensure hair doesn't get tangled in the chamber. This feature comes in handy for any automatic curling product.
Being a cordless automatic hair curler, you will need to charge it fully overnight before use. Once charged, it can be used for styling for up to 60 minutes; however, the time can vary based on heat and time settings.
Other features to note about the Unbound are the ceramic curl chamber for frizz reduction, the max 400°F temperature, and intelligent auto shut off.
This automatic styling tool would be an excellent option for anyone who has an on-the-go lifestyle or professional hairstylists to use on a location photoshoot. In my opinion, it's a helpful product, but I wouldn't recommend this as your primary styling tool.
8. InStyler MAX 2-Way Rotating Tourmaline Ceramic Straightener and Styler
I love curling irons and straighteners that give me maximum results with minimal effort. That's why I have a soft spot for the InStyler Max 2-Way despite the model's bulky design.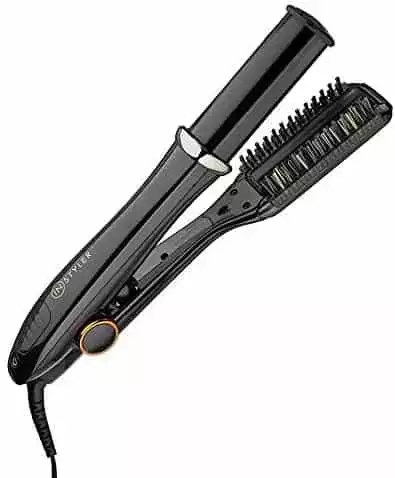 The InStyler MAX 2-Way is, as the name implies, is a 2-way hot tool that straightens and curls the hair. According to its Amazon listing, this product promises a maximum, salon-worthy finish with minimal effort.
The secret to InStyler Max 2-Way's lustrous finish is the combination of the rounded rotating barrel and ionic bristles. The ceramic tourmaline barrel delivers even, consistent heat while the ionic bristles restore shine and luster! Just wrap a hair section on the barrel, set the hair in place with the ionic bristles, and the InStyler Max 2-Way will take care of the rest!
The InStyler Max 2-Way comes in 1 inch and 1.25 inch round barrel, a barrel size for all hair types! The design does take a while to get used to, but you will love how fast and easy styling gets with this product once you get the hang of it.
The InStyler Max 2-Way offers four heat options: 285°F, 315°F, 385°F, and 425°F. It will work on all hair types, but this is best suited for anyone with medium-density tresses to thick, coarse hair. Other features I love about the InStyler Max 2-Way include the automatic shut-off feature and the 30-second rapid heat-up setting.
The only drawback I noticed is the thick handle — this can turn styling into hard work. Again, there is a learning curve, but once you get used to it, the InStyler Max 2-Way will be your go-to.
9. amika The Autopilot 3-in-1 Rotating Curling Iron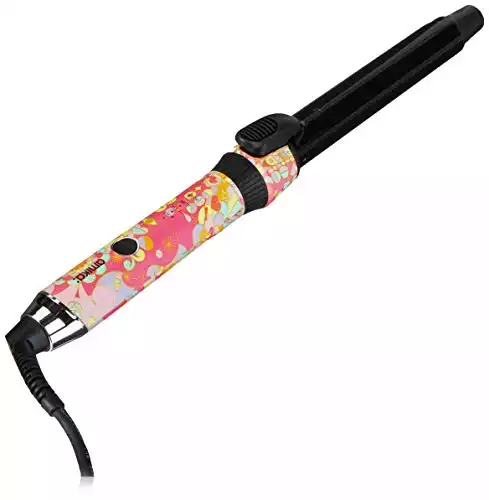 Wrapping up our list is the Amika Autopilot 3-in-1 Rotating Curling Iron — a perfect tool for creating beautiful, bouncy curls. Similarly to the Kiss Instawave, the Amika Autopilot is a curling iron with rotating function rather than an automatic curling machine.
The rotating clamp and cool tip make it easy to style your hair without damaging it, while the long, ceramic barrel infuses your hair with curl for a silky, smooth finish. Negative ion technology seals the cuticle for smooth results on all hair types, and the 60-minute auto shut-off feature ensures that your curling iron will never overheat. With a 9 ft / 360 ° swivel cord, this curling iron is easy to use and store, making it the perfect tool for all your styling needs.
A Guide to Buying an Automatic Hair Curler
Which is Better? Automatic Hair Curler vs. Static Curling Iron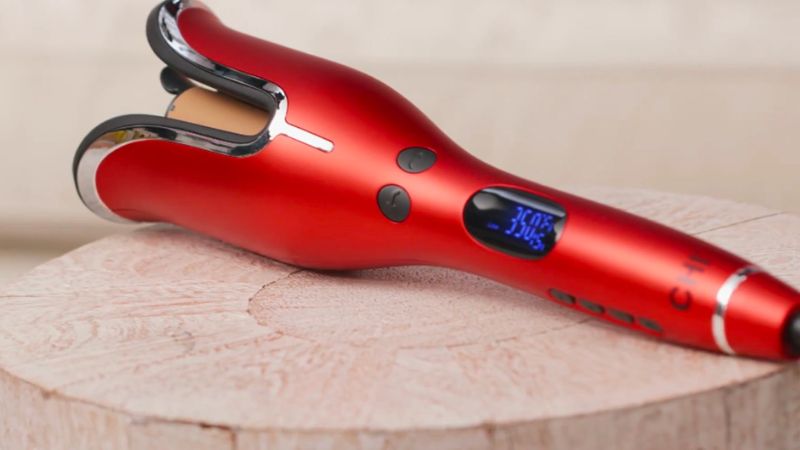 Defining what is better will come down to your preferences. Read on to discover some key differences about automatic vs. static curling irons:
Design
Traditional curling irons typically look like a standard curling wand with a long circular barrel that may or may not have a clamp depending on the model. They can equally achieve elegant curls; however, they require manual maneuvering. 
Whereas automatic hair curlers have come in many different innovative designs that can wrap and wind hair into machines to produce instant curls. Further, unlike a normal curling wand, some of the best automatic hair curlers are constructed with advanced technology for more efficient hair styling. 
Styling Time
How long does it take to curl your hair using a traditional curling iron? That will depend on your styling skills, but generally, it takes about 20 minutes or so. On the other hand, an automatic curling iron could curl a full head within 10 minutes.
If you have all the time in the world to curl your hair, then the obvious option is the traditional curling iron. But if you are always in a rush, choose an automatic curling iron, one that rotates left to right or vice versa because it does most of the work for you.
Also, get one that heats up quickly. That way, there's no downtime between drying and styling your tresses in the mornings.
Temperature Settings
Traditional and automatic curling products come with a range of heat options to choose from. Multiple heat settings are essential, especially if you have delicate or fine hair. The last thing you want is to burn your tresses from the harsh heat!
Most automatic curlers have defined temperature settings to adjust the temperature according to your hair type and avoid heat damage. If you want to change the temperature settings to your styling needs, opt for a device with various options.
Auto-Shutoff Timer
Safety is essential when using any electric device – especially automatic curlers that you use almost daily. And if you style your hair regularly as I do, you might've experienced rushing back home to double-check if you turned off your curling iron.
I love products with various safety features because I get peace of mind knowing that the device would turn itself off even if you leave them on. This feature is perfect for absentminded peeps like yours truly! Virtually all automatic curling irons come with an auto-shutoff feature and a timer, so no nasty surprises there. 
There are a lot of standard automatic curlers that come with auto-shutoff features, but the most basic ones lack this option. For safety reasons, the auto shut-off timer should be a standard feature in all types of curlers, automatic or otherwise.
Are rotating curling irons worth it?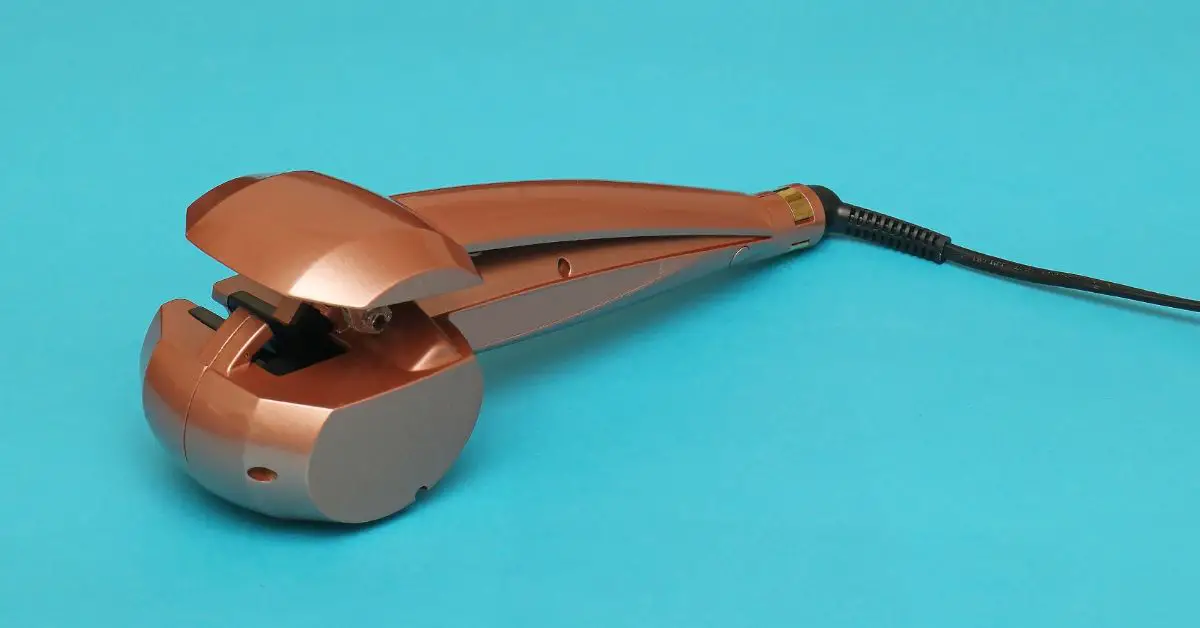 Benefits of a rotating curling iron:
It cuts down styling time significantly
Achieve a consistent curl shape
It helps to prevent a "hairstylist wrist," particularly for those with long or thick hair types
Downsides of a rotating curling iron:
It can be a learning curve on how to use the product
It might not be suitable for short hair as rotating curlers cannot always get close to the root
Risk for tangled or stuck hair if not used properly
Wrap Up
Automatic hair curlers are a great tool to have in your styling arsenal. They can help you achieve the perfect curl without having to use multiple devices or go through the hassle of using a manual curler. We've provided you with our tops picks for the best automatic curling irons and machines and a buying guide to help make your decision easier. We hope this information has helped you choose the best device for your needs. What are you waiting for? Go ahead and get that curly look you've always wanted!
Leah Williams
Leah Williams is the founder of Lucky Curl and has been in the hair care and styling industry for the last 15 years. Since then, she has developed incredible expertise and a deep understanding of how to treat and style the most difficult hair types and is passionate about sharing her knowledge with the readers of Lucky Curl.