For those of us not blessed with natural curls, a curling iron is a must-have. However, not all curling irons are made equal. Some are for creating intricate ringlets while others fashion loose beachy waves out of our lifeless strands. If you want to have the best curling iron for big curls, you need to consider the size of the barrel, to start.
I've done some internet peeping to bring you this roundup review of curlers with the right heft and power to bring you long-lasting and bodacious big curls.
Best Curling Iron for Big Curls – 5 Top-Rated Tools
Hot Tools Professional 24K Gold Regular Barrel Curling Iron 2 inches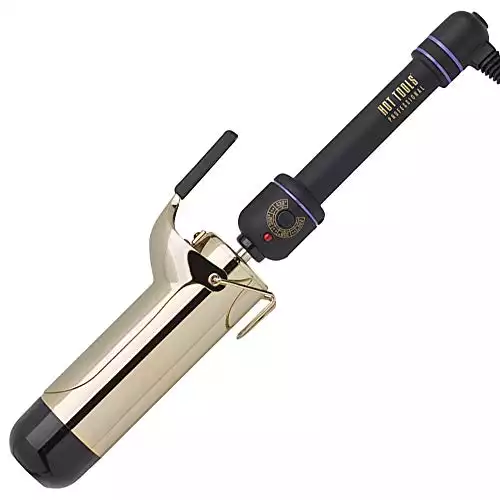 Hot Tools Super Tool 2 Inch Professional Curling Iron
24K GOLD BARREL: This versatile gold curling iron and wand is the tool of choice for professional stylists. Barrel helps you create defined curls..Maximum temperature setting : 220 Degrees Celsius
LONG-LASTING: Go for the gold for gorgeous curls and waves. Heats up quickly and holds heat evenly. That means faster styling and locked-in results.
VERSATILE STYLING: Whether you choose to use as a traditional curling iron or wrap hair around the barrel to use as a wand.
ALL HAIR TYPES: A high heat reach of up to 430℉ provides beautiful results for all hair types from thin to coarse and in between.
EASY STORAGE: Foldaway safety stand for easy storage. Enjoy free range of movement with 8ft. tangle-free swivel cord.
Buy from Amazon
We earn a commission if you click this link and make a purchase at no additional cost to you.
12/03/2023 11:30 am GMT
This curling iron from Hot Tools is bound to convert any curling cynic. Some have even called this curler their holy grail.
The curling iron's gold-plated steel barrel is an excellent heat conductor. It will whip up big curls with ease with its Pulse Technology. This feature helps the curling iron keep a high temperature so your hair sets in the shape you want. The Pulse Technology also senses temperature shifts and restores the optimum heat setting instantly so your big curls look consistent all throughout the styling process.
The curling iron prevents heat damage by eliminating hot spots that can singe or dehydrate the hair. After you turn it on, it heats up quickly and can reach temperatures up to 430°F. A dial gives you full control of the heat and a digital display flashes the exact temperature setting. It's an all-hair-types curling iron with an extensive range of heat options to suit every hair type.
The curling iron comes with a swivel cord and a soft touch handle for a comfortable curling experience. The rotating cool tip prevents burns and the foldaway safety stand stores the curling iron safely so you don't mess up your desk or counter with the heat from the 2-inch barrel.
The barrel of the curling iron is wide enough to form loose, beachy waves that look effortless. However, a few users have noted that the curls lacked definition and sagged over time, so it's not truly long-lasting. The curling iron also does not work well for frizzy hair because it lacks an ionic function that helps you get that frizz-free look.
Pros
Has a gold-plated steel barrel that conducts heat well
Uses Pulse Technology to maintain the optimal temperature level
The barrel is 2-inches wide
Can reach a maximum temperature of 430°F
Intuitive controls and ergonomic build
Cons
Curls don't look defined
Does not control frizz
BaBylissPRO Nano Titanium Spring Curling Iron 1-1/2 inches
For lustrous, moisturized curls, try the BaBylissPRO spring curling iron, one of the best curling irons for jaw-dropping curls. It has a clamp that makes holding on to stray tendrils a cinch and a barrel of ample size for big curls.
The spring curling iron uses nano titanium technology, which is code for far-infrared heat and negative ion functions. It uses a type of heat that goes deep into the hair strand and dries it from the inside, making for quick and damage-free styling.
The barrel releases negative ions that lock in moisture into the strands and make your curls look shiny and smooth.
The curling iron has a whopping 50 heat settings which have a cap of 450°F. The high temperature capacity means this curler can tame even the coarsest of hair. It transfers heat effectively so you get big and long-lasting curls.
If you need to top up on heat or are on a time crunch, the turbo heat button is a click away.
The Sol-Gel layer covering the 1.5-inch titanium barrel is durable and chemical-resistant. This spring curling iron is in it for the long haul.
Styling is easy peasy with the curling iron's tangle-free swivel cord and long handle.
That being said, one of the downfalls of this curling iron is the lack of a cool tip. Some users have said that the tip is too short for comfortable use. You can't hold the end without burning your hand. The curling iron also lacks a temperature readout and a dual voltage function.
Pros
The clamp and swivel cord of the 1.5-inch curling iron makes it easy to curl your hair
Nano titanium technology uses far infrared heat to set your curls
It emits negative ions that moisturize the hair
Has 50 heat settings up to 450°F and a turbo heat button
Has a 1.5-inch barrel with a Sol-Gel layer for durability
Cons
Does not have a heat-resistant tip
Does not come with a temperature display or a dual voltage function
Conair Instant Heat Curling Iron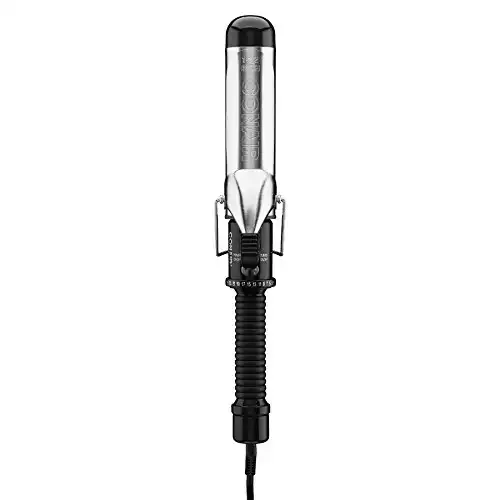 Bodacious big curls are a few seconds a way with the Conair Instant Heat Curling Iron. True to its name, it heats up quickly in 30 seconds and has 25 heat settings. It's good for all hair types with a maximum heat setting of 400°F. You can crank up the temperature instantly with the Turbo Heat function that raises the hotness by 36°F.
This curling iron definitely means business. The 1.5-inch straight barrel is made out of chromium, nickel, copper and steel that conduct heat efficiently to lock in those big curls.
For a reasonable price, you'll get a worldwide voltage function so you can take the curling iron with you on your travels. It's lightweight and compact with an ergonomic handle and a 360-degree cord, making curling long hair or thick hair fuss-free.
The curling iron comes with an electronic touchpad and a light indicator that tells you that the device is on. It shuts down automatically when not in use and has a cool tip, which save you from first-degree burns and your bathroom catching fire.
Despite the grip handle, the curling iron has design flaws that make it a bit cumbersome to use. The temperature dial is placed in an awkward location that makes it almost too easy to rotate it when you curl your hair. This subjects your hair to either a temperature that's too high or too low for healthy and efficient curling.
Some users have also noted that the barrel is not smooth and tends to grip hair even after the curl is released.
Pros
Heats up in 30 seconds
Comes with 25 heat settings up to 400°F
A turbo heat button increases the temperature by 36°F
Has a 1.5 inch barrel made of chromium, nickel, copper and steel
Has an auto shutoff, a cool tip, a swivel cord, and ergonomic handle
Cons
The temperature dial can be adjusted accidentally
The barrel is rough and tends to catch on to hair
CHI Spin N Curl in Onyx Black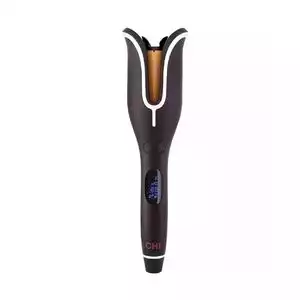 If you have an inherent fear of scorching hot curling irons or are lacking confidence in your ability to use one, an automatic curler is the way to go.
This is a cool tulip-shaped contraption that curls hair for you. Though it takes some time to get the hang of it, you will be rewarded with natural-looking curls that look like they came straight out of a salon.
After feeding a small section of your strands into the 1-inch ceramic rotating barrel, you only need to press a button on the curler and wait a few seconds as it wraps your hair around the barrel.
You can switch up the directions so your curls look more natural. And you need not worry about ripping out your hair because it has a sensor that lets you know when you've fed too much hair around the barrel. The strands are not locked in place so you can release them anytime and the automatic curler chimes when the curl is set.
The CHI automatic curling iron is designed to be scald-free because the inner chamber is covered by a barrier to protect your hands from the heat. It has a digital temperature display and adjustable temperature settings to give you more control when you curl your hair. The ceramic barrel uses far infrared heat and negative ion technology for healthy and frizz-free curls.
The CHI Spin N Curl does have a learning curve and it's not suitable for short hair. The barrel only comes in one size (one inch) so you can't create bigger waves, which is a bit of a letdown. Also, the shape of the curler prevents you from getting close to the roots so you can't add volume to your crown. However, the curler works great for most users that it's well worth these caveats.
Pros
An automatic curler with a 1-inch ceramic barrel
Wraps the hair automatically and a beep alerts you when the curl is done
There are options to change the curl direction
Has a tangle-proof mechanism and a scald-proof design
Comes with adjustable heat settings and a temperature display
Cons
Takes a while to get used to the curling process
Comes in one size only
Does not get close to the roots
T3 – Whirl Trio Interchangeable Styling Wand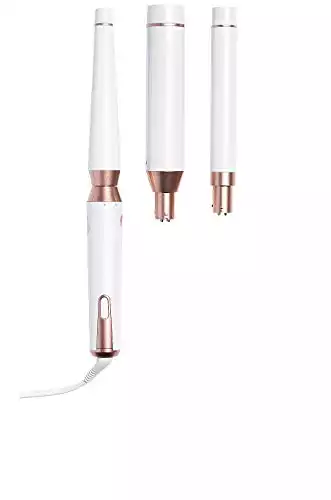 T3 - Whirl Trio Interchangeable Styling Wand
5 Heat Settings
3 Interchangeable Wands
Heat Resistant Glove and Mat
Cool Tip
Tourmaline® and Ceramic technology
SinglePass™ technology
60-minute Auto Shut Off
360° Swivel Cord
Auto World Voltage
Buy from Amazon
Buy from T3
We earn a commission if you click this link and make a purchase at no additional cost to you.
If your curl preferences are as temperamental as a mood ring, this is perhaps the best curling wand for you. The T3 Whirl Trio Interchangeable Styling Wandcomes with three interchangeable barrels, namely a tapered barrel, a thick straight barrel and a thinner barrel. This set gives you endless possibilities. For big curls, I recommend the thickest barrel.
T3 equipped these custom blend ceramic barrels with its Digital SinglePass Technology. An internal microchip regulates the temperature of the curling wand so hair stays healthy as you curl it. And since these barrels are made of ceramic, they emit good-for-hair negative ions that polishes the cuticle.
For precise control, the curling wand also comes with 5 adjustable heat settings from 260°F to 410°F. These options make for long-lasting curls whatever your hair type. The wand is easy to use, as well. The cool tip prevents nasty burns while a stand stores the curling iron away from vulnerable surfaces.
For more convenient and safe use, the styling wand also comes with a 9-foot swivel cord and a heat-resistant glove. You can leave your house in peace with the 1-hour auto shutoff feature. The T3 Whirl Trio Interchangeable Styling Wand is capable of worldwide voltage, so it's a good travel companion, as well.
The glaring downside to this curling wand is the premium price tag. It's quite a splurge but if you can swallow the cost, you'll be covered in the curl department every time you need to glam up. Aside from that, another tiny quibble I have with the curling wand is the lack of a readout display. Overall, though, it's a high-quality product that deserves a spot on your vanity.
Pros
A curling wand with three interchangeable barrels
Has a internal temperature regulator to prevent heat damage
The barrels are made of ceramic with negative ion technology
Comes with 5 adjustable heat settings from 260°F to 410°F
Has a cool tip, a safety stand and an auto shutoff feature
Cons
A premium product with a high price tag
Does not come with a temperature readout
Curling Irons for Making Big Waves: A Buyer's Guide
Why should I get a curling iron if I want big curls?
Using a curling iron or styling wand, instead of a flat iron, is better if you're after a certain type of curl for your hair. It produces shapely big curls with no crimps or creases. It gives even cover to the length of the hair. A good curling iron helps curls stay intact, instead of falling out after a few hours.
You can choose from different curling iron barrel sizes, too, so you can go as big or as small as you want with your curls. A curling iron or curling wand is easy to use and makes creating natural-looking waves a straightforward process. No more overthinking or burnt fingers!
How do I choose the best curling iron for big curls?
Barrel Size
The size of the barrel matters when you want to create big, long-lasting curls. A large barrel circumference yields large curls. A barrel size of around 1 to 1.5 inches and above is ideal for loose curls and waves. The curls that these bigger curling irons produce will be voluminous, messy, and beachy. Do note that this kind of barrel is best for medium to long hair because it will be too large to create big curls in short hair.
Curler Type
Curling tools are grouped into 3 main categories. The best type of curling tool for you will depend on what kind of curls you want to achieve and how proficient your are with hot tools.
Curling Irons
A curling iron is a traditional curler that has a clamp to keep your hair in place. You can easily find a curling iron in retail stores and online shops and they come in a wide range of sizes. The clamp helps with the curling process and it makes the curling iron easy to use. The barrel of a curling iron creates even curls and waves. However, there's also the risk of leaving a kink or crease in your curls with a curling iron due to its clamp.
Curling Wands
Curling wands are clamp-free curlers. This means you have to manually wrap your hair around the barrel and hold it so your big curls can set. While this takes a bit of practice and can be very difficult if you're a novice, the resulting big curls will look more natural.
Using a curling wand also carries less risk of breakage and split ends because the tips don't get exposed to the heat of the barrel. A curling wand also lets you get close to the roots. Creases aren't an issue, either.
However, it does come with a caveat: a curling wand won't produce even curls because it can't curl the ends of the hair. This is only a disadvantage if you want uniform curls from the roots to the tips of your hair.
Automatic Curlers
An automatic curling machine is easy to use, making it ideal for curling newbies. It has an internal heat chamber that takes in sections of hair and winds up the strands for you. After it heats up the hair wrapped around its barrel, the locks can be released.
It's a simple process but it takes a while to get used to an automatic curler. This styling machine produces good and long-lasting results but also carries a higher price tag than traditional curling irons.
Shape
Curling irons and wands come in different shapes, each with its own advantage.
Cone-shaped wands have a tapered barrel. These styling wands either have thicker base with a thin tip or a thin base with a wider tip. You can create different curl sizes with this curling iron shape or combine two curl sizes in one section of hair. The tapered barrel can curl hair into beachy waves or romantic styles with a large spiral at the bottom.
You will find straight barrels in many curling irons. These are best for creating uniformly-shaped big curls from top to bottom.
Spiral barrels are another common curling iron shape. These barrels create a defined screw-like structure to your big curls.
Yet another inventive curling iron shape is the pearl-shaped wand. These look like pearl-like spheres stacked on top of each other. The barrel creates a natural curl without a defined pattern.
Material
Ceramic
Ceramic is one of the most popular curling iron materials. It's safe to use and gentle on hair. It also transfers heat evenly and releases negative ions that condition and smooth down the hair for frizz-free and long-lasting curls.
Tourmaline
Tourmaline is usually paired with ceramic to boost its negative ion output. It's a semiprecious stone that tamps down frizz and makes hair smoother. If you have fine or damaged hair, a tourmaline ceramic curling iron is the best choice for lustrous, natural-looking curls.
Titanium
Got hair that just won't hold a curl? A titanium curling iron will keep those strands in line. It maintains a high temperature and curls coarse hair very well. Titanium heats up fast and lasts a long time and it's one of the best materials for durable hot tools.
Heat Setting
Variable heat settings are key in preventing hair damage. It's essential that you pick the right temperature for your hair type whether you have straight hair or curly hair or anywhere in between. Thin hair can't tolerate high heat for a long time while thick and coarse hair needs higher temperatures to form a curl.
Final Thoughts
While creating loose curls isn't exactly rocket science, these handy curling irons take the guesswork out of styling your hair. My personal favorite curling iron and in my opinion, the best of this bunch is the BaBylissPRO Nano Titanium Spring Curling Iron.
This curling iron has no big downsides. The barrel is the perfect size for big, loose waves. Titanium is not only durable but a negative ion generator that smooths your curls. With 50 heat settings, you can set a suitable temperature for your hair type. It works great every time if you want loose and casual waves.
It's one of the best curling irons I've seen and it won't cost you an arm and a leg. Check it out if you're looking for the best curling iron for big waves.
Leah Williams
Leah Williams is the founder of Lucky Curl and has been in the hair care and styling industry for the last 15 years. Since then, she has developed incredible expertise and a deep understanding of how to treat and style the most difficult hair types and is passionate about sharing her knowledge with the readers of Lucky Curl.