I often consider curling wands (regardless of their design) as equipment that will give me different types of curls. Apparently, I had to learn a lot about their uses, including the bubble curling wand. Who would have thought that they have different functions and features? I had to correct my mistake so I had to do a little digging about this unique product.
What is a Bubble Curling Wand?
As the name suggests, this curling wand with a bubble-shaped rod is ideal for those who want to have that Instagram-worthy, bed head rock n roller waves. This is perfect for those who are just starting out with a curling wand since it teaches you where to loop your hair to achieve the desired curls. Follow the placement of the balls on the wand so you will know where to guide your hair when using it. However, your hair needs to be longer to achieve the full benefits of this curling wand. You can go with one that has a clip to secure your hair strands or without one if you are adept at using curling equipment already. Just see to it that you are wounding your hair on the skinny portions of the rod to produce those beachy waves that you like.
Factors to Consider when Buying One
It is not going to be easy when searching for a curling wand that has a bubble design since there are quite a number of options to consider. Unless you are able to inspect the item personally prior to purchasing, it would help to consider a few factors to land the best one for you.
Barrel Size.
The size of the barrel is important based on the length as well as the thickness of your hair. A good rule of thumb here is that, if you have thick hair, avoid the curling wand that is short and has a small barrel since it will not be able to accommodate your thick mane. Make it a point to select a barrel size that is appropriate for the type of hair that you have.
Adaptability.
Another factor that you should keep an eye out for is whether the curling iron can provide you with different styles of curls. There are those that have interchangeable heads but they will not be cheap. Consider your needs especially when it comes to the types of curls that you want to have, so you will be able t choose a wand appropriately.
Weight.
How heavy the product is the more tired your hands will be. You wouldn't want to end up straining your hands and arms as you try to achieve those picture-perfect curls, right? Look for one that is lightweight and easy to maneuver so you can curl your hair faster.
Materials.
It is important that you choose a curling iron that is made from strong and sturdy materials. Nanoceramic wands are quite popular because of their sturdiness. It would help to read reviews about curling irons so you will know what will work best for the kind of mane that you have.
Price.
Price is always a factor whenever we want to get something. Hot tools don't necessarily come in cheap, but the expensive ones don't always mean that they are the best in the market. Compare rates and features first before making any final decision.
Heat Glove or Clasp.
If you are going to use a curling wand that doesn't have any clasp then it should have or you must use a heat glove to avoid burning your hands. On the other hand, if you prefer a wand bubble that will leave your fingers burn-free, then go with one that comes with a clasp.
How to Use It
Curling wands like the one with the bubble rod design should not be taken lightly especially when they can make or break your hair styling needs. Fortunately, the curling wand is not that difficult to follow. Here's what you need to do:
Prep your mane.
If your hair type doesn't hold any curls, it would be better to prep your mane first. Apply heat protectant and settling spray to hold the curls throughout the day. Do not forget that the heat protectant solution before you curl your mane to avoid damaging it.
Section your hair.
Start sectioning your hair strands into manageable groups. Experts recommend that you start with 2″ for each section.
Start wrapping.
You can either wrap your hair clockwise or counter-clockwise depending on what direction you want your curls to go. If you are aiming for thicker waves, then your hair section should be wrapped in the bubbles. On the other hand, if you want tight curls, then wrap them in between the bubbles.
Wrap as close to the ends.
You wouldn't want your curls to look half done because you didn't wrap the ends completely. You can use the gloves that are included in the package to ensure that you don't burn your fingers while wrapping your mane close to the end.
Release your hair and allow it to cool.
Give your mane a few seconds for it to cool down before you start styling.
Best Bubble Curling Wands for Perfect Curls
The bubble wand is no doubt a fascinating piece of equipment for styling your hair, but with the variety of styles out there, it won't be easy to make any decisions just yet. If this is your first time to consider getting a hair curling iron ball, you can start with these options.
Bed Head Rock N' Roller Curling Wand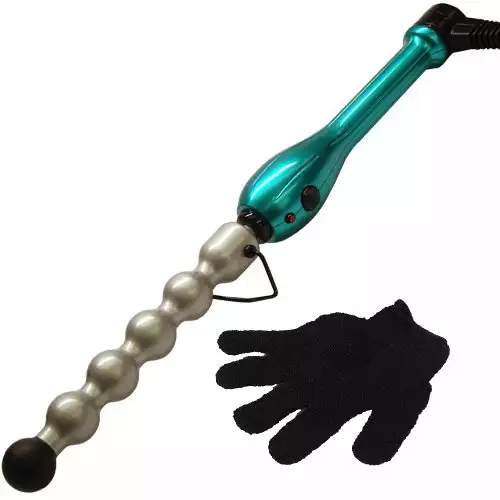 Bed Head Rock N' Roller Curling Wand for Tousled Waves and Texture, Regular Barrel
Tourmaline, Ceramic Technology on Barrel for Reduced Frizz and Massive Shine
Round Barrel for Tousled Waves & Texture
High Heat of Up to 400 degree Fahrenheit (because we know you like it hot) & Dual Voltage
Bonus Heat Protective Glove for Worry Free Styling
Tangle Free 6 feet Swivel Cord
Buy from Amazon
We earn a commission if you click this link and make a purchase at no additional cost to you.
11/15/2023 08:30 am GMT
If you want a curling wand for tousled waves then this is a good option to start with. This example of hot tools can be quite hot since it can reach 400 degrees Fahrenheit. Fortunately, you don't have to worry about burning your fingers since this curling wand set comes with a heat-protective glove. Use the glove as you wind your hair around the bubbles or in between to achieve your desired curls. Even if you are just a first-timer, you can use this wand without any fuss since you can wrap your hair around the bubbles or in between. No need to mess with clamps here. Just wear your protective glove and start wrapping!
Another reason why this is a good option to consider is that it comes with multiple heat settings. This makes it handy for different types of hair since you will be able to control the temperature. It makes use of tourmaline ceramic technology so you can style your mane without worrying about frizz. If you want to have more defined curls, wrap each section of your mane between the bubbles. On the other hand, you can achieve tousled waves by wrapping your hair around the bubbles.
Pros:
It can reach up to 400 degrees Fahrenheit.
It comes with a heat protectant glove.
Can provide you with two different curls in a single curler.
Cons:
It may take a while to get used to it since it doesn't have any clamps.
It doesn't work well with those who have thick hair.
It doesn't really stay on the entire time.
Revlon Salon High Heat Hair Curling Iron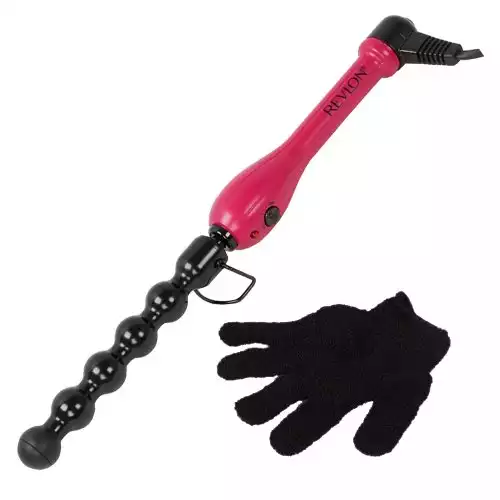 REVLON Salon High Heat Hair Curling Iron Ball Wand
Unique ball shaped barrel for loose, natural looking curls
420°F Salon High Heat
Multiple Heat Settings Provide Precise Control for all Hair Types
Cool Tip for Easy Grip
Heat-resistant Glove Included
Buy from Amazon
We earn a commission if you click this link and make a purchase at no additional cost to you.
Revlon's bubble curling wand can go beyond the 400 degrees Fahrenheit mark which makes it a good option for those who want to style their hair real quick. Like before, it also comes with a glove to stop you from burning yourself accidentally while you are giving yourself nice curls. Revlon is considered a household name already since it is a brand the delivers high-quality makeup and styling products including a curling wand. Their curling iron is a big deal already since it is designed with the customer in mind. If you will notice, this product also comes with multiple heat settings which come in handy to avoid burning your strands off.
If you are aiming for loose curls, the unique design of the balls is sure to give you those natural beach waves that you want without any fuss. This doesn't come with any clasp so wearing a heat resistant glove is recommended especially when curling your hair around the barrel. This will give you the tousled waves and texture once you have completed curling each section of your mane.
Pros:
It can reach up to 420 degrees Fahrenheit.
It can give you loose waves.
Multiple heat settings for better control over the temperature.
Cons:
It doesn't heat up very well.
It will not work well on thick hair.
It is hard to use on thin short mane.
L'Ange Hair Le Perle Bubble Curling Wand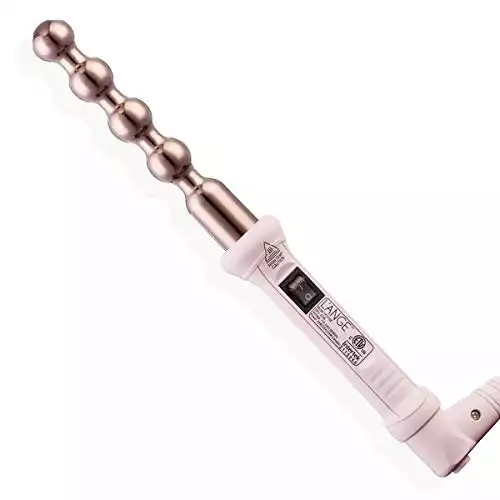 Lightweight and ergonomic in design, this bubble curling iron ball wand is another option to consider if you are aiming for no-fuss beach waves or tight curls. Its unique barrel design coupled with a soft grip handle and swivel cord make it easier for you to hold and curl your hair within a few minutes. It heats up real quick so you won't be wasting time before the barrel head is hot enough to curl your strands. Thanks to the titanium barrel, it will only take a few seconds to reach the desired temperature. It is a dual voltage curling iron so you can use it anywhere you go. It also comes with a glove that is heat resistant to give your hand protection from the hot barrel as you press down on the ends to complete the style.
For those who will be using this product, remember that the handle should be pointing upwards while the tip is pointing towards the floor. If you are aiming for more volume, bring the handle close to the roots of your hair to give it a lift. You only need to wrap your strands for 5 to 10 seconds especially when it is in high heat to prevent damage. You can actually choose which way you are going to wrap your strands on the barrel. If you are unsure of which direction you want, why not use both? This way, you will have more body and texture to your mane.
Pros:
Lightweight and ergonomic design prevents hand fatigue.
Titanium barrel heats up quickly.
Dual voltage making it handy in different countries.
Cons:
This curling wand can become way too hot to handle.
It doesn't work properly with long and thick hair.
Heat adjustment is missing.
KIPOZI 1 inch Bubble Curling Wand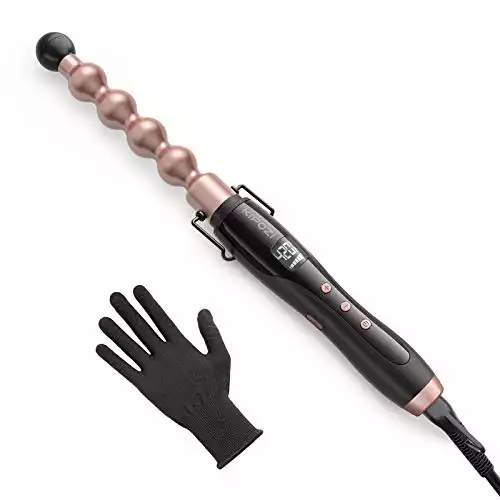 Another option to consider if you want a bubble curling iron that can provide you with a variety of curls is from Kipozi. You can have big curls, tight curls, or those loose waves that look more natural with just a single tool with the style holding for hours. The temperature can range from 260 degrees Fahrenheit to 420 degrees Fahrenheit which you can view from the built-in LCD screen. No need to second guess how hot the barrel is since the LCD panel will reflect the current temperature. It does come with 9 temperature settings so feel free to try it on different hair types.
The tourmaline ceramic coated barrel traps the moisture inside to prevent frizz from happening. And since this device heats up real quick, you won't have to spend hours just to style your mane. It does come with an auto shut-off feature which is important for any hot tools to avoid sparks or burning your dresser with it. The resting stand keeps the barrel away from the surface which is another safety measure to look into. It also comes with a glove that is resistant to heat so you can hold the tip of your mane on the rod without getting burned. It also comes with two voltages so you can bring it with you as you travel.
Pros:
Versatile bubble iron curling equipment for different types of curls.
LCD screen displays the current temperature of the rod.
Tourmaline ceramic-coated barrel heats up quickly but prevents damage to your strands.
Cons:
The glove doesn't work well in protecting your hand from the heat.
It will take time to learn how to handle this product.
It gets extremely hot.
Conclusion
Which is the best wand bubble curling equipment to get among these brands? I would go with KIPOZI 1inch Bubble Curling Wand. What made it stood out for me is the fact that it comes with an auto shut-off feature that the others don't have. Since you are using a styling tool that makes use of heat, there should be a safety feature in place. Also, it comes with multiple heat settings making it useful too for different hair types. It has an LCD screen that tells you how hot the barrel already is, plus, the tourmaline ceramic makes it easier for you to style your hair since it heats up evenly. For its price, this is already a good buy especially for the best bubble wand.
Leah Williams
Leah Williams is the founder of Lucky Curl and has been in the hair care and styling industry for the last 15 years. Since then, she has developed incredible expertise and a deep understanding of how to treat and style the most difficult hair types and is passionate about sharing her knowledge with the readers of Lucky Curl.