Crimpers and wavers are versatile curling tools that can help you achieve beautiful curls instantly. You can achieve any look you prefer with these amazing styling tools.
If you're wondering what is the difference between a hair crimper and a hair waver, Lucky Curl is here to help distinguish their main differences.
If you want to know the answer real quick…
The main difference between a waver and a crimper is the heated plates that create the waves. Hair crimpers use textured plates with gaps as small as 15 mm creating the smallest waves. On the other hand, hair wavers use barrels of different sizes so you can decide how big your curls should be. 
So, whatever type of curl you like, crimpers and wavers are your absolute friends!
Hair Waver vs Hair Crimper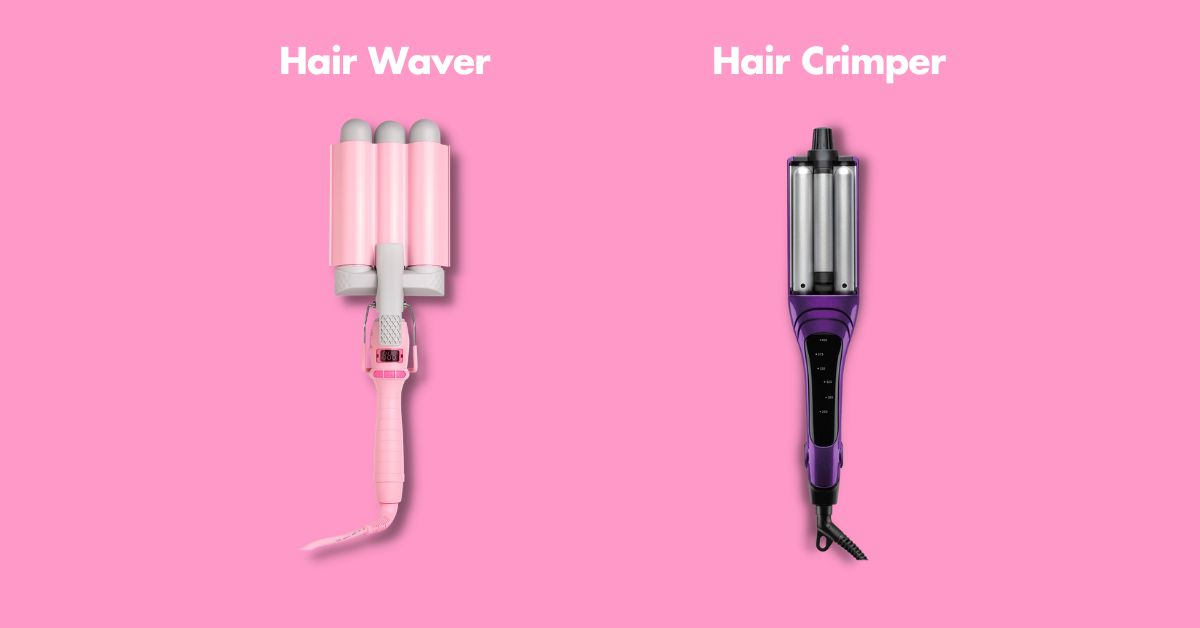 Hair crimpers and hair wavers work similarly in that they add shape to your hair. However, they differ in the effect they create.  With these curling tools, you can achieve beachy waves on any type of hair.
In this section, I'll focus on comparing the hair crimper and hair waver based on their types, material, performance, and hair results.
Types
Hair wavers come in various types – the most common is the deep waver and the triple waver.
The deep waver is an S barrel which means it uses a single barrel waver to curl the hair. Triple barrel wavers, on the other hand, use three barrels to create the curls you want.
As for the crimper, there are mini, standard, and wide types.
The mini crimper is the smallest type that helps you achieve a tight wavy look with a nice volume. Mini crimpers are suited to those with short hair. While standard crimpers are usually made with tourmaline and ceramic which prevents the hair from being damaged. And of course, wide crimpers are best for quick crimping and are also the most popular in the market.
You can certainly achieve any waves you desire with crimpers and wavers. Be it loose waves or beach waves!
Material
Any great hair wavers or crimpers are usually made with ceramic or tourmaline ceramic technology. The typical materials used in a curling iron.
Tourmaline makes your hair smooth and silkier after curling and ceramic glides through the hair without tugging at it.
In addition, the tourmaline ceramic technology releases negative ions preventing your hair from getting damaged.
Performance
As for the performance, it really depends on the type of crimper or the hair waver you're using, along with how you prepare your hair before curling.
Choosing high-quality curling irons guarantee excellent performance and the best results. Plus, you don't have to worry about breakage, frizz, and damaged hair.
On a side note…
You must choose a waving iron with multiple heat settings so you can easily adjust the temperature according to your hair type.
Hair Results
Mini crimpers are best for adding volume to your locks and can be used easily to lift the hair at the roots. All you have to do is crimp your hair close to the roots to achieve a fuller voluminous locks.
A good hair waver also promises excellent hair results. They're great for looser waves and natural-looking waves. I like using the hair waver for mermaid waves – the results are amazing!
Both the hair waver and hair crimper promises to deliver excellent hair results. You just have to pick the right one and decide what type of curling style do you want to go for.
So… is a crimper and a waver the same thing?
As mentioned earlier, the crimper and the waver work similarly in theory and practice – they're both heat styling tools!
Hair wavers are basically tripled barrelled curling irons that molds your hair into S wave shapes. With hair crimpers, your hair bends with the plates while clamping down, and heat locks in the shape.
It's really simple!
The good news is, hair wavers create less frizz and flyways compared to traditional curling irons. Also, they can be used in curly hair for achieving loose curls without straightening them first.
Conclusion
Overall, hair crimpers and hair wavers provide great styling versatility to your hair. Both are excellent hot tools that give you the best curls no matter what your hair type.
As mentioned, the only difference between the two is the heating plates. The styling surface of a crimper is textured while that of a waver is smooth which is most ideal for chunky curls.
In addition, the hair waver is one of the regular curling wands you'll normally see when you visit a beauty store. And if you want to level up your hairstyle with a fuller voluminous look, then the hair crimper is your friend!
One last thing…
Be sure to use a heat protectant before getting anywhere near crimping irons or heat waver tools.
As a fair warning… you shouldn't crimp or wave your hair regularly to avoid hair damage in general. 
If you're on the search for the best hair waver in the market, check out our top-rated list!
Leah Williams
Leah Williams is the founder of Lucky Curl and has been in the hair care and styling industry for the last 15 years. Since then, she has developed incredible expertise and a deep understanding of how to treat and style the most difficult hair types and is passionate about sharing her knowledge with the readers of Lucky Curl.