Styling your hair doesn't have to be that tedious, especially when you want to change your look. Different curling irons can create an array of styles. As a matter of fact, barrel wavers help you make those beach waves you've always dreamed of without any effort. A hair waver may look intimidating to use, but even first-timers will find it an excellent tool to use for their hair.
With that in mind, we've rounded up 5 top-rated styling tools to find the best hair waver.
11/08/2022 12:36 am GMT
5 of the Best Hair Wavers for Perfect Beach Waves
If you want to have long-lasting waves, buying a barrel hair curling iron wand can help. But which one is right for you? It may be a bit tough to find the proper hair curler for you. That said, here's a quick review of hot tools that you might want to start with.
REVLON 3-Barrel Ceramic Jumbo Waver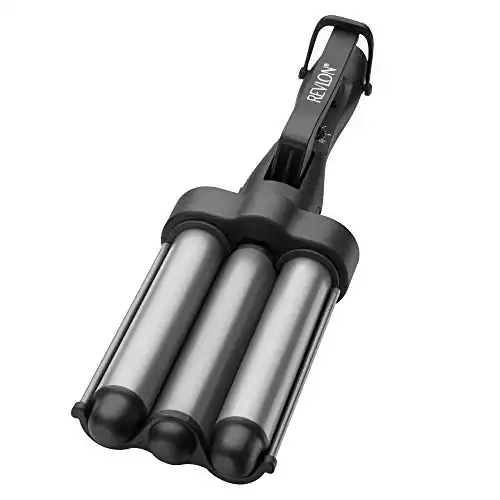 We earn a commission if you click this link and make a purchase at no additional cost to you.
This 3 barrel hair waver from Revlon is an excellent option to consider for those who have long hair. This is because it has three large barrels that can handle thicker hair. Aside from its size, you should choose this product because it comes with 30 heat settings that are perfect for all hair types. Regarding the barrels, they are made from tourmaline ceramic which is known to distribute heat evenly. It also helps protect your strands from the hot temperature while you style them.
An indicator light tells you that the iron is turned on and waiting to be heated up. Make sure that you choose the right setting based on your hair type to prevent it from getting damaged. Another thing that you will love about this jumbo hair waver is its long swivel cord. This comes in handy since it prevents you from getting tangled. And even tied to within a small area in your dresser because of a short cable.
Pros
Jumbo barrels speed up the process of curling your hair.
30 heat settings let you choose the right temperature for your tresses.
Tourmaline ceramic barrels protect your strands from getting damaged while delivering salon-like curls.
Cons
The barrel is a bit heavy.
Too time-consuming, even with thick hair.
It causes frizz to appear.
Bed Head A-Wave-We-Go Adjustable Hair Waver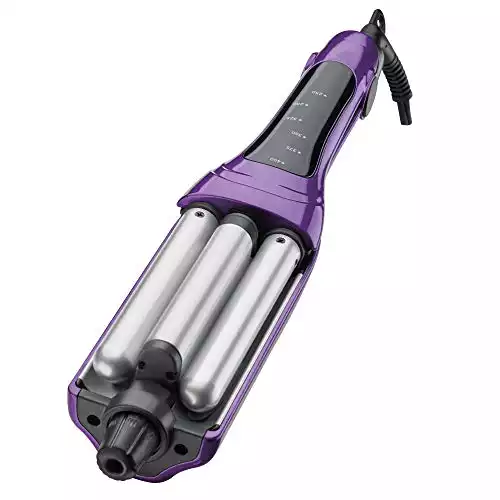 We earn a commission if you click this link and make a purchase at no additional cost to you.
If you want to be more playful with your hairstyle, this adjustable hair waver is a good choice. This three-barrel curling iron comes with adjustable barrels so you can decide whether you want loose or tight curls on your head. You can even adjust the barrels while they are still hot, which can help create different patterns on your mane. Like with Revlon, this 3 barrel adjustable hair waver is made from tourmaline ceramic, a famous pair given that the Tourmaline can protect your strands from further damage while taming your mane. In contrast, the ceramic distributes the high temperature evenly across the barrels.
Another feature that you will like about this tool is that it also comes with an adjustable temperature thanks to its multiple temperature settings. The highest it can get is up to 400 degrees Fahrenheit, but this should only be used in thick, coarse hair to ensure that the temperature from the barrels will suffice. It comes with an auto shut-off feature and a cool rotating tip. The best part? This is designed to be more compact, so you can bring it with you while you see the world.
Pros
Adjustable barrels make it easier to style your strands the way you want them.
Tourmaline ceramic technology ensures that there are no hot spots that can make your strands brittle
The auto shut-off feature adds protection, especially when you accidentally forgot to turn it off.
Cons
It doesn't have any safety features.
The cord tends to melt in high temperatures.
Conair Double Ceramic Triple Barrel Curl Styling Waver
Conair Double Ceramic Triple Barrel Curl Styling Waver
Triple Barrel Waver: Go ahead, play with your hair; This triple barrel waver, with outer barrels at 5/8" and the inner barrel at 1/2", creates gorgeous continuous waves to switch up your everyday...
Styling Control: Features 30 heat settings for every hair type and a Turbo Boost that adds up to a 27 degrees F burst of heat for difficult to style spots; Auto Off feature included.Single voltage
Smooth, Shiny Waves: This styling waver features Double Ceramic barrels with a higher ceramic content to deliver instant and consistent heat, fast styling and long lasting waves. If cleaning becomes...
Innovative Styling Tools: From curling irons and wands to flat irons, hot air brushes, auto curlers and more; Conair makes high quality styling tools for all hair types
Conair Hair Care: Since 1959, we have made innovative small appliances, hair styling tools, and more; Our hair care line includes high quality hair dryers, brushes, styling tools, and hair accessories
We earn a commission if you click this link and make a purchase at no additional cost to you.
Conair's double ceramic triple barrel hair waver comes with outer barrels measuring around 5/8 inches, while the inner barrel is 1/2 inches. You will love the continuous waves from this tool, and once you get the hang of it, you can come up with a variety of styles for your mane with just a single curling iron. To help you achieve this, Conair has equipped its barrel to waver with multiple temperature settings so you will be able to choose how hot the barrel should be before it touches your mane. A Turbo Boost feature also delivers up to 27 degrees Fahrenheit to your strands to style them quickly.
To achieve those professionally done curls, Conair offers this double ceramic feature since it speeds up the drying as well as getting those beach waves you've always wanted. It also comes with an auto shut-off feature to prevent a fire from breaking out. You will find that this product uses double ceramic technology to ensure that the high temperature is dispersed evenly throughout the barrels so that you don't have to waste time worrying about any damage to his mane.
Pros
Continuous waves ensure that your mane has been styled correctly.
30 temperature settings for everyone.
Higher ceramic materials are used to style the hair.
Cons
The deep wave style is missing.
The waves do not last long.
It doesn't get to the highest setting.
Alure – Three Barrel Curling Iron Wand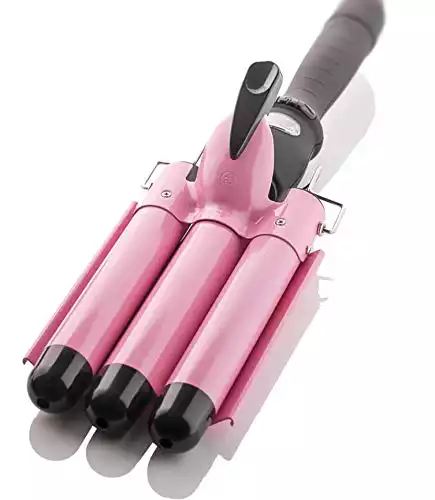 We earn a commission if you click this link and make a purchase at no additional cost to you.
Get that natural beachy waves with Alure's three-barrel curling iron wand. You can also use it to crimp your mane, which means that you can already mix and match your style with just this tool. It doesn't matter whether you have short or long hair, thick or even thin mane, you will find that this equipment can handle whatever hair types the rest have. The three barrels are the ones responsible for styling your hair easily. And because the ceramic can spread the temperature evenly, you don't have to worry about burnt strands. There won't be any frizz appearing on your head which is a plus.
What else makes this 3-barrel curling iron a good option? It can reach up to 200 degrees Fahrenheit real quick, so you don't have to waste precious time on your mane. The heated ceramic ensures that your hair remains intact as you glide the tool on your mane. There is an LCD screen installed on the handle for easy viewing. Add to this the fact that this product comes with a long rotating swivel cord, and you are all set to breathe new life into your mane.
Pros
Can curl or crimp your mane quickly.
It can be used on different hair types thanks to its temperature settings.
The double ceramic coating prevents any uneven heating.
Cons
Curling hair takes some time.
Most of the styles appear crimped rather than the beachy waves it promises.
The placement of the on and off button is not great.
Revlon Salon Deep Hair Waver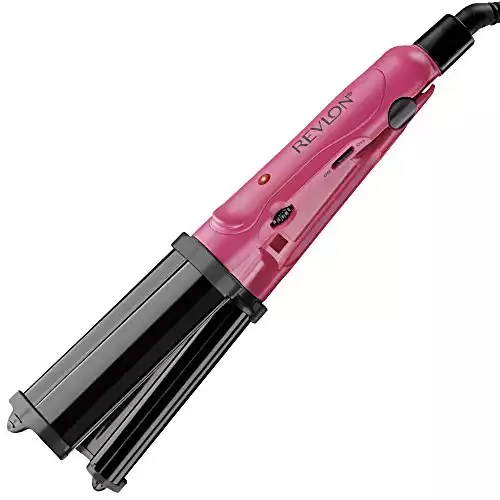 We earn a commission if you click this link and make a purchase at no additional cost to you.
If you aim for those elegant waves on your mane, why don't you try Revlon salon deep hair waver? It uses ceramic tourmaline technology that protects strands from the extreme temperature being driven out. Both ceramic and Tourmaline are known to be durable, and distribute the hot temperature in the barrel while keeping your strands safe. In addition, Tourmaline prevents you from burning your skin and your tresses too when using it. This is because the hot temperature is being dispersed safely so that your mane doesn't end up with frizz.
Don't forget that the Revlon salon deep hair waver comes with up to 30 heat settings, with 430 degrees Fahrenheit being the richest. This hair curling iron can be used regardless of what kind of hair you have. It comes with a cool grip feature which is helpful if you want to protect your strands. It is lightweight, thus making it more manageable or easy to use.
Pros
Deep hair waver that curls strands quickly and with minimal fuss.
Temperature settings let you choose how high the hot water goes.
The cool grip feature prevents you from burning your hands or fingers.
Cons
The barrel gets extremely hot.
It takes time to style your hair.
There is a noticeable crease at the end of testing on the hair.
What's the Difference Between the Best Hair Waver vs. a Regular Curling Iron?
A regular curling iron has a rounded barrel that clamps on a section of hair and uses heat to curl the strands. On the other hand, the three-barrel waver has its barrels fused with a lid that holds the hair as it gets curled. How they are used also differs from one another. For starters, the regular curling iron requires you to wrap a section of your hair around the barrel and then wait for a few seconds before sliding the curling rod downwards.
In the triple barrel hair waver, you clamp the lid down on the hair, which is held in place by the three barrels, and after a few seconds, it will reveal a triple curl! The downside to using this hair styling tool is that it is a bit bulky, so it isn't convenient to bring around like the regular curling iron. On a good note, if you want to achieve curly hair quickly, then this is an excellent option to consider.
Things to Consider when Buying a Hair Waver
Hot tools, like the barrel, waver curling iron, help speed up the hairstyling process, especially when your goal is to have beachy waves fast. But before you do grab the first 3 barrel waver hair curler, there are a few things that you need to consider for this styling tool so you will get your money's worth.
Barrel Size – The size of the barrel should match your hair type. For example, if you have shorter hair, your best bet is to buy one that has smaller barrels. On the other hand, if your hair is long and thick, the bigger the barrels, the better.
Technology – You should also consider what technology is used in the barrel curling iron wand. Teflon is known for distributing heat evenly, while this ceramic ionic is known to protect your hair from damage. On the other hand, Tourmaline reduces the heat damage your mane is exposed to while the negative ions help stop frizz from forming. If you want a durable styling tool, then the one made from titanium is highly recommended.
Temperature Control – It is always a good idea to choose a three-barrel curling iron that comes with temperature control. This feature gives you more control over the amount of heat delivered to your strands. Take note that you shouldn't set the iron to high as much as possible since the extreme heat can easily damage your strands.
Auto Shut-off – If you have the tendency to forget that your styling tools are still plugged in when you rush to your office in the morning, then this feature is a must. Some of these hair tools shut off after an hour of being in idle mode. This way, you don't have to worry about burning the surface of your dresser where you have placed it.
Weight – A barrel waver can have two to three barrels which means that there will be an added weight to them. If you don't want to end up with hand fatigue, it would be better to choose one that is lightweight.
Longer Cord – It won't be easy using a hot tool with a short cord. As much as possible, choose one that has 5 to 7 feet of cable for you to move the equipment safely.
Price – Since this curling iron is designed to have two to three barrels, the price will be a bit higher than the regular one. Before you make the purchase, read a review about it and get feedback to know whether the wave barrels you are interested in are worth the price you are going to pay.
Comfortable Grip – Go for a hair curling iron that offers a good and comfortable grip, so you will be able to control your waves better since you won't get tired quickly.
Display – If you don't want to end up guessing how hot the barrels are, look for one that comes with an LCD display on the handle. The screen will immediately tell you the temperature of the barrels so you can adjust them accordingly.
These are just a few factors to consider when searching for the best hair waver to use on your hair. The beauty of the three-barrel hair curler is that you don't have to spend several minutes wrapping one section of your hair around the barrel to make curls.
Conclusion
For those who want to have long-lasting waves using any barrel hair product, I suggest that you go with Alure. The triple barrel setup helped speed up the otherwise very long styling period. You only need to clamp the lid on your mane, wait for a few seconds, and that's it. The barrels can get pretty hot, so be careful when handling them. There is an LCD screen that displays the current temperature.
Leah Williams
Leah Williams is the founder of Lucky Curl and has been in the hair care and styling industry for the last 15 years. Since then, she has developed incredible expertise and a deep understanding of how to treat and style the most difficult hair types and is passionate about sharing her knowledge with the readers of Lucky Curl.