Sometimes a traditional curling iron just won't do when you want structured spirals or tight spiral curls. A spiral curling iron is designed specifically for creating tight and defined curls. But before you buy, it is important to know how to use a spiral curling iron. More importantly, what curling tricks can you try to achieve perfect curls that last?  All your burning questions about spiral curls will be answered in this guide:
How to Use a Spiral Curling Iron – 5 Easy Tips
A spiral curling iron is similar to a traditional curling wand. Protecting your hair is the most important part of the curling process so be sure to prepare your tresses beforehand. After washing (shampooing and conditioning) and drying your hair, apply your favorite heat protecting serum.
Divide your hair into small sections. If you are after defined curls or ringlets, the hair section should be even smaller. Wrap a hair section at the end of the curling iron then twist the curling iron up and around to set the hair in place. The grooves of the spiral curling iron will serve as the guide to wrap the hair around on for uniformity. 
Hold the hair section for 10 seconds or so, release then move on to the next hair section. Repeat until you're done curling your hair. Add the finishing touches – hairspray, mousse, etc. shake your curls and you're done. 
1. Work Your Hair in Sections
Dividing the hair into smaller sections can be a drag when you're running late or feeling lazy in the morning but do not skip this step. Especially for those with long hair or thick hair, this will help make the curling process more manageable.
If you skipped this step, your tresses will be too thick to curl. The heat won't be applied evenly on the hair, which can lead to odd shaped curls or curls that go limp in minutes. Even if you're using the best curling wand, it will be a challenge to style your hair without working in sections. When curling your hair, start with the lower sections first then work your way up to the crown. Remember, the smaller the hair section, the tighter the curls so experiment until you get the perfect curls. 
2. Pump Up the Volume
If your hair is pin-straight, limp, or naturally thin and you'd like to pump up the volume, then try this trick: create tighter curls on the underside of the hair. The tighter, more defined curls on the underside of the hair will lift the curls near the crown for fuller, bouncier results. If you're after a more natural yet voluminous look, try curling your hair in the direction away from your face on either side. This trick creates natural yet fuller curls that frame the face perfectly.
3. Do the Twist!
If you love the look of smooth spiral curls then twist a section of your hair first before you wrap it around the hair curler. The twist will set your hair in place, helping you create smaller, more defined curls. This trick is also perfect if you have limp or thin hair. The more defined the curls, the fuller the final look!
4. Start from the Roots
If you want to achieve voluminous curls that last all day and night, curl your hair as close to the roots as possible. This might take more elbow grease but trust me, curling your hair closer to the roots will boost the longevity of the curls because the heat is concentrated on the base of the hair strands. I highly suggest using a heat protecting glove if your curler does not have a cool tip so you have more control over your hot tools. You don't want to burn yourself by accident as you curl your hair near the roots. 
5. Set Your Curls Properly
To get the perfect curl that lasts, you have to set your curls properly. Resist the temptation of running your fingers through your curls after releasing the hair section. Brushing the just-released curls is a NO-NO!
Give the just-released curls enough time to cool first so you don't lose the definition. This is an important step if you are trying to create any type of defined curls such as spiral curls. Apart from giving your hair enough time to cool and set, mist your hair with hairspray to set the curls in place.
The Best Spiral Curling Iron for Fine Hair
Curling fine hair might seem like next to impossible for some people but with the right styling tool, anything's possible. One thing to keep in mind when searching for the best spiral curling iron for fine hair is the temperature settings. Choose a device that offers plenty of customization options especially if your hair is fine and prone to styling damage.
To minimize the risk of hair damage, be more deliberate with your speed as you style your hair. Slow down, experiment with different temperatures, always use a heat protecting product to retain the health of your hair and use a heat resistant glove to avoid burns.
5 Best Spiral Curling Irons for Fine Hair
1. REVLON Salon High Heat Curling Iron
The REVLON Salon High Heat Curling Iron is the best tool for creating spiral curls on defiant, fine hair. The size of the bubble barrel is perfect for creating loose and defined spiral curls alike! With it, you can create everything from whimsical waves, spiral curls to ringlets. It heats up quickly so styling in the morning is faster and more efficient. The ceramic barrel distributes heat evenly for quick and gorgeous results.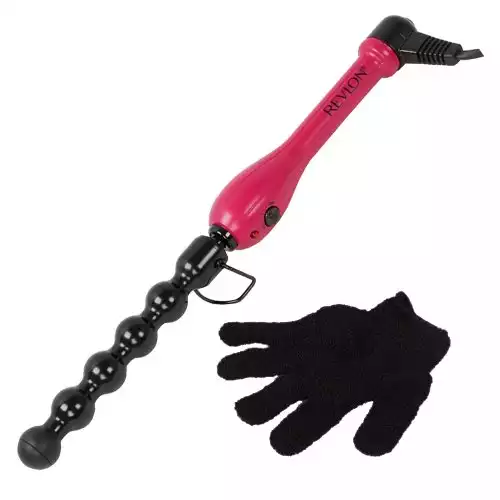 We earn a commission if you click this link and make a purchase at no additional cost to you.
2. Conair Instant Heat Spiral Curling Iron
The Conair Instant Heat Spiral Curling Iron is the perfect styling tool for creating tight, defined curls, dreamy tendrils, and shiny spirals! It offers 25 different heat settings so the Instant Heat spiral curling iron is perfect for any hair type, including fine hair. It features a Turbo Heat functionality that raises the temperature to speed up your styling process with zero hair damage. What's more, this curling iron comes with a 30-second instant heat up option and auto shut-off feature for convenient, not to mention, worry-free styling.

We earn a commission if you click this link and make a purchase at no additional cost to you.
3. Bed Head Rock N' Roller Curling Wand
Creating shiny, silky spiral curls is so easy and quick with the Bed Head Rock N Roller Curling Wand. The bubble-shaped barrel is sized just right for creating textured waves, tight curls, tousled waves, and everything in between! The Rock N' Roller Curling Wand heats up to 400 degrees F, the perfect temperature for curling the most stubborn tresses. It's quite versatile too, it works for individuals with thin or fine hair as well because of the multiple heat options.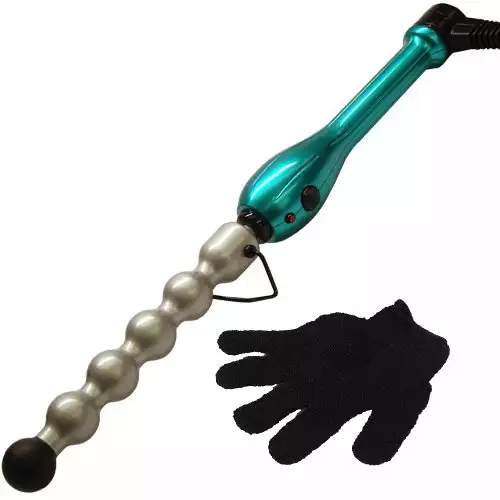 We earn a commission if you click this link and make a purchase at no additional cost to you.
4. BaBylissPRO Nano Titanium Spring Curling Iron
Featuring advanced technologies, the BaBylissPRO Nano Titanium Spring Curling Iron is engineered to give you gorgeous, bouncy spirals, curls and waves that last. The PRO is available in three barrel sizes, .75, 1-inch, and 1 1/2 inch so it works for every hair length. The surface of the barrel has a nice slip for tangle-free styling. If you have fine hair then you will love the PRO's 50 heat settings. You could customize the perfect temperature from curling your delicate locks without damage or frizz.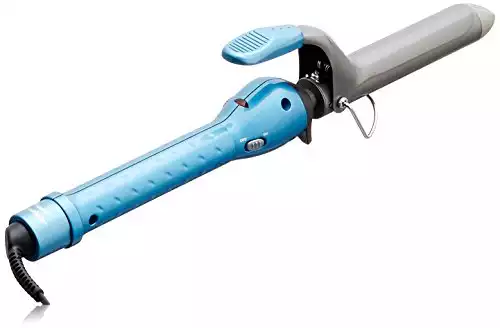 We earn a commission if you click this link and make a purchase at no additional cost to you.
5. Bio Ionic Curl Expert Pro Curling Iron
If your hair is fine and prone to dryness, you need a curling iron that delivers healthy heat to lock in moisture for damage-free styling.
It's a tad expensive but the BIO IONIC Curl Expert Pro is the best styling tool for anyone with dry, fine, and/or damage-prone hair. The device is infused with volcanic rock material that keeps the hair cuticles smooth for luscious curls. The gentle heat does not dry out the hair at all. What's more, the Bio Ionic Curl Expert Pro's bio-ceramic barrel produces negative ions to keep your hair frizz and static-free. All you get are luscious, silky curls!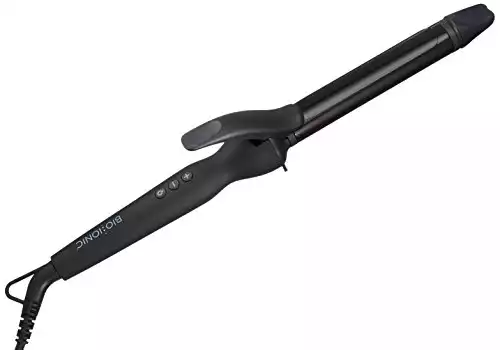 What is a Spiral Curling Iron?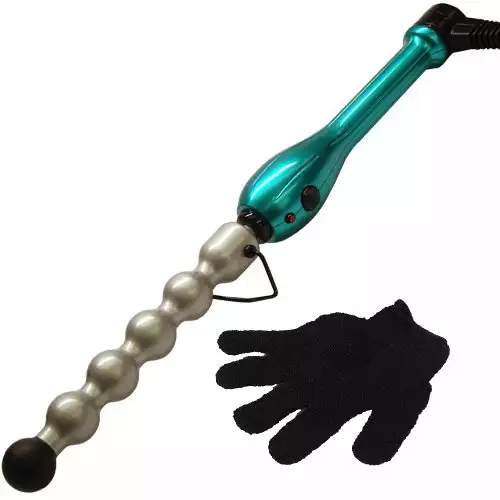 We earn a commission if you click this link and make a purchase at no additional cost to you.
A spiral curling iron is a styling tool that's designed for creating defined curls using heat. A spiral curling iron has different sized barrels to create different types of curls. The general rule is, the smaller the barrels, the tighter the curls. Most spiral curling wands are made with ceramic, ceramic-tourmaline, and titanium material. There are some that are coated with Teflon too.
Types of Spiral Curling Iron
The design of the spiral curling wand affects the texture and quality of the curls. Here are some of the most common types of spiral curling irons you could find on the market:
Bubble Wand
This styling tool features a beaded wand for creating everything from textured curls to relaxed waves. There are two ways to use a bubble wand; you could either wrap a hair section in the spaces between the beads for tight, spiral curls or wrap a hair section around the beads for relaxed waves.
Spiral Barrel
This curling iron features a spiral-shaped wand that holds the hair section in place for uniform, defined spiral curls. The time it takes to apply the heat will affect the appearance and size of the curls. To create soft, relaxed spiral curls, hold the hair section on the barrel for 5 to 10 seconds. For tighter, more defined curls, hold the hair on the barrel for 15 to 20 seconds.
Chopstick Barrel
This curling iron features an ultra-skinny curling wand. This is the perfect hair styling tool to get if you're all about ringlets, corkscrew curls, and tight, spiral curls.
Tapered Barrel
This curling iron has a wand with a wider base and a narrow end for creating defined or full-bodied, spiral curls. You can control the size of the curls depending on which end you use for heat styling. If you wrapped your hair on the narrow end, you get tight curls. On the other hand, if you curled your hair at the wider base, you get bigger curls. You could also wrap your hair from the base to the end of the tapered barrel to create voluminous yet defined spiral curls!
Conclusion
Spiral curls are perfect for people with fine hair because the curls give the illusion of thickness and lushness. Because fine hair is more prone to damage, opt for a gentler styling tool that offers plenty of temperature options. To ensure longevity, get a styling tool that produces gentle, even heat!
It's important to remember that spiral curling irons are really suited to those after tight, bouncy curls. If you are after a styling tool that provides loose curls, you would be better off looking for a thicker curling iron.
Leah Williams
Leah Williams is the founder of Lucky Curl and has been in the hair care and styling industry for the last 15 years. Since then, she has developed incredible expertise and a deep understanding of how to treat and style the most difficult hair types and is passionate about sharing her knowledge with the readers of Lucky Curl.