If you've been styling your hair for ages then you are probably familiar with the eternal debate: ceramic vs titanium curling iron, which is the better choice?
While both barrel materials are popular for different reasons, each one has its own pros and cons. And depending on your hair type and styling needs, one could be better than the other.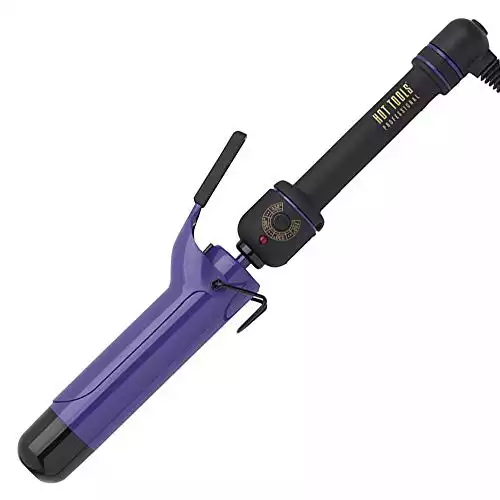 Choosing the wrong hot tools is incredibly damaging to the hair. This goes especially for people with damaged-prone, delicate, or chemically treated tresses.
Still confused? That's what we're here for! In this guide, let's take a look at all the important factors you need to know about these curling wand materials to find out which suits your needs the best.
What's the Difference Between a Ceramic vs Titanium Curling Iron?
A ceramic curler has a smooth surface and curls hair without dragging or pulling. It's a gentle heating material, which is why it's a favorite among people of all hair types and those who style their hair on the regular. It prevents damage by evenly distributing heat and dispersing negative ions which keep hair smooth and shiny.
A titanium curling iron is highly efficient at heat transfer. Titanium is a durable material favored by hairstylists because it reaches high temperatures and retains it with little to no downtime. Titanium, like ceramic, injects negative ions into the hair strand which keep frizz and static at bay.
To sum it up, go for a ceramic curler if you have hair that holds a curl easily or is fine and prone to damage. A titanium curling iron is better for coarse, thick, or curly hair.
Ceramic Curling Irons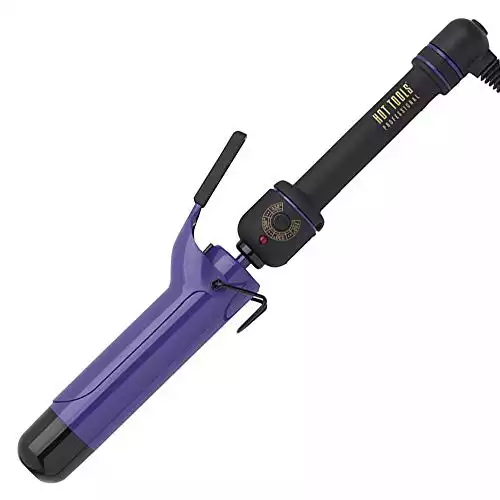 Best for: fine, delicate, or damage-prone hair. Ideal for users who style their hair every day because of the gentle, even heat distribution.
Pros:
Produces negative ions that smoothen hair cuticles for a silky finish
Durable
No cold spots
Produce and retains even, consistent, and gentle warmth
Produce far-infrared energy that tame the most stubborn tresses
Less damaging to the hair strands
Gentler than metal-based curlers
Cons:
Can sometimes be expensive
Ceramic is a type of non-metal material that conducts and disperses heat evenly and consistently. Some curlers have solid ceramic wands and others have a ceramic coating. It's important to know the difference because the latter is much lower in quality. Curlers made with solid ceramic material are durable enough to last years of use.
The great thing about ceramic curlers is that the heat is produced and applied evenly, giving you uniform and lasting results. In addition, ceramic curlers are gentler on the hair compared to curlers with metal plates because of the controlled, even distribution of heat.
A ceramic curling wand is perfect for users with damaged prone, damaged, delicate, or fine hair. The same thing goes for individuals with hard-to-manage tresses. 
That said, curlers with ceramic wands or wands with a ceramic coating should be handled and used with care. The material itself is brittle and when it conducts heat, ceramic becomes more prone to cracking. It's a fairly expensive material but it's beneficial to anyone who wants a gentle curler.
Are ceramic curling irons better for your hair?
Not necessarily. A ceramic curling iron should still be used with caution, like all hot tools. Improper use can still lead to damaged hair so don't get tempted to crank up the temperature when you want faster results.
That said, ceramic flat irons are relatively more affordable than titanium and super beginner-friendly. However, there's an exception: flat irons made with pure ceramic are pricier.
To conclude, it's hard to say that ceramic is better than titanium because people have different hair textures and concerns.
Titanium Curling Irons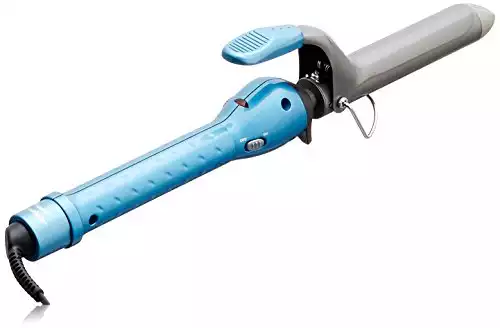 Best for: thick, hard-to-manage, and coarse hair. Ideal for professionals or experienced users who need an efficient yet lightweight hair curler. 
Pros
Heats up quickly
Faster, more efficient hair curling
Lightweight and durable
Could reach high temperatures
Cons
Increases the risk of hair damage
Not recommended for beginners
Titanium is a lightweight and durable metal alloy that's used in a variety of applications. It is tough enough to withstand daily abuse and extreme temperatures that's why this alloy is used in the building of aircraft. It's definitely more resilient than ceramic plates. In addition, titanium iron is incredibly light. 
When used in curling irons, titanium heats up quickly that it only takes a few passes to curl the hair. Because it could withstand extreme temperatures, titanium does not become brittle after repeated use. Also, titanium alloy produces negative ions that smoothen hair cuticles, just like ceramic plates. 
One thing to keep in mind when using a titanium curler, the temperature tends to rise too high too quickly, which increases the risk of hair damage. If 1) you are not accustomed to using this kind of styling tool and/or 2) if your hair is damaged or damage-prone, opt for a gentler curler.
Never skip your hair protecting spray or serum before curling your hair especially with a titanium curler, you don't want to accidentally burn your hair!
Ceramic vs Titanium Curling Iron: Important Factors to Consider When Choosing the Right Material​
1. Heat Conduction
A curling iron's ability to conduct high heat is one of the most important factors that you should keep in mind when shopping for any type of hot tools. If your hair cannot hold a curl, you need a styling tool that imparts high heat to set the curls in place.
Unruly, coarse hair, for example, need hot tools that could reach between 380 degrees to 450 degrees Fahrenheit to tame the tresses.
Ceramic material is prized for its ability to retain high heat and distribute heat evenly. A ceramic hair curler imparts the same amount of energy throughout the heated surface.
Titanium curling irons, on the other hand, are prone to cold spots. Sudden drops in temperature could lead to uneven, lopsided curls or curls that do not last for more than a few hours. Cold spots also increase the risk of hair damage because it would take several passes to create or build the curls.
2. Heat Transfer
Heat transfer refers to the time it takes for styling tools to transfer heat to the hair strands. Ideally, you want flat irons or curling irons that heat up to the desired temperature in 30 seconds or less.
Individuals with thick, coarse, and/or generally hard-to-manage hair need a curling iron that could reach the optimal temperature faster. On the other hand, users with delicate, thin hair do not require high temps to curl their hair.
Are you always rushing in the morning? If you are always pressed for time in the AM, you need a styling tool that could keep up with your busy lifestyle. Materials that take forever and a day to heat up will make the entire process longer than it should be.
Curlers with titanium plates heat up faster than curlers with ceramic material because metal transfers heat the fastest.
3. Durability
How often do you style your hair? Do you style your hair regularly or barely at all? Not all hair curlers are created equally, some are more durable than others.
If you style your hair every day then you need curler materials that could withstand daily abuse. Generally, curlers with titanium plates are more durable compared to curlers with ceramic material.
Why?
Ceramic is one of the most brittle materials. The curler won't break if you drop it for the first time but dropping the curler repeatedly could cause the ceramic material to crack and break. Add that to the fact that the ceramic material is always exposed to extended heat and it becomes even more vulnerable to cracking!
Ceramic material is also heavier so generally, curlers made with this material are quite hefty.
A titanium iron, on the other hand, is durable and light. It could withstand daily abuse and extended heat exposure. That's why the material is used in the building of aircraft.
If you are the kind who needs to style her hair every day then the choice is obvious.
4. Ease of Use
Ease of use is something that not a lot of people take into consideration when choosing a ceramic vs titanium curling iron. For someone like me who styles her hair on a fairly regular basis, I cannot stand curling irons that are a pain to use.
Between the two, titanium iron is much easier to use because the material is lightweight. You could control the curler with ease, helping you build the curls that you want without straining your wrists or arms.
Because the material heats up quickly, there is no downtime, which makes styling faster. If you're clumsy, then you are better off with a titanium curling wands or irons. You don't have to worry about breaking the curler into a million pieces when you drop it.
That's not to say you could manhandle your curler, not the slightest. Still, it's nice to know that the curler could survive a few drops!
Ceramic isn't as resilient as titanium. The material is brittle but when exposed to extreme temperatures regularly, ceramic becomes even more vulnerable to cracking. Curling wands and irons made with solid ceramic are some of the most expensive hot tools so be mindful of the way you use the them.
If you are not used to styling your hair, opt for a titanium curler because it's much easier to use. But if your hair is prone to damage, you simply cannot go wrong with a ceramic curler.
Controlling the heat is hard if you are using a titanium curler because the material heats up too quickly. Be careful when using this curling iron material if you have a fine hair type because you could end up with fried tresses.
5. Price
Price is one of the most important factors to consider when choosing the best curling iron for your hair type. And I agree, I hate the idea of investing in something that does not work for me at all. 
When it comes to the price between ceramic vs titanium curling iron, the former is slightly more expensive but that depends on the hot tools that you are eyeing. High-end titanium curlers could be pricier than curlers with solid ceramic barrels.
My advice is to get the most out of your money and look beyond the price tag. Don't get a curler with all the bells and whistles if you know that you cannot maximize the extra features. This goes especially if you are new to hair curling.
Conversely, don't settle for a basic curler just because the price is within your budget but the features are lacking.
Most importantly, do your research. Search for ceramic vs titanium curling iron comparisons online to find a product that suits your needs and budget the best. Arm yourself with information, look for honest reviews, and weigh the pros and cons.
Know what you want in a product and don't settle for anything less if you have the budget for it. 
What is the best material for a curling iron?
Ceramic vs Tourmaline vs Titanium Curling Iron
When pitted against each other, which is the better choice: ceramic, tourmaline, or titanium curling iron?
On its own, a ceramic curler is already an efficient and gentle hair styler. But when infused with tourmaline, you get even better results because the curls are sleek, frizz and static-free.
Tourmaline curlers are infused with powdered tourmaline crystal so the surface material has a nice slip that prevents tangling, snagging and hair breakage.
In addition, tourmaline locks in moisture, keeping your hair shiny and healthy despite the regular styling. 
Negative ions are also activated by heat, minimizing frizz and static.
Tourmaline-ceramic curlers are the gold standard in hot styling tools. If you are on the hunt for a gentle, high-quality curler then a tourmaline-ceramic curler is the best curling iron material for you. 
Wrap Up
When it comes right down to it, you have to consider your needs as well as the features of the hair styling tool to avoid regrets. Ceramic curlers are gentle and radiate even heat. That's why ceramic and ceramic-tourmaline are the golden standard in hair curlers.
Sure, solid ceramic curlers are fragile and expensive but if you want the best curling iron money can buy, a ceramic curler will give the bold curls you so crave.
But curling irons with titanium plates are one of the best barrel materials for longevity and efficiency. Titanium curlers offer a smooth curling experience; they heat up quickly and are virtually life-proof. Solid titanium curlers are quite expensive but some are more affordable than pure ceramic curlers.
Ceramic does a better job of distributing and transferring heat, thus preventing hair damage. But if your hair needs a heavy-duty curler that could transform your rebellious locks into luscious curls then opt for a titanium curler.
If styling in the morning takes forever and a day then a titanium curler is your best bet. The material heats up much faster, cutting your styling time in half.
Leah Williams
Leah Williams is the founder of Lucky Curl and has been in the hair care and styling industry for the last 15 years. Since then, she has developed incredible expertise and a deep understanding of how to treat and style the most difficult hair types and is passionate about sharing her knowledge with the readers of Lucky Curl.