Achieving a certain curl all comes down to the right curling iron. Beyond a certain curl style, the length of your hair can also determine what type of curling iron you should be using.
With this in mind, we have put together the ultimate guide to curling iron sizes. Below you will discover how to choose the right size curling iron, types of curling iron sizes other considerations when buying a curling iron.
How to Choose the Right Curling Iron Size
Curling irons come in all different sizes which can make it confusing to determine which curling iron size is right for you. It's important to note that choosing the curling iron size for you, your hair length is massive consideration. For example, thinner curling iron barrel's will achieve a tighter curls and are generally suited to those with shorter hair lengths. Those with long or thick can of course still use a thin barrelled curling iron but be prepared for long styling times.
Short Hair.
For short hair, the recommended barrel sizes are 3/8″, 1/2″, 5/8″ and 3/4″. Shorter barrels can produce curls better on short hair.
Medium Hair.
If you have medium-length hair, you will not have any problem using any barrel size because both will work well in creating a variety of ringlets on your hair type.
Long Hair.
Those who have long hair should get a curling iron with barrel sizes such as 1.25″, 1.5″, 1.75″, and 2″.
Curling Iron Sizes – The Definitive Guide
Understanding the different sizes for curler for hair can help you land the right one based on your hair type and length.
2 Inch
A 2 inch curling iron is suitable for those who have thick, medium to long hair. Among the hairstyles that you can create with this are defined, beachy, as well as loose waves. A perfect example of this hairstyle is the iconic Victoria's Secret runway waves. A 2 inch curling iron can also allow you to create a 'blown out' look without the hair dryer!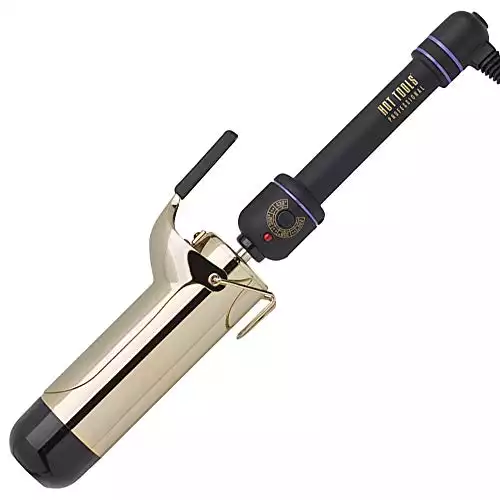 Hot Tools Super Tool 2 Inch Professional Curling Iron
24K GOLD BARREL: This versatile gold curling iron and wand is the tool of choice for professional stylists. Barrel helps you create defined curls..Maximum temperature setting : 220 Degrees Celsius
LONG-LASTING: Go for the gold for gorgeous curls and waves. Heats up quickly and holds heat evenly. That means faster styling and locked-in results.
VERSATILE STYLING: Whether you choose to use as a traditional curling iron or wrap hair around the barrel to use as a wand.
ALL HAIR TYPES: A high heat reach of up to 430℉ provides beautiful results for all hair types from thin to coarse and in between.
EASY STORAGE: Foldaway safety stand for easy storage. Enjoy free range of movement with 8ft. tangle-free swivel cord.
Buy from Amazon
We earn a commission if you click this link and make a purchase at no additional cost to you.
12/03/2023 11:30 am GMT
1 1/2 Inch
For a curling iron that has a barrel size of 1 1/2 inch, it can be used by those who have straight, thick, wavy, and curly hair as long as they are between medium and very long length. Using this curling iron barrel size can create loose curls or a beach wave look.
1 1/4 Inch
The 1 .25 inch curling iron size is ideal for all hair types and from medium to very long strands. You can use this 1.25 inch curling iron barrel size to create loose wave or tight waves.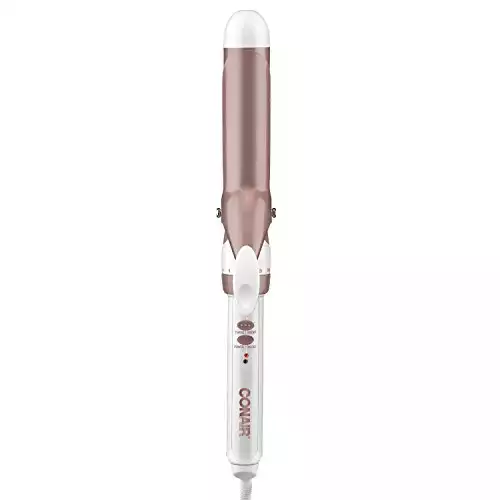 Conair Double Ceramic 1.25-Inch Curling Iron
Key Features
Double Ceramic Barrel
30 Heat Settings
400 degrees Maximum Temperature
Cool Tip
Auto Shutoff Feature
Turbo Heat – Up to 27°F burst of heat
Instant Heat Up
Anti-Frizz Control
Recessed Control Buttons
Buy from Amazon
We earn a commission if you click this link and make a purchase at no additional cost to you.
12/04/2023 12:30 am GMT
1 Inch
The 1 inch curling iron size is a top favorite among customers and is dubbed as the standard for this type of hot tools. You can use this 1 inch size curling iron barrel regardless of your hair type and can work with any hair length, although it may take a while to style long hair. It is quite versatile too given that you can create different types of curls with it from loose to tight curls.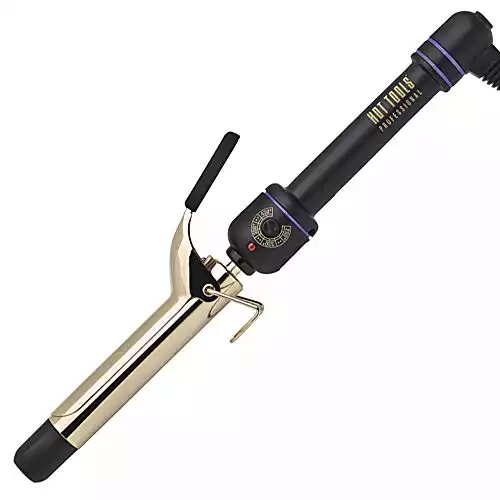 3/4 Inch
The 3/4 inch curling iron size is also versatile and can work on different hair lengths, but works best for those who have shoulder-length to medium length. It can be used on long hair too, but the style may not hold for long. This curling iron size can produce tight corkscrew curls to retro curls.
5/8 Inch
The 5/8 inch curling iron size can work on short to medium-length hair that can be thin, straight, or wavy even. You'll get more volume with this barrel size if you have thin hair which is one of its best features.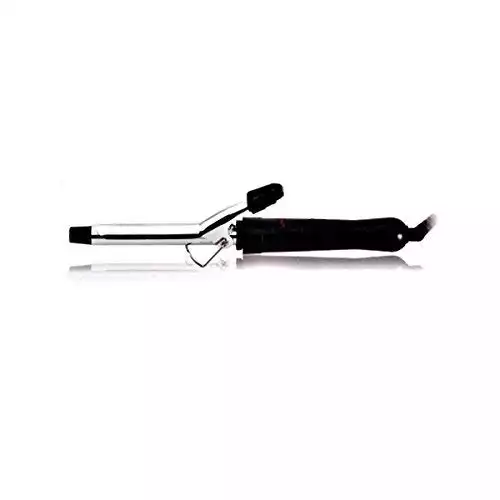 3/8 Inch
The 3/8 inch barrel is undoubtably the shortest curling iron in the market today. It does work with short to medium-length hair as well and is especially useful to those who are trying to achieve corkscrew or tight curls on their mane. You can use this to add more volume to your already curly hair too which is a plus.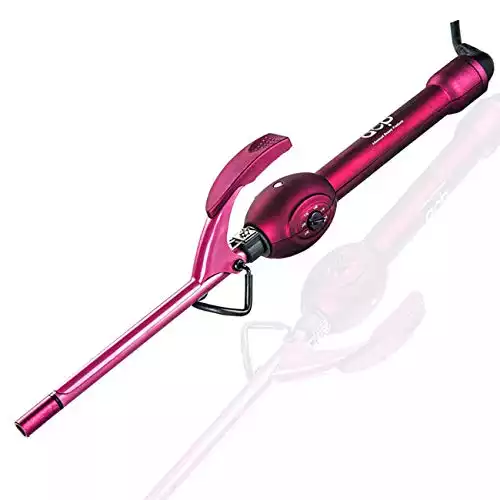 Curling Iron Basics
If you are in the hunt for the next curling iron, here's what to look out for:
Materials
Ceramic
This is a classic material used in numerous curling irons because it releases negative ions to produce smooth and shiny hair. It offers even heating too and is best used for those with thin hair.
Titanium
This material is known for its durability and released negative ions to help seal moisture in hair strands. It also heats up fast which means you need to be careful when using it for the first time.
Tourmaline
Tourmaline curling irons are known to produce more negative ions that help tame frizz and flyaways. It is capable of absorbing high heat settings but makes use of intelligent technology to prevent hair from being fried.
Gold
A 24k gold barrel can heat up quickly but puts hair at risk of getting damaged.
Clip Type
Curling iron with clamp.
This is the traditional design for curling iron which speeds up the curling process.
Wand curling iron (no clip).
This is best used for those who want to have beach waves or loose curls.
Heat Settings
When purchasing a curling iron always look for one that has adjustable and varied heat settings.
Low heat
This is best used for those with thin or fragile hair. Too much exposure to high heat can make strands brittle and prone to breakage.
High heat
If you have thick hair, using high heat is recommended as it can easily penetrate the thick shaft of your hair to speed up the curling process.
NOTE: Always apply heat protectant on your hair before you curl it to minimize hair damage. This is recommended especially to those who have thin hair strands. Also, avoid using heat settings that are above 450 degrees as extreme heat can lead to burned or damaged hair.
9 Tips for Using a Curling Iron
Creating curls doesn't have to be that hard especially when you follow these tips:
Choose the right tool
You will need to decide whether you will go for a curling wand or one that has a clamp based on the type of curl that you want to have.
Start with freshly washed hair
You should wash your hair first using shampoo and conditioner that can help tame frizz.
Blow dry hair
Once your hair is halfway dry, use a blow dryer until it is completely dry.
Apply hair protectant
Do not forget to apply a heat protectant spray or serum to your strands prior to curling it.
Section hair
Sectioning your hair makes it easier to produce even curls.
Start curling
Grab a section of your hair then place the clamp near the root then pull it towards the end, making sure that the clamp is lightly closed on your hair strands. Once in the end, curl the wand towards your head and hole for 5 to 8 seconds or more depending on your hair type.
Release the clamp
Gently release the clamp and slide it down to let the curl loose. Repeat with other sections.
Mind the angle
If you want to add more volume to your mane, start at the root then hold the iron perpendicular to the section that you are working on. On the other hand, if you prefer detailed curls, hold the curling iron straight down.
Smooth strands with oil
To lessen the appearance of frizz and flyaways, smoothing serum on your strands can help seal in the moisture while adding shine to your mane.
Wrap Up
Hopefully this guide has helped determine the right size curling iron for you. Whether you're after beachy waves or a loose wave look, there is an option for you.
Always take into consideration what type of curl you want to achieve and then your hair length and type.
Leah Williams
Leah Williams is the founder of Lucky Curl and has been in the hair care and styling industry for the last 15 years. Since then, she has developed incredible expertise and a deep understanding of how to treat and style the most difficult hair types and is passionate about sharing her knowledge with the readers of Lucky Curl.