Looking for the best interchangeable curling wand? When it comes to hair styling tools, you simply cannot have too many options! But if you've been spending a small fortune buying different curlers to get different results then maybe it's time to invest your $$$ on a hair curling set. And there are plenty of sets to choose from!
Unlike your regular curling wand, an interchangeable curling wand comes with curling barrels in varying sizes and shapes. This gives you virtually limitless styling options. If you're like me who'd like to get her money's worth then you simply cannot go wrong with hair styling tools with more to offer. In this guide, we are listing down some of the best interchangeable curling wand sets you should check out.
Best Interchangeable Curling Wand – 5 Top Rated Hair Tools Reviewed
1. T3 Whirl Trio Interchangeable Curling Wand
We're starting our list of the best interchangeable curling wand with the T3 Whirl Trio Interchangeable Curling Wand. First off, let's talk about the exquisite white and rose gold design. The T3 will be the prettiest hair styling tool you'll ever use, trust me on this! I love how luxurious and sleek the T3 feels on my hand. The size of the handle is just right and the design makes it a joy to use.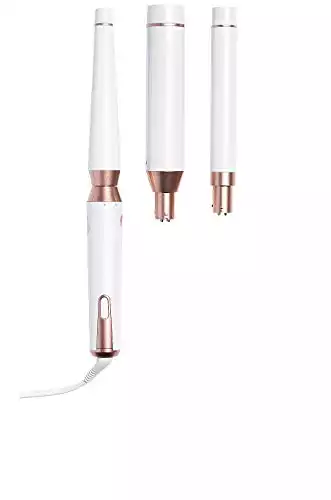 T3 - Whirl Trio Interchangeable Styling Wand
5 Heat Settings
3 Interchangeable Wands
Heat Resistant Glove and Mat
Cool Tip
Tourmaline® and Ceramic technology
SinglePass™ technology
60-minute Auto Shut Off
360° Swivel Cord
Auto World Voltage
Buy from Amazon
Buy from T3
We earn a commission if you click this link and make a purchase at no additional cost to you.
Beyond its luxe design, the T3 comes with 3 interchangeable barrel:
1-inch straight barrel
1.25-inch tapered barrel
1.33-inch straight barrel
The set also comes with a travel tote and a heat protective mat and glove for precise styling. The heat protective gloves is made from high-quality Nomex, which is a testament to the quality of the hair curler. Switching between the barrel is a breeze thanks to the brand's precision interlock system. Just twist up and down then you are ready to go. The largest barrel gives you full-bodied, lustrous curls while the tapered curler is perfect for making defined twists and waves.
Features
The T3 comes with the brand's tourmaline® and ceramic technology so heat styling is gentle on the tresses. The technology produces even heat while locking in moisture to prevent frizz and static. In addition, the advanced digital heating system helps retain consistent heat throughout the styling process for consistent results. The PTC heater self-regulates the temperature that's why you get silky smooth, and damage-free tresses every time you curl your hair.
The device also imparts infrared heat deep within the hair strands to tame the most stubborn tresses. Combined with T3's proprietary SinglePass™ technology, the infrared heat gives you effortless, gorgeous curls that last from morning to night.
Ideal for all hair types, the barrels help you create uniform spiral curls, voluminous beach waves, defined curls and everything else in between. The device also works for all hair lengths. The only drawback is the price, which is an eye-watering $300 for a set. But if you're hell-bent on getting the best interchangeable curling wand money could buy, you can't get a prettier set of curlers than the T3 Trio!
2. XTAVA Professional 5-in-1 Interchangeable Curler
If you are looking for a value-for-money interchangeable curler that will give you all the styling options that your heart desires, your search ends with the XTAVA Professional 5-in-1 Interchangeable Curler. As the name implies, the Xtava Professional comes with 5 interchangeable barrels, each one features the brand's ceramic-tourmaline technology:
.75-inch straight barrel
1-inch straight barrel
1.25-inch straight barrel
3 to .75-inch conical barrel
.75 to 1-inch tapered barrel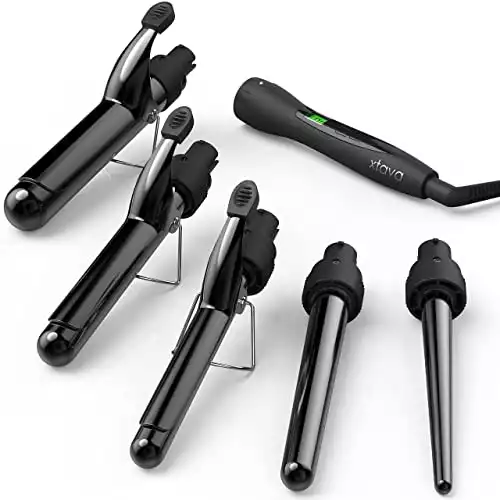 xtava 5 in 1 Professional Curling Iron and Wand Set
Negative ion technology
Ceramic-tourmaline technology
Digital temperature controls
Dual voltage
Auto shut off
Quick heat setting
360° Swivel Cord
LCD display
Buy on Amazon
We earn a commission if you click this link and make a purchase at no additional cost to you.
11/14/2023 05:30 pm GMT
The kit comes complete with a heat protective glove for easy and controlled styling as well as a travel bag for utmost portability. The large cylindrical curlers are perfect for creating less defined curls such as beach waves and tousled tresses. I love the convenience of the built-in clips that these barrels have, it makes curling even more fool-proof. The smaller, tapered barrels, on the other hand, offers a myriad of styling options ranging from ringlets to corkscrew curls.
Features
Larger curling sets tend to scrimp on the quality but that's not the case with the XTAVA brand. All the curling barrels feature the brand's ceramic tourmaline technology, distributing heat evenly and preventing heat damage. As the barrel generates heat, negative ions are released deep within the hair strands, locking in moisture, restoring shine, and promoting better hair health.
The Xtava Professional could heat up to 410°F, taming stubborn hair with relative ease and giving you salon-worthy results. The Xtava 5-in-1 curling iron has three heat settings. The lowest heat setting (130°-150°) is perfect for thin, delicate hair while the medium setting (250º – 350º) is recommended for medium density hair. The highest setting is perfect for thick and unruly hair.
Overall, the XTAVA Professional 5-in-1 Interchangeable curler offers more value for your money compared to some curlers because of the diverse set of curling barrels and the reasonable price point. The quality of the device itself is fantastic. My only gripe is the lack of a cool tip, which means the heat protecting gloves that come with the set should be worn throughout the styling process.
3. Zealite 4-in-1 Curling Wand Set
The Zealite 4-in-1 Curling Wand Set is the perfect hot tool for anyone who wants to experiment with different hairstyles. With its 4 interchangeable tourmaline ceramic barrels, you are never out of options! The Zealite 4-in-1 Curling Wand Set comes with:
Cylindrical: 25/25mm for large, voluminous curls
Conical: 25/18mm for full curls, defined waves
Conical: 18/9mm for textured and spiral curls
Bubble wand: 25mm for tight and springy curls
The set also comes with heat protective gloves so you can style your hair with ease. The larger barrels are sized perfectly for creating big, shiny curls and luscious waves while the conical barrels are designed for creating defined curls and ringlets. Zealite curling wand produces healthy heat that protects the hair from everyday styling, heat damage, and breakage. All you get are shiny, bouncy curls that last!
Features
The Zealite curling wand comes with two heat settings and it heats up from 302℉ to 410℉, the ideal temperature for building salon-worthy curls. You could control the temperature with just a push of a button. The higher temperature is best for controlling thick tresses while the low temperature is great for individuals with fine or delicate hair.
Overall, the Zealite curling wand brings a lot to the table. It's a dependable workhorse that does the job and the results are nothing short of fabulous. The Zealite curling wand is incredibly user-friendly so this clever styler will appeal to newbies. It does, however, gets too hot while in use so be sure to wear the heat protecting gloves that come with it lest you burn your fingers as you curl your hair.
4. PARWIN PRO 7-in-1 Curling Wand Set
If a 4-in-1 curler doesn't cut it for you then the PARWIN PRO 7-in-1 Curling Wand Set should be more of your speed. This kit comes with 7 interchangeable wands, giving you even more styling options than smaller curling sets. This is perfect for anyone who loves options. From loose waves to defined curls, tight curls to ringlets, the PARWIN PRO does it all with ceramic barrels in these sizes:
32mm straight barrel
25mm straight barrel
25/13mm tapered barrel
19/19mm straight barrel
18/9mm tapered barrel
19mm bubble wand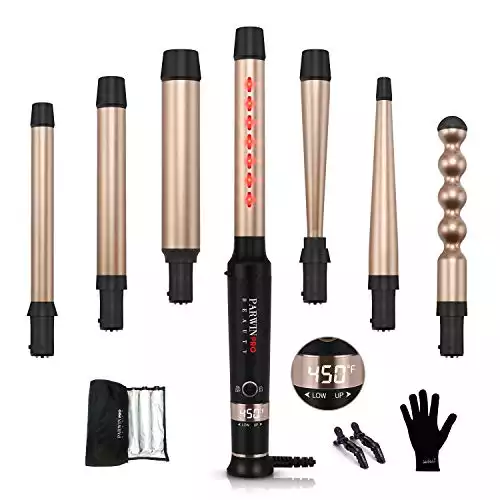 PARWIN Pro 7 in 1 Curling Iron Wand Set
7 interchangeable barrels
Diamond Ceramic Tourmaline Technology
Temperature Setting Dial
15 Heat Settings
Heats Up to 410°F
Quick Heat Up Feature
Large LCD Display
Slim, lightweight design
User-friendly controls
Light Indicators
60-Minute Auto Shut off Feature
Buy from Amazon
We earn a commission if you click this link and make a purchase at no additional cost to you.
11/15/2023 06:30 am GMT
Use the 32mm cylindrical barrel for creating large, bombastic waves. The 25mm barrel is best for voluminous curls while the 25/13mm does a great job of creating defined medium curls. Use the 19 mm for gorgeous spirals and twists while the 13mm is designed for medium curls. The 18 mm barrel is a great curler for creating textured curls while the bubble wand is the best curler for making spiral curls.
Features
PARWIN PRO's proprietary PTC heating technology delivers even heat distribution to prevent hair damage. Each diamond tourmaline ceramic barrel ensures even, consistent temperature so you get eye-catching results every single time. What's more, the PARWIN PRO heats up quickly so there's no waiting time in the morning. The large LCD display gives an accurate reading while the light indicators signals the ideal temperature for foolproof operation.
As far as design and features go, the PARWIN PRO has it all. Now if only it has a cool tip and it will be the best curling set on the market. But no worries, the set comes with a heat protecting gloves to protect your digits from accidental burns.
5. NuMe Octowand 8-in-1 Curling Wand
We are rounding up our list of the best interchangeable curling wand with the NuMe Octowand 8-in-1 massive curling set with, you guessed it, 8 different curling wands.  This is the best curling set for recreating just about all the great curls you get from a professional hairstylist. I dare say, getting the NuMe Octowand is like getting your own hairstylist. From bouncy ringlets to classic curls, cascading beach waves to romantic twists, the NuMe Octowand has all the attachments you need for perfecting your look:
13 mm straight barrel
19 mm straight barrel
25 mm straight barrel
32 straight barrel
25 mm tapered barrel
19 mm conical barrel

​

Pearl barrel
Reverse barrel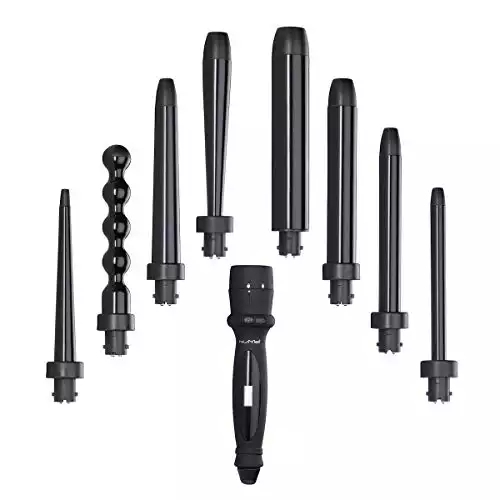 NUME Octowand 8-in-1 Curling Wand Set
8 interchangeable barrels for various styling options
Infrared technology for quick styling and less damage
Tourmaline Ceramic barrel material for less breakage
Buy from Amazon
We earn a commission if you click this link and make a purchase at no additional cost to you.
11/11/2023 08:30 am GMT
The ceramic barrels are infused with tourmaline to give you sleek, shiny and damage-free curls. The NuMe Octowand also heats up to 450 degrees for salon-worthy results. The negative ions that the NuMe Octowand produces protect every hair strand from heat stress while locking in moisture for a luminous shine.
Features
Although the NuMe Octowand is an 11-piece set, it is not complicated to use at all. The features are straightforward so it's perfect for anyone who's not accustomed to curling their hair. The digital temperature is sized just right so you could check the readout at a glance. This is a great feature for users with delicate hair who style their hair at a specific temperature. The heat settings range from 170 °F to 450 °F so the Octowand is ideal for all hair types.
The only downside is that the wands are on the short side so styling takes more time for people with long hair. The quality is great for the price but there is always room for improvement.
What to Look for in a Hair Curling Set?
Hair curlers are a dime a dozen but not all are created equally. Some hair curlers are better than others in terms of quality, design, and materials. Because there are so many hair-curling sets out there, choosing just one can be overwhelming for some. But don't worry, I got your back! Here are some of the most important factors that you should consider before deciding which curling set to get:
Curling Wand Barrel Shapes
The beauty of choosing a curling wand with interchangeable barrels is that there is no need to buy separate barrels to recreate certain hairstyles.
For example, a set with bubble barrel lets you create bouncy ringlets. Conical barrels allow you to create cascading waves if you have thin hair. This shape is also perfect for creating curls that are wide near the scalp and tighter at the ends. Reverse cone creates curls that are wide at the ends and then tight near the scalp. Straight barrels are perfect for creating uniform curls on users with medium to long hair length.
Curling Wand Barrel Sizes
While a conventional curling wand is great for most hair types, interchangeable wands are more versatile because you could swap between barrels to suit your mood or hairstyle.  
Large barrels are the best curling iron barrel size for beach waves while narrower barrels are best suited for creating defined curls, tighter waves, and ringlets. We've outlined the barrel sizes on every set to help you find the perfect barrel size for your needs.
The size of the barrel is also a factor that affects the styling tool's performance based on hair length. Large barrels work best for individuals with medium to long hair lengths. Tapered and/or narrow barrels are best for anyone with short to medium hair length.
Barrel Material
Some brands have their own proprietary technologies but most curlers have ceramic or ceramic-tourmaline barrels. Ceramic barrels generate even heat for uniform curls. The material gives the surface of the barrel a smooth slip so the hair strands won't be fried as you curl your hair. Some barrels are made with 100% ceramic, others are coated with ceramic.
Ceramic tourmaline barrels generate even heat while also producing negative ions to prevent frizz, static, and hair damage. The barrels are coated with a crystal boron silicate mineral to smooth out the hair strands, restoring or enhancing hair brilliance while locking moisture.
Heat Settings
Regardless of the hair length, texture, or density, choose a curling iron with multiple heat settings. The heat settings give you more control over the curls. Every hair texture needs a specific temperature. Generally, styling tools with limited heat settings are likely to cause hair damage because the temperature is inflexible. A styling tool with a low heat setting might not work for stubborn or thick hair, for example. If a styling tool produces too much heat then your thin or damage-prone hair might end up a fried mess and no one wants that!
If say, you have thick, unyielding tresses then get a curler that could heat up to 400 degrees to achieve salon-worthy results. If you have delicate, damage prone, or thin hair, choose the lowest setting to prevent styling damage.
What's the Best Interchangeable Curling Wand for You?
To know which styling tool fits your needs, you have to consider your hairstyle, hair length, hair texture, and hair density. Let's be real, you might not use some of the many barrels that come in these sets. My advice would be to choose the set with the most number of barrels that are useful to you. Versatility is everything and with the right interchangeable curling wand, there is absolutely no need to buy more hot tools.
Leah Williams
Leah Williams is the founder of Lucky Curl and has been in the hair care and styling industry for the last 15 years. Since then, she has developed incredible expertise and a deep understanding of how to treat and style the most difficult hair types and is passionate about sharing her knowledge with the readers of Lucky Curl.