In this curling iron expert product review we discover the best features and notable benefits of the TYME Curling Iron. It has an unusual design, and claims to be 5-tools-in-one, but does it live up to expectations? Read on to see our TYME Curling Iron reviews.
Things to Consider Before Buying a Curling Styling Tool
Searching for a curling wand for my thick hair wasn't easy as I thought. I found that there are dozens of options to choose from. After some careful consideration and reading reviews, I narrowed down the factors that I was going to use to find the right curling tool for me, and these are:
Most people choose between ceramic and titanium when it comes to styling tools, but there are others to consider too. Ceramic is a popular choice because it heats hair evenly and is best suited for those with fine hair. Another option is tourmaline which is known for fighting frizz and is ideal for thick hair. Titanium is a popular choice too, especially among stylists, because it can retain high heat.
Curling wands have different barrel sizes. You should look for one that will match your hair type and the length of your hair as well. If you are aiming for tight curls, a 3/4 barrel size is the best choice. The 1-inch barrel size is the go-to size for all lengths and hair types. The 1 1/2- inch barrel, on the other hand, is ideal for longer hair since the size of the barrel can easily handle the strands.
Based on the reviews I have read, the temperature settings should be factored in because you don't want to end up burning your hair strands. A curling styling tool that has a single setting may not be appropriate for all types of hair since thicker hair needs more heat while fine hair needs a low setting instead.
TYME Curling Iron Reviews – Product Overview
TYME Iron is a hair styling tool that is designed to make styling hair easy even when you are traveling by combining a flat iron and curling wand in just one tool. What you have is a flat iron curler that gives you a variety of hairstyles from straight to tight curls without using multiple tools. It makes use of heat to style the hair and cool temperature to set it so you can enjoy it for a few days. It comes with 5 different settings for temperature and has titanium plates that heat up evenly giving you more versatility in changing your looks every time. The TYME flat iron with curler can be used regardless of your hair type which makes it a handy tool to have.
Pros:
Titanium plating delivers even heating on the hair strands.
Comes with 5 types of settings for the temperature giving you more control over your hairstyle.
It is a hair straightener and curler in one.
Cons:
One user noticed that her curls didn't last long.
A reviewer complained that wielding the iron wasn't easy and she got burned twice in the process.
Features and Benefits of Curling Iron TYME
Features to Enjoy
TYME Iron comes with several features that make this hair curler a worthwhile choice.
Temperature Control. TYME Iron comes with five heat settings with temperatures ranging from 300 degrees Fahrenheit to 400 degrees Fahrenheit. The first three hot settings are recommended for those who have fine to processed hair, while the hotter temperatures are suited for those who have thick to natural hair.
Titanium Plating. This curling tool is equipped with titanium plating that delivers superior and even heating for professional results. Titanium has been proven to withstand high heat which makes this the right material to use for this curling tool that can reach up to 400 degrees Fahrenheit.
Automatic Shut-off. The automatic shut-off feature prevents accidents from happening. If the tool is left idle for a few minutes, it will turn off automatically.
Swivel Cord. TYME Iron comes with a swivel type of cord allowing you more flexibility when styling your hair. This prevents you from getting tangled when you move the ironing tool around your head.
Ionic Technology. The ionic technology prevents frizz from appearing when using this styling product. It doesn't matter whether you want to straighten or curl your hair, because you will not need to worry about frizzy or static hair.
Notable Benefits
What advantages can you get from using TYME Iron? The reviews I have read noted these advantages of using the TYME Iron Pro.
Safety. This hot tool's auto shut-off feature is an added safety measure which is great because you don't want to end up burning your table where you have left it while turned on.
More Control. I like that this styling product has different heat controls giving it more versatility. You can use it on fine hair to thick and coarse hair with minimal effort. The only thing that you need to do is to choose the appropriate temperature for your hair type, wait for a few seconds, and start curling or straightening your strands.
Even heating. The titanium plating delivers professional hair styling results all the time. I can get tight curls or straight hair depending on my mood without burning my strands. There are no hotspots that can damage them when you use them.
Unique design. The unique design where curling wand meets straightener allows a variety of hairstyles to be created. TYME iron is the only one that has this slightly twisting design which is both stunning and useful too.
Feedback
I read some reviews about the TYME Iron and most of them were high praises about the tool. Here are a few that I would like to share with you.

Alternative Options
Aside from TYME Iron, I thought it best to look for other alternatives that can be a close match. Using the factors that I have mentioned above, I have rounded up three more possible options for styling your hair. Here's what I suggest.
FURIDEN Hair Straightener and Curler
FURIDEN makes use of floating titanium plates to easily accommodate different hair thickness. This dual voltage hot tool can create curls or leave your hair sleek and straight. The combination of tourmaline and ceramic speed up the heating time of the plates to simply 15 seconds. The rounded body lets you curl your strands by wrapping them around it. With this styling product, you will be able to create bouncy curls that will last you the entire day. On the other hand, the flat iron floating plates release negative ions that help in minimizing frizz when you use this tool on your mane. If you are expecting a control button for changing temperature, you will be surprised that the bottom portion of the handle can be twisted to the right temperature which works better.
Unbound Cordless Titanium Multi-Styler from Conair
This product is the first cordless multi-styling tool in the market and I think this is a great idea as you are not tied to any wires at all. It will give you up to 25 minutes of cord-free styling experience which is good enough to get some serious styling done. I like that this tool makes you more creative in terms of styling your mane regardless of whether you are aiming for a straight look, wavy, or super curls. If you have thicker or coarser hair, use the highest setting to achieve your desired results. The titanium barrel is smooth and heats evenly without breaking or damaging strands.
KIPOZI Hair Straightener, 2 in 1 Straightener and Curling Iron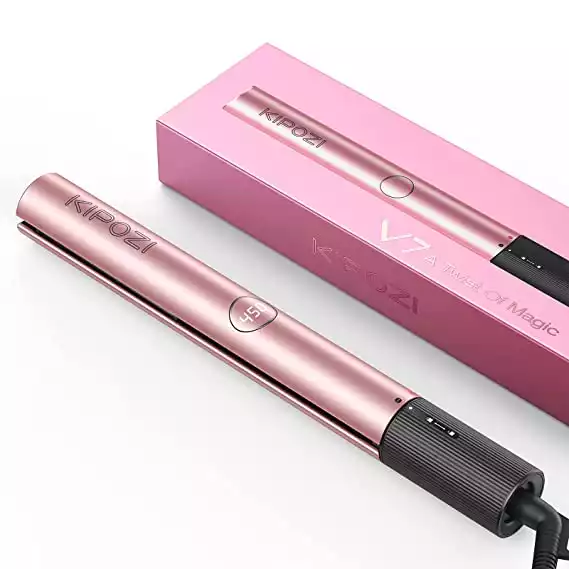 KIPOZI iron is a sleek and stylish iron that magically transforms your hair from straight to curly with just one tool. Twisting the handle will set the temperature for the nano titanium plates that can help style your strands real quick. The nano titanium is capable of handling high heat which is needed by those who have thicker hair. The rounded body of KIPOZI lets you wrap your hair around it to transform them into loose waves or tight rings. Make sure that you choose the right temperature for your hair type to get the best results. If you are looking for a hot tool that will help you achieve various looks with ease, I do suggest that you try this one out.
KIPOZI definitely knows how to deliver a stylish ironing tool for hair that gives you complete control over the results. Make sure that you include this in your list of great hair irons because you are going to get good value from it.
Final Thoughts
After gaining some insights on the various ironing tools available, I am putting my money on TYME Iron Pro. Aside from its unique design, I love how quickly the plates heat up depending on the heat setting that I have chosen. I like experimenting with my thick hair and so far, the high heat setting here is giving me exactly what I need, enough heat to curl, straighten, or create waves without any difficulties.
Although there is a learning curve on how to use TYME Iron Pro, the company does give a free tutorial on how to use this properly. Make sure that you watch it as you will learn helpful tips and tricks on how to achieve your desired look.
Leah Williams
Leah Williams is the founder of Lucky Curl and has been in the hair care and styling industry for the last 15 years. Since then, she has developed incredible expertise and a deep understanding of how to treat and style the most difficult hair types and is passionate about sharing her knowledge with the readers of Lucky Curl.