Looking for the best curling wand for short hair? Hair curling might seem like a straightforward affair – and it is for people with long hair – but for some with short hair, that's not the case most of the time.
As you know, different hairstyles require different hair tools and for users with long tresses, the choices are vast and diverse. Unfortunately, the same can't be said for individuals with short hair. Some hot styling tools simply are not suited to this hair length.
If you have short hair, you have to be picky in terms of the design of the curling iron. A curler with a sizeable barrel won't work because the width of the barrel won't give you the control you need for precise styling.
You just can't get the angles right!
Worse, you might end up burning yourself by accident because the hot tool is so hard to control when you have short hair.
If you're tired of searching for the best curling wands for short hair then this review is for you!
In this guide, we are listing down the best curling irons that are optimized for ear or chin-length hair to medium-length tresses along with a buying guide to help you make the best decision.
Best Curling Wand for Short Hair – 8 Top-Rated Products Reviewed
1.
Conair Double Ceramic 1/2-Inch Curling Iron
It's often tricky to make tight curls for short hair with bigger-sized barrel curling irons. The best you can achieve with big barrels is creating loose curls.  With Conair Double Ceramic 1/2 Inch curling iron,  the smaller barrel size makes it a worthy contender for curling irons for short hair.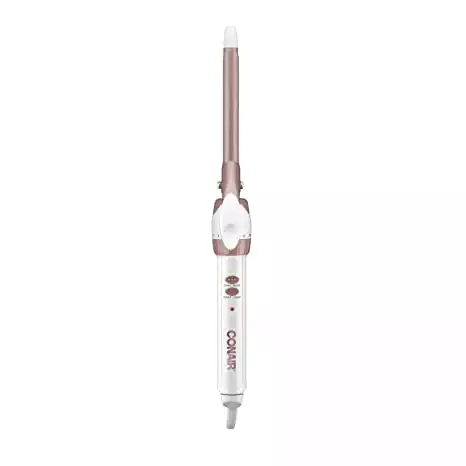 We earn a commission if you click this link and make a purchase at no additional cost to you.
It has 30 (you read that correctly!) variable heat settings letting you achieve gorgeous curls safely with consistent temperature no matter what hair type you have.  It also features a cool tip-perfect for when you're twisting and turning to create tight curls. 
You also don't have to worry about overheating your hair as its auto shut-off feature makes sure this won't be happening. Plus, the 2x ceramic content in the barrel lets you achieve bouncy curls and natural-looking waves.
It's not limited to shorter hair lengths, by the way.  You can still use it on shoulder-length hair and long hair (though for longer tresses, the outcome would be more like beachy waves rather than spirals).
2. BaBylissPRO Nano Titanium Spring Curling Iron – 0.75 Inches
If you have short to medium hair that's hard to tame,  then the BaBylissPRO Nano Titanium Spring Curling Iron just might be the tool you need to keep your tresses in check. This hot tool could tame even the thickest, most unyielding mane.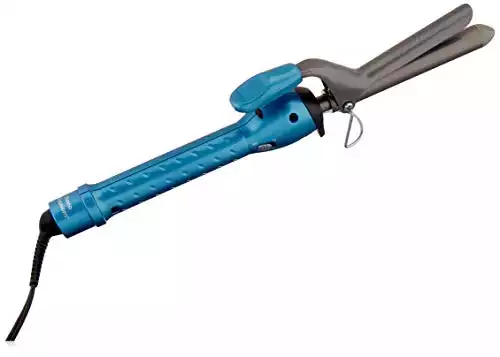 We earn a commission if you click this link and make a purchase at no additional cost to you.
For one thing, it heats up to 450 degrees and it comes with a "Turbo Heat" feature that boosts the heat instantly. Get this, the Nano Titanium spring curler also comes with 50 heat settings, allowing you to create shiny, luscious curls that last all day and through the night.
I love the size of the wand itself, it's versatile enough to work on most hair length, even chin length hair. Regardless if you want textured curls, loose curls, or defined curls, you'll get consistent results with the Nano Titanium every single time.
The design of the Nano Titanium curler is also something that's worth mentioning. The ergonomic design makes hair curling effortless even if you have short hair. If you have coarse, thick hair that's a nightmare to manage, this curler is extra lightweight so you can say good-bye to fatigued hands and wrists! If you're new to hair curling and you've got short hair to boot, try this curling iron. You won't strain yourself just to get bombastic curls and the tangle-free cord makes the Nano Titanium spring curler so easy and convenient to use.
The surface of the barrel has a nice slip to it so the hair strands just glides through with no crease and kinks in sight. Because the barrel has a tapered tip, you could create voluminous or defined curls, whatever works for your needs or mood.
Overall, the BaBylissPRO Nano Titanium spring curling iron is one of the best curling wands out there and it's versatile enough to work on most hair lengths and hair types. It's a little pricey for what it is but if you struggle with hair curling in the morning because you have unmanageable hair or you're not used to heat styling your hair at all, you won't find a more user-friendly (and efficient) curler than the Nano Titanium spring curling iron.
However, if you have thin hair, damage-prone, or damaged hair, this curler might not be the best curler. It runs too hot even on the lowest setting and the maximum heat setting is not for the faint-hearted.
3. Hot Tools Professional 24K Gold Marcel Wand – 0.5 Inches
If you are on the hunt for a golden curling wand that does it all then say hello to Hot Tools Professional 24K Gold Marcel Wand. This beautiful curling wand is the best styling tool for creating everything from gentle waves to snappy curls and everything else in between. For lazy mornings when you want to look good without putting much effort into it, the 24K Marcel wand makes hair curling an easy-breezy affair thanks to the compact design, user-friendly controls, and customizable heat settings.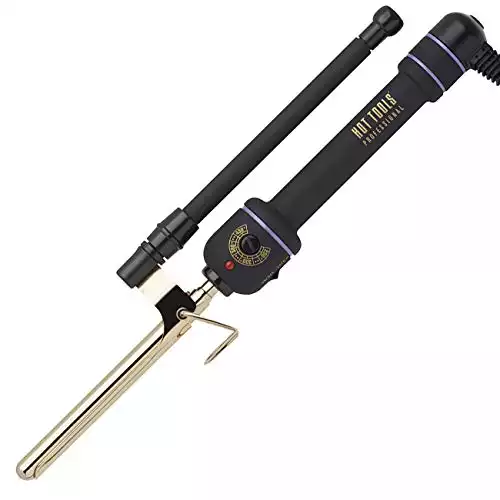 We earn a commission if you click this link and make a purchase at no additional cost to you.
The 24K Marcel wand features a gold-plated surface, an excellent heat conductor that produces even, healthy heat. What's more, the device comes with Hot Tools' proprietary Pulse Technology, which prevents temperature drops. Sensors could detect the minute shifts in temperature and restores the heat to the ideal setting so the curler stays hot from start to finish.
The rotating handles make hair curling foolproof and convenient. No need to worry about fatigued arms or strained wrists because the spinning handles does all the work for you. The device also comes with a Touch Guard™ protector and foldaway safety stand for easier handling and storage.
The curler heats up to 430°F, giving your hard-to-manage locks long-lasting, bouncy curls! The only downside I could think of is the unique design, which might make curling a challenge for anyone who's not used to curling their hair at all. If you are not accustomed to using a rotating curler with a locking mechanism, you might end up curling your hair in the wrong direction. It's the kind of curler that requires some practice.
4. Paul Mitchell Pro Tools Express Ion Unclipped 3-in-1 Ceramic Curling Iron
This is the curler for all occasions, perfect for styling short hair in an array of styles from everyday looks to lavish hairdos. Whether you want loose face-framing tendrils or knitted curls, this curling wand has you covered.
We earn a commission if you click this link and make a purchase at no additional cost to you.
Choose from three interchangeable barrels: a 1-inch styling rod for beach waves, a 1.25-inch iron for bodacious curls, and a 0.75-inch cone for ringlets.
The ceramic curler uses far infrared technology to shape the hair, which lessens heat damage by penetrating the strand for efficient heating. It heats up in a minute or less and can go as high as 410F. It's completely adjustable and you can keep track of each setting change.
Since it doesn't have a clamp, the ends of the hair won't get dried out, preventing split ends and brittle strands. To curl, just wrap your locks around the wand, wait and release. The design of the barrels helps you get close to your roots without burning the hair. The curling iron shuts off automatically after an hour so you get peace of mind.
You can take this curler with you whatever the time zone because it has a dual voltage.
Using this curling wand will be quite difficult at first if you're a beginner. The absence of a clamp can strike fear even in the most experienced hairstyler. Use  a heat protective glove until you get the hang of it and you'll be a pro in no time.
The curler is also quite expensive but you'll get three barrels and the ability to switch up your short hairstyle. That alone makes it well worth for me.
5. Infiniti Pro by Conair® Nano Tourmaline Ceramic Curling Iron – 3/4 Inches
Hair curling can be a drag in the mornings but the entire process is easy breezy with the Infiniti Pro by Conair® Nano Tourmaline Ceramic Curling Iron. The Infiniti Pro is one of Conair's bestselling professional curling irons and I'm not surprised. The design of the Infiniti Pro is intuitive, making it a joy to use. I love a good ceramic-tourmaline curler and the Infiniti Pro is all that and more.
We earn a commission if you click this link and make a purchase at no additional cost to you.
If you have short hair and you're looking for an efficient, no-nonsense curling wand then you will love the Infiniti Pro. The Infiniti Pro has 5 barrel sizes to choose from. If you have short hair, opt for the ½, ¾, and 1-inch barrels. The Infiniti Pro has a built-in clamp that firmly holds the hair in place as you curl so you get uniform results.
The Infiniti Pro comes with 5 heat settings ranging from 300 degrees for thin or delicate, fine hair to 400 degrees for taming stubborn tresses. There is a digital LED display that shows you the temperature at a glance, which is such a helpful feature for anyone who has to curl their hair at a specific temperature.
The barrel is infused with the brand's proprietary ceramic-tourmaline technology to minimize styling damage while boosting resilience, and improving shine. The ceramic barrel imparts even, consistent heat so you get long-lasting curls each and every time. I like that the Infiniti Pro has no hot spots, putting the risk of frizz down to a minimum. As it heats up, the Infiniti Pro produces negative ions that protect the hair from everyday styling damage.
My only gripe is the temperature, which runs too hot. If you have fine hair, damaged, or damage-prone hair, this styling tool might prove too damaging unless you've applied a heat-protecting serum to your mane beforehand.
6. BIO IONIC GoldPro Curling Iron – 1 Inch
Hair curling becomes more exciting when you're using pretty tools, or am I alone on this? I know I'm not! If you have short hair or if you want a versatile hair styling tool that could work for most hair lengths, you will love the BIO IONIC Gold Pro Curling Iron. This curling wand is a part of the brand's Styling Collection.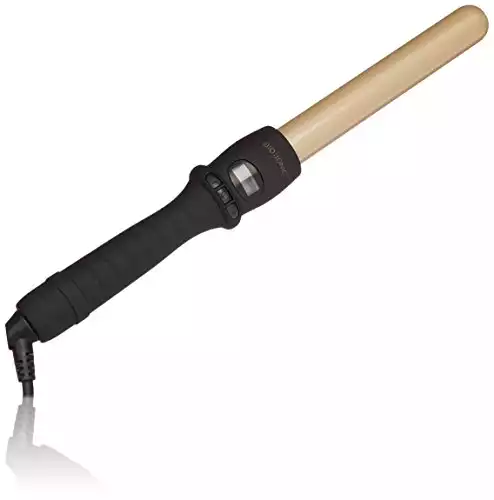 BIO IONIC Goldpro Wand 1 Inch Styling Iron
24K gold coated ceramic barrel heats up quickly and ensure consistent heat for more uniform curls.
Bio Ionic Moisturizing Heat Technology locks in hair's moisture for healthy, long-lasting curls.
1.25" round barrel is perfect for creating soft curls and beachy waves.
Digital temperature control up to 450°F with auto-shutoff and universal voltage.
It has Universal Voltage.
Buy on Amazon
Buy on Bio Ionic
We earn a commission if you click this link and make a purchase at no additional cost to you.
05/11/2023 02:30 am GMT
The BIO IONIC Gold Pro Curling Iron is infused with the brand's 24K gold ceramic mineral complex. This professional curling iron also comes with advanced natural ionic technology that reduces hair damage, locks in moisture, and prevents frizz. All you get are healthy, shiny curls that last from day to night. The width of the barrel is sized just right for short hair but it's versatile enough to work on medium to long tresses too!
The Gold Pro Curling Iron is ideal for all hair textures because of the multiple heat settings and user-friendly controls. I love the gold and black design of the Gold Pro Curling Iron, it looks and feels so luxurious. It heats up quickly too!
The only downside for me is the placement of the controls, which are set near the handle. The controls are touch-sensitive and you might end up changing the temperature by accident as you curl your hair. I feel that the Gold Pro Curling Iron is priced just right, considering the quality of the curler, but it might not be the most practical choice for some people.
​7. ghd Curve Creative Curl Wand
A curling wand with a tapered barrel makes an ideal styling tool for fine or thin, short hair. That's why the ghd Curve Creative Curl Wand is getting top marks in my book! It's so easy to take the ghd's 28mm – 23mm oval barrel to the base of the hair strands to create full-bodied curls. This device is quite versatile; you can create deep waves, natural curls, and defined curls with it.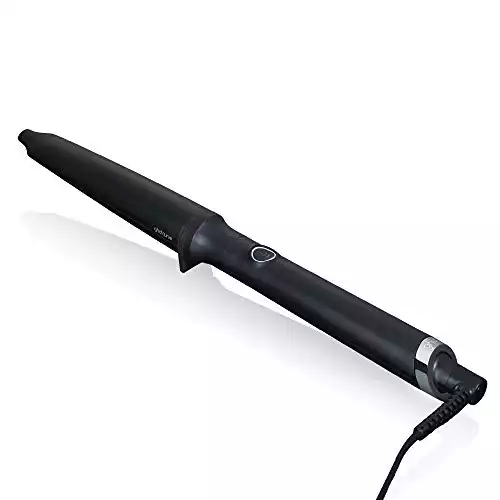 We earn a commission if you click this link and make a purchase at no additional cost to you.
The Curve Creative Curl Wand boasts the brand's patented tri-zone ceramic technology for the silkiest curls you'll ever get. The curler is equipped with 6 sensors in the barrel, ensuring even and constant temperature throughout the curling process. The device reaches a maximum curling temperature of 365 degrees Fahrenheit. If you have thin or delicate hair, it will only take a few seconds to curl a hair section.
It also comes with a cool tip so you could curl your hair with utmost precision without burning your fingertips. The Curve Creative Curl Wand also comes a built-in safety stand so you could set it down safely while you work on your hair.
I love how user-friendly the Curve Creative Curl Wand is. No need to fumble with the controls, there is an on and off switch and indicator press to prevent accidental use while styling. You get great control over your curls and there are a couple of safety features in place for worry-free use. The overall quality of the curler itself is also impressive (not a surprise, it's an investment piece).
The only downside is that the heat setting is limited to 365 degrees, which can be a good thing or a bad thing depending on your hair density. This is a great curler for short-haired users with delicate or fine/thin hair but not so much for those with thick, coarse, and generally hard-to-manage tresses. At almost USD200, it's an expensive curler so the limited heat setting puts a damper on the versatility of the curler.
8. Remington Pro 1″-1.5″ Pearl Ceramic Conical Curling Wand
If you're after glassy, smooth locks reminiscent of old Hollywood glamour or if you just want a snag-free experience when curling, try this pearl ceramic curling wand from Remington. The pearl-infused wand has a ceramic coating. This is good for you in two ways.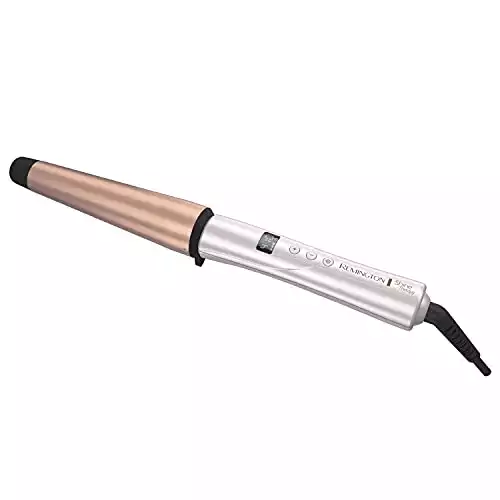 We earn a commission if you click this link and make a purchase at no additional cost to you.
First, ceramic gentle applies heat to strands without hot spots so your waves turn out consistent. The crushed pearl infusions in the barrel means this curler will glide on the hair and make it look really polished.
The curling wand is somewhat conical, tapering slightly at the tips. This gives you flexibility in choosing how loose you want the curls to be. It hovers between 1 inch and 1.25 inches, so it makes wider waves.
Choose from the 9 heat settings available, going up to 410 degrees Fahrenheit. The digital readout makes it easy to remember what setting you're on. The curler lets you adjust the temperature with a press of a button. You can also lock the styler at one temperature. The barrel heats up in 30 seconds so you can curl your locks stat.
Another feature I like is the automatic shutoff, which is helpful when you're in a rush and forget to switch the device off. The curler also comes with a protective glove and a swivel cord for safety and ease of use.
This curler isn't for gals who want defined curls or ringlets because of its barrel size. You should use this with caution because there's a high risk of burning your hand. The protective glove is a helpful addition. You may need to stay close to a power source for this because the cord isn't that long.
Buying Guide: How to Choose the Best Curling Wand for Short Hair
Think of what type of curls you want to achieve.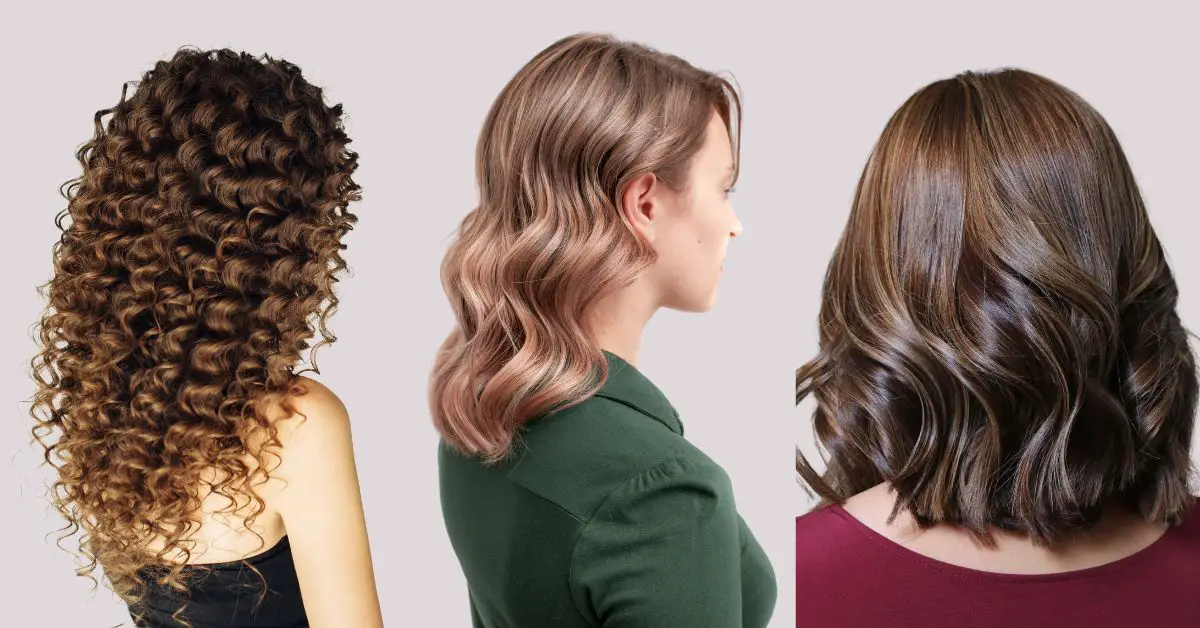 I understand the limitations that come with having short hair, especially if you want curly tresses. However, you should still think of what kind of styles you'll be using the wand for. This will guide you to picking the right barrel size.
You'll need a small wand to curl your mane comfortably. Ideally, it should be 1 inch in diameter or less.
If you want refined, tight coils, go for 3/8″, 5/8″ and 0.5″ irons.
If you're going for a classical, elegant look, a 3/4″ barrel will do wonders for short hair.
If you're a beginner, most experts recommend starting with a 1-inch curling wand which is flexible enough to style all hair lengths. A half-inch to 1-inch barrel size creates beautiful loose waves.
Pick a curler with adjustable heat settings.
You need to be able to change the temperature of the barrel to prevent frying your locks. Heat controls also make it easy to tame rebellious strands which are hard to curl. These hair types need a higher setting. Fine hair benefits the most from lower temperatures.
Look for a digital display that shows the temperature to guide you when styling. This prevents heat damage as well as it's very tempting to keep raising the heat when curling.
Consider the shape of the wand or barrel.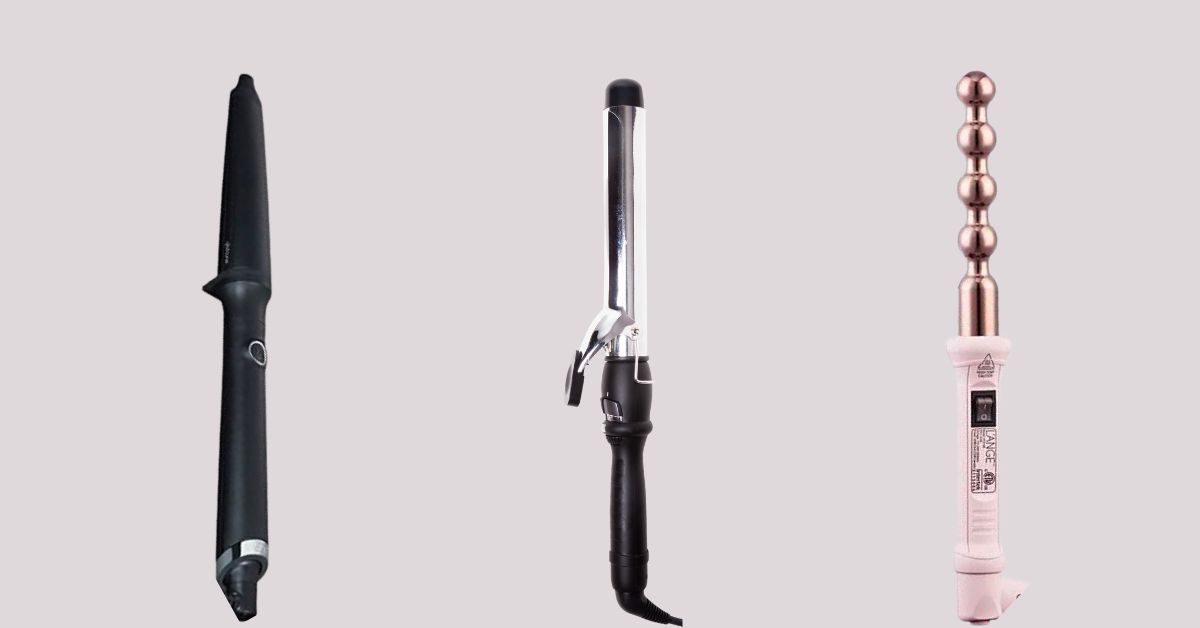 Aside from the iron size, the shape of the wand makes a difference in the finished product.
Cone-shaped wands are versatile because the tips can create ringlets while the wider base produces larger curls.
A straight wand, typically found in curling irons, creates uniform waves.
If you want natural-looking curls, go for a pearl-shaped wand. This looks somewhat like the body of a snowman, with spheres of the same size stacked on top of each other.
There's also the relatively new triple barrel wand that has, as its name suggests, three barrels sticking closely together. These curling irons are efficient and can cover more hair at a time. They also create more defined waves.
Look at the materials used for the barrel.
You risk getting heat damage if you use the wrong heating material for your hair. The most popular materials are ceramic and tourmaline, famed for their even heat distribution. These won't leave hot spots and have the ability to emit conditioning negative ions.
If you have hair that's hard to curl, you may want to try a hair curler with a titanium barrel. It absorbs and transmits heat well and emits negative ions, too. This is best for coarse hair types that are harder to heat up.
Other barrel materials are chrome, gold, and metal barrels that give off steam. Steam helps curl short, fine hair while chrome barrels hold heat well. However, chrome and gold can't seal the cuticle like other materials can and they also tend to have hot spots.
Decide if you want a curling iron or a curling wand.
Don't get these similar-looking tools mixed up. Curling irons have a clamp that holds the hair in place. Curling wands lack this feature so you have to hold your ends while curling.
However, wands have an advantage over irons because you can get closer to the roots and get a crease-free finish but they present a learning curve to less experienced users. 
Check out our helpful guide to learn the differences between a curling wand vs curling iron. 
With Clamps or Go Clipless?
Should you choose a curler with clamps or should you go clipless? The beauty of a curler with a built-in clamp is that hair curling becomes even more foolproof and convenient for most people. This is a great feature for those who are new to hair curling. However, you might end up crimping your hair if you don't unroll your hair fast enough or if the clamp holds the hair too tightly.
A clip can be quite helpful if your hair thickness leans towards the thicker side, and if you need to create tight curls. Short, fine hair also benefits from a clip
A clipless curler might be hard to control if you are curling long tresses, but not so much if you have short hair. Be sure to get a clipless curler with a cool tip. I feel that this curler gives you more control and precision when curling short hair. Thankfully, there are so many clipless curling irons for short hair, you're spoiled with options!
Static or Rotating Curling Wand
Users with short hair could decide between a static or a rotating curling wand. A static curling wand is a basic styling tool with a frills-free design. The barrel does not move so you have to manipulate the curler as you see fit to create the hairstyle that you want. 
On the other hand, a curler with a rotating wand holds and releases a hair section for faster styling. It's a great feature for anyone who's pressed for time in the morning or those who want their curlers to do most of the work. Curlers with rotating barrels are, of course, slightly pricier compared to curlers with static wands but they curl hair in half the time, which busy users would appreciate. 
So which one is better, a curler with a static wand or a hot tool with a rotating barrel? I suppose the answer is a matter of preference. A static curling wand is perfect for anyone who'd like an easy to use hot tool, particularly individuals who are new to hair styling. However, if you want to get more out of your styling tool then an automatic hair curler with a rotating barrel might be worth the investment. 
What's the Best Way to Use a Curling Iron on Short Hair?
Prep your hair by drying it thoroughly and then applying heat protectant along the lengths. You can also use a mousse to add texture to your hair, especially if it's straight and freshly washed.
Start with a low heat setting, especially if you have fine, thin or damaged hair. Use the adjustable controls to your advantage to prevent wreaking more havoc on already vulnerable short strands.
Remember that a smaller barrel creates tight curls but it also makes it easier to wrap the hair around the wand.
Section your hair with clips or elastics. Start twirling pieces on top of your forehead. Hold for a few seconds then release. Mix it up by alternating directions. Curl some sections away from your face and the others towards your face.
Repeat until you've covered your entire head.
Loosen up your waves by shaking them out, especially at the roots to create volume. Spritz with hairspray to set.
Flat Iron vs Curling Iron for Short Hair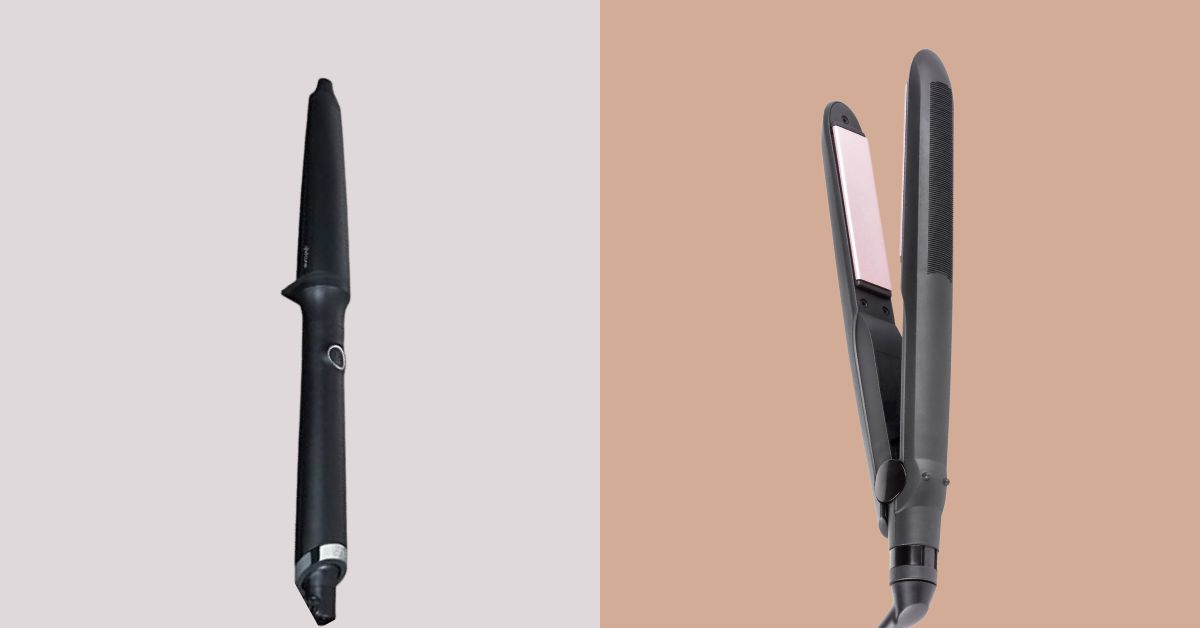 The way you wrap your hair around a hot tool could affect the shape of the curls so it's important to use the right product for hair curling. This goes especially for those with short hair, a slight misstep is hard to hide or correct if you have short hair!
You don't have to be a curl connoisseur to know that a curling iron is a totally different product from a flat iron. In this guide, let's take a closer look at these styling tools:
Curling Iron Features
Optimized for hair curling
Compact, lightweight design
Adjustable heat settings
With built-in clip or clipless design
Create different types of curls
A curling iron is designed specifically to create curls. It features a cylindrical or tapered barrel to create a variety of curls and waves such as beachy waves, defined curls, classic curls, ringlets, corkscrew curls, etc. The barrel could be static or rotating, with built-in clip or clipless. 
Because a curling iron is designed for hair curling, the entire process of styling your hair is much faster and more efficient. The device also comes with customizable heat settings, which is critical for the longevity of the curls. The multiple heat settings are ideal for anyone with damaged, delicate, and coarse hair.
The heat setting should be low if you have fine or delicate hair otherwise; there is the real risk of frying your tresses while curling your hair! High temps are needed to control coarse, thick, or unmanageable hair and most times, a flat iron just doesn't cut it.
Flat Iron Features
Optimized for hair straightening
Flat, clamp design
Compact, lightweight design
With heated plates
The flat iron has hard edges that cause crimped, bumpy curls when used as a hair curler. The curls themselves won't be bouncy. And because heat is produced on both sides of the clamp, using a flat iron beyond its intended purpose could lead to styling damage. In fact, even those who are used to curling their hair using a flat iron end up with fried tresses because of the excessive heat.
Curling irons come with multiple heat settings and you could customize the temperature settings according to your hair texture and density. Most flat irons do not come with the same features so these devices might not work on some hair types.
There are flat irons with more rounded clamps so they pull double duty as hair curlers too. However, the edges are still ever so slightly defined so don't be surprised if you still got crimped, uneven curls. You can use a flat iron to curl your hair but it takes practice to get decent curls.
So which device should you get?
If you prefer curling your hair, then it makes sense to use a styling product that's optimized for creating curls. But if you want a device that could straighten your hair and also give you curls sometimes, then opt for a flat iron.
Personally, I don't recommend using a flat iron for hair curling because the device does not come with the same control and precision that a curling wand offers. All these will affect the health of your hair and the quality of the curls. Curling your hair with a flat iron is also cumbersome and the result might not be what you expect. If you have an important event, don't use a flat iron to curl your hair unless you've had practice.
If you have short hair then using a flat iron to create curls is out of the question! The clamp is just too chunky, you cannot wrap the hair section properly to get decent curls. I shudder to think what kind of crazy curls you'll get from a flat iron if you have chin-length hair. You won't be able to create tighter curls because of the shape the flat iron. 
FAQs about Curling Irons for Short Hair
What's the best way to avoid a burn when using a curling iron?
There are several ways to avoid getting a burn while styling short hair. It helps if your curling iron has adjustable heat settings and consistent temperature. Wearing a heat protection glove that comes up to your wrists may also make styling easier without fearing you'll burn yourself.
Someone suggested I look for mini curling irons instead of getting a regular-sized one. Should I do this?
It's actually up to the hair curler's barrel size that makes it work for short hair. A hair curler with a big barrel and shorter barrel length may pass as a mini curler, but won't produce the tighter curls as curling wands or irons with smaller barrel size can give you. 
What barrel-size curling iron should I go for if I have short hair?
For the best curling iron for short hair, anything between 0.5-1 inch will do. Check out our guide on curling iron sizes to learn more about finding the right size for your hair length. 
Final Thoughts
Curling short hair can be challenging but it's not impossible to do with the right product. The key features to consider when looking for the best curling wands for short hair are the size and shape of the barrel as well as the heat settings. You want a curling wand that's sized perfectly for your hair length. The device should reach the ideal temperature to achieve lasting curls.
We've reviewed a diverse selection of curling wands that are best suited for short hair. The features, designs, and prices vary so there is something for every taste and budget. We hope that our list helped in your search for the best curling wands for short hair!
Leah Williams
Leah Williams is the founder of Lucky Curl and has been in the hair care and styling industry for the last 15 years. Since then, she has developed incredible expertise and a deep understanding of how to treat and style the most difficult hair types and is passionate about sharing her knowledge with the readers of Lucky Curl.