Hair dryers are an amazing invention. They dry your hair, help you style it, and put frizzy hair to an end. This is why they make the perfect travel companion. 
Yet most blow dryers are famous for making sounds that could rouse sleeping roommates. Not a good way to wake up!
We at Lucky Curl rounded up five of the best quiet hair dryers so you can keep your locks sleek and styled — without disturbing anyone in the process.
Why Should I Get a Quiet Travel Hair Dryer?
It's better for your hearing. 
Regular hair dryer users can attest to the amount of noise a hair dryer makes-and it's pretty loud. Getting a quiet hair dryer saves your ears from too loud noise which is bad for your health anyway. It won't totally be noiseless, but it will make a difference!
Lets you enjoy your (and others') vacation.
A quiet hair dryer can help you look your best without disturbing others. Other hair dryers dry wet hair but are not the best to use when sharing a room with someone who awakens easily.
Doubles up for your pets
At home after your much-needed break? A quiet blow dryer with standard heat and speed settings won't freak out your pets when you use it and you can use one to dry their fur too without them trying to escape.
Our Top 5 Quiet Hair Dryer Picks for Travel
MHU Professional Salon Grade Hair Dryer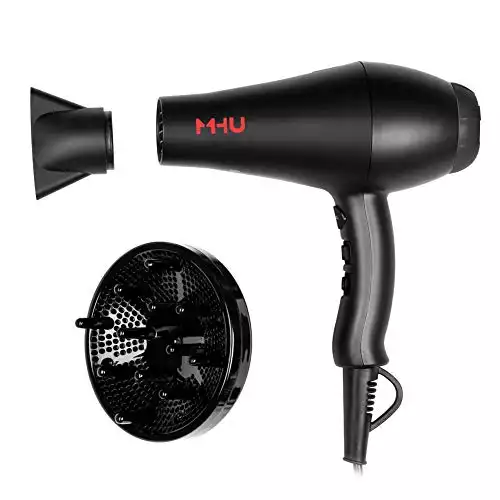 Hair dryers are considered quiet when they fall on the 70-80 decibel range, and the MHU Professional Salon Grade Hair Dryer falls on 75 decibels, making it one of the quieter hair dryers for a hair salon blowout at travel. Just like the hair dryer features above, it also uses negative ion technology to dry hair with the addition of far infrared heat.
It comes with  a concentrator and a diffuser attachment to add volume without the frizz. It has 2 speeds and 3 heat settings that lets you take control of how you dry your hair. The filter is removable too, so you can easily clean it.
Jinri Professional Hair Dryer
What sets apart the Jinri Professional Hair Dryer from the two dryers above is its comb attachment which is perfect for detangling. Professional hair stylists love this attachment for curly or wavy hair. This hair dryer is whisper-quiet, has negative ionic technology to keep moisture in and smooth hair, and dries hair fast with infrared heat technology.
The cool shot setting keeps your hair smooth after drying, and with a 9 ft long power cord, you could literally go places with this hair dryer. Gorgeous hair + quiet operation? We're sold.
Dyson Supersonic Hair Dryer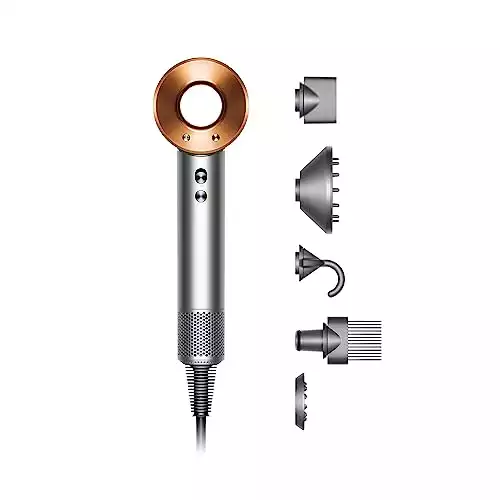 Dyson Supersonic™ Hair Dryer
Built with powerful Dyson V9 motor and patented Air Multiplier Technology for less heat damage
Comes with magnetic styling attachments
Designed with negative ions to reduce static and frizz
Suited to all hair types
Buy from Amazon
We earn a commission if you click this link and make a purchase at no additional cost to you.
12/04/2023 09:30 am GMT
Probably the most futuristic of all the hair dryers in this review, this is unlike regular hair dryers. We love how you could have a normal conversation with someone while drying hair- that's how quiet it is.
The Dyson Supersonic Hair Dryer boasts a speedy drying process. That's where the supersonic part comes in. It also has several magnetic attachments (sold separately) to address different styling preferences and hair types. It's kind of a little pricey, but it's worth it.
Kipozi 1875W Hair Dryer
A quiet hair dryer with a 8-foot long cord? We love how this Kipozi 1875W Hair Dryer has these two features to help us style our hair during travels. This low-noise hair dryer looks sleek in black and gold, plus it only weighs 1.2 pounds, you won't be tiring your arms while drying thick hair.
As for its other features it has a negative ionic function to keep hair sleek and silky, has three heat settings (low, medium and high) and two speed settings. Like most hair dryers, it has a cool shot button to seal in your style.
Centrix Q Zone Quiet 1500 Watt Tourmaline Ceramic Ionic Hair Dryer
The futuristic feel of the Centrix Q Zone Quiet 1500 Watt Tourmaline Ceramic Ionic Hair Dryer belies its quiet operations. Expect fast drying time and sleek locks from this one too, thanks to its ceramic tourmaline technology and ionic technology combination.
The Centrix QZone dryer has a 1500W motor which explains its quiet operation (though the three others running at 1875W are relatively quiet, too). The instant cool button is placed conveniently near the top front of the handle. Your arms won't tire using this hair dryer with a weight of only 1.5 pounds. Talk about being quiet and travel friendly. 
What is the quietest travel hair dryer?
For this review, it's the Jinri Professional Hair Dryer for the win for the quietest hair dryer you can bring to travel. It has a long cord, is affordable but not cheaply made, has attachments we love, plus it's the quietest in the batch. It's the best quiet hair dryer whatever the hair type.
No wonder hair salons prefer this because it dries hair fast and smooth with negative ions and two temperature settings.
Many hair dryers dry hair well but with the quietest hair dryers, you can be sure that your travel companions appreciate the less noise. So go ahead and book that ticket-your perfect blow dryer is waiting.
If quiet isn't a concern,  check out our other post to find the best travel hair dryer.
Leah Williams
Leah Williams is the founder of Lucky Curl and has been in the hair care and styling industry for the last 15 years. Since then, she has developed incredible expertise and a deep understanding of how to treat and style the most difficult hair types and is passionate about sharing her knowledge with the readers of Lucky Curl.