If you're in the market for a quality travel hair dryer, Dyson should be at the top of your list. Dyson offers a variety of hair styling tools that cater to different hair types, and that is perfect for taking on the go.
Among these tools is their iconic Dyson Supersonic hair dryer. It's the only hair dryer model by Dyson, and while it's technically not a travel hair dryer, it is lightweight and super quiet, making it a great option for international travel and some local escapades.
In my years as a hair styling professional, the Dyson Supersonic Hair Dryer has always been one of my go-to tools for a lightweight dryer. Let's explore what makes this a must for your hair routine. But first…
What should you look for in a travel hair dryer?
You should consider these things when choosing a travel hair dryer:
Your hair type, thickness, and texture (frizzy hair, fine hair and thick hair often require different heat settings).
Size.
Your travel hair dryer size must be small enough to fit in your travel bag so that you can have smooth hair on the go.
Multiple features.
Some of the features hair dryer users prefer include ionic technology, which helps reduce frizz and static; a cool shot button, which sets your style; and a diffuser attachment, which is great for curly hair.
Heat technology.
You'll also want to consider getting one with tourmaline ceramic technology and intelligent control for smooth locks without the danger of getting burned.
The Dyson Supersonic Hair Dryer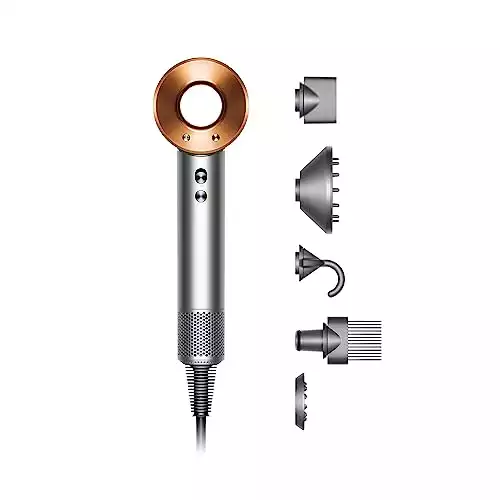 Dyson Supersonic™ Hair Dryer
Built with powerful Dyson V9 motor and patented Air Multiplier Technology for less heat damage
Comes with magnetic styling attachments
Designed with negative ions to reduce static and frizz
Suited to all hair types
Buy from Amazon
We earn a commission if you click this link and make a purchase at no additional cost to you.
11/13/2023 02:30 am GMT
We want a hair dryer that can dry hair quickly, decrease frizz and enhance shine. This hair dryer nails it without extreme heat damage, leaving your curls defined and frizz free If you have straight hair trust this hair dryer to give you a sleek finish with or without hair products on the side.
Magnetic Attachments
The Dyson Supersonic has magnetic attachments that style hair according to your needs.
Gentle air attachment.
This attachment minimizes heat damage to your hair, making it a good bet for damaged hair. The controlled airflow and intelligent heat control protect hair from further damage. No more hot air burning your hair and scalp! The air temperature stays at optimum levels to protect hair.
Smoothing nozzle.
Want a blowout that looks natural and not overdone? This nozzle handles it. Hair is frizz free and has a natural shine.
Diffuser attachment.
One of the must-have features of most hair dryers is a diffuser which helps define curls. The Dyson Supersonic diffuser has a soft silicone material that helps grip hair, giving you more control over how your curls will look.
Styling concentrator.
When you need a localized blast of air to style a certain area, this concentrator nozzle comes in handy. It's great for touch-ups and final details that'll make your hairstyle look polished.
Flyaway attachment.
If you have fine hair, this attachment is for you. It helps tame flyaways and gives your hair a sleek look.
Other Features of the Dyson Supersonic Hair Dryer
How can a hair dryer that's not made for travel end up among the recommendations for best travel hair dryers? Here are the reasons:
Speed settings.
This blow dryer has four-speed settings to choose from.
Quietness.
No one wants a noisy dryer to dry your hair. Hair dryers can sometime rival vacuum cleaners in terms of noise, but this blow dryer is whisper-quiet. Drying hair is no longer a noisy affair.
Lightweight.
We know how hard it is to blow dry thick hair with a heavy hair dryer. You wouldn't want to do the same while traveling and the good thing is this tool passes as a lightweight travel hair dryer, weighing only 1.8 lbs.
The design.
This blow dryer is sleek and sophisticated and is shaped more like an L rather than a T so it's easier to hold.
The power cord.
At 9 ft you can certainly reach places while styling with this dryer! And once you're done, simply wrap the cord around the handle for neat storage.
Portability.
It comes with a handy case for easy packing and storing away while you travel.
Cool shot settings.
This tool is dedicated to taking care of your hair while you style it. It has a cool shot button that releases cool air to set your style and help lock in shine.
Ionic technology.
This hair dryer uses ionic conditioning to help reduce frizz and static, while also adding shine to your locks.
Tourmaline ceramic technology.
This is another feature that works to minimize heat
What This Tool Doesn't Have
If the following features are non-negotiable for you, then you might want to skip getting this blow dryer:
Folding handle. It does not fold unto itself, so you might want to allot space (not that big, though) in your bag for this.
Wide-tooth comb attachment. The attachments this dryer has are awesome, but there's no wide-tooth comb attachment for frizzy hair.
Affordability. This dryer starts at $400 so if you're looking for a more affordable tool then this one is not for you.
The Final Verdict
The Dyson Supersonic is the best travel hair dryer because it's lightweight, has multiple attachments to style different hair types, and uses little space in your bag or suitcase.
So there you have it! The Dyson Supersonic is a great option for a travel hair dryer. You might want to check out our other recommendations for a best travel hair dryer you want to explore other options.
Leah Williams
Leah Williams is the founder of Lucky Curl and has been in the hair care and styling industry for the last 15 years. Since then, she has developed incredible expertise and a deep understanding of how to treat and style the most difficult hair types and is passionate about sharing her knowledge with the readers of Lucky Curl.