There's one trip I'll never forget. I was packing in a rush and forgot to include my clunky hair dryer. Cut to me arriving at the Airbnb only to discover it didn't have a blow dryer. That was the last time I traveled without one. But what exactly makes something a good hair dryer if you go abroad? If you're looking for the best travel hair dryer, you're in luck.
Best Travel Hair Dryer – 5 Options Perfect for Your Suitcase
Hot Tools Professional 1875W Lightweight Ionic Travel Dryer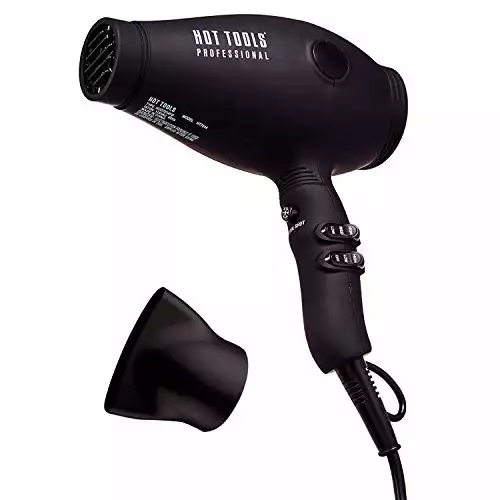 If you have curly hair and are feeling left out with the lack of diffusers in this roundup, you'll love the Hot Tools Travel Dryer. This is a compact hair dryer with a folding handle and weighs 8 oz. The vivid purple on the body and handle will be a colorful addition to your vanity or your luggage. With its dual voltage abilities, this is perfect for vacations, business trips, cruises, and all types of traveling. Just remember to switch voltages before use.
This has the power of a regular-sized hair dryer at 1875W. This will definitely dry hair better than the subpar hotel room dryers.
Pick from 2 heat and speed settings. A cool shot option locks in your curls and blowouts. You'll appreciate the ionic technology this comes with, especially if you have frizzy or fragile hair. It will give silky smooth and glassy hair without damage.
You get 2 attachments with this product, which is a bargain for the price. There's the concentrator nozzle to direct the heat and air where you need it most. The finger diffuser will hold on to your curls, giving them shape and volume without overdrying them.
Bonus features include the hinged end cap for easy maintenance, the long 6-foot cord that makes styling anywhere less of a hassle, and a 1-year warranty in case you're unsatisfied with the travel hair dryer.
It's important to note that this is not as light as your average travel dryer and will take up more room in your luggage.
Pros
Compact with a folding handle
Runs on 1875W
Has dual voltage but it isn't automatic
Customizable heat and speed options with a cool shot button
Has ionic technology
Comes with a concentrator nozzle and a diffuser attachment
Has a hinged end cap
Has a long cord
Has a 1-year warranty
Cons
The 2 heat and speed options might not be enough for everyone
Not as compact and light as other travel dryers
BaBylissPRO TT Tourmaline Titanium Travel Dryer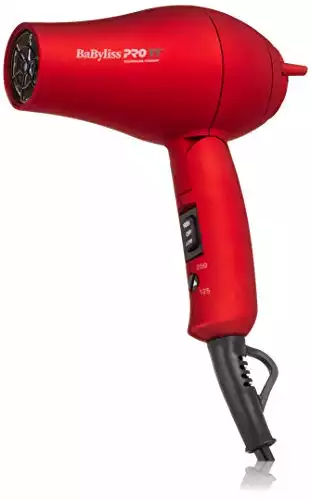 Don't be fooled by the smallness of this hair dryer. It's tiny but works just like a regular dryer. The brilliant red hue makes it easy to find this in your bag but the star feature that makes this a travel must-have is its folding handle. Tuck the handle in to save on luggage space. Of course, this baby has dual voltage so it works anywhere in the world. To change voltages, don't forget to flick the switch. An automatic conversion would have been ideal but for the price of the BaBylissPRO, I can look past this.
This is a tourmaline titanium hair dryer, fusing the hair care benefits of tourmaline with the efficiency of titanium. Tourmaline provides natural ionic technology and far infrared heat. You get smooth, lustrous hair with zero frizz, zero damage. Titanium has excellent heat transfer so you get your drying done in no time. More time for pictures and taking in the sights.
The travel hair dryer has 2 heat and speed settings which aren't extensive at all but because of the titanium tourmaline combination, you don't have to worry about overdrying your hair. Sadly, there's no cool shot button. In the hood, this packs 1000 watts of power, expected for this size, but if you're looking for very quick styling, this isn't my first pick. Good thing the hair dryer has a concentrator nozzle in the box so you can really smooth down those locks and get high shine. At 1 lb, this is the best tiny travel hair dryer that gives you the essentials.
Pros
A very small travel hair dryer with a folding handle
Affordable
Has dual voltage but not automatic
Protects against damage with its tourmaline gemstones
Has titanium for quicker drying
Has 2 speed and heat settings
Comes with a concentrator nozzle
Weighs only 1 lb
Cons
No cool shot button
Not a powerful hairdryer at 1000 watts
Number of heat and speed settings can be improved on
Revlon 1875W Compact Travel Hair Dryer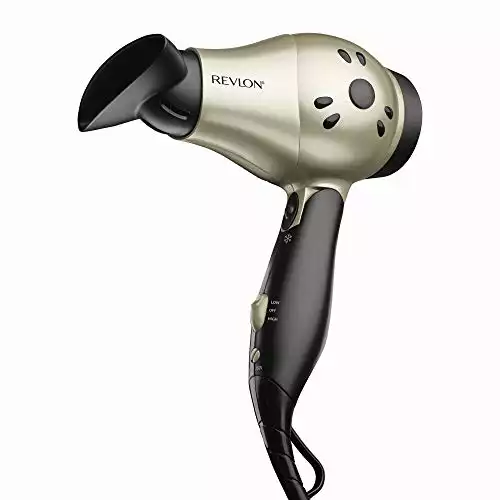 Revlon is a hair and makeup brand that has made a name for itself with its innovative hair tools. This lightweight travel hair dryer is no exception. It has a modern design that definitely looks better than the standard hotel hair dryer. What's great is that it folds on itself, too, taking up less room in your carry-on or gym bag. Switch from 125V to 250V or vice versa with the clearly labeled knob on the bottom of the handle. You'll have to look up the voltage of the country you're in, though, because it doesn't switch automatically. Still, you'll be able to use the hair dryer wherever you're heading.
This one has 1875W of power, just like a regular-sized hair dryer. This is suitable for home use, too.
Get stunning blowouts with its triple ceramic and ionic technology. Ceramic is gentle on hair and gives even heating so your locks don't get fried with hot spots. Negative ions seal in the cuticle and give you a polished look.
The double heat and speed settings will cover most hair types' needs and the cool shot button will set your style in place. For coarse hair though, more heat settings are preferable.
This also comes with a smoothing airflow concentrator, great for straight-haired women who want more sleekness. The end cap is removable, perhaps to remove any dust and debris that collect at the back. The cord length is 6 feet, which is a plus. A major pro is the price, which is amazing for all the features you get.
Unfortunately, the nozzle has a reputation for falling off the lip the blow dryer if you're not careful.
Pros
Lightweight blow dryer with modern design
Has a folding handle
Is dual voltage with a labeled knob for switching between voltages
Runs on 1875W
Combines ceramic and ionic technology for healthy hair
Has 2 heat and speed settings
Comes with a concentrator nozzle
Has a removable end cap
The 6-feet cord is a bonus
Affordable
Cons
The heat settings may not be enough for coarse hair
The concentrator nozzle falls off easily
Conair 1600 Watt Compact Hair Dryer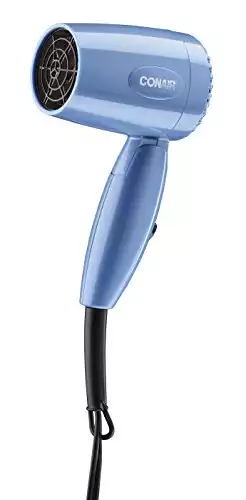 This is the little hair dryer that could. With its eye-catching design to its cool blue hue, traveling with the Conair Compact Hair Dryer will be pleasant. It's tiny but gets even smaller because of its folding handle. Perfect as a travel buddy and even as a hair dryer for your guests.
When you do take it along with you, you'll appreciate the dual voltage feature. To use it, just turn the switch on the handle, next to the on/off switch.
The Conair has 1600 watts inside its small frame, powerful enough for on-the-go styling. It's not as powerful as regular hair dryers, though. Choose from 2 speed and heat settings and a cold shot button. They recommend the low option for delicate and thin hair. Average and thick hair types can use the high setting. Again, if you have coarse, thick hair, you might need more options.
Because it weighs only 1 lb and has a 5-foot long cord, using this hair dryer is easy wherever you may find yourself in.
A downside with this one is the lack of ionic technology and attachments, but for the low cost, most people can look past it.
Pros
eye-catching, tiny design with a folding handle
Has a dual voltage but it doesn't switch automatically
Runs on 1600 watts for casual hair drying
Comes with 2 heat and speed options and a cold shot button
Weighs only 1 lb
Has a long cord
Affordable
Cons
Not for coarse, thick hair because of its limited heat selections
No ionic function or nozzles
T3 – Featherweight Compact Folding Hair Dryer
If you're looking to invest in the best travel hair dryer or just want a compact blow dryer for your home, the T3 is one of the best options. It's a sleek white travel hair dryer with rose gold accents–great if you want something that looks dainty. You won't have to fret about luggage space because the handle folds in, giving you more room for your shoes, clothes, and souvenirs.
Of course, this won't be on the list of best travel hair dryers if it weren't dual voltage. There's a label on the back that indicates the voltage you're using and it's easy to turn the switch in after you've arrived in a new time zone.
Because of the T3's SoftAire technology, you get those nourishing negative ions that help dry hair quickly so you leave time for more important things on your itinerary.
The travel hair dryer has 2 heat and speed settings and cold shot function so you get quality blowouts even on the go. With 1200W, it's powerful enough for casual hairstyling. If you like keeping your travel hair dryer looking pristine, you'll appreciate the scratch-resistant surface on the T3. It also has a diffuser included with purchase so your curls look defined and shiny. The 9-foot long cord will reach even the most isolated power outlets in the Airbnb or hotel room. To top it off, you get a storage tote to stow away your travel hair dryer when not in use. A downside with this one is the price. It's as expensive as a regular hair dryer.
Pros
Sleek travel hair dryer with scratch resistance
Compact and foldable
Has dual voltage but it doesn't switch automatically
Contains ionic functions
Has 1200W of power
Has 2 heat and speed options with a cold shot
Includes a diffuser and storage tote
Has a 9-foot long cord
Cons
Expensive for a travel dryer
What to Look for in a Travel Hair Dryer
"But the hotel hair dryer works fine," I hear you exclaim. Here's one more reason to get a travel hair dryer: hotel dryers are filthy. According to a study by a microbiologist who conducted a test on hotel rooms at various price points, the hair dryer is a breeding ground for bacteria. They can be filthier than sinks and toilets because it tends to be the last thing to get disinfected.
That's not to mention the lack of power these hair dryers have. It'll be too weak to dry the hair quickly. On the other hand, it can be too hot and end up frying your hair. Of course, you can get lucky and get a passable dryer but it's better to come prepared.
Here's a list of things to check in a potential hair dryer to ensure you get the most out of your purchase.
1) Dual voltage
This is number 1 on the list because a hair dryer won't be good for travel without dual voltage.
What is a dual voltage hair dryer?
A dual voltage hair dryer can function well in your home country and abroad without needing a converter or transformer. A region or country usually falls on either 110-120V and 220-240V. If you're traveling to a place with a different voltage and your hair dryer is single voltage, you'll run into some issues. The hair dryer can catch fire, which is not a good look, to say the least.
Although you can just buy a converter, there are cases when you need a transformer instead or sometimes both. To save yourself the hassle, get a dedicated hair dryer for trips abroad.
How do I know if my hair dryer is dual voltage?
You can check a label on the device itself, usually near the power cord. You can also try the bottom or back of the hair dryer.
Single voltage hair dryers are labeled like so:
Dual voltage hair dryers have this fine print:
120V-240V
120V 60Hz/240V 50Hz
120V to 240V
What's the best way to use a hair dryer while traveling?
When using a dual voltage hair dryer, most of the time they have an automatic converter that adjusts to the voltage of the country you're in. Sometimes, you have to switch manually. Read the manual carefully, to be sure.
2) Wattage
Wattage spells out how powerful your hair dryer will be. Even though you'll be using it on the go, you'll still need fast hair drying so you can devote your time to exploring a new city or lounging by the beach. Experts recommend at least 1800 to 1850 watts but small hair dryers can go even lower because of their size. It's up to you if you need the extra luggage space versus quick drying.
3) Heat Settings
Customized temperature is important so you can tailor the heat to your hair type. You don't want to go too high or too low so go for at least 2 heat and speed settings.
4) Cool Shot
A cool shot makes styling easier. It sets the hair in place, seals the cuticle, and keeps your hair looking shiny.
5) Damage Protection
To prevent wreaking havoc on your hair strands during your vacay, go for a hair dryer with ionic functions or infrared heat.
Negative ions are the only negativity I'll allow in my life or at least, in my hair. These good ions help hair retain moisture and dry faster by breaking up water molecules. Negative ions also close the cuticle and tame nasty frizzies.
Infrared heat dries hair from the inside, halving your styling time. It's a gentle yet efficient way to dry hair because it uses less heat.
6) Compactness
A compact hair dryer is small and light. This is a more subjective criterion, depending on how much space you have in your bag. For both home and travel use, you'll thank yourself for getting a light hair dryer. Light doesn't mean small, however. There are large hair dryers that are feather-like. It depends on what you prefer but personally for travel, the less space a dryer takes up, the better. A folding handle is also a great space saver.
7) Ease of Use
This is hard to determine without holding a hair dryer in person but to start, think of how it's designed. Where are the buttons located? Does the handle look comfortable to grip? Do the buttons get in the way when hair drying? Are you someone who likes sliding switches or rocker switches? A good tell is how clearly the switches, buttons, and lights are labeled on the appliance. You want to know if the buttons are actually responsive when you change heat settings.
8) Cord Length
Because it's rare to find someone who travels with an extension cord these days, it's important that you have an adequately long power cord if you find yourself in a hotel room or AirBnB with a mirror far from the power outlet.
9) Price
It's understandable to want to skimp on a travel hair dryer because it's not your daily dryer. Good hair dryers come at different prices so there's one for you. If you're looking to invest in something you'll also use at home, the extra dollars may give you a dryer with more features and longer lifespan.
The Verdict
Travelling hair dryers can go for a really affordable price nowadays so you'll find a good one on a tight budget. The best travel hair dryers, in my book, are powerful yet compact with the essential features you need for globe-trotting while looking presentable.
One of the best travel hair dryers on the market, certainly the best one on the list for me, is the Hot Tools Professional Ionic Travel Dryer. It doesn't neglect the needs of curly-haired women with its diffuser add-on. It's powerful at 1875W and despite its larger-than-usual size for a travel blowdryer, it can fold in so you get more room in your luggage.
It has the usual heat and speed selections with a cold shot feature. It won't wreck your tresses because of its ionic function. Styling with this is also a breeze with its long cord. All of that for a surprisingly reasonable price.
It's one of the best out there if you're in the market for a hair dryer for travel needs.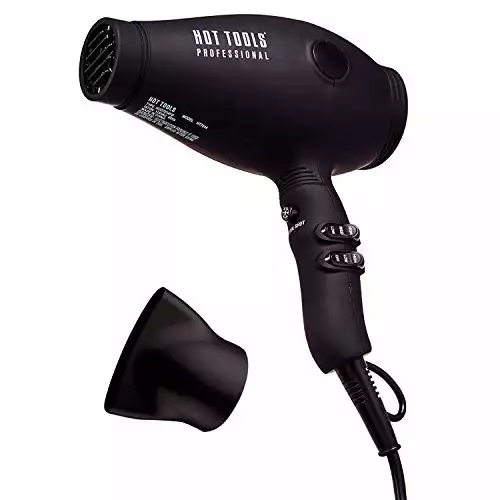 Leah Williams
Leah Williams is the founder of Lucky Curl and has been in the hair care and styling industry for the last 15 years. Since then, she has developed incredible expertise and a deep understanding of how to treat and style the most difficult hair types and is passionate about sharing her knowledge with the readers of Lucky Curl.