Styling your hair as a black woman can be high maintenance. You have to choose gentle but effective products at every step. Since natural hair can be fragile and prone to breakage, it's important to choose the best blow dryer for black hair. These blow dryers come in all price ranges to suit every budget.
Best Blow Dryer for Black Hair – 5 Top Rated Options Reviewed
MHU Professional Salon Grade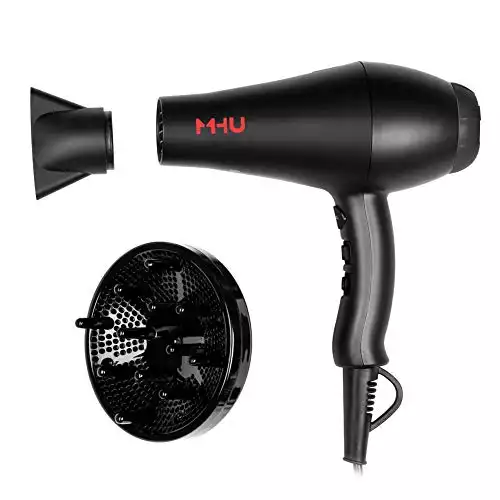 If you're worried about your curls frizzing up and turning limp, this is the best blow dryer for you. The MHU Professional Hair Dryer has a powerful, long-lasting 1875-watt AC motor that runs quietly. If you prefer a quiet blow dry, this one is a safe bet.
The hair dryer uses both ceramic technology and far-infrared heat to gently dry your hair from within by penetrating the hair strand. This type of heat is gentle but effective, cutting down on styling time. It's also cooler on the scalp so you don't feel that burning sensation. Its negative ion tech also gets rid of frizz and polishes the hair so you end up with smooth and shiny locks.
You can customize the heat and speed to your preferences with its 2 speed options and 3 heat settings. Click the cool shot for a blast of cold air to lock your hairstyle in place.
There are an airflow concentrator and diffuser that come in the box. This is great for curly-haired girls who want wavy or straight styles. To extend your dryer's life, the blow dryer comes with a removable lint filter for convenient cleaning and maintenance. It's amazing that this is only 0.88 lbs.
If you have long hair, you have to be careful of this one as there is no protective cover on the back that prevents your hair from being sucked into the screen.
Pros
Powerful AC motor that runs quietly
Ceramic dryer that uses far-infrared heat and ion technology
3 heat and 2 speed settings with a cool shot
Comes with an airflow concentrator and diffuser
Removable air filter
Lightweight
Cons
Long hair might get trapped in the back of the blow dryer
Elchim Classic 2001 Hair Dryer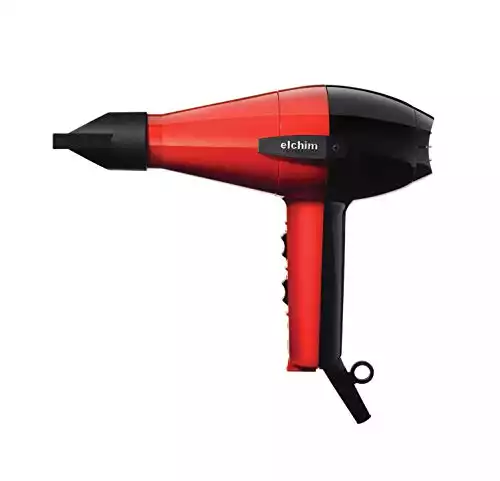 Elchim Milano has been in the hair dryer biz for 75 years. They sell a wide array of blow dryers and other hair styling tools. One of these is the Classic 2001 Hair Dryer. It's something you can count on if you have unruly hair. It's designed to taper in front and have better air circulation. All hair types will enjoy this but this is the best blow dryer for thick and coarse hair that tends to be frizzy.
The blow dryer is made of ceramic that gently and evenly heats hair. It uses far-infrared heat which dries hair from the inside out. This helps cut down on drying time. You'll find the Italian-made 1875 watt AC motor powerful enough even for the thickest of hairs. The motor is engineered to last over 2,000 hours. Choose from 2 air speeds and 3 heat settings, plus a cold shot feature. The housing is made of durable nylon and there's a cord that's 9 feet long attached to the hair dryer (bye-bye, extension wires!). If you want more concentrated heat, a precision concentrator nozzle comes in the bag. Best of all, it only weights 18 oz. Hairstyling won't be a chore with something so lightweight.
The things that make this dryer less appealing is how small the concentrator nozzle is compared to regular nozzles. It also doesn't come with a diffuser.
Pros
Powerful airflow
Ceramic component gently heats the hair with far-infrared heat
AC motor is 1875 watts
Customizable air and heat settings with a cold shot
Comes with a precision nozzle
Lightweight
Cons
Precision nozzle is small
No diffuser
BaBylissPRO Nano Titanium Hair Dryer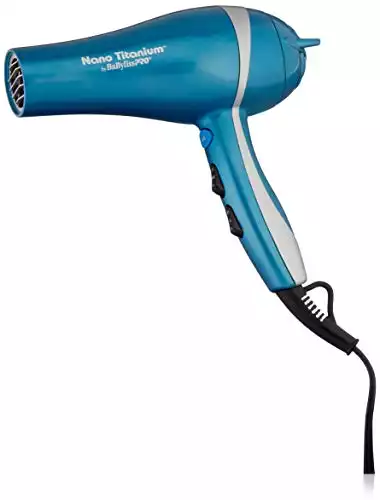 At 2000 watts of power, this nano titanium blow dryer by BabylissPRO means business. It's impressive for a sub-$100 hair dryer that's only 14 inches long. This powerful dryer comes with a built-in ion generator, perfect for sealing the cuticle, hydrating the hair, and taming frizz. The nano titanium technology also ensures your hair dries fast. These features make this the best blow dryer for frizzy and coarse black hair.
This also goes the extra mile in terms of customization. It offers 6 heat and speed settings. If you have fine hair or even thick hair, you'll find the right temperature and airflow option for you. The cold shot button is good for locking in your 'do.
The air filter on this blow dryer is removable which makes me certain this little thing will last long with proper maintenance. This also comes with a concentrator nozzle in the package if you gravitate towards sleek or straight hairstyles. On top of that is a handle with an ergonomic design, helping you grip the hair dryer better, which means less drops and mishaps when drying.
The BaByissPRO hair dryer's downside is its weight. At 1.8 lbs, it's quite hefty. The lack of a diffuser could have curly-haired girls feeling left out. Still, the blow dryer offers enormous value for the price.
Pros
Very powerful at 2000 watts
Built-in ion generator
Made of nano titanium for fast heating
6 heat and speed settings and a cold shot button
Concentrator nozzle
Removable filter
Cons
Heavy
No diffuser included
T3 – Cura Hair Dryer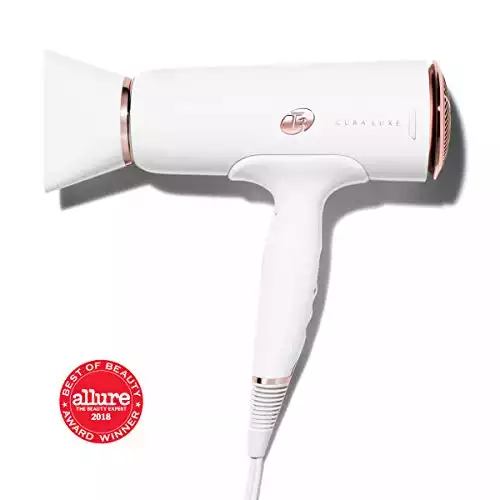 T3 is well-versed in the science of fabulous, as their tagline says, and this is one fabulous blow dryer. It has a white body with rose gold accents that make it look premium (which fits that premium price tag).
To suit your black hair types and protect curls, it comes with 3 heat settings and 2 speed options. The built-in ion generator tamps down the frizzies and seals the cuticle so you get smooth, glassy hair. There's a cool shot button, too, to lock in all your hard work. Everything is digitally-controlled so you don't have to fumble around with switches for different settings. This is the best blow dryer when you can't be bothered with manual controls because you can just set and forget it.
This hair dryer is great when you want to dry your hair quickly because it has a wide vent for more airflow. The comfortable handle is a bonus. The T3 Cura has a 1875-watt motor but it runs quietly. If you're sensitive to noise, this fits the bill.
In the package is a drying concentrator and a styling concentrator attachment. The cord also comes with a cord wrap. To top it off, there's a 2-year warranty with your purchase.
Sadly, it doesn't come with a diffuser, but it's compatible with the SoftCurl diffuser that's sold separately. At 1.75 pounds, it's also not super light and the price is on the higher end.
Pros
Comes with 3 heat and 2 speed settings and a cool shot button
Built-in ion generator for smooth hair
Digitally-controlled
Powerful 1875-watt motor
Quiet
Has a drying concentrator and styling concentrator included
Cons
RUSK Engineering W8less Professional Hair Dryer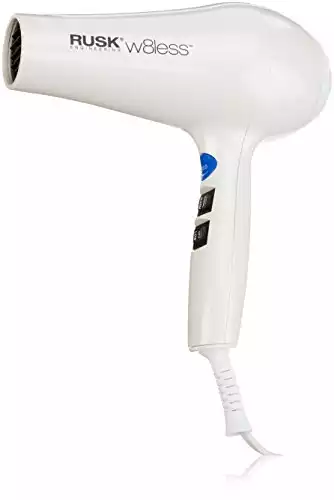 The RUSK W8less Professional Hair Dryer is simple, powerful, and light. It weighs under a pound for no-fuss styling. The design stands out. I love the clean ivory finish with black and blue buttons. The hair dryer is ceramic and tourmaline-infused so your hair is in good hands. Ceramic heats hair evenly and gently while the tourmaline emits negative ions naturally, which boost your hair's health and shine. The blow dryer uses far-infrared heat to speed up your drying time further while protecting your hair from overdrying.
Though light, this hair dryer is no lightweight. It has 2000 watts of power so you can be assured it can dry your hair fast with no hitches. It has 7 heat and speed settings with a cool shot, so you can adapt the temperature to your hair needs. It comes with two attachments, but sadly no diffuser. It does come with a removable filter, though, for easy cleaning.
Some users have reported that they find the button placements awkward and have to hold the end of the handle to avoid accidentally clicking them.
Pros
Lightweight
Ceramic technology and tourmaline components that emit negative ions and far-infrared heat
Powerful 2000-watt motor
7 heat and speed settings with a cool shot
Has a removable filter
Cons
No diffuser
Buttons are located in an awkward position
A Guide To Buying a Blow Dryer for Natural Black Hair
What are the advantages/benefits of hair dryers?
If you've imbibed the notion that heat is bad for your black hair, fear not because, in the right doses, blow drying can be beneficial. Leaving your hair wet for too long actually makes it more vulnerable to breakage as the hair is left in a swollen state longer. Heat drying is also great because you can shape your hair to your heart's desire and even remove frizz. Make sure to turn the heat as low as possible and the airflow on high.
How to choose the best hair dryer for African-American hair?
Not all hair dryers are created equal, just as all black hair is different. You need a blow dryer that works efficiently, protects your hair from damage, and is easy to use. You may also want some add-ons to the dryer such as a longer cord or multiple attachments to create a variety of styles. Whatever your preferences may be, treat your hair with care to prevent more intensive treatments down the road.
Hair Type
I recognize that black hair does not come in one type. You may have loose waves or tight coils or anywhere in between. Black hair comes in different textures and lengths, which you also need to consider.
Thick hair
If you have thick hair that's prone to frizz, you're familiar with long styling periods just getting your hair to dry completely. Because of this, you'll need a blow dryer with ionic functions. You'll need to read the label and look for something that mentions negative ions. These seep into the hair cuticle and condition hair. They also counteract the positive ions found in water.
Curly hair
If you have curly hair that needs enhancing, you'll want a hair dryer with a diffuser attachment. Diffusers protect the pattern of your curly hair by smoothing and preserving the shape of the curls when drying.
Thin hair
Thin-haired women will want a blow dryer that offers gentle yet efficient heating while also giving volume to hair that tends to be limp. A ceramic hair dryer fits the bill because it distributes heat evenly.
Fine hair
If you have fine hair, you need adjustable heat and speed settings in your blow dryer since your hair absorbs heat more easily. You should aim for low heat levels and increase airflow instead.
Component
Ionic hair dryers
Hair dryers with ionic properties emit negative ions that help cut down on drying time by negating positive ions in water. These are great for achieving smooth, polished hair. You don't need to crank the heat up with these hair dryers and they often preserve curls, too. However, they tend to dry out the hair and leave fine hair looking lifeless. They are generally more expensive than ceramic hair dryers.
Ceramic hair dryers
Inside the barrel of these hair dryers is a ceramic coating that helps the machine expel even heat. The ceramic technology is great for fragile hair because the blow dryers don't retain heat as strongly as something like titanium. Though these blow dryers also emit negative ions, they don't give off as much as ionic hair dryers.
Heat Settings
Black hair needs to customize heat levels to their hair type so adjustable heat settings are a must. The temperature settings need to go as low as possible to dry hair quickly and as high as possible without destroying the hair shaft.
Cool Shot
Yes, that little button on a hair dryer serves a purpose and it's to lock in your hair after styling. That blast of cold air really makes a difference in your hairdo's longevity.
Wattage
Wattage refers to how much power your blow dryer is capable of. The more wattage, the quicker the drying time, and the longer your dryer will last. Salon hair dryers are often very powerful while travel dryers have low wattage. For damaged, thin or fine hair, choose something that has no more than 1500 watts. Straight or wavy hair will be happy with 1300-1800W. Curly, coarse, and thick hair need 1600 to 2000W.
Weight
The optimal hair dryer weight varies from person to person. Make sure you can use the dryer without your arms wanting to give out. However, you shouldn't sacrifice weight for a less powerful motor (which determines how heavy the dryer is, in some instances). Strike a balance between the two.
Attachments
The two most common attachments are a concentrator nozzle and a diffuser.
Concentrator Nozzle
The concentrator nozzle focuses the heat and air on a narrow area. This is helpful when you want to get the smoothest, shiniest look possible.
Diffuser
A diffuser, on the other hand, disperses the air and heat, reducing frizz and keeping your curls intact. They are bowl-shaped with prongs sticking out that hair can grab on to. They can also add volume to the hair and dry it more evenly.
Removable Filter
A removable air filter allows you to clean out lint and debris from your blow dryer. The dirt that builds up inside can affect the hair dryer's performance and can even cause overheating. To prevent heat damage and to lengthen the life of your hair dryer, go for something with a removable filter.
The Verdict
For this roundup, I think the best hair dryer for black hair is the MHU Professional Grade Hair Dryer. It's the best blow dryer for black hair of all types. I love that it comes with a diffuser, meaning they really look out for curly-haired black women. The other blow dryers have left that crucial part out. The ceramic components coupled with far-infrared technology make drying hair a breeze for those with natural hair. It heats evenly and quickly without destroying the hair cuticle. The 1875 watt motor is powerful enough for most people without overdrying. Its ion technology is a godsend for those who have frizzy coils or wish to have shiny hair. It has a removable filter for easy maintenance and also has a concentrator nozzle for those days when you want a sleek look. And most of all, it's lightweight so you can really reach the back of your head without straining. All these essential features in one package make the MHU Hair Dryer the best blow dryer for black hair.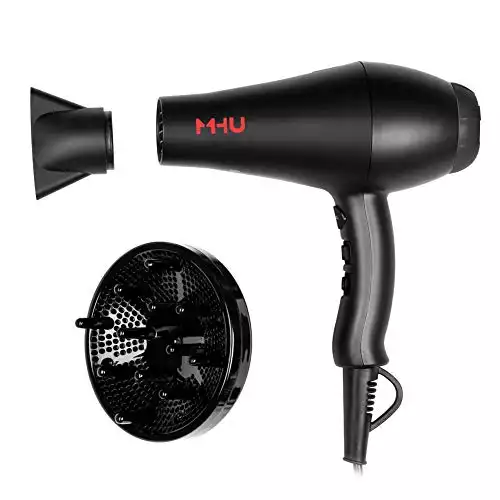 Leah Williams
Leah Williams is the founder of Lucky Curl and has been in the hair care and styling industry for the last 15 years. Since then, she has developed incredible expertise and a deep understanding of how to treat and style the most difficult hair types and is passionate about sharing her knowledge with the readers of Lucky Curl.