Fixing your frizzy hair doesn't have to be tedious, especially when you have the right styling tool with you. Taming frizz while styling your hair can be done if you have the best hair dryer for frizzy hair. But which blow dryer should you get that will help calm your strands while styling it at the same time?
We've rounded up 5 top-rated options to find the best hair dryer for frizzy hair. Read on to see which blow dryers made our list.
Best Hair Dryer for Frizzy Hair – 5 Top Options For Sleek Styles
I have done my best to gather products which I think should belong in the list of best hair dryers that you should start with. These are just a few options that I think are perfect if you want to have a frizz free hair every time you dry and style your mane.
BaBylissPRO Nano Titanium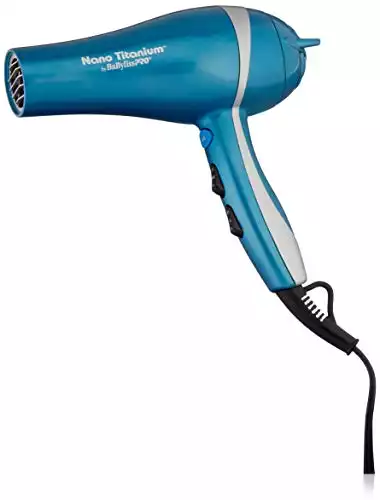 If you are looking for the best hair dryer that will combat frizz while giving you that sleek and stylish mane, then BaBylissPRO Nano Titanium is a good option to start with. It offers 2000 watts worth of performance combined with that ergonomic design that helps minimize hand fatigue. What you'll love about this dryer is that it comes with six heat as well as speed settings which mean that you have full control over the amount of heat that you are exposing your strands to.
It is a nano ionic titanium dryer which means that there are more negative ions produced to help keep frizz at bay. This is a good choice if you have thick hair that needs to be dried and styled real quick because of its high wattage. Included in the package is a concentrator nozzle which you can attach on the dryer to achieve more styles.
Pros:
2000 watts make it an ideal choice for those who have thick hair.
Six heat and speed settings for full control.
Lightweight and ergonomic design prevents hand fatigue.
Produces frizz free hair style.
Cons:
One user was frustrated that the buttons placed on the handle made her turn the device off when in use.
Another customer complained that it did not last long.
The bulky cord makes it inconvenient to bring when traveling.
John Frieda Frizz Ease Full Volume Hair Dryer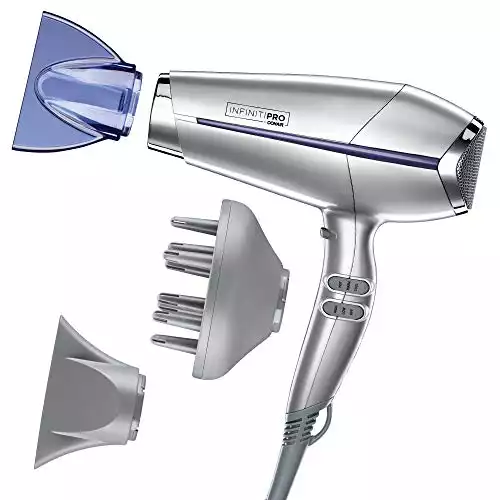 What other options to consider for the best dryer for a mane that has frizz? John Frieda's Frizz Ease dryer is another solution that can help you tame your wild hair. It runs in 1875 watts which is powerful enough to work on all hair types. Its main feature is its Advance Ionic Technology that delivers a blast of negative ions that counter the positive ions coming from the water on your wet hair. This technology stops your strand from getting damaged which means that there will be less frizz to worry about.
What else is ther to like about this product? It does have a lightweight AC motor making it convenient to bring around with you. It is easy to clean and maintain so you can extend its life cycle considerably. It combines titanium and ceramic in its coating for even delivery of temperature on your mane. You have three heat settings and 2 speed settings to choose from so you will be able to select the right blend of heat and speed. A cool shot button is also included to help seal moisture and style.
Pros:
It runs on 1875 watts that can work on all hair types.
Advance Ionic Technology delivers more negative ions to your strands to prevent frizz from occuring.
Lightweight AC motor makes this device more portable.
Heat and speed control settings give you more control over styling your mane.
Cons:
Several users commented that there wasn't enough heat coming from the device.
The placement of the buttons on the handle is a source of problem for many as they tend to hit them unexpectedly.
It doesn't yield the same results when used on wavy hair.
Remington D3190 Damage Protection Hair Dryer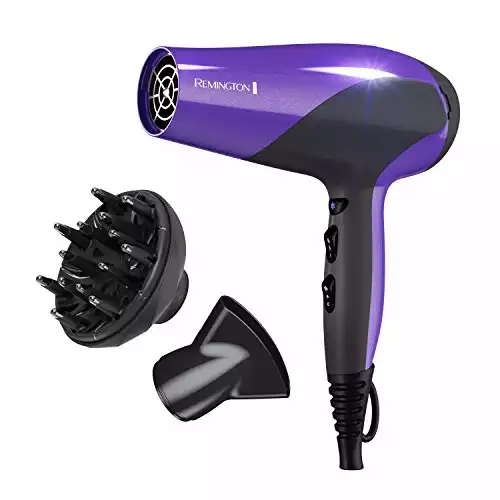 Another option to look into when you are searching for the best hair dryer is from Remington. Its damage protection hair dryer does prevent your strands from becoming brittle and prone to breakage which is a huge relief. It sports an Advanced Coating Technology that delivers more protection during styling since the heat is evenly distributed. You'll love the micro-conditioner feature on this one because it prevents dryness. What's more, the Remington D3190 combines ionic, tourmaline, and ceramic technology in one to deliver a dryer that can fight frizz.
There are three heat settings on this device as well as two speed settings which I think is good enough to selecting the appropriate amount of heat to use on your hair. What's even better is that it is also equipped with a cool shot button which I find handy for the final touches since the blast of cold air locks your style in place for hours. There is also a diffuser and concentrator included so you can achieve multiple styles with it.
Pros:
Damage protection technology prevents strands from becoming fragile when in use.
Advanced Coating Technology adds a layer of protection on your strands while you style them.
Micro-conditioner feature ensures that your hair will remain soft and smooth.
Adjustable heat settings make this a handy tool for all types of hair.
Cons:
A curly haired customer reported that the diffuser attachment tends to fall off since there are not enough screws to hold it in place.
Its short cord is proving to be challenging to its users.
Cool shot feature doesn't deliver ample cold air to lock in your hair style.
INFINITIPRO BY CONAIR 1875 Watt Salon Performance Hair Dryer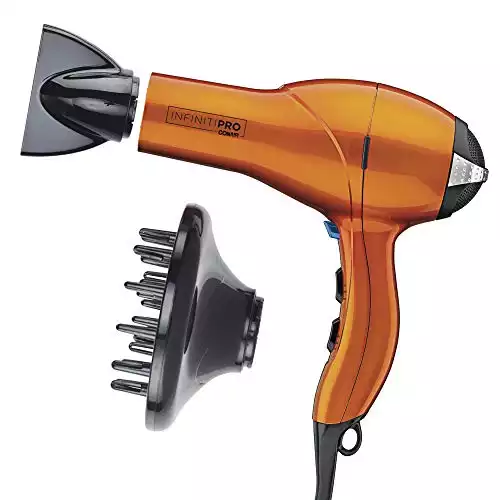 What caught my attention with this dryer is that it has that professional look stamped all over it. The specs aren't disappointing either. For starters, it makes use of 1875 watts to deliver enough heat and wind to dry and style hair quickly. It adds volume to your mane twice as fast and maintain them longer compared to others. It makes use of ceramic technology to deliver even heating on the strands. Additionally, it features an ionic technology to tame any frizz that appears as you use this gadget.
It sports a true cold button located in the upper portion of the handle, with heat and speed control evenly spaced across the handle for easy toggling. There are two attachments included which are the nozzle and diffuser which you can swap depending on what style you are aiming for. It has a removable filter too that lets you remove any buildup.
Pros:
1875 watts can make it work with a variety of hair types.
Ceramic technology ensures that heat is evenly distributed throughout your strands.
Ionic technology prevents frizzy hair from forming.
Cold shot and adjustable heat and speed settings make it a powerful dryer to invest on.
Cons:
It is not easy to wield as it is a bit heavy.
The loud noise is frustrating many users.
The diffuser attachment doesn't do well with curly hair as one user noticed.
T3 – Cura Hair Dryer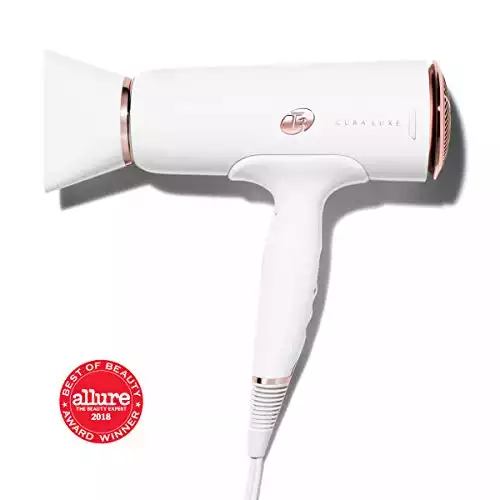 I also added T3-Cura Hair Dryer in my list of the best hair dryers because I was impressed with the features that it comes with. For starters, the drying time was faster compared to others because of its unique digitally controlled heat that is combined with a gentle airstream which is the perfect combination when it comes to drying and styling hair. This blow dryers speeds up the drying time definitely by delivering even heating. It also sports ion generator that tackles the appearance of frizzy strands because of the negative ions that it can produce every time you use it.
Another reason why you will love using this hair dryer is that it comes with three heat settings and two speed controls for better control over the amount of heat that you are exposing your strands to. It is lightweight and ergonomically designed as well which lessens that pain and fatigue on your hands. I love how the handle was designed and the placement of the buttons too.
Pros:
Faster drying time compared to other hair dryers.
Digitally controlled temperature and gentle hair makes it easier to style and dry hair regardless of its type.
Adjustable speed and heat controls give you complete control over how much heat needs to be delivered to your hair.
Lightweight and ergonomic design lessens arm fatigue while making it easier for you to reach the back of your head.
Cons:
One user took note of the concentrator which wasn't thin enough to focus the blast of air.
Another customer complained that the body was fragile and prone to breakage when dropped accidentally.
It is too expensive for a hair dryer.
How to Choose the Best Hair Dryer for Frizzy Hair
Hair dryers come in a variety of shapes and styles that searching for the right one for your type of hair can be a bit overwhelming. Who would have thought that a blow dryer could have so many options and features! I understand how you feel as it was the same thing I expereinced when searching for one myself. However, I figured that there should be factors that you can consider to help narrow down your choices and these are:
Wattage
Blow dryers come in different wattages. Choosing one that has a low wattage can mean that the product is delivering more heat rather than wind which means that you are exposing your hair strands to unncessary heat for a long time. On the other hand, getting a hair dryer that has a wattage ranging from 1800 to 2000 can help dry and style your frizzy hair quickly without damaging your strands further.
Materials
The materials used on hair dryers tend to vary as they are desingned for specific hair types. Here's what you need to know:
Ionic Tourmaline. Since you are dealing with frizzy hair, a dryer that is coated with ionic tourmaline is a good choice. Ionic dryers are known to emit negative ions that counter the positive ions present in water thus preventing frizz from forming. Tourmaline makes it easier for the dryer to reach high temperatures without damaging hair and the dryer itself.
Ceramic/Porcelain. If you come across dryers that are made from porcelain or ceramic, this means that they will be able to distribute heat evenly. They can also produce negative ions which are good for frizzy hair
Titanium. Titanium works just like ceramic, but it can get hot quickly. It can be used on all kinds of hair except for those who have badly damaged hair as the heat can only make things worse.
Weight
Another factor that you need to take into consideration is the weight. Since you will be drying and styling your hair, you need to look for one that isn't heavy to wield to avoid arm fatigue.
Adjustable Heat
Don't forget to look for a dryer that comes with adjustable heat settings since you will be able to lower or turn the heat up based on your hair type.
Cool Shot Button
Nowadays, most hair dryers come with a cold button where a blast of cold air is produced to help keep your hairstyle throughout the day.
Cost
Of course, do not forget to account the cost of the dryer too when shopping for one as expensive doesn't necessarily mean that it is a good product already.
Can a Hair Dryer Make Your Hair Frizzy?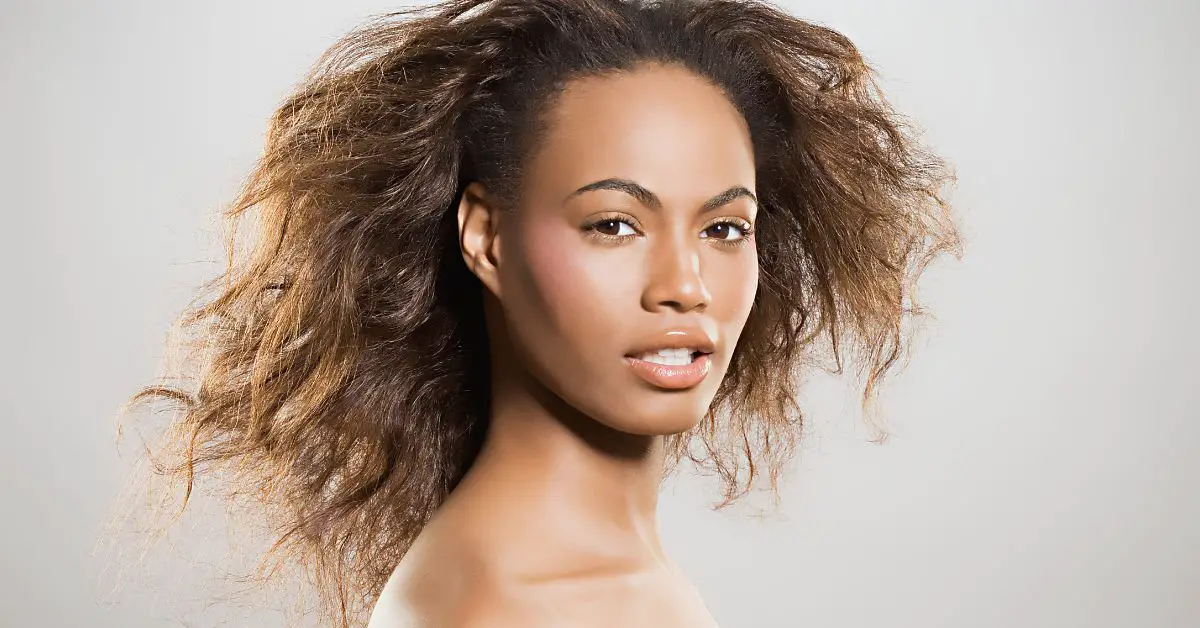 It is possible that using a dryer for hair can lead to frizzy and damaged hair, only if you make the following blow drying mistakes.
Using a low-quality dryer.
Some people prefer to get the cheapest blow dryer because they assume that they are all the same. Unfortunately, using the wrong type as well as choosing a low-quality at that means that you are exposing your hair to high heat that can damage your strands which lead to frizz.
Not apply hair serum for protection.
Another reason why your hair becomes frizzy after using your dryer is that you forgot to apply a heat protectant serum especially at the back of your head which is usually the area constantly exposed to heat.
Brushing wet hair then blow drying it.
It is not uncommon for people to step out of the shower then proceed to dry their hair with a blow dryer and a round brush. Unfortunately, when you have wet hair, the cuticle of each strands is fragile and easy to break. Sudden exposure to heat and brushing can weaken the cuticle which, in turn, leads to frizzy mane.
Not using attachments.
Another mistake that can lead to fried and frizzy strands is forgetting to attach the nozzle at the end of the dryer. This nozzle helps to focus the heat on a certain area thus sparing others parts from the intense heat.
Wrong brush.
The type of brush that you are using on your mane can also play a part on the development of frizz. Most of the time, a round brush is used to add volume, but if you have frizz, you should use one that is made from boar bristles since they give the right tension to your strands.
Conclusion
If I am going to choose one among these fine hair dryers, I would go with T3-Cura Hair Dryer. Yes, it is a bit expensive, but I like how the equipment was designed. It is lightweight and the placement of the buttons are considerably better compared to the first four. Its unique digitally controlled temperature settings ensure that you will not fry your strands when you use it. It has an ion generator installed as well which helps tame frizz and wild hair. If I am going to try anyone of the above products, I will start with this for my frizzy hair.
Leah Williams
Leah Williams is the founder of Lucky Curl and has been in the hair care and styling industry for the last 15 years. Since then, she has developed incredible expertise and a deep understanding of how to treat and style the most difficult hair types and is passionate about sharing her knowledge with the readers of Lucky Curl.