I rounded up 6 top-rated products and found the Conair 1875 Watt Pro Style Bonnet to the best hooded hair dryer.
While a hooded hair dryer is something you typically would find in a hair salon, it is possible to replicate that salon experience at home. They, of course, differ to your hand held hair dryer and can take much longer to dry the hair, but the upside is there is much less damage to the hair.
With this in mind, I tried and tested 6 of the best hooded hair dryers on the market to assess which one is worth your money.
Best Hooded Hair Dryers
Eleganty Soft Bonnet Hood Hair Dryer
Conair 1875 Watt Pro Style Bonnet Ionic Hair Dryer
Hair Flair Bonnet Hood Hair Dryer Attachment
Revlon Ionic Soft Bonnet Hair Dryer
Andis 80610 500-Watt Ionic Professional Bonnet Hair Dryer
Red by Kiss 1875 Watt Ceramic Tourmaline Professional Hood Dryer
Before we jump into the reviews, it's important to distinguish that for those wanting the hooded hair dryer effect at home, there are two main options. Firstly, you can consider a material attachment that can be placed onto a hair dryer. Alternatively, there are bonnet hair dryers similar to what you would find in salon. Both options have been included in the roundup, so read on to see which option will be best for you.
Eleganty Soft Bonnet Hood Hair Dryer
The soft bonnet hair dryer by Eleganty certainly exudes elegance with its unique design that completely covers your entire head for even heating. It comes with an adjustable strap and drawstring to suit any type of user. With this portable dryer, you will be able to care for your naturally curly hair or have your mane curled using your preferred curlers and hair ties. You can even use this machine for deep conditioning or when you want to give your mane some oil treatments. No need to head to the salon when you have this machine.
Why choose this product for your hair styling needs? This hooded hair dryer comes with a free accessory which is the heat protectant headband that has the same texture as that of your towel. Since being under a hooded dryer can irritate certain parts of your head, wearing this accessory will offer some protection while you are giving your mane the right treatment in the comforts of your home.
Pros:
Soft bonnet dryer is portable and convenient to set up.
It comes with a heat protectant headband for added protection.
It can be used for curling or styling your curly hair, for deep conditioning, and oil treatments.
Cons:
It may not work well with those who have long hair.
Cannot ensure the heat will be evenly distributed
Conair 1875 Watt Pro Style Bonnet Ionic Hair Dryer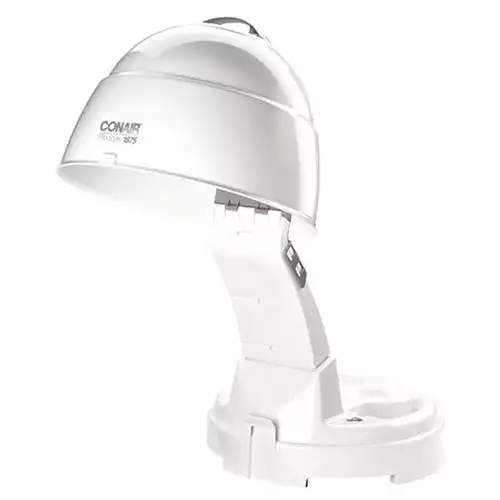 We earn a commission if you click this link and make a purchase at no additional cost to you.
Conair's professional style bonnet hair dryer is a must-have especially since it is a portable version of the salon type hooded dryer. What you will like about this hair dryer is that the hood is extra large so that it can accommodate your styling tools like those jumbo curlers that you always use. It is a powerful machine that can reach up to 1875 watts with the heat being distributed evenly around your head. Fortunately, it comes with two heat/speed settings so you will have more control over the device at home.
Other features that you can expect from this professional-grade hooded hair dryer from Conair is that it has an adjustable height. You can raise the hood in a more comfortable position depending on where you will be placing it. It also has a long cord at the base so you can move it around as you see fit. Its compact size and design make it easy to store, plus it comes with a carry handle too so you can bring it with you even when you are traveling.
Pros:
Professional looking hair dryer that is designed for home use.
It can reach up to 1875 watts for faster drying time.
Adjustable height and compact design for added convenience.
Cons:
The dryer can't be adjusted properly.
It is quite noisy when it is running.
Hair Flair Bonnet Hood Hair Dryer Attachment
If you prefer to move around while drying your hair, then this soft bonnet hood dryer is worth getting. It has a long tube that you can attach to the nozzle of your blow dryer so you can do other tasks while having your hair strands dried or treated quickly and safely. This product comes with a larger hood to better accommodate your large rollers or other styling tools that you have used on your hair. To keep this bonnet in place, it comes with a side fitting drawstring plus a chin strap which you can adjust to your comfort.
What else is there to like about this product? It has more holes in it for ventilation to allow hot air to circulate evenly. It is best that you use the low setting on your dryer when using this hooded hair dryer because it is much safer and gentler on your strands. Another plus to this hair dryer is that it is washable too and comes with its own pouch for easy storage. To get the best results, once you are sure that your hair is properly dry, remove the hood and wait for a few minutes before removing your curlers.
Pros:
Long tube attachment allows you to move around.
Drawstring and chin strap keeps the bonnet in place.
More than a hundred ventilation holes allow air to circulate better.
Cons:
It takes a long time for wet hair to become dry.
It is limited to low heat setting as it may melt when exposed to high heat.
It can cause frizz to appear.
Revlon Ionic Soft Bonnet Hair Dryer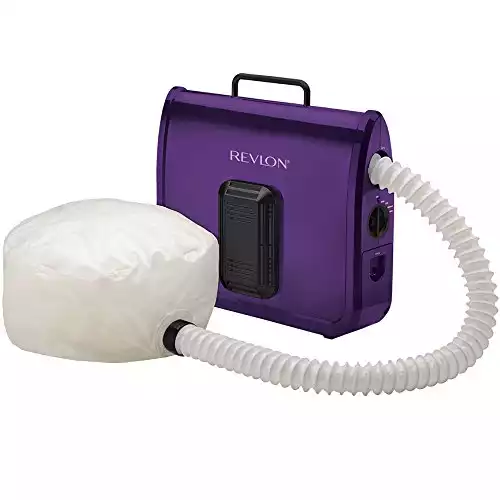 Revlon's offering for a soft bonnet hair dryer is also worth adding to this list as this is a trusted brand in the hair and makeup department. The first thing that caught my attention here is the fact that it makes use of ionic technology to help tame frizz while drying one's hair. The bonnet is also adjustable which means that you will be able to fit your curlers inside it. Another plus to this product is that it comes with a flexible hose that can provide you with more freedom to move around.
It comes with three heat and speed settings which give you plenty of control over the drying procedure for your mane. And if you are done with drying your mane, you can seal in the style with its cool setting feature. This way, you will be able to maintain your hairstyle for hours. It is also a compact dryer which you can store in its own bag after use. It is handy equipment to invest in if you want to be able to style your hair or give your mane a home treatment too.
Pros:
Ionic technology prevents hair from becoming frizzy when you are drying it.
Three heat and speed settings give you more control over your hair.
Cool setting feature lets you seal in the hairstyle after.
Cons:
The hose isn't long enough to allow movement.
The dryer hose doesn't come with a locking mechanism that is why it tends to slip.
Andis 80610 500-Watt Ionic Professional Bonnet Hair Dryer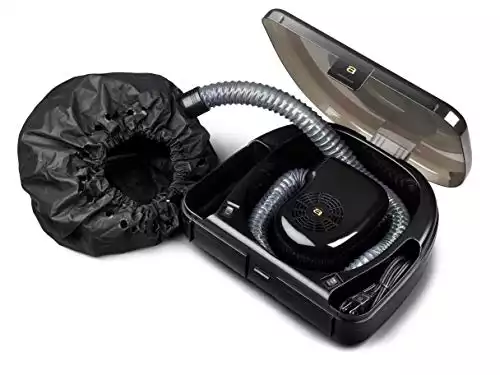 The Andis 80610 is another example of bonnet hair dryer that you should consider for your personal use. It is sleek, it is compact, and it makes use of ionic tech to speed up the drying process minus the frizz. The ion technology is a welcome feature for any blow dryer, including the hooded versions, since it provides even heating. This way, your strands won't get damaged in any way thus keeping frizz at bay. It comes with 2 speed as well as 2 heat settings so you will be able to select the temperature that is appropriate for the type of hair that you have.
It has a 40″ flexible hose that is rolled inside the storage which gives you more freedom to move around. It works well with 1″ rollers too so you can get detailed curls whenever you want to. Another plus to using this bonnet hair dryer is that it provides protection to your hair while you are drying it. It is because of the good ventilation that it comes with which allows air to circulate well.
Pros:
Compact design makes it easier to store when not in use.
Soft hooded bonnet can accommodate 1″ curlers.
2 heat and speed settings make it easier for you to dry your hair quickly.
Cons:
It cannot accommodate rollers or curlers.
Red by Kiss 1875 Watt Ceramic Tourmaline Professional Hood Dryer
And finally, there is Red by Kiss which is a ceramic tourmaline hooded dryer that can transform your hair in a jiffy. It is perfect for home use thanks to its compact size. It has an adjustable height so you can set it on a table and just move the body up to fit your height. What's great about this unit is that it comes with two motors for rapid drying. These are both durable which means that this machine can last you a few years.
Unlike the previous models, this one has 4 heat and speed settings which I think makes it quite versatile for styling and treating your hair with regardless of whether you have fine or thick hair. The hood is 15% bigger which makes it easier for you to keep your curlers while in the drying stage. It is easy to store too as it is foldable and can be tucked inside your closet after use. The ceramic tourmaline combination means that heat is evenly distributed on your hair and you won't be dealing with frizz at all.
Pros:
Ceramic tourmaline dryer dries hair faster without causing frizz.
Adjustable body up to 4 inches.
It comes with 4 heat and speed settings.
Cons:
Can be difficult to adjust the body
How to Choose the Best Hooded Hair Dryer
If you have your own salon or if you simply want to have your personal bonnet dryer at home, you will need to pay attention to a few critical factors. Keep in mind that there is quite a selection out there for a bonnet hair machine which is why you need to consider these factors first.
Dying or Conditioning.
The first thing that you need to take into consideration when you want to choose hair dryers is what its function will be. Do you want it for dyeing or for conditioning the hair? Usually, the functions and features of these machines are almost the same, except for their primary use. You should also check out what extra features it will come with, so you will be able to compare them with each other.
Length of the Pole for the Hood.
Another factor that you need to look into when shopping for a hooded dryer is the length of the pole where the bonnet is attached. You will have to pay extra attention to this since you want a pole that gives the bonnet ample reach. Factor in your height and your level of comfort when determining what length of the pole is appropriate for you.
Temperature Settings.
It is always a good idea to look for a machine that has multiple heat settings. If the features of the product include a setting for the amount of heat it can generate, then you are in the right direction to land on the best model for your personal needs.
Wattage.
Most people assume that when the wattage of the machine is high, then it is an efficient tool. With the soft bonnet hair dryer, it can perform well between 500 to 800 watts. On the other hand, if you choose the hard hat type, then the wattage that you should look for should range between 1200 to 1900 watts.
Timer.
It is important that you choose a hooded dryer that comes with a built-in timer. Having a timer installed in the machine lets you determine if it is time to remove yourself from the blast of hot air. Usually, the time it takes to rinse your hair after treatment is between 15 to 20 minutes.
Ionic Technology.
What else should you consider when you go shopping for a hair dryer with a hood? How about the materials used for one. Experts recommend that you choose one that contains ionic technology. This tech protects your hair from dehydration since it can easily seal in the moisture on your mane.
Price.
The cost of buying hair dryers with a hood is also a factor that you need to take into consideration as well. Although the portable versions are cheaper compared to those that you see in a salon, you will still invest a good sum to have one at home. You just need to ask yourself if it will be worth having or not.
Speeds Settings.
Another factor that you should also add to your list is the speed setting of the machine. It would be best if you choose one that has multiple speed settings so you will be able to dry your hair quickly as needed. Always keep in mind the hair type that you have since the faster the speed is, the more hot air is being produced which can wreak havoc on those with fine to brittle hair.
Best Hooded Hair Dryers: Common Questions
Does sitting under a hair dryer cause heat damage?
As we mentioned above, a hooded hair dryer can be an alternative to your standard blow dryer when it comes to heat damage — particularly when used on a low-setting. Just keep in mind it can take much longer to dry the hair.
Most hooded hair dryers offer varying heat and drying speeds.
Is a hooded hair dryer right for everyone?
It's important to note that if you are looking for speed or to section-dry hair, a hooded dryer might not be the option for you.
Further, one of the main purposes of a hooded hair dryer, is to slow-dry a wet set. A wet set is basically hair rollers or pin curlers, created on freshly washed hair — this was a very common way for styling hair back in the 1950's and 1960's but is of course still used today.
As you could imagine, blowing hot air straight onto hair rollers has the potential to dismantle or unravel the set.
Another, benefit of a hooded hair dryer is that they provide uniform heat over the entire head. While it takes longer than your typical blow dryer, your hair will be dried at the same speed and same temperature all over, ultimately causing less damage.
Wrap Up
What is the best hooded hair dryer, you ask? I would go with the Conair 1875 Watt Pro Style Bonnet Ionic Hair Dryer. The machine can reach up to 1875 watts in terms of heat which means that you will get your hair dried and styled quickly. It comes with two heat and speed control for different hair types, plus it is compact and easy to use. The heat is circulated evenly so there won't be any hot spots to bother you with. The price is reasonable given its quality so this is a good investment to bring home.
Leah Williams
Leah Williams is the founder of Lucky Curl and has been in the hair care and styling industry for the last 15 years. Since then, she has developed incredible expertise and a deep understanding of how to treat and style the most difficult hair types and is passionate about sharing her knowledge with the readers of Lucky Curl.