I was once under the impression that the higher a product's price tag, the better its quality. Well, I'm glad I snapped out of that notion because a lot of good things–yes, even blow dryers–can be had for an affordable cost. If you're looking for the best hair dryer under $50, you're in the right place.
Best Hair Dryer Under $50 – 6 Options That Won't Break The Budget
NITION Negative Ions Ceramic Hair Dryer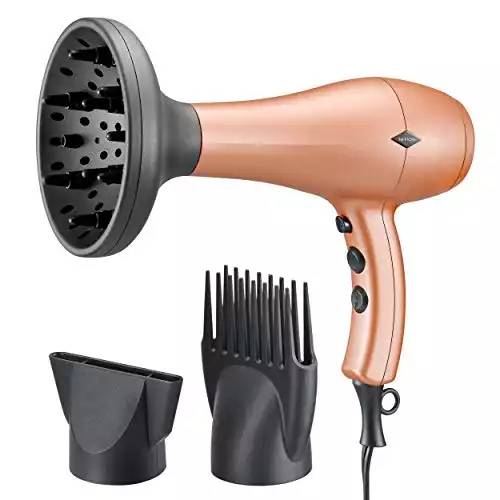 If you want something feature-packed that gives you the most out of your money, look no further than the NITION Ceramic Hair Dryer.
Not only is its air outlet grill coated with ceramic, but it's also infused with nano silver, argan oil, and tourmaline ceramic. You get antimicrobial properties from the nano silver, argan oil conditions the hair, while the tourmaline has natural negative ions that ward off frizz and heat damage. The ceramic component distributes heat evenly so you protect your hair from the damaging effects of heat styling.
This blow dryer is easy to hold and weighs only 1 lb. The rocker switches are placed on the front of the handle. You can choose from 3 heat settings and 2 wind speed settings. It has 1875 watts of power, which is standard for the price range.
The NITION hair dryer comes with 3 attachments: a concentrator, a comb, and a diffuser. The comb is made for styling straight hair. There's a cold shot button to seal in your handiwork, too. If your electric outlet is far from your mirror, the 7.5 feet cord comes in handy. When the lint builds up on the dryer, you can open the back of the dryer and remove the air inlet grille. It comes with an extra filter, too.
For added safety, there's an ALCI safety plug that protects you from short circuits or leakage of electricity.
The hair dryer's main con is its attachments won't latch on to the body securely, especially the diffuser. You have to be careful not to knock it off when styling.
Pros
Gentle heating with the ceramic infused with nano silver, argan oil, and tourmaline ceramic
Adjustable heat and power settings with a cool shot
Easy to hold and lightweight
Comes with 3 attachments and extra air filter
Long cord for easy styling
Cons
Attachments can sometimes drop off from the dryer
Remington D3190 Damage Protection Hair Dryer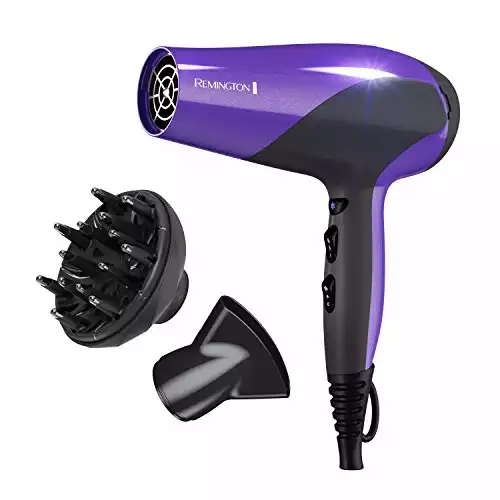 If you're afraid of damaging your hair with a budget blow dryer, let the Remington D3190 Damage Protection Hair Dryer quell your fears.
First off, it's a 1875 watt dryer and provides enough power to dry your hair efficiently. It comes with 3 heat settings and 2 speed settings which are great features for the price. There's a cold shot included, too, so you can set your hair after drying time.
The Remington Hair Dryer has both ceramic and tourmaline infused in the body, plus an added ionic function, which makes this amazing for frizzy or damaged hair. The advanced coating technology protects hair while styling while the microconditioners keep your hair healthy.
The blow dryer also comes with a concentrator nozzle and a diffuser so you have the freedom to choose come drying time. It's also notable that it has a removable air filter–great for the price and great for picking up lint and other product debris that make their way into your hair dryer.
At 2 lbs, this is nearly double the recommended weight for a blow dryer. Long-haired folks or those with thick hair may want to stay away. This is also not good for traveling because it only has one voltage.
Pros
Nourishes damaged hair with advanced coating tech and microconditioners
Ionic functions from ceramic and tourmaline
Customizable heat and speed settings and a cold shot
Comes with 2 attachments and has a removable filter
Cons
Not suited for travel because it has no dual voltage
INFINITIPRO BY CONAIR 1875 Watt Salon Performance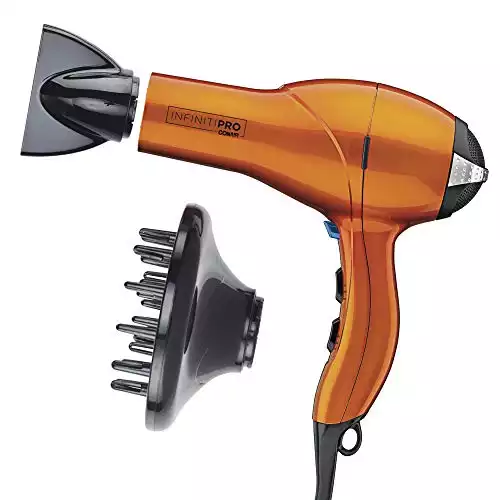 With its vivid color selections and flowing shape, this blow dryer by Conair stands out from the pack. This thing is powerful. Beneath the casing lies a professional AC motor with 1875 watts of power. It dries your hair in half the time and lengthens the hair dryer's life by 3 times.
The Conair hair dryer comes with ceramic technology. Ceramic is known for its even heat distribution. You get faster drying time with less damage, especially with the hair dryer's ionic technology. The negative ions imbue your hair with smoothness and shine.
To select your heat and speed settings, there are two rocker switches on the handle. You can pick from 3 heat options and 2 speeds. To lock in your curls and other styles, there's a cool shot button. A concentrator nozzle and a diffuser go along with your purchase. An added bonus which is great for the price is a removable filter that helps protect your motor from conking out too soon.
What I don't like about this hair dryer is its weight. It's heavy (2.2 lbs), possibly because of that salon-grade motor. However, the ergonomic handle makes up for its bulkiness and if you can bear it, this may be one of the best hair dryers for you.
Pros
Professional AC motor
Equipped with ceramic and ionic technology
Multiple speed and heat settings plus a cold shot
Comes with 2 nozzles and a removable filter
Ergonomic handle
Cons
Conair 1875 Watt Cord-Keeper Hair Dryer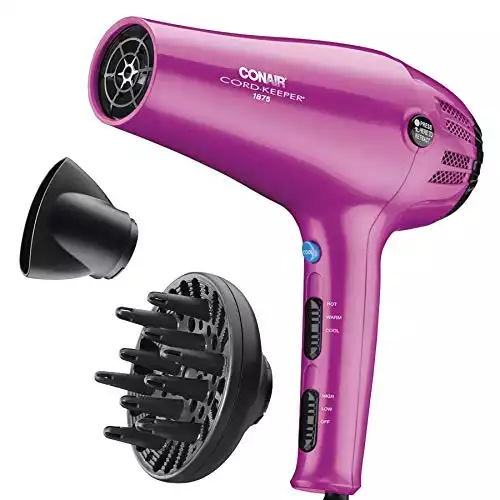 If you hate the cleanup and organization that comes after styling your hair, the Conair Cord-Keeper is definitely one of the best hair dryers for you.
The 5 feet long cord retracts into the hair dryer after using and is easy to store. Retractable cords are also easier to take care of and sustain less damage than regular cords. They're also handy for travel because they make your blow dryers more compact. But since you're not buying a blow dryer just for its cord, here are some standout features from the Conair.
At 1875 watts, it has enough power for the price point and can get you through drying sessions easily. Of course, a good hair dryer will have benefits for your hair and this one has those in spades. It has ionic technology that boosts shine and overall health. The tourmaline ceramic is a top-of-the-line component that ensures your hair is evenly heated. No more hot spots and definitely, no heat damage. You can calibrate the heat and speed levels to your liking. There are 3 heat options and 2 speed settings, plus a cold shot button.
A concentrator nozzle and diffuser comes in the box so you can choose from sleek and smooth styles or volumized and defined waves. There's a removable filter too, so you can throw out the gunk that builds up in the blow dryer.
The Conair Cord-Keeper's downside is it can get quite loud when used on high settings. The heat also does not go up that high so your drying may take longer.
Pros
Retractable cord is great for organization and travel
Ionic technology and tourmaline ceramic that nourish hair
Customizable heat and speed settings plus a cold shot
Comes with 2 attachments and a removable filter
Cons
Noisy
Heat may be too gentle for some
BaBylissPRO Nano Titanium Travel Dryer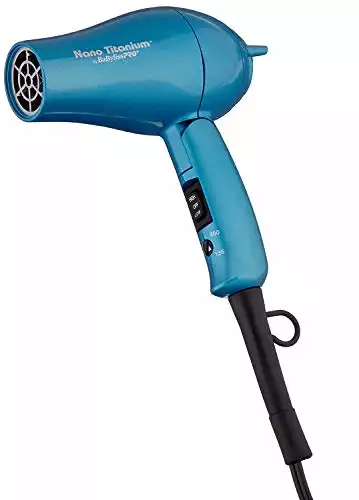 Looking for the best travel hair dryer? The BaBylissPRO may be your jam.
Because it's a travel dryer, I can look past the 1000W power. This is very small, almost half a ruler in length. Despite its compact size though, this can still pack a punch. It's made of nano titanium which heats hair fast. The ionic technology makes sure you end up with a frizz-free and silky look.
It has 2 speed and heat settings, like a standard blow dryer, so you can adapt the heat and power to your hair needs. The handle folds in for easy packing or storage. It has a removable filter/stand included. I'm amazed it even comes with a concentrator nozzle. There's more though. Two words: dual voltage. They weren't kidding about calling this a travel hair dryer and it definitely lives up to its name. If you hate hotel blow dryers with a passion, the BaBylissPRO will be the cure for all your travel ills.
However, this product has two disadvantages. First, it has no cold shot. I guess it won't fit into something this tiny. Secondly, curly-haired gals will not appreciate the lack of a diffuser. I think a big nozzle will weigh more than the dryer itself so they just opted not to include it. But if those cons aren't dealbreakers and you want a hair dryer that looks like it was made for ants but miraculously works like a regular dryer, this hair dryer will not disappoint.
Pros
Very compact and lightweight
Nano titanium and ionic tech heat and protects hair
2 speed and heat settings
Comes with a concentrator nozzle
Dual voltage
Cons
Jinri Professional Negative Ionic Infrared Blow Dryer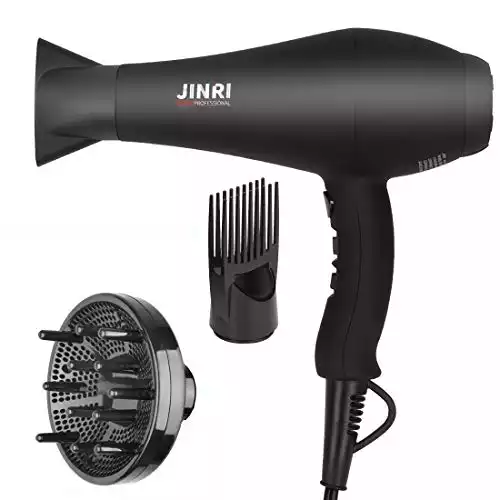 If you don't take hairstyling lightly and want a hair dryer that means Business with a capital B, this salon-grade hair dryer will do the job for you.
For one, the JINRI Professional Salon Hair Dryer is the only hair dryer on the list that gives off far infrared heat to dry the locks. If you're not familiar with it, it's amazing at drying hair without the heat damage because it produces energy waves that go deep into the hair strand and dry your hair from within. Though the heat from far infrared blow dryers may feel colder, it's actually halving your drying time without scalding your scalp.
This hair dryer also emits good ol' negative ions so your cuticle is sealed and smooth. Frizz and static basically evaporate with ionic features like this.
The body of the JINRI is a soft-touch matte black that's comfortable to hold. It looks sleek. There are three heat settings and two speed options to choose from plus a cold shot button. You can achieve several looks with these alone.
In addition to that, there are 3 attachments that come with the dryer: a concentrator, diffuser, and comb. There's something for every hair type with those nozzles. There's also a removable air filter so you can clean the dryer easily, plus an anti-leakage plug for safety.
As the name suggests, it has 1875 watts of power and a salon-quality AC motor, which makes me feel confident that this hair dryer will perform well and last long. The 8.7 feet cord that comes with this also doesn't hurt. Unfortunately, the cord doesn't swivel, which affects usage. The hair dryer is also on the heavy side.
Pros
Far-infrared heat dries hair quickly
Ionic functions condition and protect hair
Has customizable heat and speed with a cold shot
Comes with 3 attachments and a removable filter
Safety features and a long cord
Cons
Cord doesn't swivel
Heavy
A Guide to Buying a Budget Friendly Hair Dryer
How to choose the best hair dryer on a budget
Buying an affordable dryer doesn't mean you have to settle for something that just shoots hot air, period. There are so many features that you can find at this price point and some of the best hair dryers are inexpensive. A discerning buyer can evaluate a blow dryer based on the following criteria.
Handle
Make sure your dryer is easy to use. The biggest giveaway for usability is the handle. A good handle allows you to grip the blow dryer comfortably and has all the buttons and switches within easy reach. You need to also ensure the lights and switches have clear labels on them.
Cord
Ask yourself where you will be using the hair dryer and take note of the power cord's measurement. If you don't have an outlet near a mirror or an extension cord, a blow dryer with an extra long cord will be ideal.
Power/Wattage
Most people will be satisfied with a wattage of 1,500W and 1,800W in a hair dryer but you can find hair dryers of all prices go up to 2,000W and beyond. Wattage determines how powerful a dryer is and how much heat it can produce. Higher wattage means your hair gets dried faster.
Weight
A good litmus test to check if a blow dryer is light enough for you is to use it for a minute, with an attachment included preferably. If your arms are aching by the end of it, find a lighter option. If you can't test out a dryer in person, 500g (17 oz) is a good benchmark. Those with long, thick hair or who regularly do complex 'dos should definitely spring for a light blow dryer.
Hair Type
Straight Hair
To achieve that sleek look, you need a light blow dryer that you can lift over your head and point at your crown and downwards on the lengths of your hair for long periods. Look for something with ionic technology so your hair becomes polished and silky straight.
Curly Hair
You'll want to dry your hair as slowly as possible if you have curly hair. If it dries too quickly, you'll lose definition in your curls. If you mostly air dry your hair and prefer to finish it off with a blow dryer, find one that's powerful and has high settings.
Fine Hair
Because your locks are susceptible to damage, you'll need a hair dryer with low heat and speed settings. A concentrator nozzle is the tool of choice for volumizing limp hair at the roots. Just regulate your heat levels so you don't strip your hair of moisture by drying it too quickly.
Frizzy Hair
Look for a hair dryer with a narrow concentrator nozzle so you don't disrupt the hair too much. Section your hair before drying it and then blow dry it using gentle heat settings. To tamp down frizzies, you may also benefit from a blow dryer with ionic functions.
Ionic Tech
If you're looking for the least damaging blow dryer, go for one with ionic tech. Ionic technology in hair dryers often refers to ceramic or tourmaline technology. Ceramic is good for shiny, frizz-free hair. It helps protect against damage. Tourmaline emits negative ions to fight static and speed up your hair drying. To prevent hair damage, I recommend getting a hair dryer with an ionic function because it conditions the hair and improves its health.
Attachments
What attachments do you want in a hair dryer? Most hair dryers come with a concentrator nozzle which points airflow in the parts of the hair where you want it most. If you want volume, for example, use a concentrator to direct the air at your roots. A diffuser is another attachment that could boost volume near your scalp. It also defines curls and limits airflow.
Switches
If a hair dryer doesn't have buttons, they will either have rocker or sliding switches. Rocker switches are like light switches. One side of the switch is pushed down to turn it on or off. They are easy to use. A downside of the rocker switch is it's easy to accidentally press it down. A sliding switch, on the other hand, can be difficult to use on dryers. Sometimes, they are too firmly set in the blow dryer, or do not provide enough grip. Because of these qualities, though, this type of switch is less likely to move when using dryers.
Cool Shot
A cool shot, or cold shot, is a blast of cool air that you use after you've blow-dried your hair into shape. It keeps your hairstyle in place.
The Verdict
I hope this list proves to you that you can get some of the best hair dryers for under $50. Quality doesn't need to be inexpensive. That said, my favorite of the bunch is the NITION Ceramic Hair Dryer. It's easy to hold and lightweight. It houses 1875 watts of power and a 7.5 feet cord. Like the rest of the dryers on the list, it has ionic technology but I prefer ceramic for its gentle heating. It has a cold shot which is essential. The rocker switches don't annoy me and they're placed conveniently. The NITION also has 3 attachments that I can get good use out of. That it's under $50 is just the cherry on top.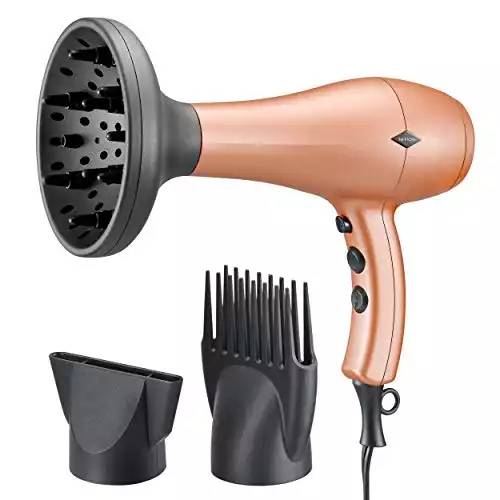 Leah Williams
Leah Williams is the founder of Lucky Curl and has been in the hair care and styling industry for the last 15 years. Since then, she has developed incredible expertise and a deep understanding of how to treat and style the most difficult hair types and is passionate about sharing her knowledge with the readers of Lucky Curl.