Styling my wavy hair is proving to be a challenge for me. Yes, I love the natural waves of my mane, but there are times when I wish I could have that straight strands like others do. I have tried several straightening irons already, but none can give them that salon straight hair. My friend recommended that I try out BaBylissPRO Nano Titanium Flat Iron, so I decided to do a little digging if it is going to be worth my time.
Best Seller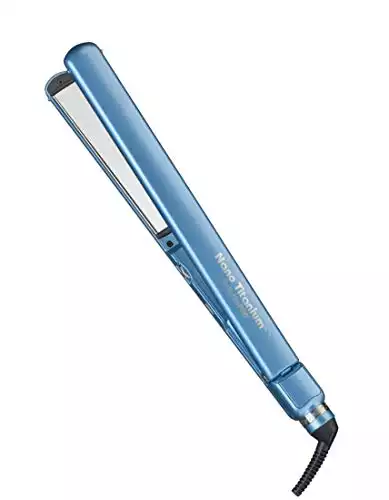 BaByliss PRO Nano Titanium – Best-Selling Flat Iron Review
The BaBylissPRO Nano Titanium Ultra-Thin Straightening Tool is one of the leading brands to consider as its ultra-thin design makes it lightweight and easy to maneuver while you style your strands. It sports longer plates to better accommodate all kinds of hair while heating the strands in an even manner. It can reach up to 450 degrees Fahrenheit for faster drying and styling.
Pros:
Lightweight design reduces hand fatigue.
Extra-long titanium plates make it easier to style each section of your hair.
Multiple heat settings give you complete control over the amount of heat used on your mane.
Cons:
The plates do not clamp down evenly.
The power button gets toggled off by accident because of the placement on the handle.
Some users noticed that their hair wasn't silky smooth after using it.
Features and Benefits
What makes this BaByliss flat iron the go-to solution for those who want a styling product that could do it all? The BaBylissPro Nano Titanium is packed with several features that are worth checking out. Among these are:
Ultra-Thin Design
One of the common complaints that people have with flat irons is that they tend to be bulky. Although their size means that they will be able to clamp down on a good amount of hair, their weight causes hand fatigue. This is not an issue with the nano titanium ultra-thin flat iron BaByliss. This is due to the ultra-thin design that makes it lightweight and easy to handle. I like that its design makes it more convenient to use when straightening my strands at the back of my head without burning my hand in the process.
Longer Titanium Plates
BaBylissPro comes with longer titanium plates which is a plus especially when you have long or thick hair because it can clamp down on large sections easily. The titanium plates can get hot fairly quickly so you can finish your styling faster without damaging your hair strands. They can withstand corrosion too which means that this will last you a while.
Temperature Settings
Another feature that BaBylissPro sports is that it comes with 50 heat settings. The highest temperature that you can get from this product is 450 degrees Fahrenheit which helps speed up the straightening process. If you have medium to coarse hair, this is the right amount of heat for your strands without damaging them. I find that the 50 heat setting gives you more control over the temperature that you will be exposing your hair strands to plus it shows that this product can be used on all hair types and textures.
Ceramic Heater
The combination of titanium and ceramic in BaBylissPro is probably the reason why this is an excellent straightener to have in your collection. Ceramic is known for distributing hot temperatures evenly while titanium can withstand up to 450 degrees Fahrenheit without difficulty. The best part? It prevents frizz and flyaways from occurring so your mane is quite safe with it.
Versatile
BaByliss Flat Irons come in different sizes, but the nano is a favorite because of its versatility in creating different hairstyles from straight, to wavy, to curls. All because of its lightweight and ultra-thin design that makes it easier to use. This ultra thin straightening iron is also portable so you can bring it with you even when you travel. Now there is no reason for you to not look your best when you are out and about thanks to this product.
One Pass
Unlike other types of hair straighteners where you need to do multiple passes, this nano titanium straightener shows results with just a single pass. This means that you are not exposing your strands to high temperatures too much thus preventing them from getting damaged. How cool is that?
Social Proof
Aside from reading up on the features of the BaBylissPro, I also wanted to know what others are saying about this ultra thin straightening iron. Although there were those who gave this tool 2 stars, 3 stars, and 4 stars in terms of feedback, a good number of its users were all praises. Here are a few worth checking out.


Alternatives
Are there any alternatives to the flat iron that BaByliss is offering? Well, there are other options that you can check out as well. For me, these three stood out from the choices out there.
KIPOZI Pencil Flat Iron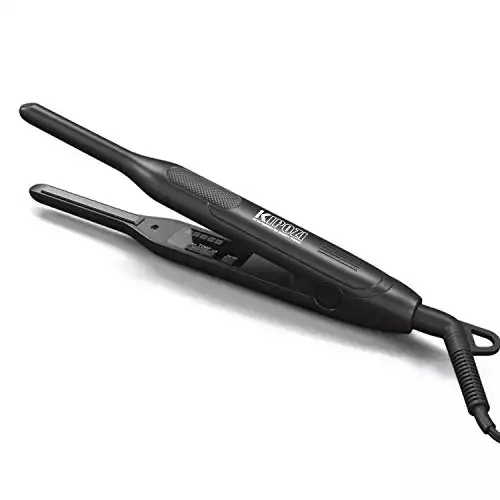 KIPOZI Pencil Flat Iron
Thinnest pencil flat iron in the market with 0.3 inches titanium plates to help get to the roots and edges for better styling, small hair straightener for short hair and beard.
This small flat iron even heat distribution that eliminates frizz and preserves hair moisture and the smaller plates width are recommended for creating more versatile styles.
Reaches up to 450⁰F with fast heat up time, 5 optional heat settings for all hair types and beards to set to your ideal straightening temperature.
Accurate, easy to use digital temperature controls, comfortable grip and ability to make hair shiny and sleek, so the result is always frizz-free, smooth hair.
8ft extra long tangle free 360°swivel cord that allows for comfortable styling. dual voltage for international use, digital read out, lightweight and non-slip body frame.
Buy from Amazon
We earn a commission if you click this link and make a purchase at no additional cost to you.
11/24/2023 09:30 pm GMT
The first on my list is the KIPOZI pencil flat iron which, as the name suggests, may pass as an ultra thin straightening iron too. Its 3/10 inches plates made from titanium can easily style even your pixie cut which is one of the reasons why I love this product. The flat iron distributes the high temperature evenly which ensures that there are no hotspots that will harm your strands.
It can reach 450 degrees Fahrenheit in just a few seconds, but you will be happy to know that it comes with 5 settings for temperature control. The digital temperature controls ensure that you will not accidentally toggle the temperature settings while styling your hair. It is easy to hold on to this straightener which makes it easier to maneuver around your head. It also comes with an 8-foot swivel cord so you will have more room to move around.
Pros:
Pencil thin flat iron makes it an ideal choice even those with a really short haircut or for styling and straightening one's beard.
The flat irons are made from titanium which heats up evenly.
5 temperature settings give you more control in styling your mane.
Cons:
It doesn't reach high heat after a few months of use.
The irons do not clamp together very well.
The digital readout for the temperature setting is not easy to read.
Remington S5500 1″ Anti-Static Flat Iron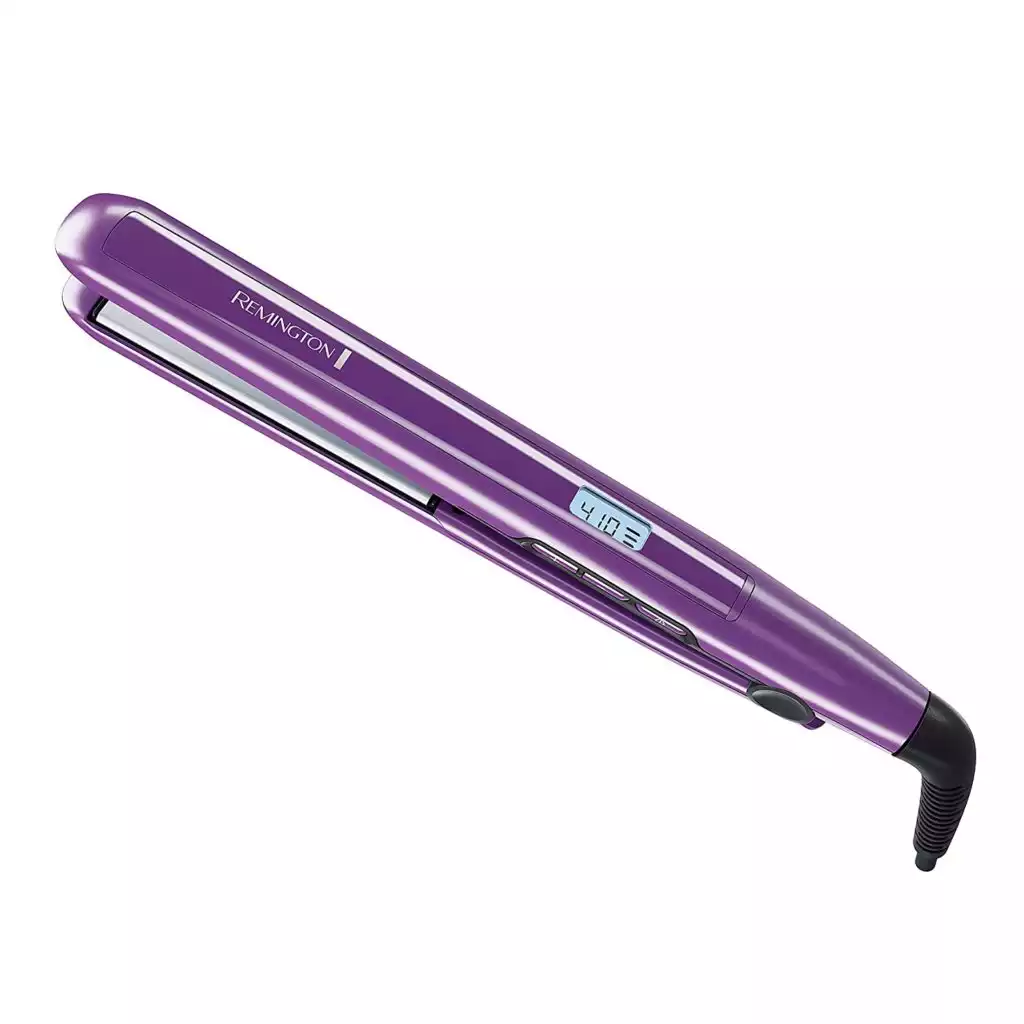 For those who prefer to use a straightening iron that is lightweight and easy to handle then this one is for you. It sports a 1″ ceramic floating plates glide smoothly on hair as they straighten or curl your strands. You will love how it doesn't pull at your hair strands which is common in the bulkier versions. It sports an anti-static technology which helps keep flyaway and frizz from happening. Remington's flat iron is coated with titanium so that the plates can reach high temperatures quickly. You will notice that the plates are also longer which means that it can clamp on more hair.
Did you know that you can go to the highest temperature on this product with just a press of a button? Remington has this unique feature that lets the flat iron go to its highest setting in just a few seconds. The highest setting that you can get here is at 410 degrees Fahrenheit which is much lower than BaByliss but it still gets the job done. It comes with an auto shut-off feature when you left it idling on your dresser for an hour. Thanks to its swivel cord, you won't have to worry about getting tangled up as you move the straightener around your head.
Pros:
1″ ceramic floating plates can produce different hairstyles.
It comes with anti-static technology so you don't have to deal with frizz.
Can reach 410 degrees Fahrenheit in under 15 seconds.
Cons:
The auto shut off can cause the device to turn off while it is being used as some users have noted.
There is still frizz happening on the hair.
One user reported that it damaged her hair after several times of use.
AmoVee Mini Flat Iron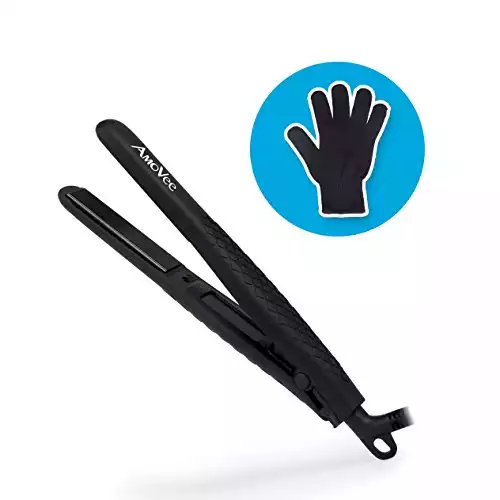 I didn't think that it would be possible to find a flat iron that comes in mini size and will give great results. I was surprised that AmoVee was able to produce one. What makes this a good alternative is the fact that it combines ceramic and tourmaline in one flat iron. This means that, aside from generating high temperatures evenly, it will not damage your hair strands. This is a relief especially to those who have brittle or fine hair that is prone to breakage. This product will simply glide on your hair without that pulling and tugging happening that you dread with these kinds of styling tools.
Another thing that I like about this product is that it comes with a glove that can withstand the high temperatures. This is perfect for straightening the strands near the nape of your neck or behind your ears for that matter. You can even use it when styling your partner's beard too. Yes, it is that versatile which makes it a great addition to your arsenal. Since it comes in a compact size, you will be able to bring it with you wherever you go. It only has one setting which is 410 degrees Fahrenheit, but for its size, I think it's enough.
Pros:
The compact size makes it great for travel.
Tourmaline and ceramic make it safe to use on all types of hair.
It comes with a glove that is resistant to high temperatures to keep you from burning behind your ears or the nape of your neck.
Cons:
It only has one temperature setting.
Its small size makes styling longer.
It doesn't have any temperature control.
Things to Consider Before Buying a Hair Straightener
They said that a straightening iron is a woman's best friend since it can help you style your mane in any way you want. Finding the right product won't be easy since there are dozens of options for straightening iron out there to consider. That said, I thought that it would be better if I consider a few features to help me narrow down my choices. So far, these are what I came up with.
Hair Texture
If you are not sure what straightening iron to get, start with determining what your hair texture is. Hair texture ranges from fine, to thick, to coarse. Figuring out where your strands fall can help you narrow down your selection.
Material
Another factor or feature that you should consider for straightening tools is the material used. Among the usual components used here are ceramic, tourmaline, and titanium. Check if it uses infrared heat to straighten your hair because it minimizes damage by directing the heat from within the strands. If your hair is brittle go for one that comes with ionic technology since it prevents heat from further damaging your mane.
Temperature Control
You should also consider whether the hair straightening product up for sale comes with temperature control. It would be better to choose one that has multiple heat settings to suit your hair type and texture. The lowest temperature is clocked at 170 degrees Fahrenheit while the hottest is at 450 degrees Fahrenheit.
Price
Don't forget to compare prices too since there are different manufacturers of flat iron out there that offer unique features for their product. Check out how much they cost and what your budget is to shorten your list of flat irons considerably. Remember that the more features the product has, the more expensive it will be. Also, just because it has a high price, it doesn't automatically mean that it will yield the best results.
Final Thoughts
The BaByliss Pro straightening iron is a great investment as it can be used on all hair types, length, and texture. I like that it has a thin design which makes it easy to maneuver around my head. The combination of ceramic and titanium gives the assurance that, aside from producing high temperatures evenly, it also prevents your mane from getting damaged and frizzy afterwards. A single pass of the plates can already produce excellent results. I can't wait to try this one out!
Leah Williams
Leah Williams is the founder of Lucky Curl and has been in the hair care and styling industry for the last 15 years. Since then, she has developed incredible expertise and a deep understanding of how to treat and style the most difficult hair types and is passionate about sharing her knowledge with the readers of Lucky Curl.