Straightening your hair every morning doesn't have to be a chore especially when you are using the best BaByliss flat iron. Ranking high among the top hair straightening tools of today, BaByliss has an exceptional list of flat irons to try out. But which one will work best for you?  
Best BaByliss Flat Iron – 5 Top-Rated Straighteners Reviewed
Now that you have an idea of what to look for in a straightening iron, let's look at 5 BaByliss flat irons that are flying off the shelves.
BaBylissPRO Nano Titanium Straightening Iron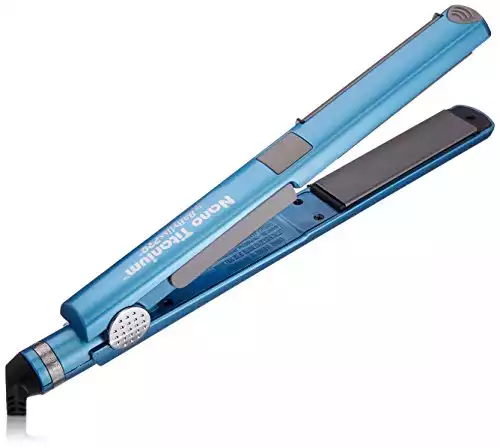 BaByliss Pro nano titanium is ideal for straightening your hair quickly because it heats up real quick. Its slim design gives you more flexibility when creating various hairstyles no matter how short or long your hair is. Customers love how fast it works saving them precious minutes in styling their hair.
Pros:
BaByliss Pro Nano Titanium Straightening iron has a slim body that prevents hand fatigue when used.

It offers better flexibility because of its ultra-thin plates that create pin-straight hairstyles with ease.

It makes use of Nano Titanium technology that heats up quickly.

BaByliss Pro Nano Titanium not only straightens hair but can be used to create beachy waves too.

The price is reasonable enough given its quality.
Cons: 
It doesn't clamp on hair very well.

Some customers complained that the placement of the power button often made them hit it accidentally when using it.

It may leave some static on certain hair types.

It has high heat settings that may take you by surprise when using it for the first time.
BaBylissPRO Porcelain Ceramic Straightening Iron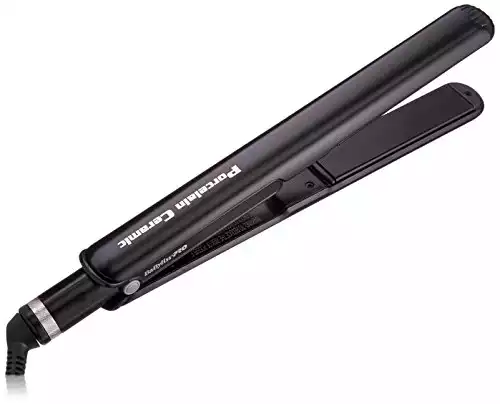 BaByliss porcelain ceramic straightening iron is capable of generating infrared heat which reduces damage to your hair. Its slim design makes it easy to wield which means you can create a variety of hairstyles using this single tool. It produces negative ions that reduce the appearance of frizz while preventing hotspots from occurring too. The even heat distribution ensures that your hair will be straightened easily.
Pros: 
Uses infrared heat to speed up the straightening process with minimal damage to hair strands.

It is lightweight and easy to manipulate.

I love that it is versatile because it can straighten and create waves too.

the ceramic heater works quickly saving you minutes to get your hairstyles as you see fit.

This straightening iron is easy on the pockets and will last longer too.
Cons: 
The materials used make it feel cheap.

It doesn't completely straighten curly hair.

It lacks an auto-off function which can be dangerous when placed on the wrong surface and forgotten.
BaBylissPRO Nano Titanium-Plated Wet-to-Dry Straightening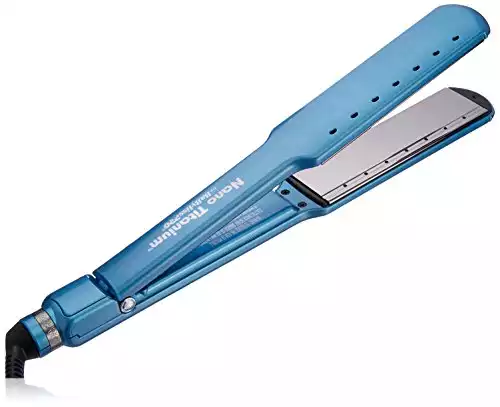 This nano titanium straightening iron is ideal for straightening your hair even when it is damp. The built-in titanium plates can easily glide over wet hair without leaving that burnt smell. This is made possible by the vents in the housing and the plates themselves to release the steam coming from wet to damp hair. Another plus to this flat iron is that it makes use of high-end titanium plating technology that ensures that the style lasts longer. I love that the ultra-slim design makes it easier for me to create waves or even create that sleek straight hair that I have always wanted.
Pros:
No need to wait until hair is dry before using this flat iron.

The titanium plates glide easily even on wet hair.

Advanced titanium technology helps make hairstyles last longer.

No need for multiple passes on wet hair.

The ultra-thin body adds to the overall comfort.
Cons: 
It is a bit pricey for its features.

Some customers have noticed that the plates don't connect too well.

The product doesn't last long according to some reviewers.

The quality of the materials may not be durable as suggested.
BaBylissPRO BABNT3053N Nano Titanium Mini Straightening Iron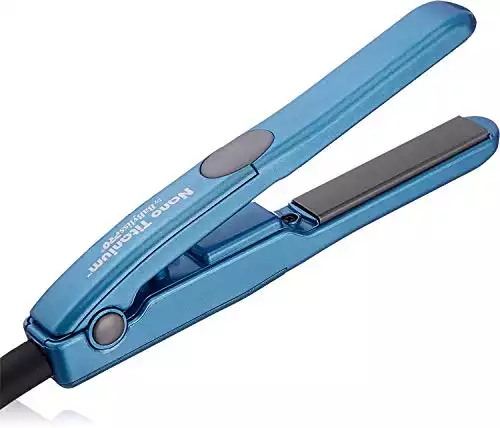 This BaBylissPRO nano titanium comes in a compact size that is suitable for travel purposes. It has a powerful heat retention capabilities that enable you to straighten your hair fast. The total length of the flat iron is only 6 inches while the width is at 1 inch only. Expect this BaByliss product to release negative ions when straightening your hair to lock the style for hours without any damage. It is made to work fast and designed for comfort and portability which are among its benefits.
Pros:
Its compact size makes it is easy to store in your travel bag.

It produces negative ions that can eliminate frizz while straightening your hair out.

It is affordable for its size.

There are no hotspots on the titanium plate as heat is evenly distributed.
Cons: 
One reviewer noticed that the plates do not close properly which means that if you have fine hair, it will not clamp properly.

The handle also tends to be too hot to the touch at times which makes it unwieldy.

For a travel straightening iron, the plug is not compatible with different sockets. You will have to buy an adapter for it.

It has a tendency to snag on hair when used.
BaBylissPRO Nano Titanium-Plated Straightening Iron
Best Seller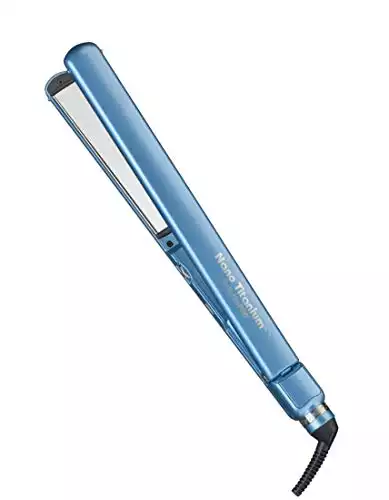 This titanium plated flat iron has a sleek and sophisticated design with longer clamps to speed up the straightening process. It has an ion generator that delivers even heat to each section of your hair while minimizing damage. Its flat titanium plate can help smoothen frizzy hair with ease while leaving a natural shine to your hair. I like the look of its flat iron because it gives me more surface to hold on to without burning my fingers. Also, I get to finish styling my hair faster because more hair can be heated up quickly.
Pros: 
It has longer clamps that can handle thicker hair without difficulties.

It has a more sophisticated design for its size.

It has its own ion generator that helps create even heat on the plates to smoothen hair out quickly.

It heightens the natural shine of your hair.

It heats up faster compared to the ceramic heater.
Cons: 
The longer clamps may not be suitable for those with short hair.

It is a bit expensive.

Customers noticed that it has a short lifespan.
Is BaByliss a Good Flat Iron? 
BaByliss has made a name for itself by producing hair styling tools that are innovative and powerful to meet the needs of their customers. And because of their hair straighteners, many have left rave reviews online, commending them for creating flat irons ideal for all hair types. I have tried one of their porcelain ceramic irons and I was impressed with how fast I got my hair straightened. Of course, the end results will vary depending on the plates you are using for your flat iron. Using any of their straighteners hair can mean getting professional results because they only use high-quality materials.
How to Choose the Best BaByliss Flat Iron?
There are a few tips and tricks that can help you land the best straightener for hair from Babyliss.
Hair Type. 

One thing that you need to know about straighteners for hair is that you will need a different tool based on your hair type. If you have thick hair, a flat iron that is designed specifically for this hair type is recommended.

Plate. 

Ceramic plates are ideal for all hair types because they heat up evenly. Titanium plates heat up quickly while tourmaline or ionic plates are recommended for those who have coarse or curly hair.

Heat. 

Flat irons have various heating capabilities. You will need to check the heat settings. A straightening iron that has a high temperature means that the iron will heat up quickly. If you have thin hair, you will have to adjust the heat settings to avoid burning your hair strands.

Hair Volume. 

Another factor to consider when shopping for a straightening iron is the volume of your hair. If you have thick hair, the irons that you should get should be wide to accommodate your hair's volume. On the other hand, if you have thin to fine hair, look for irons that are designed specifically for this type of hair.

Price. 

Price is always a factor to consider when shopping for BaByliss hair straightening irons. This will depend mostly on the materials used which is why you need to compare their products first.
Which is Better Titanium or Ceramic Flat Iron? 
I mentioned before that flat irons come with various plates with ceramic and titanium being the most popular. The question now is which one of these two stands out? There are a few things that we need to discuss to determine which of these two is the better choice.
Heat Transfer. In terms of heat transfer, 

titanium plates 

tend to heat up faster compared to ceramic. Ceramic plates can reach a high temperature in about 45 seconds while titanium can achieve this faster. Also, titanium tends to reach higher temperatures better than its competition making it an ideal choice if you want an iron that will be able to tame your frizzy hair better.

Frizz. No matter how good you are with handling a flat iron, you may not be able to tame your hair completely. In order to minimize frizz, the flat irons you should use must have negative ions to reduce static. Although both ceramic and titanium plates have this technology, it appears that titanium can produce more negative ions thus lessening the amount of static on your thick hair when straightening it. A porcelain ceramic may work just fine but when it comes to frizzy hair, you will need a flat iron plate that can have higher heat settings which is what titanium is all about.
Ease of Use. If this is your first time to use flat irons, I recommend that you go with a ceramic flat iron first. This is due to the fact that ceramic tends to heat up slowly so you won't burn your fingers easily. If you have mastered how to maneuver your flat iron, you can try those with titanium plates instead.
Hot Spots. A flat iron must heat up evenly otherwise it will have hot spots where the temperature will be higher. This can cause damage to your hair if you use it to straighten your hair. Both these materials can heat up evenly but titanium heats up fairly quickly. You have to be careful when handling this type of flat iron or you might end up getting burned.
Durability. Don't make the mistake of thinking that durability is equal to longevity. When discussing durability, it means how well the product can handle regular use, including being dropped on the floor accidentally. Ceramic and titanium are tough materials, but in terms of durability, titanium is clearly the winner.
The Verdict
What is the best hair straightener in this list? I say it is the BaBylissPRO Nano Titanium-Plated Straightening Iron. Like I mentioned before, titanium plates clearly pack a punch compared to porcelain ceramic and this product excels in this area among the others. Its ion generator gives it the edge too because it produces heat evenly and quickly too. The extra length to the clamps makes it easier to style hair because it can accommodate more hair sections. It glides smoothly and it even helps make hair shine brighter too. If you want the best flat iron, you got it with this product.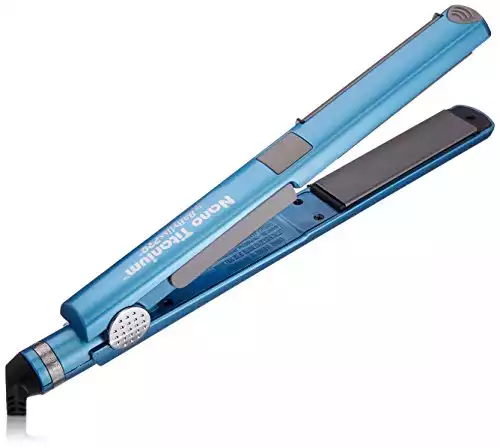 Leah Williams
Leah Williams is the founder of Lucky Curl and has been in the hair care and styling industry for the last 15 years. Since then, she has developed incredible expertise and a deep understanding of how to treat and style the most difficult hair types and is passionate about sharing her knowledge with the readers of Lucky Curl.