African Americans have the widest variety of hair types ranging from kinky coils to soft, loose waves. With this in mind, careful consideration must be taken about the flat iron you are using on this hair type.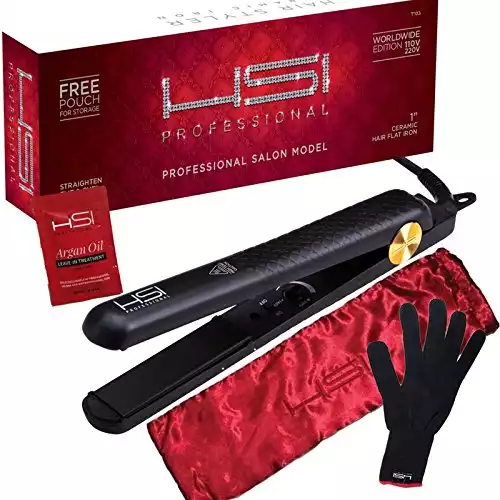 Flat irons are, unfortunately, not created equally so you need a high-quality straightener that can tame coarse and coily hair without causing damage. If you love the look of relaxed hair but you are unsure what flat irons to get, here are 6 options for the best flat iron for African American hair that we highly recommend. Most of our recommendations will be ceramic flat irons as recommended by the American Academy of Dermatology (AAD).
6 of the Best Flat Iron for African American Hair
09/07/2023 02:30 pm GMT
1. HSI Professional Ceramic Tourmaline Ionic Flat Iron
Kicking off our list if the HSI Professional Flat Iron. This hair straightener is one of Amazon's top-rated flat irons that's also a great option for those with natural hair. It's important to find a straightener that will minimise damage from frequent flat iron use or chemical treatments. This is especially important for those with coarse, natural hair.
The HSI tourmaline ceramic flat iron features two pairs of high-quality tourmaline ceramic heaters that gently straighten. Ceramic-tourmaline is a great styling tool material for those with natural hair. That's because the tourmaline ceramic flat iron produces double the negative ions which smoothen every hair strand. This allows for a flatter, smoother finish.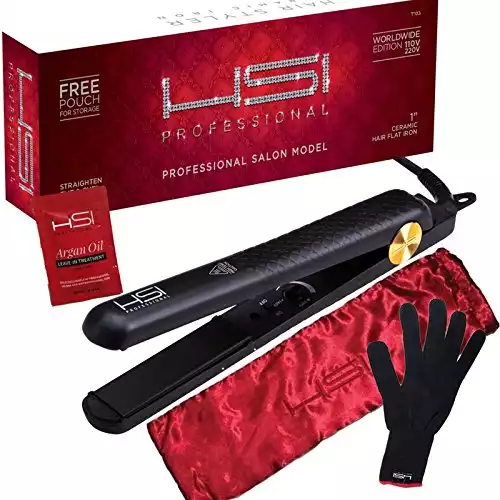 Overall the HSI Professional Flat Iron is incredibly easy to use and is designed with several great features. One of these important features is of course, the adjustable temperature settings. The heat settings could go as low as 140 degrees F to 450 degrees F).
Whether your black hair is fine or kinky, thick or stubborn, the HSI Professional Ceramic Tourmaline Ionic Flat Iron is one of the best tourmaline ceramic flat irons for African American hair. It will give you a salon-worthy finish that lasts.
Best of all, this straightener comes with a bottle of Argan Oil conditioning treatment that will leave your natural hair silky smooth and glossy.
We Liked
Variable Temperature Settings with Tourmaline Ceramic Heaters
450 Degrees Maximum Temperature
360 Degree Swivel Cord
Floating plate design
Compact and lightweight
Useful accessories
We Didn't Like
No digital temperature display
No automatic shut off feature
Will take several passes for thick hair
2. ghd Platinum+ Professional Performance Styler
Strong, healthy, and shiny hair—that's what the ghd brand promises with its much-raved ceramic flat iron, the ghd Platinum+ Professional Performance Hair Styler. This hair straightener is one of the best flat irons for natural hair.
It's the world's first smart flat iron, capable of "predicting" your hair's exact hair needs. The Platinum+ Professional Performance Styler has a sensor that monitors heat 250x a second. The sensor could also tell your hair type in seconds, as well as the speed at which you are styling, choosing the perfect heat setting accordingly.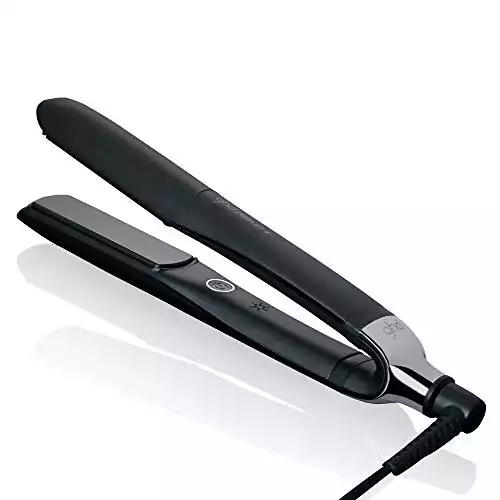 The ghd Platinum+ Professional Performance Styler looks like a basic ceramic flat iron but the 1-inch plates are able to adapt to your ideal styling temperature at all times, reducing hair breakage by up to 70% and reducing frizz. This flat iron for natural hair also offers 2 times the color protection so if you dye your hair often, this flat iron won't cause the color to dull or fade.
The brand's proprietary Ultra-Zone Technology also produces homogeneous heat across the 1-inch plates, eliminating cold spots that cause a lackluster finish. With just a single stroke, the flat iron tames, straightens, and enhances the shine of black hair. The clamp is rounded and skinny enough to let you experiment with different hairstyles. Apart from straightening the hair, the flat iron could flip or curl the mane too.
But when you think about it, it's a smart flat iron and the predictive features will make styling easier. Also, the Platinum+ Professional Performance Styler replaces other hot tools and is quite durable so this flat iron will get a lot of use. I'd say the Platinum+ Professional Performance Styler is not the best choice if you are looking for a basic hair straightener or if you are just getting into hair styling. But for those who need an advanced tool that could keep up with their changing needs, this is a great investment.
We Liked
A hair straightener with 1-inch precision-milled ceramic plates
Ionic technology
Heat resistant plate guard
Automatic shut-off feature
Dual voltage and 9 foot 360-degree swivel cord
Heat monitoring feature
We Didn't Like
Expensive
Non-adjustable heat setting
3. KIPOZI Professional Titanium Flat Iron Hair Straightener
A good titanium flat iron is all you need to create a long-lasting silky hair and that's exactly what the KIPOZI brand is offering with its KIPOZI Professional Titanium Flat Iron.
This flat iron features two sizeable heating plates made from high-quality titanium alloy ideal for hair straightening natural African-American hair without too much heat exposure. This is one versatile titanium flat iron that could straighten or curl the tresses, giving you plenty of styling options.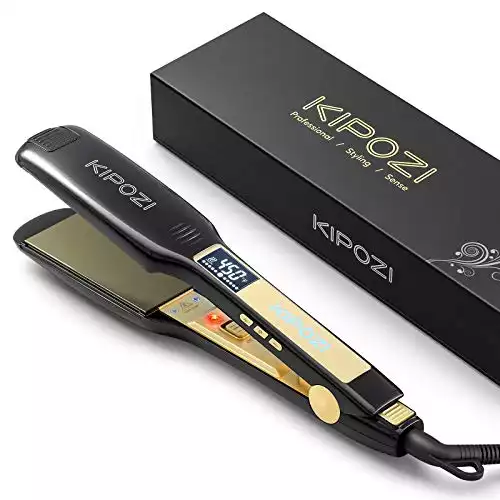 Each of the .75-inch special titanium plates is precision milled; it could glide on the hair without tangling or snagging. The flat iron also features a floating plate design to deliver even, consistent heat with zero cold spots, giving you uniform results that last.
The professional flat iron was designed with the user's comfort in mind that's why it comes with customizable settings and a large LCD. If your hair is prone to heat damage and you really need to keep tabs on the temperature, you can adjust the heat settings to get a more personalized result. With heat settings that range from 170F to 450F, the Titanium Flat Iron is suitable for all hair types, even very fine or coarse curly hair!
Automatic shut off mode is also added for your peace of mind. If the flat iron is left on idle for an hour, it turns itself off. It also comes with a smart safety temperature reduction controller so you don't accidentally fry your hair as you straighten. A special electronic circuit also converts the voltage to worldwide usage so you can travel with this baby anywhere in the world.
We Liked
Ionic technology
3 heat settings
Compact and lightweight
Swivel cord
Big LCD screen
Dual Voltage
We Didn't Like
Not ideal for thin or damage-prone hair
Will not work for short hair (wide plates)
4. BaBylissPRO Nano Titanium-Plated Ionic Straightening Iron
Another one of my favorite flat irons for black hair is this baby! The BaBylissPRO Nano Titanium-Plated Ionic Straightening Iron is no stranger to our readers because it's a dependable, no-nonsense straightening iron that gets the job done, no matter how challenging the said job is.
That's because the BaBylissPRO Nano Titanium-Plated flat iron features two ultra-smooth nano titanium-plated ionic plates. The heating plates feature a breakthrough plating technology that will straighten your hair evenly and quickly. The titanium plates are about a micron thick and they offer superior glide for snag-free styling.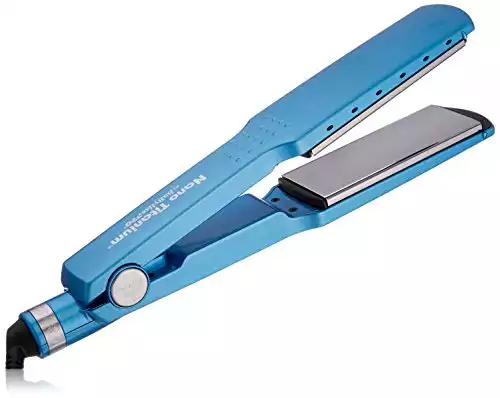 The BaBylissPro Nano Titanium flat iron also features a Ryton housing so it could withstand ultra-high heat, making the device even more durable than it already is. It's lightweight, perfectly balanced, and it performs well even under immense pressure. The professional titanium flat iron also produces millions of negative ions that smoothen every hair strand, leaving your hair shiny, bouncy, and full of body.
If you love the look of pin-straight hair then this straightening iron will definitely tame even the most stubborn hair. However, this flat iron does get real hot real fast and if your hair cannot stand the heat, it might be too harsh for you. That said, the variable heat settings on this flat iron for black hair provide customized results and you can always adjust the settings to suit your hair type.
We Liked
Ultra hot temperature
Quick heat recovery
Instant heat up feature
Variable Heat Settings
Far-Infrared Heat
LED temperature settings
We Didn't Like
Capable of high heat, can get too hot quickly
No automatic shut-off feature
Not ideal for thin or damage-prone hair
5. Infiniti Pro by Conair Tourmaline Ceramic Flat Iron
Affordable, efficient, and durable—these qualities made the Infiniti Pro by Conair popular among African-American women. It's one of the best tourmaline ceramic flat irons for black hair. First off, the price point is hard to beat for a high-quality flat iron. At under 30 bucks, you're getting the gold standard material for flat irons, tourmaline-ceramic. You know my love for ceramic tourmaline; it's gentle yet efficient, able to tame stubborn tresses, even kinky hair with fine hair strands without damaging your hair.
Apart from delivering even, gentle heat, this ceramic tourmaline ionic flat iron has 1-inch plates that produce negative ions to boost hair shine and improve hair health. My hair never feels dry whenever I use the Infiniti Pro by Conair Tourmaline Ceramic Flat Iron and that's saying a lot because I style my hair regularly and my tresses tend to go dull if I went overboard with the styling.
I also love the floating plates design of this tourmaline flat iron; the 1-inch plates allow the hair straightener to transfer heat evenly. Since there are no cold spots, you get uniform results when straightening your hair as the flat iron will distribute heat evenly. It also features a heat recovery function so that the flat iron produces uniform heat.
If you are always rushing in the morning but you simply cannot head out without hair straightening, you will love the Infiniti Pro flat iron's quick 15-second heat up feature. No more waiting around for your flat iron to reach the ideal temperature for styling your hair, this flat iron for black hair heats up so quickly. It can reach a maximum of 450 degrees so it can tame the most stubborn hair but you can also tone the temp down if your hair cannot take the heat.
Overall, the Infiniti Pro tourmaline ionic flat iron brings together great features and durability at an amazing price point.
We Liked
Adjustable Heat Settings
15-second quick heat up
Ceramic tourmaline flat iron with floating plates design
70% less frizz
Uniform heat recovery feature
Extra-long 1-inch ceramic plates
Automatic shutoff feature
We Didn't Like
Not ideal for beginners
No digital temperature display
6. Paul Mitchell Pro Tools Express Ion Smooth+ Flat Iron
We are rounding up our list of the best flat iron products for African American hair with the Paul Mitchell Pro Tools Express Ion Smooth+ Flat Iron. The Paul Mitchell Pro Tools Express Ion Smooth+ Flat Iron is a great flat iron to get if your hair is quite fragile, if it's prone to damage or is already damaged. It offers salon-quality performance, giving dull, dry, and lackluster hair a boost of brilliance thanks to its cushioned ceramic plates. The edges of the flat iron are beveled so you get an even heating surface for uniform results.
As the name implies, the Paul Mitchell Pro Tools Express Ion Smooth+ Flat Iron smooths out hair cuticles by producing millions of negative ions. The negative ions penetrate each hair strand, locking in moisture and preventing dullness and breakage.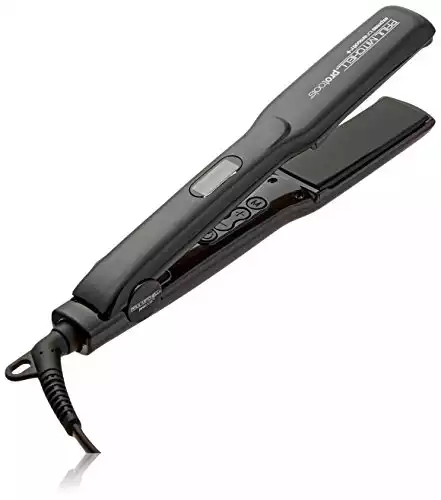 The 1.25-inch ceramic plates of this professional flat iron is ideal for straightening your hair in larger sections, cutting heat styling time in half. The size of the heating plates will work for those with short hair but will be incredibly useful for people like yours truly who have extra-long, thick hair.
The plates are made from a unique silicone and ceramic blend for a snag-free, smooth straightening. For heat-sensitive African American hair, the Express Ion Smooth+ Flat Iron has a digital temperature control with LCD so you can always monitor the temperature and adjust the heat according to your styling needs. Also, there is no need to worry about frying your tresses because this flat iron is designed specifically for those with delicate tresses or colored hair!
As for the downside, the only thing I noticed is this flat iron for natural black hair lacks a safety feature. There is no auto shut off feature so you have to make sure to turn the Paul Mitchell flat iron off otherwise, it's a fire hazard.
We Liked
Infrared Technology
Slim plates
Digital temperature control
Large LCD screen
60-second quick heat up
5-second heat recovery
We Didn't Like
No auto shutoff feature
Prone to overheating
Factors to Consider When Looking for the Best Flat Iron for Black Hair
Your Hair Type and Hair Length
The most important factor that you should consider when shopping around for the best flat iron for African-American hair is your hair type.
If you have fragile hair and you chose a hair straightener that gets too hot, such as a heavy-duty titanium flat iron, for example, you might end up frying your mane.
For black hair, some are coarse and thick, others are thick, curly hair but with thin strands. If your hair is coarse and thick, it can withstand higher temps, opt for a flat iron that reaches 400-450 degrees F. But if your hair has thin hair strands, if it's color-treated, prone to damage, or damaged, choose a gentler hair straightener, one that could reach 350 to 380 degrees F.
The thickness of the flat iron's plates will depend on the length of the hair. Generally, flat irons with skinny plates are ideal for those with short hair, about less than an inch to an inch in diameter should do it. If you have medium long hair, opt for a flat iron with a 1-inch to 1.5 inches plates. For those with long to extra-long hair like yours truly, a flat iron with 1.5 to 2 inches plates is your best bet. If you want to use flat irons to curl your hair, opt for a skinny flat iron with rounded ends.
Adjustable Heat Setting
A flat iron with adjustable heat setting gives you optimum control over the temperature to straighten your natural hair. This is one useful feature that I think all flat iron should have but you'd be surprised, there are some that do not have adjustable temperature settings. As you know, different hair has different needs and if your hair needs higher or lower heat, you need a flat iron that can satisfy your styling needs. Otherwise, you might accidentally burn your hair and no one wants that! Apart from having adjustable heat settings, choose a flat iron that could reach at least 400 degrees F. 
Plate Material
The gold standard in flat irons is tourmaline ceramic. This is what I would recommend if your hair is thin, fragile, damaged, damage-prone, or color treated. Tourmaline ceramic flat irons produce negative ions that make the hair shiny, silky soft, and hydrated. You simply cannot go wrong with tourmaline ceramic plates, although they are usually more expensive than some flat iron materials.
For unyielding hair that's a pain to style, a flat iron with titanium plates should work for you. The material could reach higher temperatures, able to whip those stubborn hair into shape. A titanium flat iron is usually lightweight, conducts heat quickly and applies heat evenly. The downside is that it's the most expensive flat iron material on the market so you'll pay a premium. Also, the high temps of a titanium flat iron could be too drying for some hair types.
Flat irons with ceramic plates are gentle on the hair because the material applies healthy heat on the hair strands. These are perfect for those with delicate hair because ceramic won't burn the mane. However, ceramic material is quite brittle so you have to be careful with it. If you're clumsy, opt for a more resilient flat iron. 
Types of Black Hair
African American hair comes in many different types and textures. To get the most out of your flat iron – or any hot tool for that matter – you have to make sure that your hair type suits the flat iron you're investing your hard money in:
Type 3 – Curly Hair

3A: Features defined, loopy curls. 3A hair is prone to frizz and dryness so use light hair care product with a gentle hold. Deep conditioning is also a must.
3B: Features well-defined, dense curls. Prone to product build up so use a hydrating and clarifying hair care product and avoid sulfates and silicones.
3C: The curls are defined and corkscrew in shape. The spaces in between the curves are quite small. This hair type will require a weekly deep conditioning for a boost of hydration.
Type 4 – Coily Hair

4A: Has a defined, spiral curl. 4A hair is perfect for wash n' go hairstyles but is prone to dryness so a weekly deep conditioning is a must.
4B: Has a fluffy, thick texture with defined zigzag curls. 4B is prone to dryness and brittleness because of the bent ends. This hair type appears shorter than it really is.
4C: A more tightly coiled version of 4B. 4C hair is fragile and is prone to dryness, breakage, and tangles so use creamy hair care products to hydrate the tresses.
6 Tips for Caring for African American Hair
Due to the uniqueness of African American hair, certain tips and processes should be followed to ensure the hair remains healthy and damaged caused by styling tools is minimized.
Avoid drying products. Such as gels and hairsprays.
Wash hair once a week or every other week. To prevent build-up of products that can dry out the hair.
Condition, condition, condition! Consider coconut or avocado oil.
Heat protection is key. Use heat protecting products before using a flat iron.
Heat gently and infrequently. Those with African American hair don't have to forgo styling products all-together. It's just important to use them infrequently and on low heats where possible.
Consider a satin/silk pillow case. Minimize friction from sleeping against a cotton pillowcase.
Common Questions: Best Flat Iron for African American Hair
Is ceramic or titanium better for African American hair?
African-American hair comes in all textures, with a different concern for each hair type. Hence, it's problematic to pigeonhole this hair type. The question of whether to use a ceramic or titanium flat iron depends on how coarse or fine the hair is and whether it's naturally curly. Fine, curly hair requires less heat, so ceramic would be a good option. If your black hair holds on to its curl all too well or is quite thick and coarse (such as thick type 4C hair), you need a flat iron capable of high heat transfer, which titanium flat irons are excellent at. For damaged hair, a ceramic tourmaline will help replenish lost moisture and condition the strands.
How hot should a flat iron be for African American hair?
Use the lowest effective heat setting that can straighten your hair texture. Remember, moderation is key. You should also personalize the heat setting for each section of hair, since black hair types can have different textures on one head. For medium to coarse hair, use 360 to 410 degrees°F. If you have thin to fine hair, use a heat setting below 360°F to prevent damage. At 451°F, you can burn or even melt your hair, so stay far away from that temperature to avoid irreparable damage.
Wrap-Up
Black hair may look thick and resilient but as you can see from our list of hair types, some are fragile and prone to heat damage. Because African American hair has specific styling needs, be sure that you are using a flat iron that fits your type of hair well. The best flat iron for African American hair that we've listed won raves because they provide dependable performance, excellent features, and great design! Which one is your favorite?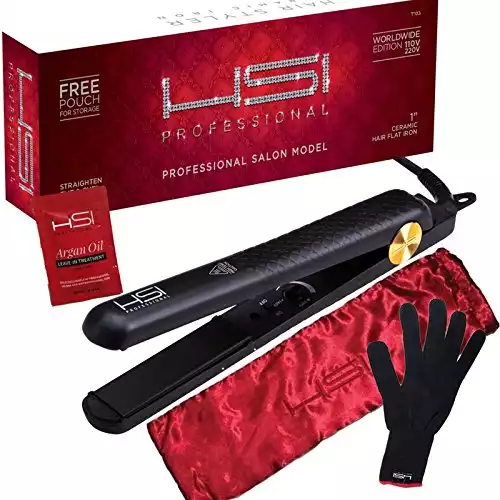 Leah Williams
Leah Williams is the founder of Lucky Curl and has been in the hair care and styling industry for the last 15 years. Since then, she has developed incredible expertise and a deep understanding of how to treat and style the most difficult hair types and is passionate about sharing her knowledge with the readers of Lucky Curl.