In an ideal world, we'd wake up with hair perfectly tousled and styled and walk out the door with no extra effort in primping our locks. However, we live in the real world and here, we have to deal with heat damage, humidity, or just plain old frizzy hair.
With that in mind, we've rounded up top-rated styling tools to find the best hair straightener for frizzy hair.
Best Hair Straightener For Frizzy Hair – 5 Products Reviewed
We've got the basics down, from the best flat irons to how to use these tools properly. Now, we can take a look at some of the best flat irons for frizzy hair suited to your needs.
1. ghd Platinum+ Hair Straightener, Ceramic Flat Iron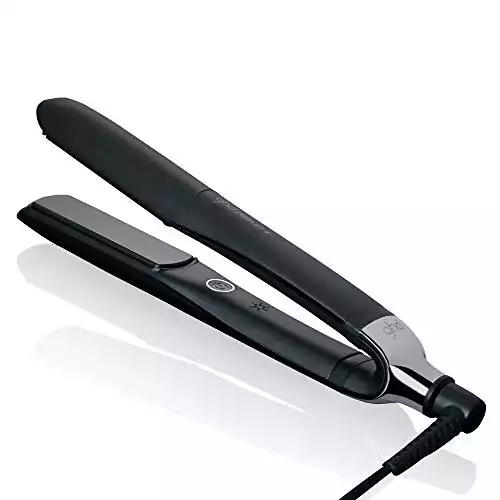 The ghd Platinum+ Hair Straightener is one of the pricier ones of the bunch but it more than makes up for the price tag with its amazing features. It's a ceramic flat iron with gloss-finished floating plates that heat up at 365 degrees Fahrenheit, which they tout as the ideal heat level for safe hairstyling. Its heat settings are its star feature because the hair straightener can adjust its temperature not just to hair, but specific hair sections, hair thickness, and your styling speed. It claims to monitor heat 250 times per second. I like the protective plate guard that it comes with and the round barrel that makes flicking ends and creating waves a breeze. It has a sleep mode too, after an idle time of 30 minutes. This ceramic flat iron will be suitable for those with color-treated hair because of its adjustable heat and color protection features. Those with fine, frizzy hair will also appreciate its advanced straightening technology. As for the cons, this straightener has no temperature indicators because it is fully automatic. Others will also balk at the price which is steep for those on a budget.
Pros
Intelligent, adjustable temperature technology to prevent heat damage
Great for color-treated and damaged hair or fine, frizzy hair
Round barrel is versatile, whether you want wavy or straight hair
Cons
No temperature indicators may be a downside for some users
2. CROC Classic Nano-Titanium Flat Iron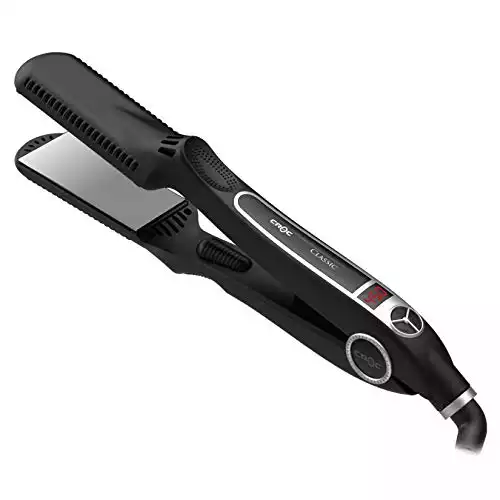 The CROC Classic is aptly named because of its resemblance to a crocodile's jaws. This straightening iron is made of silver titanium and has 25 heat settings that can go as low as 280 degrees and as high as 450 degrees Fahrenheit. It has a handy digital temperature controller and a 260-degree swivel cord (good for your wrists!). Its specs include a 1.5 inch plate and it weighs a mere 1 pound. Its unique design is surprisingly easy to use because of its ergonomic handles. It's safe, too, owing to its auto-shutoff feature, which, if you're forgetful like me, can save you so much stress. This hair straightener is perfect for someone with a frizzy hair type because its plates are infused with negative ions for more far-infrared heat but less damage. Its titanium material makes it a lifesaver for coarse, thick, or stubborn hair. For people on the go, the wide plates can save you more time in the morning. The only disadvantage I have found with this is that some have reported their hair straighteners malfunctioning after a few months.
Pros
ergonomic
lightweight
the titanium flat iron is efficient and best for thick, coarse hair
Cons
not guaranteed to be long-lasting
titanium can have cold spots and uneven heating
3. MONDAVA Professional Ceramic Tourmaline Hair Straightener Flat Iron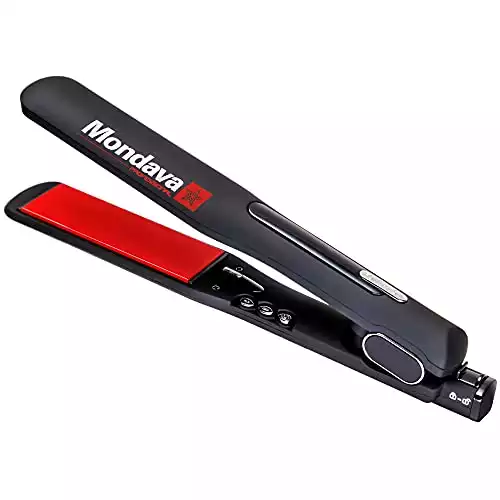 The Mondava straightening iron is made by the #1 hairstyling brand in Italy. The rave reviews had me curious so I tried it out. It's slightly heavy at 1.7 pounds but its temperature range goes up to 450 degrees Fahrenheit. The tourmaline ceramic plates are 1.25 inches and the product reportedly emits 3 million negative ions per minute. I was even more impressed by the quick heat-up of 5 seconds and its salon-grade quality. It has the standard auto shut-off feature, swivel cord, and digital temperature controls. Notably, it has the highest-rated ionic throughput which means its perfect for frizzy hair, though I think this flat iron would be good for all hair types. Its main selling point is straight hair in 8 minutes, which I found to be the case but your experience may vary. If you're more into curling than straightening though, it would be better to stay away as this product is more suited for flattening hair.
Pros
made of ceramic tourmaline which is great for frizz
comes with several add-ons (gloves, travel pouch, hair clips, etc.)
fast 5-second heat-up
Cons
4. Remington S8540 Keratin Protect Straightener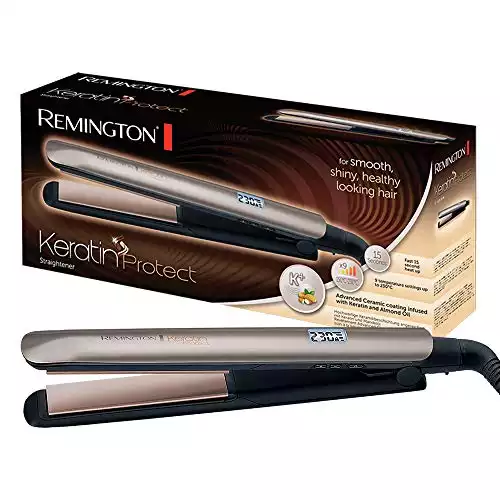 Weighing less than a pound, the Remington S8540 has ceramic hot plates that are infused with keratin and almond oil. These unique components make your hair satiny smooth and nourished, eliminating frizz in one fell swoop. The straightener has a nifty detection feature that adjusts the heat of the flat iron depending on how much moisture is in your hair. It has 5 temperature settings and a digital display. I can attest that this flat iron heats up quickly. I love the plate lock that comes with the iron, good for traveling, or styling after a gym sesh. That said, there are some cons to the Remington. If you have curly or thick hair, the paddles can prove to be a challenge to work with. I also found that styling the ends of my hair was difficult, but not impossible.
Pros
lightweight
infused with nourishing oils
adaptable temperature settings
Cons
not suited for those with curly or thick hair
5. Paul Mitchell Pro Tools Express Ion Smooth+ Flat Iron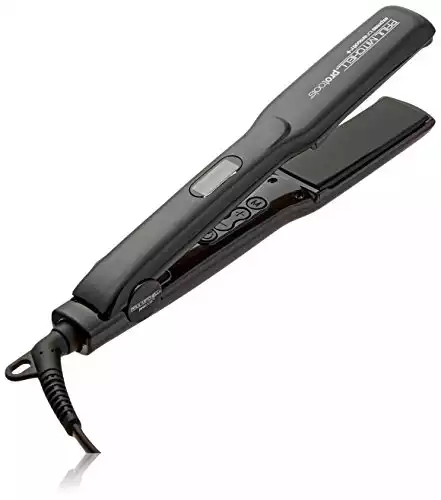 Paul Mitchell is a titan in the hair industry and has been selling tools for decades. This particular flat iron is great for protecting against hair damage. It's lightweight at 1 pound and has ceramic plates that are 1.25 inches thick, an optimum width for styling almost all hair types. This is a ceramic flat iron that can heat up to 400 degrees Fahrenheit in just a minute and has an auto-shutoff feature after an hour. Its plates are designed so you can straighten hair near the roots for a seamless, glassy finish. I appreciated the beveled edges because I've had enough of my hair snagging on flat irons. The edges are also an extra step to ensure a polished finish on hair with no demarcation lines. The only downside I have experienced with this flat iron is that it's more suited for straightening than curling, so if you're looking for a more versatile tool, this one may not be for you.
Pros
beveled edges give a smooth, seamless finish to hair
a quick and efficient tool that uses negative ions and far-infrared heat
a swivel cord makes it easy to use
Cons
more suited for straightening rather than curling
What Type of Flat Iron is Best for Frizzy Hair?
Frizz has been my nemesis for a but I've become acquainted with its ways and have even learned a trick or two in managing it. A hair straightener is one of my go-to solutions to combat frizz and I've searched far and wide for the best flat iron for frizzy hair. An odyssey to be sure, but now I know a flat iron like the back of my hand.
Before I impart the knowledge I've gained from my experience with frizzy, damaged hair, we first have to look at the causes of frizz and what kind of styling iron is the best tool to treat it.
When hair is damaged, dry, or chemically treated, the outer layer of the hair strand called the cuticle lifts, exposing the hair to even more damage and loss of moisture. This leads to the dreaded frizz. To treat this, some use serums and treatments but an instant styling fix is using a flat iron. Clamping your hair in between a straightener's plates can close the cuticle and tame frizzy hair immediately. The effects of a good flat iron sesh can last longer than gels too (not to mention, the results look sleeker and more professional).
However, not all straighteners for hair are made equal. When buying a flat iron, take note of the material of the plates (which can be ceramic, tourmaline, or titanium plates) and look for adjustable heat settings, if possible. Good tools are essential to prevent further damage. Personally, investing in a good flat iron was a purchase I didn't regret. But you don't need to fork out wads of cash for your hair as there are good hair straighteners for every budget.
Is Ceramic or Titanium Better for Frizzy Hair?
What material makes the best straightener for hair? There are two main sides to the flat iron debate. You can go for a ceramic flat iron or you can choose a titanium flat iron. But the issue is a touch more complex than that. In salons, you can often see titanium straighteners used. They are beloved because they heat up faster and have more heat transfer than ceramic types. Titanium plates are highly efficient. Its qualities make it suitable for those with thicker, curly, or otherwise hard-to-straighten hair. In addition, titanium flat irons are lighter and more user-friendly. Unlike ceramic plates, titanium is less likely to crack.
Now for the cons: titanium heats unevenly, resulting in cold spots. This is why some opt for ceramic plates instead, the more popular option now. Though it heats up slower and has less heat transfer compared to titanium straighteners, it has no hot or cold spots. Aside from that, a ceramic flat iron preserves moisture and adds shine. Its lower temperature makes it ideal for those with fine or wavy hair because it can cause less damage to these hair types. Its main disadvantage is it takes a longer time to heat up compared to titanium flat irons. Now, apart from ceramic and titanium, there are also tourmaline ceramic flat irons. Tourmaline is a semi-precious stone that is layered over ceramic plates. It minimizes positive ions that cause static and frizz and turns them into negative ions. Tourmaline ceramic flat irons close the hair shaft, too, locking in moisture. In other words, tourmaline ceramic plates are your hair's best friend in fighting frizz. Ubiquitous in salons, this type of hair straightener is also the most expensive of the three.
What is the Best Flat Iron for Thin, Frizzy Hair?
For those with fine, frizzy hair, the best flat iron type is made out of tourmaline or ceramic or both. These materials protect your hair from damage because they have a lower temperature than titanium. Tourmaline plates also lock in moisture and enhance shine. The result: healthy, lustrous hair.
How do you keep a flat iron from frizzing? Before straightening your hair, it's good to prevent damage by using a heat protectant. This can come in a spray, serum, or even lotion. Apply these without fail before ironing so your locks don't frizz even more. Make sure your hair is dry before applying heat. When starting the ironing process, set your flat iron to the lowest heat setting. Heat damages hair and strips moisture, which all cause frizz, so it's important to keep the heat at a minimum. Remember, more heat doesn't mean better results. Adjust the temperature as needed, if you feel like the plate isn't hot enough. To learn more tips on taming frizzy hair with a flat iron, watch the video below.
The Verdict
These five flat irons are the best of the best but if I had to choose just one, I would go for the ghd Platinum+ Hair Straightener. Its technology is undisputedly the most advanced of the bunch. The ceramic flat iron takes the guesswork out of hairstyling. The last thing I want to think about is adjusting the temperature settings on a styling tool. When you want something that works on frizz, the ghd is your friend. It's effective yet isn't harsh on fragile hair, thanks to the gentle ceramic coating. It adjusts to your hair and styling technique. The price may be higher than the rest but you do get what you pay for. This flat iron is certainly for someone who puts a premium on their hair and wants salon-level quality without shelling out every day for a blowout. If it's in your budget, definitely try it out and see the difference. Otherwise, you can't go wrong with the other picks. It's all up to personal preference. Whatever your hair type, getting rid of frizz shouldn't be a cross to bear with the help of the right flat iron.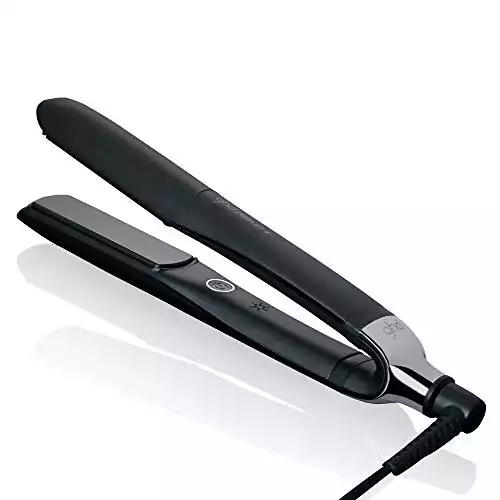 Leah Williams
Leah Williams is the founder of Lucky Curl and has been in the hair care and styling industry for the last 15 years. Since then, she has developed incredible expertise and a deep understanding of how to treat and style the most difficult hair types and is passionate about sharing her knowledge with the readers of Lucky Curl.