If you have thin hair, you will know that protecting your hair from the damage caused by styling tools is a necessity.
Luckily for you, when it comes to hair dryers, there are a number of top quality options that are suited to those with thin hair. Not only do they distribute heat evenly, they deliver much needed volume and body.
With that in mind, we have rounded up 5 of our favourite hair tools to find the best hair dryer for volume.
Best Hair Dryer for Volume – 5 Options Perfect for Thin & Fine Hair
It's not easy finding the best hair dryers out there because the blowdryers sold today have their own unique features. That said, I have listed a few brands which I think belong in the category of best hair dryer to dry your hair and style with.
HOT TOOLS Signature Series Ionic 2200 Turbo Ceramic Salon Hair Dryer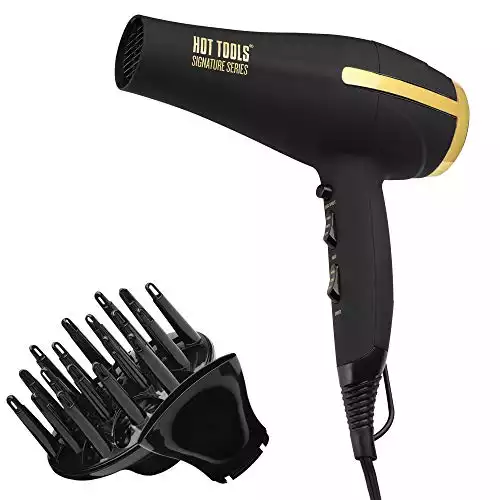 HOT TOOLS is a great brand as it is known to create blow dryers that get the job done of drying your hair quickly without damaging the strands. It has the right wattage too which is at 1875 watt which shows that the AC motor installed here is quite capable of speeding up the drying time. You will find that it has six speed and heat settings to it where you can choose how hot or cool you want on your hair with varying speeds too. This makes it a great tool to use on all hair types as well.
It also sports ionic technology that gives shine to your strands as you dry your hair. Aside from that, this dryer also makes use of ceramic and infrared heat to distribute heat evenly and to protect the hair cuticle from becoming damaged. Of course, take advantage of the cool shot button too to help seal in your hairstyle throughout the day.
Pros:
1875 wattts guarantees adequate amount of heat for drying and styling.
Adjustable heat and speed settings give you complete control over your hair.
Ionic technology helps add shine to your strands while fighting frizz.
The combination of ceramic as well as infrared heat helps in speeding up the drying process while protecting hair cuticle from damage.
Cons:
A user reported that the accessories don't stay in place.
Another user remarked that the temperature was way too hot for their liking.
It doesn't work well with those who have frizzy or curly hair.
BaBylissPRO Tourmaline Titanium 3000 Dryer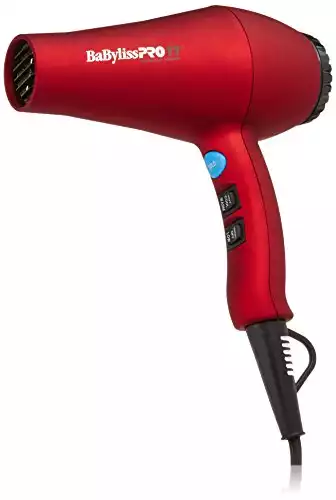 If you are looking for a hair dryer that can dry your hair real quick, then this Titanium 3000 Dryer from BaBylissPRO is a great option to consider. Unlike the previous model, this one has 1900 watts which means that there is enough heat being generated to tackle all kinds of hair from thin, to thick, to wavy, and curly. It makes use of tourmaline titanium materials that not only can handle high heat, but ensures that there will be no frizz to deal with after using it. There are six heat and speed settings available here as well which is important when you are drying your mane.
With regards to its handle, you will find that it has a rubberized handle which makes it easier to take a hold of. The buttons are placed in the grip handle too for easy toggling. It has a concentrator nozzle to help you get that volume to your mane. It also uses infrared heating when drying your hair to minimize frizz which is a plus.
Pros:
Higher wattage at 1900 watts for better heat production.
Tourmaline titanium materials deliver even heating while protecting hair strands against intense heat.
Six speed and heat settings to choose from as you dry and style your mane.
Rubberized grip prevents it from slipping from your grasp.
Cons:
Several users complained that the red coating on the dryer starts to melt after months of use.
It is too expensive for a hair dryer.
Another reviewer complained about the design of the grip handle and the placement of buttons since she keeps on toggling them while drying her hair.
INFINITIPRO BY CONAIR 1875 Watt Salon Performance Hair Dryer; Orange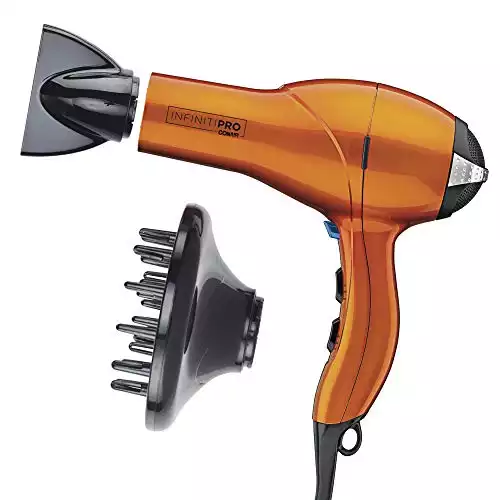 INFINITIPRO is a professional looking blowdryer from Conair which is why it shouldn't come as a surprise that this is included in this list of best dryers for hair. This product has an 1875 wattage coming from a powerful motor that essentially speeds up drying your mane. It promises of adding volume to your thin hair while giving your strands a boost. It makes use of ceramic technology which is well-known for its abilty to distribute heat evenly. To fight frizz, Conair has equipped it with ionic technology to prevent heat damage from occuring.
If you have fine hair, you will be pleased to know that this device has three heat settings and two speed settings to match your hair type. And to ensure that your hair style will remain for a couple of days, press on the cold shot button to deliver a blast of cold air to your strands. A removable filter is also installed for easy cleanup, and to complete the package, it comes with two accessories that you can change as you see fit.
Pros:
A powerful motor that delivers 1875 watts to speed up the drying process.
Ceramic technology is present to help distribute heat evenly through your strands.
The negative ions coming from the ionic technology protects strands from suffering from heat damage which can lead to frizz.
Adjustable speed and heat gives you more power over how you style your mane.
Cons:
The dryer emits loud noise when used and it didn't add much volume to thin hair as one user experienced.
It doesn't cut the drying time.
Can be tough to use on curly hair as one user experienced that her locks are often sucked into the vents.
John Frieda Frizz Ease Full Volume Hair Dryer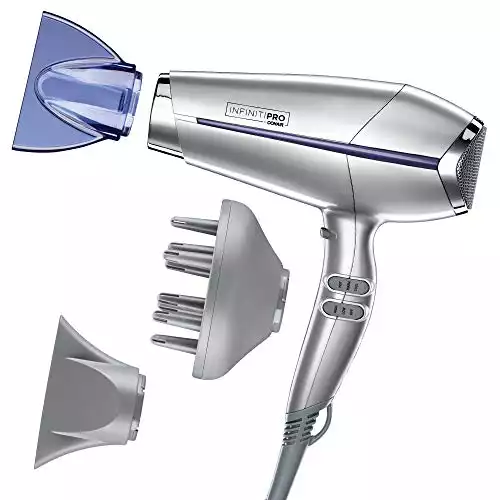 John Frieda's Frizz Ease Hair Dryer looks quite futuristic but it does the job of becoming an efficient dryer hair tool that can work on those with fine hair to thick hair and everything in between. It is also equipped with a strong motor that delivers up to 1875 watts of powerful heat to help you dry your mane quickly. Another thing that you will like about this product is that it makes use of titanium ceramic coating on the grille for even distribution of heat without damaging your hair strands. It also comes with three heat as well as two speed controls for easy customization depending on the type of hair that you have. There is a cold shot feature here just like the others as it has become an important feature in hair dryers today.
What else is there to watch out for? Well, there are two attachments included in the box which are the nozzle and the diffuser. The nozzle is ideal for those who have thin to wavy hair because of the concentrated blow of air. The diffuser is perfect for those who don't want to add volume but would like to style their mane without it looking like a mess.
Pros:
It runs on 1875 watt motor which is powerful enough to cut back the time it takes to dry hair.
Titanium ceramic coating makes it easier for heat to be evenly distributed .
Adjustable settings contribute to the customization of your drying and styling experience.
Ideal for all hair types.
Cons:
It's doesn't generate enough heat to speed up the drying time.
The placement of the control buttons make it difficult to wield without accidentally toggling the buttons.
One user remarked on its weight which made it harder to use.
Revlon 1875W Volumizing Hair Dryer
Revlon is a household name already when it comes to makeup, but if you are not familiar with their styling products, you'll love the fact that they also have a volumizing hair dryer. Their 1875 watt hair dryer is 30% more efficient in delivering negative ions to your hair strands to protect them from being damaged unncessarily. You can turn on the ionic technology if you want less frizz and if you want a smooth blowout, simply toggle the ion feature off.
A ceramic disc is built within the hair dryer to help disperse heat evenly. Your hair will have that nice sheen to it afterwards, which is a plus with this type of product. It comes with two heat and two speed options which make this device simple but powerful at the same time. It also comes with a diffuser and concentrator attachments.
Pros:
30% more efficient in producing negative ions that protect hair strands.
Ion technology that easy to toggle on and off depending on the style that you want.
three heat and two speed controls give you ample customization power.
Ceramic disc ensures that heat is distributed evenly.
Cons:
The noise is way too loud when used.
The dryer did not last long as one user experienced that the device died after a few months of use.
Another complained about the short cord that accompanies this equipment.
A Guide to Buying a Hair Dryer
What to Look for:
So, you are looking for the best hair dryer that will help add more volume to your fine hair? Fortunately, there are a few things that you can use to help you land the perfect dryer for hair.
Wattage.
This refers to the strength of the AC motor that is installed in the hair dryer. Using one that has a high wattage means that you will get to dry and style your mane quickly. For those who have thin or fragile strands, choosing a dryer that has a wattage ranging from 1800 to 2000 is recommended as this will minimize your hair's exposure to high heat.
Ergonomics.
How the dryer is designed should also be part of your consideration since you wouldn't want to end up with a dryer that is either bulky or too unwieldy.
Material and Build.
Blow dryers that are sold today are made from different materials that you should familiarize yourself with. There is ceramic and porcelain which are considered as standards because of their ability to deliver even heating. Tourmaline, on the other hand, is known to increase the number of negative ions being delivered to your strands to minimize frizz. Titanium, on the other hand, speeds up drying time and keeps temperature even too.
Cool Shot.
Most dryers nowadays come with a Cool Shot feature where a blast of cold air is used to set your hairstyle in place.
Weight.
Do not forget to take into account the weight of the dryer. A heavy dryer can make it difficult to use, not to mention that it can lead to arm fatigue too. A good option here is to look for a lightweight blow dryer so you can achieve your desired look without getting tired.
Accessories.
Most hair dryers will come with accessories when you purchase them. These accessories are the diffuser and the nozzle. The diffuser is ideal for those who have thick, wavy hair, while the nozzle is best used by those who have fine hair that needs more volume to the strands.
Heat Settings.
You should also look for a dryer that comes with adjustable heat and speed settings. This feature is important as it will give you more control over the amount of heat that is being delivered to your mane.
Cost.
Do not forget to take into account the cost of the product as well. Although those that are priced high offer plenty of features that can make your drying and styling easier, there are those that are budget-friendly too that can also give you the best results.
Warranty.
As with any equipment that you have invested in, always check the warranty. This will help you have your product replaced or repaired when it has a problem within the given warranty period.
With these things in mind, I think that it will not be long before you find the best hair dryer to give your mane that extra bounce to it.
How to Blow Dry to Add Volume when You Have Thin Hair
If you have thin hair, you might be dying to see your strands gain more volume to give the appearance that you have thicker hair. You are not the only one who feels this way. Fortunately, hair dryers are designed to help you achieve more volume to your mane, but how do you do it?
Use the right products.
First things first, you should use the right hair products before using a blow dryer. Use shampoo and conditioner that add volume while moisturizing your strands. Afterward, apply heat protectant serum too as this will minimize the damage to your strands.
Blowdry directly into the roots of your hair strands.
Always start with the roots of your hair. Direct the dryer towards your scalp. Professional stylists recommend that you blow-dry your mane against the direction where you want your strands to fall. This technique helps make the roots of your hair stand to create that lift.
Create a zigzag on your part.
Another way to feign volume is to not have your part appear straight. Create a zigzag as this will help cover up the sparseness of your mane.
Work on sections.
Section your hair before you blowdry. Wrap the round brush on the tips of your hair before curling it up towards your scalp. Direct the dryer on your brush as you pull through. Repeat the process until you complete each section.
Set it.
Don't forget to set your hair after you finish to help maintain it for hours or days even.
Conclusion
Which of these hair dryers is the best for me? I choose INFINITIPRO by Conair. It has a professional look to it with its 1875 watts and three heat and two speed controls which are easy to toggle. It has negative ion that tame frizz, while the ceramic coating ensures that heat is evenly distributed. It does speed up the time it takes to dry hair without even damaging the strands.
Leah Williams
Leah Williams is the founder of Lucky Curl and has been in the hair care and styling industry for the last 15 years. Since then, she has developed incredible expertise and a deep understanding of how to treat and style the most difficult hair types and is passionate about sharing her knowledge with the readers of Lucky Curl.