A hair dryer is a useful tool for blow drying and styling your hair, but there is nothing worse than a loud blow dryer! With that in mind, we've rounded up 5 top-rated styling tools to find the best quiet hair dryer on the market.
Best Quiet Hair Dryer – 5 Top-Rated Dryers Reviewed
I have been searching for the quietest hair dryers for my use, and believe me, it wasn't that easy at all. So far, I have come across these five quiet hair dryers that I think can be good replacements for your regular blow dryer so you can do away with all the noise.
Conair 1875 Watt Turbo Hair Dryer, Blue/Black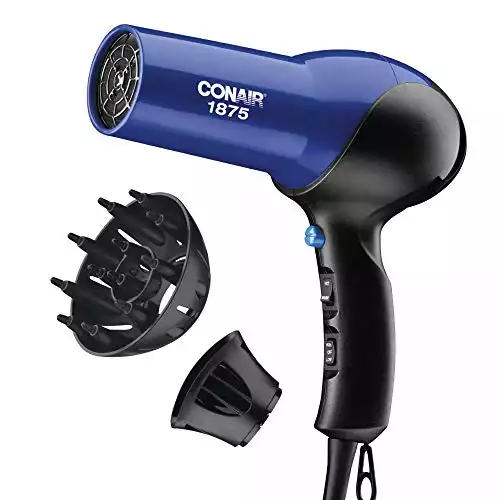 If you want to create that sleek and stylish looking hair with minimal effort, the Conair 1875 Watt turbo hair dryer is a good option to consider. I like that it helps give my hair that natural bounce to it while adding texture as well. It delivers hot air steadily on my hair strands without burning them up thanks to its adjustable heat settings. There are two heat settings and two-speed settings installed plus a cool shot button that should be the final process of locking in the hair style.
To help fight frizz and static hair, Conair has equipped its hair dryer with ionic technology that releases negative ion to tame frizz as you dry and style your strands. The design is sleek and stylish, with a comfortable grip that will not make your hands feel tired. The settings buttons are found within the handle which lets you adjust the speed and heat by toggling it up and down. It does come with a diffuser that heightens the natural textures of your hair, while the concentrator can be used to make your hair smoother.
Pros:
Speeds up the drying process compared to regular dryers.
Less noise to worry about because of its improved motor design.
Uses ionic technology to combat frizz on hair.
Has two speed settings and heat settings for better control over your mane.
Affordable price for a great dryer.
Cons:
One user wasn't really happy with the placement of the controls as she keeps on accidentally toggling them as she dries and styles her hair.
Another reviewer complained that there wasn't enough heat being generated with this styling tool.
Another user claimed that the unit was still loud when used.
The material felt cheap when held.
MHU Professional Salon Grade Hair Dryer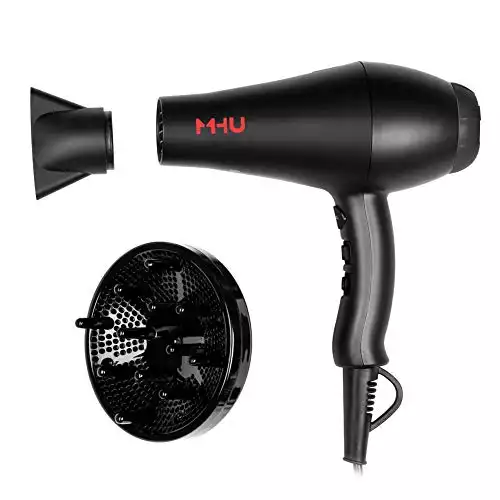 One of the best features of the MHU Professional salon grade hair dryer is its far infrared heat which delivers that gentle heat directly into the center of the strands rather than on the shafts themselves. This technology is the one that makes hair shiny and smooth too. Another feature that I enjoyed with this best quiet dryer is that it doesn't feel hot to the touch. This is due to the fact that infrared heat dryer produces cooler heat while drying thus preventing burns from happening.
There are two attachments included in this kit, which are the diffuser and concentrator. The diffuser is best suited for adding more volume to your hair, especially when it is already wavy, while the concentrator is typically used to achieve straight hair since the hot air is focused on a narrow opening instead. It is powered by an AC motor which helps in keeping the current stable while in use. There is also a removable lint filter too which makes maintaining this unit easier to do. I always had some trouble cleaning my dryer but this feature makes it a breeze.
I like its overall design plus its colors which are black and red. I feel like a pro using it. The negative ion feature is present too which means that frizz and static strands won't be a problem. There are different heat and speed settings as well which I like to experiment with. I think that this product will work fairly well on all hair types.
Pros:
Equipped with far infrared heat technology which targets the center of the strands for even heating.
Multiple heat settings give you more control over the amount of heat used on your hair type.
Attachments included let me play with my hair style such as creating more volume or making it look straight.
A lint filter helps absorb any debris, dust, and hair which can be disposed of afterward to ensure that the device will work smoothly.
It has a negative ion which combats frizz and static when in use.
Cons:
One user noticed that the nozzle kept on moving or spinning even when attached properly.
Another reviewer claimed that the temperature setting wasn't enough to dry her thick hair.
A user wasn't too happy with the weight of the hair dryer plus the device was a bit bulky too.
Another customer often accidentally hits the control settings when using it since they are positioned by the handle.
It is a bit pricey even for one of the quietest hair dryers.
Centrix Q-Zone Dryer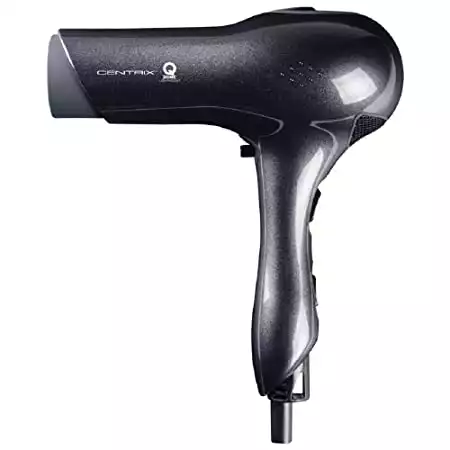 Another tool that you can use to dry your hair without being bombarded by a high noise level is the Centrix Q-Zone dryer. It is actually one of the best quiet hair blow dryers that I found during my search because of its Insanely Quiet technology. Traditional blow dryers produce deafening sounds, but not this one. You will be able to hear your own thoughts with this one which is a plus if you are looking for hot products that you can use without waking up the whole neighborhood.
What else is there to enjoy about this quiet hair dryer? Another feature that I like about it is that it makes use of ceramic tourmaline for that healthier and shinier looking hair. It feels that my hair has been conditioned every time I use this dryer. It also boasts of ionic technology that speeds up the drying time compared to others. It has definitely cut the time it takes for me to dry and style my hair at the same time.
I would say that Centrix nailed the design of their blow dryer because it is ergonomically sound plus it is lightweight too. I did not have any problems styling my hair with it even though my hair is on the thick side. Another feature that I would like to highlight here is that the cold shot button has two positions on this device. You can activate it from the barrel grip or from the handle whichever is more convenient for you. The cool shot button is devised to help seal in your hair style for hours. It did the trick as my blowout lasted the day and onto the next.
Pros:
Ergonomic and lightweight design makes it a comfortable tool to use for drying and styling one's hair.
It comes with a cool shot button positioned at the handle and one at the grip bar for convenience.
The ionic technology speeds up the heating and drying process while preventing the formation of frizz.
The noise level is minimal as expected. It is quiet.
The heat settings are placed on the handle which can be adjusted according to your hair's needs.
Cons:
A reviewer stated that the dryer took her a couple of minutes to completely dry her hair which was the same amount of time she had when using regular dryers.
Another user said that the blow dryer didn't produce enough heat.
One reviewer had some trouble keeping the concentrator in place as it kept falling off as she moved the dryer around.
The air flow wasn't as good as expected as another user pointed out.
Another reviewer wasn't happy with the positioning of the temperature settings as it felt awkward for her.
CHIC REPUBLIC: Professional Ionic Hair Dryer
If you are looking for the best blow dryer products that are quiet while delivering impressive performance, the professional ionic hair dryer by Chic Republic is a good option to consider. What makes this stand out for me is the fact that it uses ceramic and ionic technology at the same time which delivers impressive results. Since you want to dry your hair quickly, this turbo hair dryer gets the job done at less the time it usually takes using a regular blow dryer. It delivers both hot and cool air depending on which heat setting you have toggled. The temperature settings are located on the grip bar, so you can switch from low to high or slow and fast speeds easily.
Chic Republic understands that not all have the same hair types which is why this example of quiet hair dryers comes with two diffuser nozzles that you can switch to depending on your hair's needs. It also has a cool shot button which is often toggled as soon as you are done styling your hair as it helps maintain the style for hours. With a single press of the button, it will switch from hot to cold with an indicator light telling you when it is ready. This may take a few seconds to cool down which will give you plenty of time to check your hair.
What else is there to like about this hair dryer? Well, if you are looking for compact hair styling products that you can bring with you when you travel, this is one of the best options available. The overall design of this device is sleek and slim which makes it easier to slip in your travel bag without worrying about it taking up a lot of space. It is easy to clean as well. Simply twist and release to get access to the filter inside which you can remove and replace.
Pros:
Combines ceramic and ionic technology to create a blow dryer that does not only produce even heating but also makes hair soft and shiny too.
It ramps up the drying process thus reducing the waiting time.
The cool shot button delivers cool air that seals in the hair style to last the entire day.
The design is lightweight and compact making it a great styling tool to bring with you everywhere.
There are four heat settings included that give you more control over how much heat you will be using on your hair type.
Cons:
One user was concerned about how hot the blow dryer was with just the first heat setting. She did not test the rest of the settings because she was worried it will be too hot to handle.
A reviewer complained that one of the nozzles was too narrow that it caused her hair to tangle while being blow-dried.
Another one was disappointed with the temperature that this blow dryer produced. For her, the heat wasn't enough while the cool shot feature didn't really work for her hair type at all.
One customer had a hard time handling the 3-meter cord which was bulky and not user-friendly at all.
There are instances when tangled hair occurs which can be painful when trying to detangle.
Revlon Lightweight Quiet Hair Dryer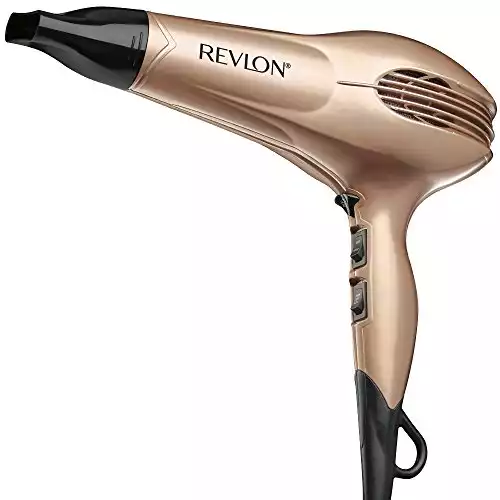 If you are already tired of having to deal with the high noise level associated with regular hair dryers, Revlon lightweight quiet hair dryer is a tool you would want to get your hands on. Aside from being one of the most renowned brands in the beauty industry, Revlon has also created the perfect hair styling tool that speeds up the drying process of your hair while giving you complete control on how you want to style your hair. This blow dryer is lightweight thus making it easier to maneuver around your head without any help.
Since this product is tagged as a quiet hair dryer, I wanted to know how it managed to achieve this. From what I have read, it all boils down on the unique fan design that is installed here that reduces the noise level significantly. Now I can enjoy quiet hair styling thanks to this product.
In terms of material used, expect Revlon to use the right ones for their hair styling products which is not different from their blow dryer. Here you will find that there are three ceramic layers installed which I am sure was to create even heating. This is essential as you don't want to end up burning your hair strands. It also comes with ion technology which is designed to combat frizz and even static. What this means is that you will end up with smooth, shiny, and bouncy hair as if you came from the salon.
There are two heat and two speed settings included here which I think are enough to dry your hair and style at the same time. I like that I have complete control over how much heat I can use on my thick hair. It did give me the results that I was looking for too.
Pros:
It is 50% quieter compared to other hair dryers which is one of its best features.
It has two heat and two speed settings for more control over how you dry and even style your hair.
Ceramic materials are used to produce even heating regardless of whether you toggle the low or high heat setting. No need to worry about burning your hair strands because there are no hotspots created with it.
Ion technology is also utilized to fight off frizz and static on hair.
It is affordable compared to others.
Cons:
One user noticed that although the device was quiet, it didn't have enough heat being produced to dry hair fast.
A reviewer wrote that the materials used for the body felt cheap as the paint was starting to chip off after a few months of use.
Another user noticed that drying time takes longer than usual especially for those with thick hair.
It doesn't have enough power to it.
Another reviewer said that the device started to make rattling sounds after a few weeks of use.
Quiet Hair Dryer – What Is It All About?
A regular hair dryer is designed to speed up the drying process of wet hair, by delivering hot air into the strands. The device actually sucks up the air in the room through a fan which is then directed into heating channels for the hot air to be produced. For the fan to work well, a motor is typically installed in the body which causes all the noise when the unit is used. Although this does help with drying your hair quickly, you have to deal with the noise that can be hard on the ears.
In the case of using the quietest hair dryer, the loud noise has been addressed by adding extra blades to the fan to make it work quickly. What's more, the motor is given better insulation which contributed to the reduction of the noise when the appliance is used. With this styling tool on hand, not only will you be able to dry your wet hair real quick, you won't have to be bothered with the noise anymore.
Just like with traditional hair dryers, a quiet hair dryer will be equipped with different heat settings, plus a cold setting too. I think the cold setting is a great addition to this modern device as it helps seal in your hair style. I tried this feature already and I was surprised at how quickly it set my hair. This is one of the reasons why I was willing to test one out.
Benefits of Using a Hair Dryer Quiet Styling Tool
You might be wondering what the big deal is when it comes to using a hair dryer that doesn't make the same noise as your previous dryer. Don't worry, I understand how you feel because this is the same question I asked myself. However, after being under the noisiest hair dryers I ever bought, I found several benefits to using blow dryers that do not make such a racket. Here are a few that I'd like to share with you.
Operates at less than 70 decibels. Compared to regular dryers that blast up to a decibel rating of 250 (which gives me that slight ringing in my ears), the quiet version of this tool is more enjoyable to use.
Has ionic technology. Ionic technology is frequently used in many styling tools today because of the negative ions that it produces to help fight frizz and static. Not only that, but this technology also helps make the hair appear shiny and smooth to the touch.
Different heat settings. Another advantage of this styling tool is that it can have up to three heat settings which can suit all hair types, plus two speeds. Choosing the right temperature based on your hair type is important to get the right results.
Longer cords. I noticed that these modern dryers tend to have longer cords which prevent you from getting tangled on it as you move it behind your head and switch from one hand to the next.
Reduce ear damage. Constant exposure to loud noise may affect your hearing, but this tool can help minimize the effects because of the different fan designs used for these styling tools.
Doesn't wake up other people. Your family may be complaining that their sleep is often interrupted by the loud noise from your dryer like mine did quite often. This was a real blessing because they weren't bothered at all.
More control over hairstyle. I find this type of product a versatile styling tool because of the nozzle attachments included. I can make my hair straight or add more volume and waves by switching the nozzles.
Features to Consider when Buying the Best Quiet Hair Drying Tool
There are dozens of hair dryers quiet products available today, and although they may seem the same at first glance, they do have differences in terms of features. I have made a list of those features that I thought are important to watch out for when shopping for one.
Materials. The materials used for the dryer should be factored in. A ceramic-based hair dryer typically heats easily and evenly while minimizing hair damage. Tourmaline, on the other hand, helps smoothen hair, especially during high heat settings.
Temperature Settings. Recent models of hair dryers typically come with different temperature settings as well as speed levels thus giving you more control on the amount of heat you are exposing your hair strands too.
Motor Power. This will depend mostly on the type of hair that you have. If you have strong hair strands, a dryer that has a higher motor power is useful. On the other hand, if you have fine, thin hair, stick with a blow dryer that ranges from 1,000 to 1,5000 watts.
Size and Weight. If you plan on bringing your styling tool with you when you travel, it should be compact and lightweight. Bulky blow dryers can take up much space on your luggage which you don't want to have.
Warranty. The longer the warranty, the better it is for you as a customer because you can return the product if it gets broken. Review the warranty policies included in the products to determine which offers better coverage.
Price. The price should be a factor too as there are some that are a bit expensive. Take note that not all expensive quiet blow dryers are going to deliver quality results, and the cheaper ones may not produce the right amount of heat. Finding a good balance between the features and price may help you find the right tool for your hair.
The Verdict
Now that you have read my options for a quiet hair dryer, you might be thinking about which one to get? Out of these quiet hair dryers, my first bet would be Centrix Q-Zone Dryer. Why? Well, for a hair dryer, it is lightweight and compact which makes it easy to bring with you while you travel which is definitely a plus for me since I tend to travel a lot. Another plus point to it is that it is really quiet. I don't have to worry about waking my family every time I use it because it doesn't make much noise.
I have to say that I like that it uses ceramic tourmaline because it delivers even heating regardless of how high the temperature is. Add to this the fact that ionic technology is also present and I am not bothered with any frizz or static ruining my overall look. Although there is no far infrared tech here, the heat settings are suitable to handle my thick hair. I am sure that even when you have fine hair, this tool will not be too difficult to wield.
Centrix also has this cold shot button placed on the grip bar and handle for easy toggling if you are ready to switch to the cold setting to set your hair. I mean with the buttons placed in strategic positions, you can easily hit it with your finger as you move the nozzle around your head.
These are just a few of my favorite quiet blow dryers that I wanted to share with you as you are looking for products that will help dry your hair fast and style it quickly too. I understand that we wish to speed up the drying time which is why I created this list in the first place, because I wanted to help narrow down your options. When it comes to quiet hair dryers, you can always start with these products. Hopefully, you will find the right one for you soon.
Leah Williams
Leah Williams is the founder of Lucky Curl and has been in the hair care and styling industry for the last 15 years. Since then, she has developed incredible expertise and a deep understanding of how to treat and style the most difficult hair types and is passionate about sharing her knowledge with the readers of Lucky Curl.