If you have thick hair, you know the struggle of finding the perfect hot air brush. There are so many on the market, and it can be hard to know which one is right for your type of hair.
That's why we've put together this list of five hot air brushes that are perfect for thick hair types. Whether you're looking for a brush with a rotating barrel or one with multiple heat settings, we've got you covered. So keep reading to find out which brush is right for you!
5 of The Best Hot Air Brushes for Thick Hair
Bed Head One-Step Hair Dryer and Volumizer Hot Air Brush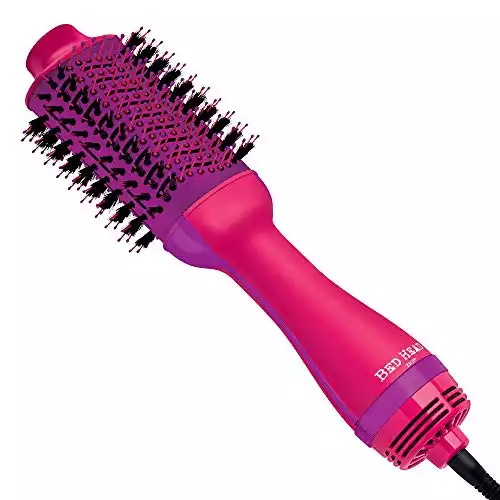 Bed Head One-Step Hair Dryer And Volumizer Hot Air Brush, Pink
STYLE AND DRY IN ONE STEP: Style, Dry and Volumize Your Hair in One Step, Max Drying Power with 30 percent Less Frizz and helps reduce hair damage
CERAMIC plus TOURMALINE TECHNOLOGY: Unique Non-Detachable Oval Brush Design for Smoothing the Hair, while the round edges create volume
PUMP IT OVAL DESIGN: Designed with Nylon Pin and Tufted Bristles for detangling, improved volume, and control
STYLING FLEXIBILITY: 3 Heat/Speed Settings with Cool option for styling flexibility
SAFETY PLUG: Volumizer meets U.S. safety requirements, unit is designed for 120 Volt USA outlets only. DO NOT use a voltage converter or adapter as it will damage it
Buy from Amazon
We earn a commission if you click this link and make a purchase at no additional cost to you.
09/15/2023 07:30 pm GMT
The first product on my list of best hot air brush is this One Step hair dryer and volumizer from Bed Head. I love the pink and purple colors because they really pop. Aside from that, what impressed me the most is that it comes with mixed pattern bristles that were designed to help add volume and texture with ease. It also uses tourmaline ceramic technology to keep your mane less frizzy when dried and styled. Based on my research, tourmaline also helps add more shine to hair strands which is one of this product's best features. Ceramic, on the other hand, is often used in styling tools because it distributes heat evenly. This combination is beneficial to our hair strands because the even heating ensures that breakage will not occur.
I like that this one step hair dryer and volumizer will work even on second day hair. Just a few spritz of water on may hair to make it a little bit damp, use this product, and voila! My hair looks like it was done by the salon. They even gave a tip on how to add more height to your hair. You can do this by bringing the brush closer to the roots of the hair strands, hold it for a couple of seconds, before pulling it away to the ends of your hair. It does work like a charm. I was able to add more lift to my hair without any trouble.
The only downside I am seeing here is that it only works with 120 volts which limits its usage. Even if you use a converter, there is still the danger that you may affect the circuitry of this styling brush which is a bummer as I love using it on my hair. Still, safety first people, so you better take care where you plug this in.
Pros:
It adds volume, texture, and height all in one hot air brush.
It makes use of tourmaline ceramic technology that not only protects hair from damage, but the tourmaline adds more shine to the strands.
It can be used on second-day hair easily. Just spritz some water on your dry hair before using the styling tool.
It is a dryer volumizer in one.
Cons:
It cannot dry your hair completely.
It only has 120 volts meaning that it cannot be used outside the country.
One user noticed that it did not give off even heating.
Another user complained that the handle wasn't really comfortable to use.
Drybar The Double Shot Blow-Dryer Brush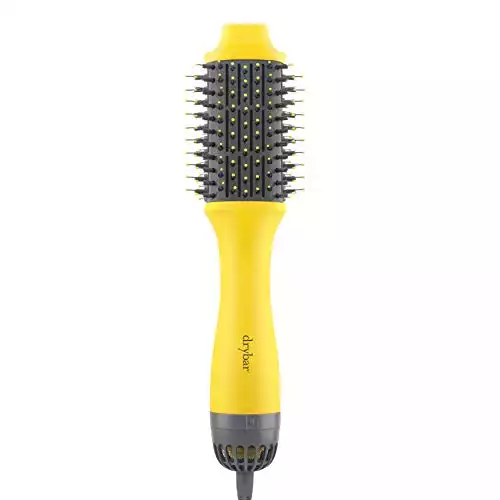 Who would have thought that this dryer brush not only blow dries my hair like a breeze but that it styles it well too? It offers a one-step solution to drying and styling my hair without any fuss or the need to use different hot tools for that matter. This is a money saver, that's what it is. What makes this a great product to add in this list of best hot air brush is the fact that it combines the features of a blow dryer in a rounded brush thus hitting two birds with one stone. I like that as I style my hair, my strands start to dry up fast as well. No need to wait for a long time until my hair dries completely.
It comes with ionic technology which is the one responsible for minimizing the appearance of frizz in our strands when styling. This should be a factor if you are planning on buying a hot air brush because this tech is going to save your hair in the long run. If you take a closer look at the barrel, you will notice that there are vents incorporated into it that allow hot air to come out, thus getting the even heating. The nylon and tufted bristles are worth mentioning too because they give you more control over your hair.
There are three heat settings for this product which are cool, medium, and high. The medium setting is ideal for those with fine to wavy hair, while the high temperature is for those whose hair is thicker and coarser. The cool setting, on the other hand, is for setting the style which can last for days which is a plus. The heat settings allow you more control over your hair type.
Pros:
Blow dries and styles hair quickly.
It comes with ionic technology that combats frizz when in use.
There are three heat settings to choose from that can be adjusted based on your type of hair.
The barrel contains vents that allow hot air to pass through to heat up strands evenly.
It has an ergonomic design plus it is lightweight too which minimizes hand fatigue.
Cons:
One user noticed that this hot air brush works well on thicker hair, but those with fine hair will have to look for something else.
Frizz still appears in some hair types.
Another user remarked that the styling tool doesn't reach the right temperature to address their thicker hair.
HOT TOOLS Professional 24K Gold One Step Dryer Volumizer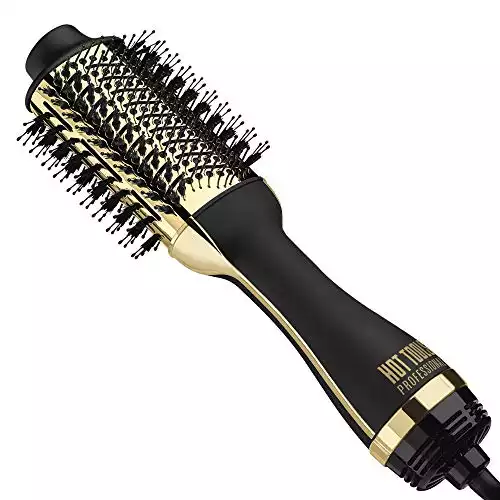 HOT TOOLS Professional 24k Gold One-step Blowout Styler
Charcoal-Infused Bristles are perfect for refreshing 2nd day hair
24K Gold styling surface for even heat distribution and consistent results for all hair types
3 Heat / 2 Speed Settings for styling versatility
Buy from Amazon
We earn a commission if you click this link and make a purchase at no additional cost to you.
09/15/2023 03:30 pm GMT
Another best hot air brush that I think you should look into is the Professional 24K Gold One Step Dryer Volumizer by HOT TOOLS. At first glance the black and gold design adds to its professional look. The brush comes in an oval shape design with gently curving sides that help straighten hair with ease. The rounded edges are meant to add more volume to your mane. What makes this hot air brush stand out is that it makes use of 24K Gold Technology which is known for providing even heating on hair for salon results for all hair types.
It also features ionic technology which has been found to be effective in taming frizz and static. When brushing with this one step dryer volumizer hot air brush, not only will you have beautifully styled hair, but it will also appear shinier and smoother too. The air vents that are present on the barrel allow heat to pass through properly so that your hair strands will get more bounce from it.
What other feature does this hot air brush come with? Let's talk about its Boar Tech 2 Bristles that come with silk glide technology. This type of bristles has been found to hold on to hair strands properly without causing tangles to appear. I like that it always gives my hair that smooth finish after. And most of all, it is lightweight and wieldable which means that I don't have to worry about getting tired while I am halfway done with my thick mane. How cool is that?
Pros:
Oval shape design works well in straightening one's hair while the rounded section works by creating waves and curls depending on usage.
Dries and adds volume to my hair in just one step. I don't have to use multiple products just to achieve my desired results.
It comes with ionic technology that is known to keep hair smooth and manageable while minimizing the appearance of frizz.
The Boar Tech 2 Bristles prevent tangles from occurring and deliver that smooth and shiny finish to my hair.
Air vents speed up the heating and styling process which makes it convenient to use.
Cons:
One user remarked that this product cannot be used outside the country even with the converter that it comes with.
Another reviewer complained that it did not do much to add volume or height to her hair.
The hot setting was way too hot for some users that they weren't really happy with using it on their strands.
Some users complained that they ended up with dry hair after using this example of hot tools.
It is a bit on the expensive side of hot styling tools.
John Frieda Hot Air Brush
John Frieda hot air brush is heaven-sent for us who are in need of the best hot air brush that is affordable. It has a 1 1/2 inch barrel that works well with short to medium length hair of different hair types. With this air brush dryer, you will be able to dry and style your hair at the same time. One of its best features is the advanced ionic technology that prevents frizz plus it tames and wild strands to create that soft and luxurious finish. This tech is efficient in keeping frizz from forming which is better compared to others.
Another feature that you will see in a John Frieda hot air brush is that the barrel comes with air vents incorporated in it. These vents allow hot air coming from the hair dryer to pass through the hair strands to dry them quickly while you style your hair. I think that this is a useful feature as it helps speeds up the process.
John Frieda hot air brushes are made up of titanium ceramic barrel which promotes even heat distribution. Ceramic is the leading material for heat distribution while titanium adds to the pile, plus guarantees a smoother outcome. These two materials are a powerhouse when combined especially on styling products like this one. What's more, the barrel houses the nylon tipped bristles that can hold on to any hair type with ease. I never had a hard time using this on the thickness of my hair which is great!
There are two HOT heat settings on this product, plus a COOL setting which is typically used to lock in the hair style for a few days. I also have been using this for touching up my second-day hair and it works amazingly well. For its use, I would suggest that you use it while your hair is still damp and not wet. Wet hair will take time before it gets styled properly even when you are using hot air brushes. If you have a hair dryer available, give your mane a good blow dry first until it is about 80% dry before finishing it off with this product.
Pros:
It comes with a 1 1/2 inch thick barrel that works wonders on different hair types and lengths.
This hair dryer and volumizer makes use of advanced ionic technology that works three times better when taming frizz and adding more shine to the hair.
The air vents on the barrel are designed to let hot air flow towards the hair strands where it can speed up the drying and styling process.
Titanium ceramic barrel ensures that heat Is evenly distributed throughout each section of the hair for better results.
It is an affordable hot air dryer brush that can be brought anywhere.
Cons:
The size of the barrel may not be appropriate for those who have thicker and coarser hair as it will make the drying process longer.
You may experience hand fatigue when using it because of the design of the handle which is not that comfortable to use.
The product only lasts for a few months before it completely died on some users.
Another user felt that the barrel gets dirty quickly and is tough to clean too.
It may not work well outside the country even with the converter included in the kit.
Revlon One-Step Hair Dryer and Volumizer Hot Air Brush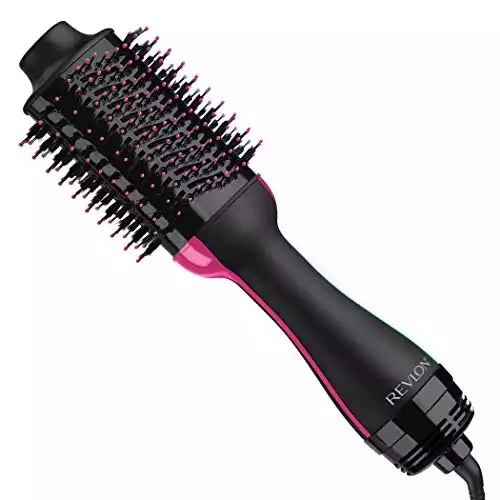 Revlon One-Step Hair Dryer And Volumizer Hot Air Brush
Style, Dry & Volumize Your Hair in One Step.
Unique Non-Detachable Oval Brush Design for Smoothing the Hair, while the round edges creates volume.
3 Heat/Speed Settings with Cool option for styling flexibility.
Buy from Amazon
We earn a commission if you click this link and make a purchase at no additional cost to you.
09/09/2023 05:30 pm GMT
One of the best air brushes that I have used is the Revlon One Step hair dryer and volumizer hot air brush. For starters, Revlon is among the most trusted brand for hair and makeup so I was eager to test this out. What I liked about this product is its oval shape design that smoothens hair out while the rounded edges are great at adding volume starting from the roots. As you pull the brush downwards, you will notice that the section of your hair has more body to it with just a single pass. If you are dreaming of having a salon blow out all the time, I am sure you will get it with this amazing tool.
The brush itself is made from Nylon Pin and Tufted Bristles that work well in removing tangles, adding more volume, and giving you more control over each section of your hair. I am impressed by how easy it was for me to wield this brush compared to others. When it comes to styling, there are two speed/heat settings and a cool option that add flexibility to creating your hairdo for the day. Based on my experience, the heat that it gives off is just right for my hair type and with the cool setting, I was able to maintain my style for more than a day.
What else do I like about this product? Unlike other hot air brushes, I am more confident in bringing this air dryer brush closer to my scalp because it is not that hot that it will burn my scalp. I am pleased that it also comes with ionic technology through its ion generator which guarantees smooth and shiny hair all the time.
Those who are living in the United States will be happy to know that this will work just fine with outlets, but not outside of the country. Even when there is a converter available, the company doesn't recommend it as it may cause some problems with the tool. Also, it is a bit pricey for a styling and drying brush but it is worth investing in.
Pros:
Unique oval design with rounded edges can straighten and add more body to one's hair in just a single pass.
It comes with air vents to ensure hot air flows directly into the strands to speed up the drying and styling time.
It's ionic technology combats frizz to yield smooth and shiny hair all the time.
The temperature settings give you more flexibility when styling your hair.
It delivers salon-style blow out that will last you for days.
Cons:
Some users had their styling tool die out in just a few months of use.
A user noticed that it gave off a smell during the high heat setting.
Another reviewer complained that the bristles tend to fall off after some time.
A user remarked on how her hands got tired after using it as the weight and the design of the brush were not user friendly.
The high heat setting can be too hot for some users to the point that they had to wear gloves.
How to Find the Best Hot Air Brush for Thick Hair
Hot air brushes are a must-have in any woman's arsenal as I have just recently found out. It is basically a hairdryer and styling tool in one product which means that you can easily do away with your flat iron, hair dryer, even your curling wand. I have been busy checking out a variety of hot air brushes and I have to say that they are not made the same and that they will not work for all types of hair. Just to give you an idea, here's what you need to look for in the best hot air brush for thick hair.
Heat Settings. An air brush must have a temperature setting to it whether variable or preset. This helps you control the amount of heat that you are exposing your strands to when you style it. If you don't want the hassle of guessing what type of heat is appropriate for your hair, go with the styling tool that has preset settings. On the other hand, if you know your way around a hot air brush, you can search for one that has variable settings where you will be more in control.
Barrel Size. The size of the barrel has plenty to do with how wavy, curly, or straight your hair will be. If you want straighter hair, an air brush that has a 2-inch barrel is a good option. However, if you are looking for a hair styler for short hair, go with one that has a barrel size of 1 inch to 1.5 inches.
Type of Bristles. A hot air brush with bristles that are widely spaced is ideal for those who have a thick mane. Those who have short, fine hair should choose one that has short fine bristles on the barrel to better style their hair.
Size of the Air Brush. Another thing that you should factor in is the size of the hot air brush that you will purchase. If you are planning on getting one that you can bring with you as you travel, you should also consider the length of the product as a bulky one may not be worth taking with you.
Price. Do not forget to factor in the price of these hot tools. Some will be more expensive than the others, so consider how much you will be willing to spend on one.
How to Use A Hot Air Brush
If this is your first time to use hot tools on your hair, I would suggest that you try to read up and watch as many videos as you can that will tell you how to use them correctly. But here's a summary of how to use these styling brushes properly.
Let your hair dry up to 80%. The hot air brush cannot be used immediately on wet hair. Your mane should be at least 80% dry before you go styling it. If you have plenty of time on your hands, you can air-dry your hair, but if you are pressed for time, use a hair dryer to speed things along.
Section your hair. It is best that you section your thick strands so you can style your hair evenly. Use clips or rubber bands for this which you can remove as you work your way around your head. If you don't section your hair, you may have some difficulties styling it.
Wrap one section of hair on the brush. Good thing you have sectioned your hair because you just need to wrap one section around the brush then slide the styling tool downward. Do this until you get the desired results before moving on to the next section.
Move brush closer to the roots for added body. If you want to get that salon blow out, just bring the barrel of the brush close to the crown of your head and hold for a few seconds. Gently move the brush away from your head to add more body.
Don't forget to apply a heat protection spray. Since you will be exposing your hair strands to heat, it is always a good idea to add some heat protectant on your strands to minimize the damage as much as possible.
The Verdict
Now that you have an idea on my top five hot air brushes, you may be wondering which ranks first for me. Well, that would be Revlon One-Step Hair Dryer and Volumizer Hot Air Brush. Aside from it being a trusted brand, I love the overall results on my thicker hair. I did not expect it to be this easy to style my hair strands even while they were damp. I loved the ease in which I get to have that blowout in the morning that will last me until the following day.
There were times when I encountered frizz when I used other styling tools, but this product didn't give me any trouble at all. As a matter of fact, I ended with smooth and shiny mane that my friends asked me which salon I went to. It may be a bit pricey, but there is a good reason for its price. The air vents on the oval-shaped barrel help with the heat distribution on my hair so that they end up drying faster. The bristles are not that hard to work with and I don't worry about tangles too.
All in all, I feel that Revlon did a good job in their hot air dryer brush with volumizing features. I knew that if I were only able to land the right hair dryer and styler, I will be able to come up with all these crazy hairstyles. And I sure did! If you are looking for the best styling and dryer brush, I suggest that you read my choices here to get you started. For sure, you will be among those who get to achieve that salon hair any time you want.
Leah Williams
Leah Williams is the founder of Lucky Curl and has been in the hair care and styling industry for the last 15 years. Since then, she has developed incredible expertise and a deep understanding of how to treat and style the most difficult hair types and is passionate about sharing her knowledge with the readers of Lucky Curl.