I always have an issue with my flat hair that I keep using curlers and other styling tools just to give it that oomph. Then I came across Hot Tools Black Gold One-Step Blowout and I thought, if only this hot air brush was released years ago, then I wouldn't have to spend hundreds on useless products!
Things to Consider Before Buying a Hot Air Brush
There are a few things that you need to consider when buying styling tools like a hot air brush. Here are a few worth mentioning;
Barrel Size. 

The 

size of the barrel 

will determine how fine or loose the curls that you'll get on your hair. Basically, the thinner the barrel rod is, the more curls you'll get, while the opposite occurs when you choose a wide barrel.

Bristles. 

A hot air brush that has wide and long bristles is best suited for those with long hair. Shorter and finer bristles are recommended for those with short hair. Don't forget to check what kind of bristles are used because some cannot withstand high heat and may melt.

Variable setting. 

If you are aiming for professional results, the hot air brush that you should get must have a variable setting where you can adjust the temperature of the barrel.

Price. 

The price of hot air brushes varies depending on the materials used. A high retail price doesn't always guarantee good value.
Hot Tools Black Gold One-Step Blowout can deliver superior styling results with less effort. The black gold is ideal for those with fine hair because of its ceramic and titanium materials. But if you want a specific hot air brush to use on your dry, coarse hair, I would suggest that you get the one with 24k gold coating because its even heat will prevent frizz while you are styling your hair.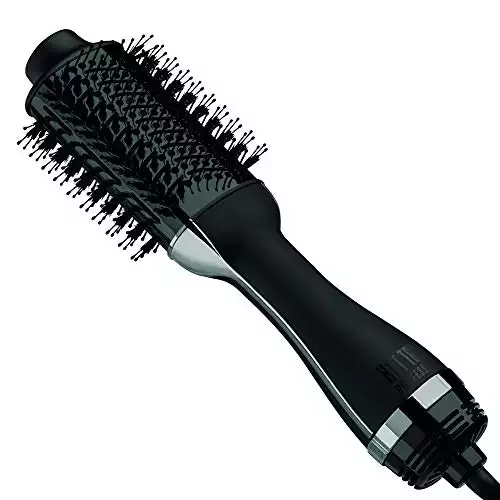 Hot Tools Professional Black Gold One Step Dryer & Volumizer
Easy, consistent and salon-quality styling
Expert-designed black gold styling surface
Lightweight design and Soft-Touch finish
Designed with an ALCI safety plug (required for U.S. hair dryers).
8ft. professional swivel cord
Buy from Amazon
We earn a commission if you click this link and make a purchase at no additional cost to you.
09/21/2023 10:30 pm GMT
What You Need to Know About Hot Tools One-Step Hot Air Brush
Hot Tools Black Gold One-Step Hot Air Brush is as good as its 24k gold sibling in terms of revealing that perfect blow out without frying your hair. It is made from ceramic and titanium which gives you the best of both worlds in terms of delivering even heat on its styling surface.
Pros:
It has a unique shape to it that adds to its versatility when used.

It is equipped with airflow vents that speeds up the drying process.

It has Boar Tech 2 bristles that prevent hair strands from overheating.
Cons:
The ALCI plug limits its usage within US and Canada.

The sound is loud just like an ordinary blow dryer.

It doesn't work well on thick, coarse hair.
Features and Benefits
There are several features and benefits that you can enjoy when you purchase Hot Tools Black Gold One-Step Hot Air Brush. If you need a reliable one-step blowout styling tool, these impressive features are likely to win you over as they did with me.
The first thing that you will notice about this one-step blowout Hot Tools is its unique design where airflow vents are incorporated into the barrel. This specific design aims to help with the drying process by doing it FAST. This reduces the time it takes to dry and style your hair after you hit the showers. The vent ensures that even heating is being delivered throughout the styling and drying process with minimal damage to your locks.
Hot Tools has equipped this styling tool under their black gold line with Boar Tech 2 bristles which adhere to the hair and glides smoothly as you brush your hair strands. The bristles are combined with Silk Glide and Natura Max activated charcoal for added protection to one's crowning glory. You'll find that these bristles can withstand even the highest temperature setting and will not cause tangling in your hair when brushing with it. This minimizes frizz and damage too. I like that it many are commenting on how shiny their strands were after using it which shows that the company is putting a lot of important features on this professional black gold tool.
Rotating Temperature Settings
Hot Tools professional comes with three rotating temperature settings that you can adjust based on your hair type. The versatility of the temperature setting means that you can style and dry regardless of whether your mane is thin, thick, or even coarse in texture. The low setting is ideal for those who have fine or fragile hair as the temperature will not be too harsh on the strands. The medium setting can be used for waves and loose curls, while the high can straighten even the coarsest of hairs with minimal frizz.
This one-step tools professional by Hot Tools is lightweight and easy to wield. It has a comfortable grip that minimizes hand fatigue. This is important as too bulky and heavy hot air brush can be tiring to lift and be unwieldy too. Additionally, I noticed that its ergonomic design allows the brush to get closer to the crown of your mane without burning your scalp. This is perfect for achieving more volume as you brush your locks with it.
The even heating feature ensures that this Hot Tools professional will not cause over-styling when used. It reduces burning on those with fine-textured mane, or those whose hair strands are more coarse or hick.
Hot Tools saw it fit to add an 8 feet cord to this styling tool which gives you more range when using the air brush. The swivel cord prevents it from tangling when using it in various positions. It comes with an ACLI safety plug that is supported in the country. However, this styling product may not be useful outside the country because of the different types of plugs unless you have a universal adapter with you.
The retail price seems adequate for this blowout styling tool which is cheaper in the company's black gold series. For its impressive list, I think that you will get your money's worth from it.
Alternatives
Aside from Hot Tools professional, there are other options available that you can try out such as:
Dyson Airwrap Styler


This styling blowout tool offers the power of styling without having to use high heat. Its expensive price tag may put a dent on your budget, but it comes with six different attachments for added versatility.




/li>
Revlon One-Step Volumizer
It has an oval shape with rounded edges that lets you get more volume by boosting the strands from the roots. It makes use of tufted bristles and nylon pin that helps with detangling strands.


Revlon One-Step Hair Dryer And Volumizer Hot Air Brush

Style, Dry & Volumize Your Hair in One Step.
Unique Non-Detachable Oval Brush Design for Smoothing the Hair, while the round edges creates volume.
3 Heat/Speed Settings with Cool option for styling flexibility.

Buy from Amazon

We earn a commission if you click this link and make a purchase at no additional cost to you.

09/24/2023 01:30 am GMT

Conair Infinitpro Dry & Style Hot Air Paddle Brush
This is a cheaper alternative to Hot Tools professional but it does pack a punch in terms of styling capabilities. It is equipped with two kinds of bristles, one for detangling, and the other adds more shine to the strands.




Check out these alternative styling tools to achieve a professional blowout fast!
Conclusion
The one-step blowout by Hot Tools aims to deliver more volume to your strands starting from the roots for easy styling. This black gold styling tool provides even heating from start to finish to keep the style intact for hours. Get your own special blowout professional tool right here!
Leah Williams
Leah Williams is the founder of Lucky Curl and has been in the hair care and styling industry for the last 15 years. Since then, she has developed incredible expertise and a deep understanding of how to treat and style the most difficult hair types and is passionate about sharing her knowledge with the readers of Lucky Curl.