Check out our picks for the Best Black Friday Hot Air Brush Deals here.
I'm a big supporter of trying new things, including new hot tools. Before I used a hot air brush, I admit it was daunting. I was afraid it would be too complicated but, as I've learned, using a hot air brush is not rocket science! It's even improved my getting ready routine immensely.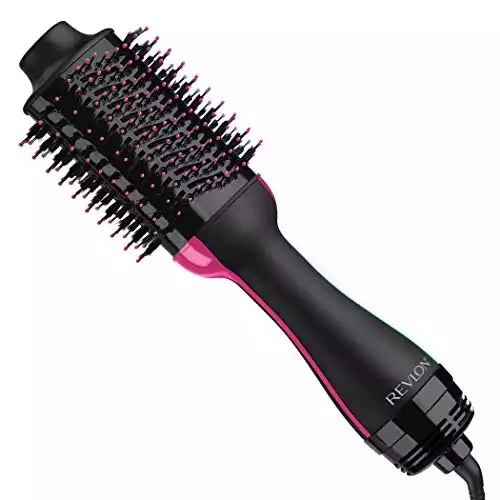 Revlon One-Step Hair Dryer And Volumizer Hot Air Brush
Style, Dry & Volumize Your Hair in One Step.
Unique Non-Detachable Oval Brush Design for Smoothing the Hair, while the round edges creates volume.
3 Heat/Speed Settings with Cool option for styling flexibility.
Buy from Amazon
We earn a commission if you click this link and make a purchase at no additional cost to you.
11/13/2023 02:30 am GMT
Here's how to use a hot air brush to get the full, silky hair you love in less time.
How to Use a Hot Air Brush
Prepare the Hair
Wash the hair with shampoo & conditioner for your hair type.


As with anything worth doing, you have to prepare accordingly. Before using a hot air brush, you need to get your hair wet. Use a shampoo and conditioner that's suited to your hair type. Distribute it well, from the top of your head to the part near the back of your neck. Those with fine hair may prefer something with volumizing properties while frizzy hair may want moisturizing products. Whatever you do, make sure to use a conditioner every time, especially if you have damaged or chemically-treated hair. This step fortifies your locks for the styling that comes ahead. Leave it on the hair for a few minutes, and then rinse well.

Towel dry or blow dry hair.


After stepping out of the shower, towel dry your hair gently. Remember, don't rub. Just squeeze the water out of the hair, applying just enough pressure. Wait until your hair is 80% dry. Your hair should not be completely dry but damp. If in a rush, use a blow dryer to take your hair to that threshold between wet and dry.Now, you may be wondering, "Can you use a hot air brush on dry hair?" The quick answer — it's not recommended. Hot air brushes are tools for styling and are best used on damp hair because when hair is dry, your hair has set by then and it's difficult to shape. Your hair needs to be mostly dry yet damp enough so you get the best effects from your hot air brush. If you want to refresh your style, you can use the hot air brush as a finishing tool on dry hair. But in most cases, dry hair and hair styling don't mesh.

Apply a heat-protecting spray.


After your hair has dried slightly, you need to apply a heat protectant every time you heat style your hair. These usually come in a spray or a serum. Spritz these on your hair and distribute all over. Heat protectants work by coating your hair strands and acting as a barrier between the styling tools and your hair shaft.

Comb or brush through hair.


Next, comb or brush through your hair. Detangle the knots ahead of time so that the hot air brush can glide through your hair easily. Remember to be gentle as the hair is only 80% dry and therefore, fragile.

Section and clip the topmost part of hair.


Section the hair and secure them with hair clips. It's a good idea to have at least three sections from top to bottom. Make the divisions equal in size so they look even after styling.Though it takes more elbow grease, sectioning your hair is better than randomly taking pieces of hair as you go along because smaller pieces of hair can get stuck to your brush. Clip the top section because you'll be starting from the bottom part of the hair first.
Using the Hot Air Brush
How does a hot air brush work?
Before we jump into how to use a hot air brush, here is some background on this popular styling tool. The easiest way to describe how a hot air brush works is to think of it as a blow dryer and hair brush in one. It smoothens, curls, adds shine and volume to the hair.
What's great is instead of using two hands to style your hair, you only need one. A hot air brush has a round barrel which blows warm to hot air as you style. Some hot air brush models are built with a rotating function which allow you to create a perfect blow out every time.
Usually, a hair dryer brush has multiple heat settings so you can adjust the temperature to suit your hair type. In some cases, there's even a cool setting you use on dry hair to set your style.
Turn it on and give it a few seconds to warm up.


So you've washed your hair and sectioned it. It's damp and ready to go. At this point, it's time to plug in your hot air brush and warm it up to the correct heat level before styling. Depending on the hot air brush, this can take a few seconds to a couple of minutes. Use your own discretion or read the hot air brush manual beforehand.

Take your hair and wrap it over (but not fully around) the brush and gently brush downwards.


Once your hot air brush is, well, hot, you can start at the lowermost section of your hair. Take 2 inches of hair at a time and wrap it around the brush (but not fully encircling it) so it catches on the bristles. Taking too much hair at a time will not give you good results.

Slightly pull the hair taut as you work downwards.


Use a gentle but firm pressure to glide the brush downwards on that lock of hair. Remember that as you pull downwards, you have to pull the hair taut. Repeat this step until you've covered the entire bottom section of the hair.
Drying the Top Section
Now that you're halfway done and the bottom sections are dry, you can unclip the hair on top of your head. This is where the most visible part of your styling will occur.
Take a small section of the hair and wrap it around the brush again, this time lifting from the root. This is a neat trick for more volume. Each time you lift, pull the hair upward. So, wrap, lift, and pull the hair as you go.
Repeat for the entire section of the hair using a firm yet gentle pressure.
Going for a Straight or Curly Style
That was the more general guide to drying your hair with a hot air brush. If you're looking to get sleek hair or bouncy waves, you can also adapt the technique to get those results with your hot air brush. With small changes during styling, you can get straight or curly hair.
Straight Hair
A paddle-shaped brush is what you'll need for really straight hair but you can also use a round brush. Just temper your expectations with a round brush because it won't be as pin-straight as can be.
Prep your hair using the steps above. When the hot air brush is ready, wind your hair around the body of the brush. Lift hair at the roots for more volume, pulling upward, before cascading the brush down the lengths of the hair.
If you want a flick at the ends, curl up the brush when you get to the bottom.
Curly Hair
A round hot air brush is what you'll need for a curly style. Prep your hair well beforehand and make sure your hot air brush has reached the desired temperature. Take a 1-inch section of your hair that's been combed. Grab that small section and place it over the brush, as close to the roots as you can.
Pull the brush away from you using a firm pressure, going through the hair downwards, while the brush rolls inwards slowly.
Once you've reached the ends, roll back the brush with your hair wrapping around it, until you've reached the scalp. Hold this position for 10 seconds.
Then, release the curl by pulling the hot air brush outwards. Spritz each curl with hairspray after you've finished each section to hold the curls in place and maintain their volume.
Finishing off
Let hair cool down once finished
After styling, let your hair dry completely. If your hot air brush has a cool setting, blast cool air after styling each section to give your hair extra hold. Don't forget to unplug the hot air brush. It's important not to burn your hair or your house.
Finish with some serum or set with a little hair spray for lasting hold
To enhance shine or set your curls, use a finishing serum on dry hair. Using a nickel-sized amount of serum, apply all over your hair so you get a finished, polished look. A bonus: it banishes frizz, too. If you want your hairstyle to last all day, definitely use a hairspray. To give your hair more volume, turn your head upside down and spray at the roots. Brush hair as needed with a regular brush or comb.
Our Recommendation for the Best Hot Air Brush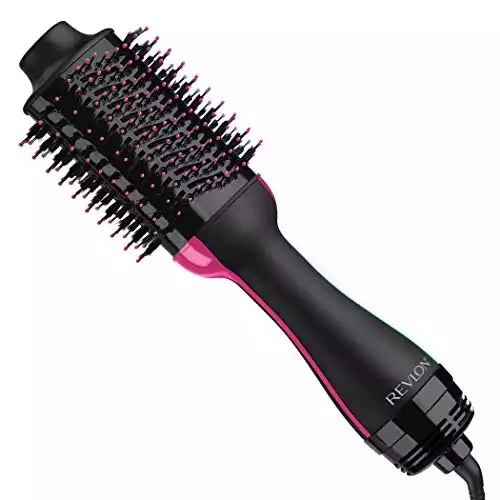 Revlon One-Step Hair Dryer And Volumizer Hot Air Brush
Style, Dry & Volumize Your Hair in One Step.
Unique Non-Detachable Oval Brush Design for Smoothing the Hair, while the round edges creates volume.
3 Heat/Speed Settings with Cool option for styling flexibility.
Buy from Amazon
We earn a commission if you click this link and make a purchase at no additional cost to you.
11/13/2023 02:30 am GMT
How do you use the one-step hot air brush?
Using a one-step hot air brush is simple. Just hold it like a regular brush and guide it through your hair, albeit more slowly than usual so it can really get to work on adding volume and smoothening hair. What's great about this is you don't need a separate hair dryer and round brush, giving you more control over the hot air brush using only one hand.
Let's get into the specific techniques so you can make the most out of your hot air brush every time you use it.
Wrap Up: How to Use a Hot Air Brush
With the right technique, using a hot air brush is a breeze.
By prepping the hair will ensure that you are set up for a perfect blow dry every time. Brush your way through the hair section by section to make it easier for you. For volume, lift hair at the roots. Always let your hair cool down after you style. It's also nice to finish off with a serum or spray to seal in the style.
A hot air brush is an underrated tool and a must-have for a salon quality blow out at home.
Leah Williams
Leah Williams is the founder of Lucky Curl and has been in the hair care and styling industry for the last 15 years. Since then, she has developed incredible expertise and a deep understanding of how to treat and style the most difficult hair types and is passionate about sharing her knowledge with the readers of Lucky Curl.