Women have been singing the praises of hairdryer brushes since they first came out. The appeal is simple: a brush that helps even newbies get salon-quality results in their own bedroom. It took me long to get on the hairdryer brush bandwagon because there were way too many choices on the market. I've taken the guesswork out of picking the best hot air brush by vetting these tried-and-true brushes for you.
Best Hot Air Brush – 5 Best-Selling Brushes Reviewed
Revlon One-Step Hair Dryer And Volumizer Hot Air Brush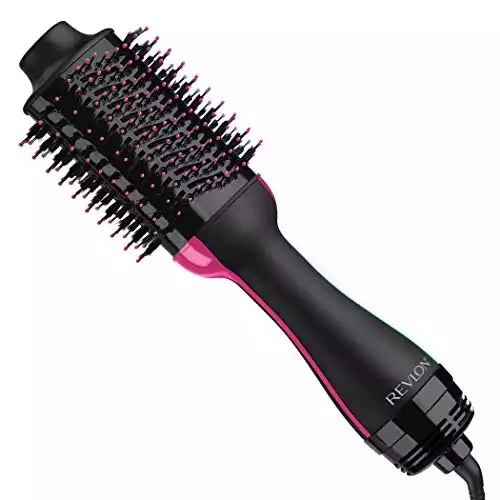 Revlon One-Step Hair Dryer And Volumizer Hot Air Brush
Style, Dry & Volumize Your Hair in One Step.
Unique Non-Detachable Oval Brush Design for Smoothing the Hair, while the round edges creates volume.
3 Heat/Speed Settings with Cool option for styling flexibility.
Buy from Amazon
We earn a commission if you click this link and make a purchase at no additional cost to you.
11/27/2023 07:30 am GMT
The Revlon One-Step Hair Dryer gives you volume for days. It's like a hybrid paddle and round brush with its unique oval barrel. The flat portion straightens hair while the rounded edges create waves and volume. The design makes it easy to get near the roots for a volume boost.
The bristles are a combination of nylon and tufted bristles that multitask at detangling and enhancing your hair's shine.
This hair dryer has 2 speed slash heat settings and a cool shot option. This is enough for most people and the cool shot is good for setting your style. The ceramic barrel comes with ionic technology, too, which is great for banishing frizz and sealing in moisture in the hair cuticle. You can be sure you won't damage your hair if you're using gentle ceramic.
The airflow vents have a wave design and distribute heat well. A major plus is the brush's cool tip. If you're lowkey paranoid about burning yourself, this will take a load off your mind.
The Revlon air brush has a swivel cord for easy usage and an ALCI safety plug, which is the American standard.
This hair brush is a cult favorite for a reason. It does the job well at a reasonable price. I only wish it were lighter and more compact. More heat settings and better build quality would be great as well but for the price, the Revlon hair dryer brush is hard to beat.
Pros
Volumizing
Adjustable heat settings with a cold shot
Ceramic barrel emits negative ions for less frizz
Comes with a cool tip and swivel cord
Cons
Hard to make smaller curls/waves
HOT TOOLS Professional Charcoal Infused One Step Blowout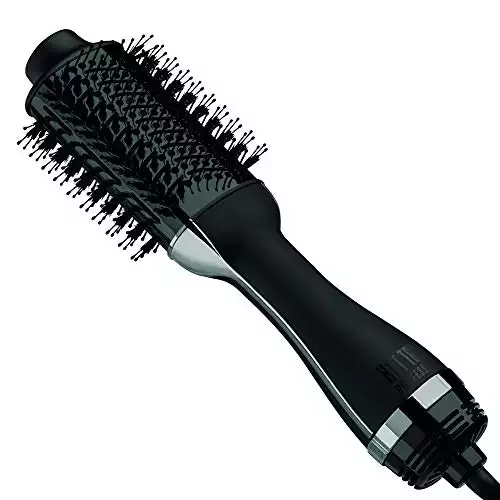 Hot Tools Professional Black Gold One Step Dryer & Volumizer
Easy, consistent and salon-quality styling
Expert-designed black gold styling surface
Lightweight design and Soft-Touch finish
Designed with an ALCI safety plug (required for U.S. hair dryers).
8ft. professional swivel cord
Buy from Amazon
We earn a commission if you click this link and make a purchase at no additional cost to you.
11/25/2023 05:00 am GMT
The Hot Tools Hair Dryer Brush could be a doppelganger for the Revlon One-Step Volumizer hair dryer brush. It comes in a chic black color scheme with a reflective dial at the base to control the temperature. There are 3 heat settings (low, high, and cool)to choose from. The hourglass handle has a soft-touch finish that's a pleasure to hold. The 8-foot professional swivel cord is really convenient when your electrical outlet is far from your vanity.
A thing that sets this apart from other brushes is the Boartech bristles that are infused with charcoal. It's good for refreshing second-day hair.
This hot air brush is part of the brand's Black Gold line, which is a step up in terms of heat, efficiency, and power. The titanium material is durable and holds heat well. The brush is equipped with direct ionic technology that cuts down on frizz, too. The brand is generous with its warranty period (a lifetime limited warranty). This is one of the best hot air brushes for fine hair because the bristles grip and glide through hair easily.
While this is a great buy, it's still on the heavy side at almost 2 pounds. There's also no cool tip feature.
Pros
Multiple heat settings with a cold shot
Innovative bristles infused with charcoal
Titanium component is durable and efficient
Long warranty period
Cons
INFINITIPRO BY CONAIR Spin Air Rotating Styler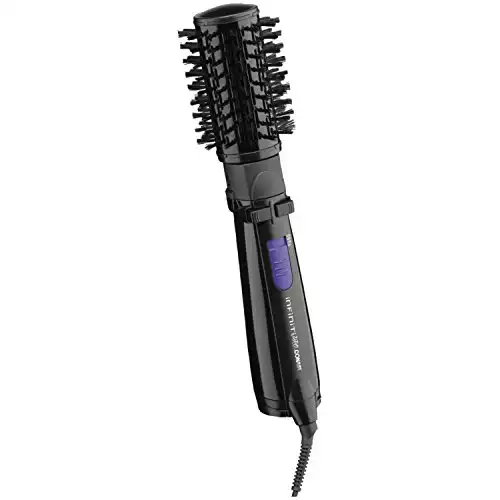 There's a certain kind of glee that I feel when I use a rotating hot air brush. Something about the simple mechanism feels cutting-edge. The brush does all the work for me and all I have to do is guide it. The Infinitipro by Conair has the same technology but you can choose to turn it off. At 1.5 inches, the barrel is suitable for those with short hair. Longer-haired women will still enjoy this as you can get close to your roots and get a more defined curl.
The brush is made of tourmaline ceramic, practically a gold standard in hair tools. It's dotted with boar and nylon bristles so you get a really smooth, polished finish. This rotating hot air brush has a built-in ion generator for frizzy locks.
Its dual heat settings and a cool feature are good, but the multidirectional rotations really amp up your at-home blowout. For those who are less skilled or have issues with mobility, the auto-rotation can be a lifesaver.
If you're tired of cleaning your hair dryer brush, this one comes with a removable filter that picks up lint. While I think this is a wonder product, it does have a steep learning curve. You can risk tangling your hair up in the rotating bristles if you're not careful. If you have thick hair, this is not the brush for you because of its short bristles. It will simply not grip your hair firmly enough.
Pros
Rotating barrel can be turned on or off
Great for short hair
Tourmaline ceramic component has gentle heat distribution
Comes with a filter
Cons
Difficult to use if you're not used to rotating brushes
Not ideal for thick hair because of its short bristles
John Frieda Hot Air Brush, 1-inch Hot Air Brush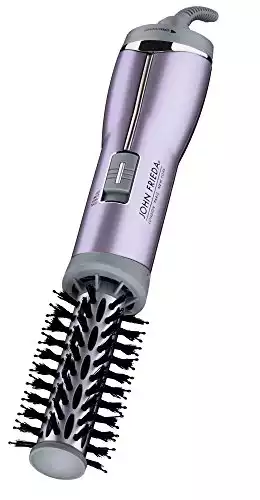 If you're looking for a light hair styler, the John Frieda will tick that box for you. It comes in a 1-inch and 1.5-inch version so short-haired gals will particularly enjoy this one. The widely spaced bristles on this hot air brush make this good for those with coarse hair, too.
Advanced ionic technology smoothens hair like no other. The titanium ceramic barrel gives off soft yet effective heat so you're closer to that salon-worthy blowout. The nylon bristles capped with plastic beads will make this brush glide through your hair.
There are 2 heat settings to choose from and a cold shot to give that sealing blast of icy air. The John Frieda hot air brush has 500 watts of power–pretty powerful for something this handy. A swivel cord will make your styling sessions with this hot air brush a breeze. Remember, this is best used on damp or dry hair only.
That said, a cool tip would have made the John Frieda the hot air brush to beat. The motor can also get loud, according to some users.
Pros
lightweight brush
the titanium ceramic barrel has ionic technology for gentle heat distribution
adjustable heat settings with a cold shot
the small barrel is great for short hair
Cons
the end of the brush gets hot
the brush can be loud
ideal only for damp or dry hair use
Revlon Hot Air Brush Kit for Styling & Frizz Control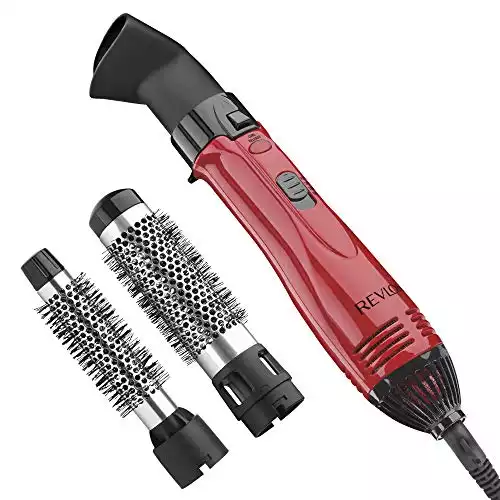 If you can't choose the right barrel size for you, the Revlon Hot Air Brush Kit is the answer to your woes. It comes with a 1-inch and 1.5-inch round brush barrel so you have an extra option when styling. Just press a button to release the existing attachment and switch barrels. Whether you have long or short hair or want a straight or curly style, the Revlon Hot Air Brush Kit can fulfill your needs. The brush even comes with a nozzle so you can really smooth down those stray hairs. These attachments elevate your blow-drying session to the next level.
The hot air brush kit has three heat settings, including a cool option. For healthy and conditioned hair, the brush comes with an ionic generator. The triple ceramic coating keeps your hair protected from damage and gives you shiny and smooth results.
The thin bristles of the brushes make it easy to wind your hair around the barrel without the strands slipping. This kit is great for travel because the contents are quite lightweight and don't take up much room. Because of the smaller bristles, this is one of the best hot air brushes for fine or thin hair. If you have a thick or coarse hair type, the brush will not grip your hair sufficiently.
Pros
Interchangeable brush heads with a concentrator nozzle
Adjustable heat settings
Triple ceramic coating saves you from frying your hair
Thin bristles are good for fine hair
Cons
Small bristles will not brush through thick hair
The Complete Guide to Hot Air Brushes
Do hot air brushes really work?
Often, when a product claims to be a two-in-one, the quality of both its features suffers.But the hot air brush is an exception to this rule. It dries your hair beautifully and creates straight and wavy styles.
Hot air brushes come in two shapes. There's your standard round brush, which may or may not be a rotating hot brush, depending on the design. A round brush is recommended for curling and getting beach-ready waves. Then, there's the paddle brush, which gives you results akin to that of a flat iron. If you like your hair sleek and straight, a paddle brush is the way to go.
Are hot air brushes worth it?
Now that you're convinced of the hot air brush's prowess, maybe you're still hesitant to take the plunge. A good hot air brush can set you back a pretty penny. Are they worth it?
If you're new to the hairstyling game, a hot air brush will really help you style your hair to your heart's content. Busy women will love the convenience of plugging a hot air brush, quickly combing through their hair, and walking out the door. It's a great time saver but no one will ever know that you only spent 15 minutes on your hair.
For those more experienced in the hair department, a flat iron and hairdryer duo will suit you just fine, but if you're feeling more low maintenance, a hot air brush can be a good substitute.
What's the best way to use a hot air brush?
If you want to learn how to use a hot air brush properly, watch this video.
Advantages of Hot Air Brushes
Saves time
I know the struggle girls have of trying to get their hair to look just right, only to end up being late to wherever you're supposed to be. And I hate to point fingers but those flat irons can be finicky. A hot air brush is my go-to because it cuts down on my styling time. They cover more square inch of hair than my straightener so I don't have to wake up earlier just to do my hair. As a result, I feel more rested and look more awake.
Low effort, high reward
I may know my way around most styling tools but that wasn't always the case. I wish hot air brushes were more of a thing when I was growing up because I was definitely lazier then with hairstyling. You can use one hand when using a hairdryer brush but the results look like that of a blowout at a salon. I'm amazed hair technology has come this far.
Gentler than curling irons or flat irons
Not to tear down my beloved curling irons and straighteners but sometimes my hair needs a break from the extreme heat. Using a hot air brush gives my locks the breather they deserve from the harm I often inflict using regular styling tools. Hairdryer brushes are more gentle on hair because they expose strands to less heat, compared to flat irons where the hair is wedged in between two hot plates.
Travel-friendly
A two-in-one is handy for on-the-go use. A hot air brush is the tool of choice for my travels. It takes up less room and is lightweight. Most of all, I don't have to bring a separate hair dryer.
Helps you avoid the flat look you get from straighteners
A hot air brush can straighten your hair yet still add volume. When you're simply brushing your hair and injecting it with hot air, it doesn't get a flat look. The results: lustrous hair with movement and body.
Precautions for Use
Here's an important side note if you're interested in splurging on a hairdryer brush: if you have coarse or thick hair, know that the heat and wind power from a hot air brush will take longer to dry your hair than a standard blow dryer. Thick hair will always need more heat to hold a style. If you have curly or thick hair, look for bristles that are firm so they can comb your hair easily.
How to Choose the Best Hot Air Brush
Here are a few things to consider when choosing a hot air brush. When you read a product's specifications, you can often tell if it will work for you or not. Keep in mind how long you'd like to style your hair, how heavy you like your brush to be, and what features you don't want to compromise on.
Shape
A round barrel is the most versatile shape for a hot air brush because you can curl or straighten with it. The caveat is you won't get really straight hair with a round brush because it will always give you a bit of twirl at the ends. For very straight hair, use a paddle brush. The flat shape is ideal for really flattening out strands.
Components
What a hot air brush is made of determines what benefits it can give your hair and how long it will last. Ceramic and tourmaline will give off even heat and ionic properties while titanium is the most efficient at heat transfer. All three will last a long time.
Bristles
Some hot air brushes come with wide-spaced rows of bristles while some have bristles that are fine and close together. Long and wide-spaced bristles are perfect for long or coarse hair because it can really sink into your hair and reach your scalp. Fine and short bristles are good for those with fine or short hair. A good hot air brush will have bristle tips that can withstand heat.
Size of Barrel
How tight your curls will come out depends on how large the diameter of the barrel is. Smaller barrels (think one inch thick or less) will give small, intricate ringlets. They can also be ideal for those with short hair and those who want to get close to the roots. Large barrels that are around two-inch-thick or more are great for creating loose, undone waves. These types of barrels are best suited to women with long hair that go past the shoulders.
Compactness
A hot air brush's heaviness will determine how easy it is to use. A bulky brush will exhaust your arm more quickly and will also be less travel-friendly.
Heat Settings
Adjustable heat settings are a must. This helps you adapt the heat to your hair type and the kind of style you're going for. The heat should be powerful but not scorching.
Safety Features
These features are good to have for peace of mind. Foremost is an auto-shutoff feature which is helpful if you're forgetful or always in a hurry. You should also go for a brush with a heat resistant tip so you avoid burning yourself.
Price
You can get a hot air brush for as low as $25 and as high as $100 or more. Evaluate what features you will spend good money for and what features you can do without.
Final Thoughts
At the risk of being predictable, my vote for the best hot air brush goes to the Revlon One-Step Hair Dryer and Volumizer Hot Air Brush.
While its name is a mouthful, it's easy to use this and I think all hair types will enjoy it. There are no major caveats to this hair dryer brush because it's a well-rounded device. I forgive its bulkiness because I use it at home anyway. It has an innovative shape that's good for straightening, curling, and volumizing. Its heat is at an optimum but not destructive level. It has a cool tip, which is not standard in hot air brushes but should be at this point. The ceramic barrel ion tech works, giving you hair that looks like it was styled by a pro.I'm personally partial to a static brush because my hair tangles easily with a rotating barrel.
The Revlon is a clear winner because it has no major gimmicks but it gets the job done and at an affordable price, to boot. Call me crazy, but that's all I need when I style my hair.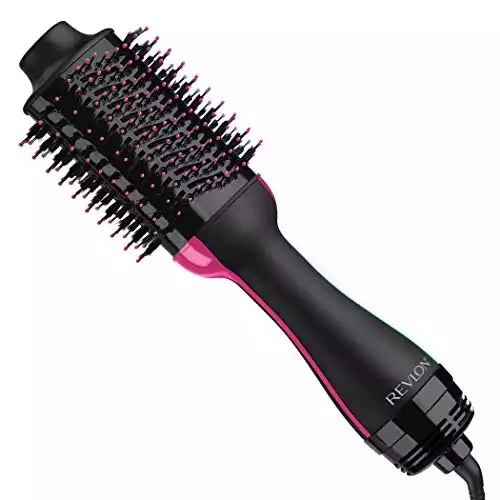 Revlon One-Step Hair Dryer And Volumizer Hot Air Brush
Style, Dry & Volumize Your Hair in One Step.
Unique Non-Detachable Oval Brush Design for Smoothing the Hair, while the round edges creates volume.
3 Heat/Speed Settings with Cool option for styling flexibility.
Buy from Amazon
We earn a commission if you click this link and make a purchase at no additional cost to you.
11/27/2023 07:30 am GMT
Leah Williams
Leah Williams is the founder of Lucky Curl and has been in the hair care and styling industry for the last 15 years. Since then, she has developed incredible expertise and a deep understanding of how to treat and style the most difficult hair types and is passionate about sharing her knowledge with the readers of Lucky Curl.