A hot air brush can be a fantastic way to create a salon-like blowout at home in just a few minutes. However, a voluminous blowout doesn't only have to be for those with long locks.
With that in mind, we've rounded up 5 of our favorite styling tools to find the best hot air brush for short hair.
Read on to see our top picks.
Best Hot Air Brush for Short Hair – 5 Hair Stylers Reviewed
I made it a point to test a few brands for hot air brushes and so far, there are five that caught my attention.
PHOEBE Curling Iron Brush
Since you are looking for the best hot air dryer brush that will give you that salon blowout you have always wanted, I have included PHOEBE Curling Iron Brush here. The first thing that I liked about this tool is that it has three styling functions. It can curl your hair, straighten it, or simply brush your hair normally. The nylon bristles do heat up which is useful for drying and styling your hair, but it does have that anti-burn feature so you don't run the risk of burning your scalp when you get too close to it.
What else is there to like about this hair dryer and styling tool? Well, it makes use of ceramic tourmaline ionic technology wherein it can reach a high temperature which is dispersed evenly throughout the barrel. The ionic tech, which is featured in the previous examples, is the one responsible for keeping frizzy hair from occurring. Also, I noticed that my hair looks shinier than before after using it.
Pros:
It has three styling functions such as for straightening your hair, adding curls to it, or simply brush your hair with.
There are different heat settings here that cater to different hair types.
The ceramic tourmaline barrel not only delivers even heating on the hair strands but it also prevents damage to the hair even when set in high.
It comes with an auto shut-off feature where it turns the tool off after being idle for an hour.
Cons:
Has hard ceramic bristles, rather than brush bristles which may be a downside for some users
Revlon Hot Air Brush Kit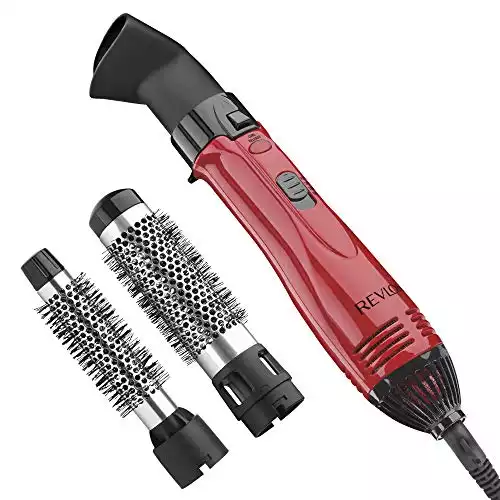 The first on this list is Revlon hot air brush kit which comes with 1-inch brush for creating soft and wavy curls and there is the 1 1/2 inch brush which is designed for added volume. It comes with three heat settings which are high, low, and cool settings which give me better flexibility with my hair. Another feature here is that it has a smoothing concentrator for precise drying capabilities. Additionally, it comes with a swivel cord that doesn't tangle which is quite helpful especially when it comes to styling the back portion of my hair.
The ionic technology that this tool comes with creates a negative ion that fights off frizz and static. Also, it has three layers of ceramic coating on the barrel that prevent hair damage due to over-styling. The best way to use this tool is to start with 80% dry hair. Use the 1-inch brush to create soft curls then move on to the 1 1/2 inch barrel to create that bouncy blowout. And to lock-in your hair style, you should use the smoothing concentrator.
Pros:
It is a four-piece kit for creating curls and blowouts.
There are three temperature settings here that you can switch to depending on your hair type.
The swivel cord prevents you from getting tangled around it when you are styling your hair strands.
It releases negative ions that take care of frizz and static.
Cons:
One user had a hard time toggling the temperature setting because of its position on the handle.
Another reviewer was frustrated that the barrel was diffusing the air the wrong way.
The barrel keeps falling off whenever used.
John Frieda Hot Air Brush – 1 inch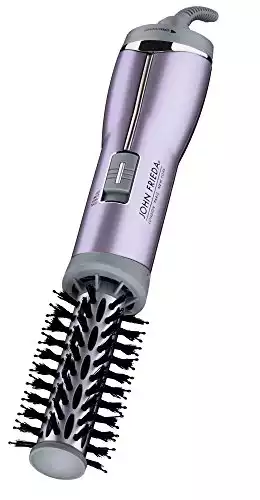 Another option for the best hot air brush is the John Frieda hot hair dryer which is a 1-inch styling tool that delivers salon blowout. It also has an advanced ionic technology that works three times better in fighting frizz and static. It has a ceramic-titanium barrel that can deliver even heating on the hair to create a long-lasting salon-style look. I like that my short hair looks fuller with this air brush. The bristles are nylon and ball-tipped that not only create volume but they also help with detangling strands. It comes with a swivel cord which I find useful because there is less risk of tangling around it when being used. There are two heat settings for the hot temperature available with the John Frieda hot air brush and then there is the cool setting. As you know, the cool setting is typically used to seal the style which makes this styling tool handy.
Pros:
This 1-inch hot air brush is ideal for creating waves and blowouts which I enjoy using.
It features an advanced ion technology here which combats frizz and static easily.
The ceramic-titanium barrel disperses heat evenly throughout the hair strands thus creating a professionally done hair.
A swivel cord prevents being tangled on the cord.
Cons:
One user complained that the time spent on styling her hair did not change at all.
Another reviewer noticed that the bristles start to fall off after a few uses.
Another user finds the hot air brush difficult to wield.
Amika Blowout Babe Interchangeable Thermal Brush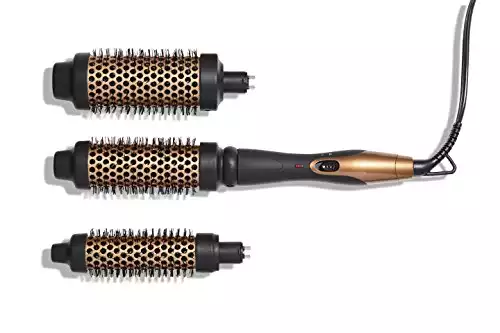 One hair styler for short hair that caught my eye was the Amika Blowout Babe which comes with an interchangeable thermal brush. What I like about this product is that it creates this natural blowout without the use of hot air or using a blow-dry even. The Amika Blowout Babe has a barrel made from a thermal ceramic barrel which I found to be effective in delivering even heating. Just like the other hot hair dryer brands in this list, this also features an ionic technology that I know that can prevent frizz and static too. This is because the ion tech releases negative ions that are the ones responsible for taming any wild strands from forming.
Think about this tool as a combination of a round brush and blow dryer in one. To make your hair shine better, simply slide the on and off button until the light becomes red then to green. It does have nylon bristles attached to it which slide easily on my hair. I have to mention that this comes with a dual voltage which makes this a great tool to bring with you outside the country.
Pros:
Amika Blowout Babe delivers a natural blowout that doesn't take up much effort.
The thermal ceramic barrel is crucial for creating even heating across the hair strands as you style and dry your mane.
This hot air dryer brush comes with ion technology that tackles frizz and static which deliver salon results.
Cons:
The price tag is expensive for a styling air brush.
A user noticed that she had to wait a couple of seconds before moving to another section of hair.
It may not work very well with some hair types.
Conair 2-in-1 Hot Air Styler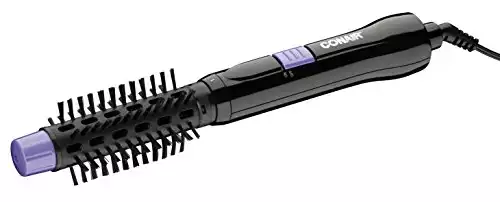 Conair 2-in-1 Hot Air Styling Curl Brush
2 In 1 Styling Brush: This 150-watt hot brush includes a 1 inch aluminum barrel brush with nylon bristles for defined curls and a 3/4 inch brush attachment for tight curls; Provides excellent heat...
Safe and Easy Design: Features a cool tip for safety and comfort, an easy On/Off switch, and a tangle free swivel cord for an ergonomic experience as you style
Dry and Style with One Tool: For smoothing and volumizing, turn to a hot air brush, great for drying and styling damp hair for that perfect at-home blowout or refreshing your hair between washes after...
Innovative Styling: From curling irons and wands to flat irons, hot air brushes, straightening brushes, auto curlers and more, we make high quality styling tools for all hair types
Conair Hair Care: Since 1959, we have made innovative small appliances, hair styling tools, and more; Our hair care line includes high quality hair dryers, brushes, styling tools, and hair accessories
Buy from Amazon
We earn a commission if you click this link and make a purchase at no additional cost to you.
11/27/2023 09:30 pm GMT
If you are looking for a no-nonsense best hot air hair brush, Conair delivers that to you. It is a 2-in-1 styling tool that combines hot air brush with a curling wand in just one simple hair dryer that gets you to style your hair easily. It has a 1-inch aluminum barrel brush plus a 3/4 inch brush attachment for heating and styling purposes. I like that the barrel delivers even heating on my hair strands with little to no fuss even for a first-timer. It has a simple on and off button to it that is fairly basic for a hot air brush, but it does work well for those who are just starting out using this type of styling tool. It does come with a swivel cord which is one feature that I often look for in a hot hair brush because I don't want to have to deal with a tangled cord whenever I style my hair.
You can dry your hair and style it at the same time using this simple styling tool. If you are having a hard time adding volume to your short hair, this tool does help because of its size which is appropriate for those who have fine to short hair.
Pros:
It is a 2-in-1 styling tool that combines a styling and drying brush in just a single unit.
The 1-inch barrel fits those with fine to short hair nicely since it can easily accommodate the length and texture of the hair too.
It has a no-fuss control setting which will suit those who will be using one for the first time.
Cons:
The control setting is somewhat limited for a hot hair brush.
The single heat setting may not be appropriate for all hair types.
One user complained that it took a while before she was able to style her hair completely because this round brush styling tool only has 150 watts to its name.
What to Look for in a Hot Air Brush?
Finding the best hot air brush is not easy as there are literally dozens of options to choose from — having tried and tested many, they are not all great!
I was keen on using a styling tool that will make my short hair look different from time to time. I knew that rushing to buy one isn't the right way to go on about it. With this in mind, I have listed several factors anyone should consider when buying a hot air brush:
Bristles. You will notice that the bristles on hot air brushes tend to vary. Some are long and widely spaced which are recommended for those who have long hair, while those with short and fine bristles are designed for short hair. I would suggest that you find out what materials the bristles are made of because there are some that cannot withstand high heat.
Heat Settings. Hot air brushes need to have a way to control the temperature of the barrel as much as possible. This way, you will be able to heat and style your hair regardless of its type without worrying about damaging the strands. For example, if you have fine hair, a low heat setting is ideal. On the other hand, high heat is perfect for those with thick and coarse hair. If you are already familiar with using hot air brush, choosing a brush that has a variable setting is perfect. On the other hand, if this is your first time using one, like me, a preset setting will make it easier for you to familiarize yourself with how to handle this styling tool.
Size of the Barrel. Barrel size is equally important when searching for a hot air brush. The basic rule here is that if you want detailed curls, choose one that has a thin barrel. Stouter barrels tend to create loose and big curls. For short hair, I would suggest that you stick with one that has a 1 1/2 inch barrel.
Price. The price is also a factor when shopping for this styling tool. I found some that are cheap and then there are those that are a bit pricey. Just a word of caution, a high priced styling tool doesn't automatically mean that it will work very well. On the other hand, going for the cheapest may not be a good idea too. You have to find the right balance here for the price as long as it will give you the desired results.
Convenience. If you prefer more control over curling your hair, a non-rotating hair brush is worth trying out. On the other hand, if you want an air brush that will get your hair done real quick, a rotating hot air brush is the best option.
What's the Best Way to Use Hot Air Brush on Short Hair
I had a bit of trouble using a hot air brush for the first time and got burned a few times too. Don't worry, I was able to get a hang of it. Here's what I learned.
Invest in a good shampoo and conditioner that will help moisturize your hair. Remember that you will be using a hot tool that will expose your hair strands to heat.
Towel your hair until dry then comb through it.
Make sure that you section your hair. Yes, even your short hair.
Plugin your styling tool while sectioning your hair. Sectioning your hair makes it easier for you to style it to achieve an even look.
Start with a section at the back of your head. Unwind one section then use the styling tool to wind your hair up and down until you have reached your desired style.
Repeat the previous step until you are finished with all the sections on your hair.
Finish your hair style with a serum that will moisturize and hold the style for the day.
Just a few tips when using a hot air brush, if you are aiming for small curls, go for a styling tool that has a small barrel. On the other hand, a large barreled air brush will deliver large curls. If you are sporting a bob cut or a bit longer than that, a slim head is an appropriate size for you. The larger barrels are best used for those who have long and thick hair because they will be able to hold the strands better.
The Verdict
It is hard to determine which among the five stands out. All of them have unique features that make them a solid choice if you are looking for a styling tool for short hair. But if you will ask me, I would say that PHOEBE won this round because of its multiple heat settings, dual voltage system, and it has an auto shut-off feature too. The price is reasonable, especially when the barrel is made from ceramic tourmaline which is known for delivering even heating and protection against hair damage.
While all these hot air brushes will do a great job on short styles, the PHEOBE is a clear winner in this case.
Leah Williams
Leah Williams is the founder of Lucky Curl and has been in the hair care and styling industry for the last 15 years. Since then, she has developed incredible expertise and a deep understanding of how to treat and style the most difficult hair types and is passionate about sharing her knowledge with the readers of Lucky Curl.